Himal Gusain triumphs in 4th Dalmia Cements All India Open 2019
IM Himal Gusain scored 8.5/9, remained undefeated and finished a full point ahead of the field to become champion in 4th Dalmia Cements All India Open 2019. Local talent Priyanka Kumari and 13-year-old Arya Bhakta both finished at 7.5/9. They were placed second and third according to their tie-break score. While, Himal received a beautiful trophy and got richer by ₹50000 cash, Priyanka and Arya received ₹30000 and ₹20000 cash prize each respectively. Total 239 players participated from eight states across the nation from 26th to 30th December 2019, organized by All Jharkhand Chess Association at Sarala Birla University. A detailed report of the tournament containing photos, games and video. Photo: Ajay Kumar
Top seed finishes a full point ahead
Starting out as the top seed of the tournament, IM Himal Gusain of Chandigarh scored an unbeaten 8.5/9 and finished a full point ahead of the competition to win 4th Dalmia Cements All India Open 2019. Local talent Priyanka Kumari and 13-year-old Arya Bhakta both finished at 7.5/9 and remained undefeated. Priyanka and Arya were placed second and third respectively according to their tie-break score.
In the very first round, Naman Agarwal (1017), a twelve-year-old kid from Jharkhand was almost on the verge of making an upset at the top board against IM Himal Gusain (2412) as the game went into a completely drawn position but due to a lack of experience the little was unable to hold it.
The third round of the tournament witnessed another surprise as another twelve-year-old local boy Ishant Kumar (1472) defeated Sudhir Kumar Sinha (2033) of Bihar. Akash Tiwari (1639) of West Bengal drew the game with the veteran Y P Srivastava (2114) of Bihar in the fourth round.
Top seed, IM Himal Gusain (2412) was held to a draw by Priyanka Kumari (1874) in the fifth round.
Despite making a draw in round 5, the top seed IM Himal Gusain (2412) played an aggressive game against Mohit Kumar Soni (1859) and defeated him in just 25 moves to take sole lead at the conclusion of round 7.
On the fourth board Akash Tiwari (1639) defeated Pritam Singh (1953) with a fantastic finish with the black pieces in the same round.
IM Prince Bajaj also made a strong comeback as he was unable to play the fifth and sixth round of the event due to health issues. In the penultimate round IM Himal Gusain (2412) maintained his sole lead of the event with a score of 7.5/8 points. He won his final round game to finish at 8.5/9, a full point ahead of the rest of the field.
Photo Gallery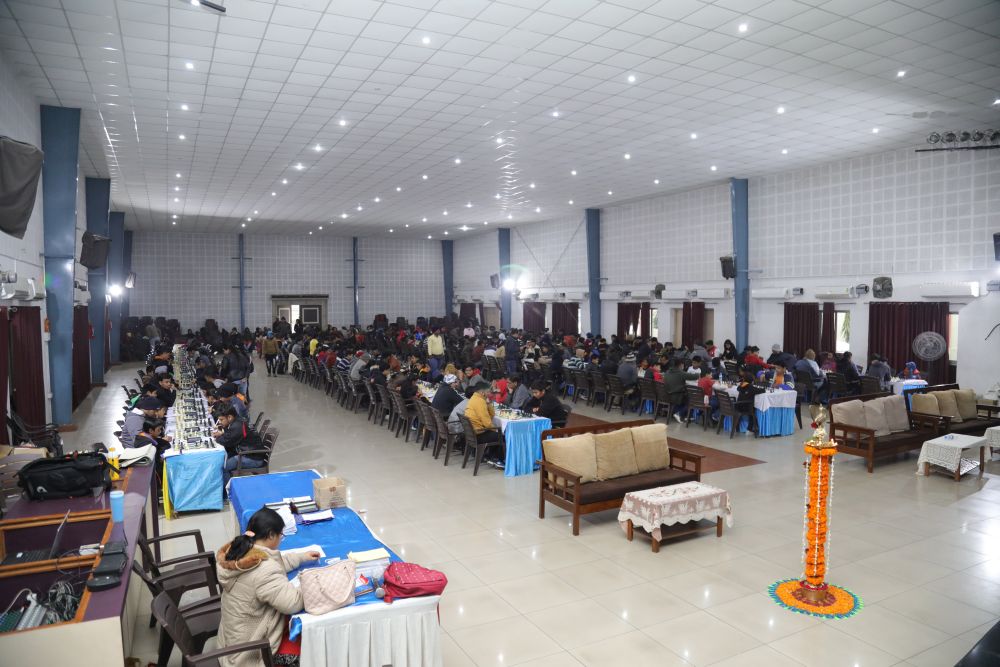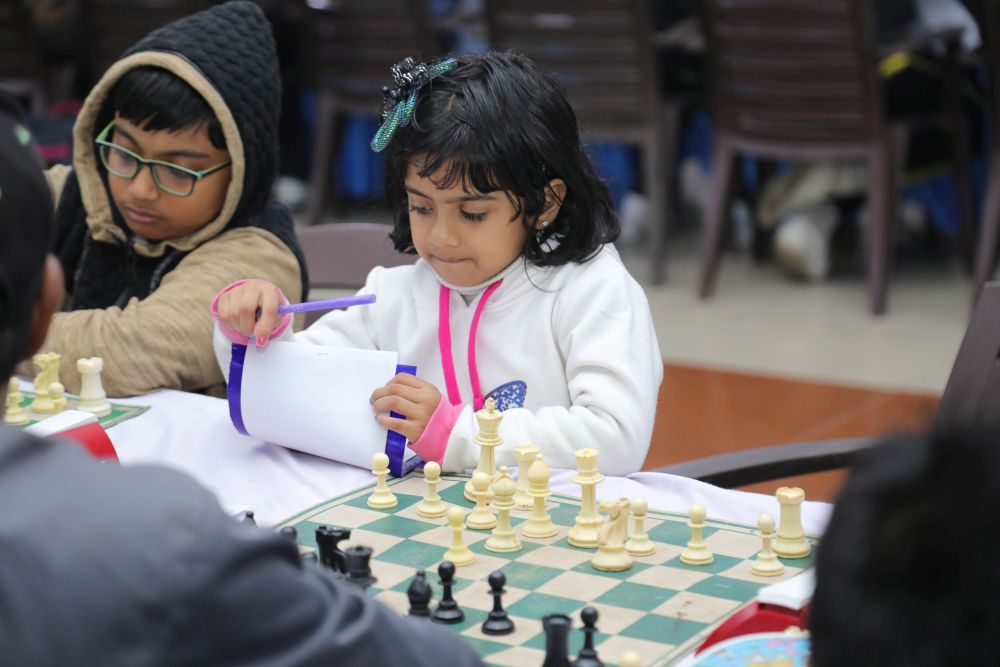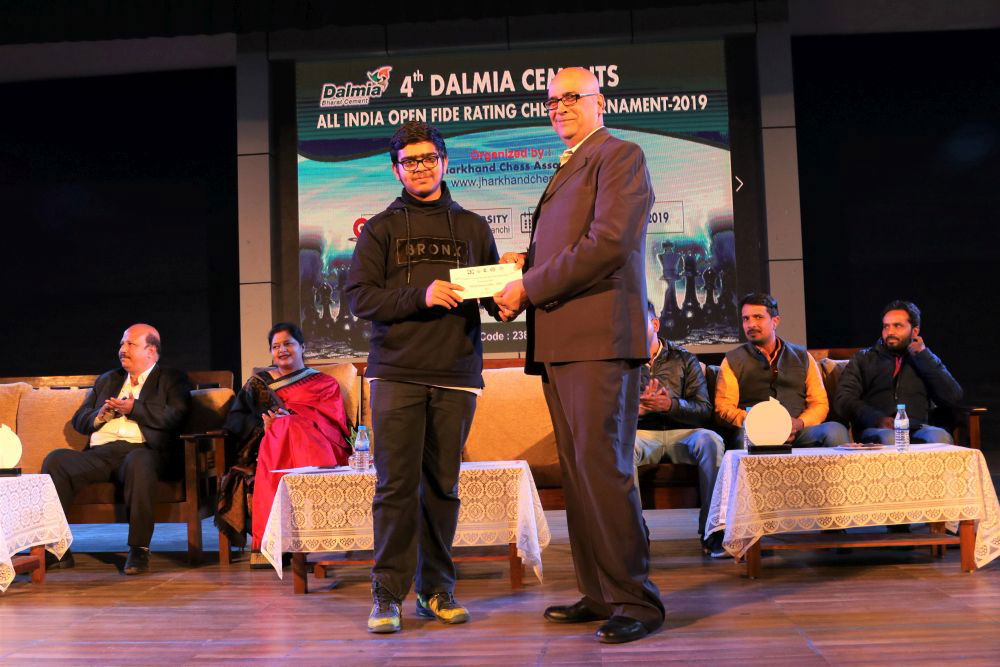 Total 239 players participated from eight states all over the country in this five-days nine rounds Swiss league tournament organized by All Jharkhand Chess Association from 26th - 30th December 2019 at Sarala Birla University. The event was sponsored by Dalmia Bharat Cements group.
Final Standings
| | | | | | | | | | | | | | | |
| --- | --- | --- | --- | --- | --- | --- | --- | --- | --- | --- | --- | --- | --- | --- |
| Rk. | SNo | | Name | Typ | sex | FED | Rtg | Club/City | Pts. | TB1 | TB2 | TB3 | TB4 | TB5 |
| 1 | 1 | IM | Gusain Himal | | | IND | 2412 | CHD | 8,5 | 0,0 | 50,0 | 55,0 | 51,25 | 8 |
| 2 | 8 | | Priyanka Kumari | | w | IND | 1874 | JHar | 7,5 | 0,5 | 53,5 | 56,0 | 44,50 | 6 |
| 3 | 5 | | Arya Bhakta | U13 | | IND | 2013 | WB | 7,5 | 0,5 | 50,0 | 53,0 | 43,25 | 6 |
| 4 | 2 | IM | Prince Bajaj | | | IND | 2390 | Delhi | 7,0 | 0,0 | 49,0 | 54,0 | 40,50 | 7 |
| 5 | 3 | | Srivastava Y.P. | S50 | | IND | 2114 | Bihar | 7,0 | 0,0 | 49,0 | 53,0 | 39,00 | 6 |
| 6 | 4 | | Sinha Sudhir Kumar | | | IND | 2033 | Bihar | 7,0 | 0,0 | 49,0 | 53,0 | 38,50 | 7 |
| 7 | 21 | | Ankit Kumar Singh | | | IND | 1665 | Jhar | 7,0 | 0,0 | 48,5 | 52,0 | 37,25 | 6 |
| 8 | 40 | | Uddipan Roy | U11 | | IND | 1412 | WB | 7,0 | 0,0 | 43,5 | 46,5 | 34,00 | 6 |
| 9 | 9 | | Mohit Kumar Soni | | | IND | 1859 | Bihar | 6,5 | 0,0 | 53,0 | 58,0 | 38,50 | 6 |
| 10 | 22 | | Akash Tiwari | | | IND | 1639 | WB | 6,5 | 0,0 | 52,5 | 54,5 | 35,50 | 5 |
| 11 | 15 | | Sudhakar Prem Dutt | | | IND | 1729 | Jhar | 6,5 | 0,0 | 49,0 | 52,5 | 35,50 | 5 |
| 12 | 11 | | Verma Sanjay | | | IND | 1855 | WB | 6,5 | 0,0 | 49,0 | 52,0 | 36,50 | 4 |
| 13 | 14 | | Alka Das | | w | IND | 1759 | Jhar | 6,5 | 0,0 | 49,0 | 50,5 | 34,00 | 6 |
| 14 | 10 | | Rajesh Kumar | | | IND | 1856 | Jhar | 6,5 | 0,0 | 48,5 | 51,5 | 36,00 | 4 |
| 15 | 7 | | Singh Pritam | | | IND | 1953 | Jhar | 6,5 | 0,0 | 48,5 | 51,5 | 35,75 | 6 |
| 16 | 24 | | Swapnil Raj | | | IND | 1615 | UP | 6,5 | 0,0 | 47,5 | 49,0 | 32,50 | 5 |
| 17 | 28 | | Mrittika Mallick | U11 | w | IND | 1542 | WB | 6,5 | 0,0 | 47,0 | 51,5 | 36,00 | 5 |
| 18 | 25 | | Soumalya Mondol | U13 | | IND | 1596 | WB | 6,5 | 0,0 | 47,0 | 51,0 | 32,75 | 6 |
| 19 | 46 | | Nitin Kumar | U15 | | IND | 1386 | Bihar | 6,5 | 0,0 | 45,0 | 47,5 | 31,75 | 6 |
| 20 | 29 | | Anurag Panigrahi | U15 | | IND | 1522 | Jhar | 6,5 | 0,0 | 43,5 | 46,0 | 30,75 | 6 |
---