Ziaur Rahman wins Al Mahmud Memorial Probashi Rating 2022, Arpan Das second
Second seeded, Bangladesh's legendary GM Ziaur Rahman scored an unbeaten 8.0/9 and finished a full point ahead of the competition to win Al Mahmud Memorial Probashi Rating. Five players scored 7.0/9. Arpan Das secured second position according to tie-breaks. GM Abdullah Al Rakib, IM Abu Sufian Shakil, CM Nayem Haque and Anata Choudhury were placed third to sixth according to tie-breaks. The total prize fund of the tournament was Tk 331000 (approx. ₹2.91 lacs). The winner received Tk 75500, Tk 50000 for the Runner-up and Tk 30000 was awarded for the second runner-up. Photo: Bangladesh Chess Federation
Arpan Das performs his career best
17-year-old Arpan Das scored an unbeaten 7.0/9 to secure second position. It is his best performance so far in an open rating tournament. He gained 104.8 Elo rating points. Priyanshu Barua made 6.0/9, secured 10th place and increased his rating by 190.8 points. Mrittika Mallick scored 5.5/9, earning 176.8 points in the process.
Arpan Das scored a nice win against FM Subrota Biswas in the seventh round.
Subrota - Arpan, Round 7
Find out the winning combination for Black after 23.Rd2.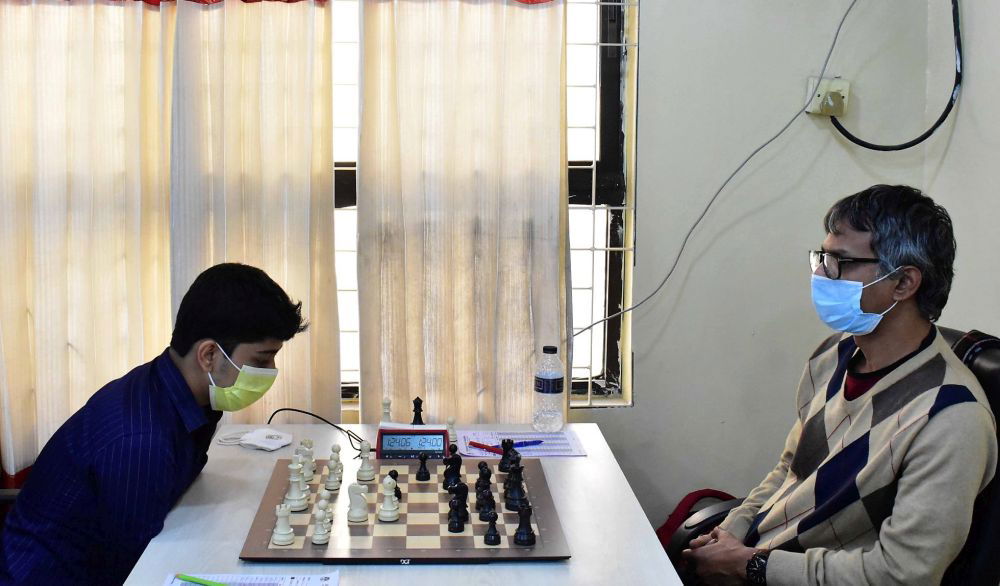 Photo Gallery
A total of 134 players including 2 GMs, 2 IMs and a WIM took part in this tournament organized by Bangladesh Chess Federation under the patronage of Probashi Chess Forum. The event took place at Bangladesh Chess Federation, Dhaka, Bangladesh from 5th to 13th February 2022. The nine-round Swiss league had a time control of 90 minutes + 30 seconds increment from move no.1.
Replay all games
Final standings
| | | | | | | | | | | | | | | | | | | |
| --- | --- | --- | --- | --- | --- | --- | --- | --- | --- | --- | --- | --- | --- | --- | --- | --- | --- | --- |
| Rk. | SNo | | | Name | FED | Rtg | RtgI | Pts. | TB1 | TB2 | TB3 | TB4 | TB5 | Rp | n | w | we | w-we |
| 1 | 2 | | GM | Rahman Ziaur | BAN | 2417 | 2417 | 8,0 | 0,0 | 50,5 | 55,0 | 48,75 | 7 | 2420 | 9 | 8 | 7,62 | 0,38 |
| 2 | 14 | | | Arpan Das (Jr) | IND | 2107 | 2107 | 7,0 | 0,0 | 49,5 | 53,0 | 39,50 | 5 | 2332 | 9 | 7 | 4,38 | 2,62 |
| 3 | 1 | | GM | Mollah Abdullah Al Rakib | BAN | 2426 | 2426 | 7,0 | 0,0 | 48,5 | 53,0 | 39,50 | 6 | 2212 | 9 | 7 | 7,95 | -0,95 |
| 4 | 6 | | IM | Abu Sufian Shakil | BAN | 2232 | 2232 | 7,0 | 0,0 | 47,5 | 51,5 | 37,00 | 6 | 2250 | 9 | 7 | 6,63 | 0,37 |
| 5 | 13 | | CM | Nayem Haque | BAN | 2150 | 2150 | 7,0 | 0,0 | 47,5 | 50,5 | 36,75 | 6 | 2261 | 9 | 7 | 5,52 | 1,48 |
| 6 | 10 | | | Anata Choudhury | BAN | 2170 | 2170 | 7,0 | 0,0 | 45,5 | 49,0 | 33,75 | 5 | 2210 | 9 | 7 | 6,22 | 0,78 |
| 7 | 9 | | FM | Subrota Biswas | BAN | 2202 | 2202 | 6,5 | 0,0 | 48,0 | 53,0 | 35,00 | 6 | 2183 | 9 | 6,5 | 6,42 | 0,08 |
| 8 | 3 | | CM | Zia Tahsin Tajwar | BAN | 2283 | 2283 | 6,5 | 0,0 | 47,0 | 51,0 | 32,50 | 4 | 2191 | 9 | 6,5 | 6,85 | -0,35 |
| 9 | 7 | | CM | Md. Sharif Hossain | BAN | 2211 | 2211 | 6,5 | 0,0 | 45,0 | 49,0 | 32,50 | 6 | 2155 | 9 | 6,5 | 6,78 | -0,28 |
| 10 | 102 | | | Priyanshu Barua | IND | 1573 | 1573 | 6,5 | 0,0 | 44,0 | 48,0 | 30,25 | 6 | 2172 | 8 | 5,5 | 0,73 | 4,77 |
| 11 | 133 | | | Moh Shahinur Hossain | BAN | 0 | 0 | 6,5 | 0,0 | 43,5 | 48,5 | 34,25 | 6 | 2116 | 9 | 6,5 | | |
| 12 | 22 | | CM | Md. Shawket Bin Osman Shaon | BAN | 2065 | 2065 | 6,5 | 0,0 | 41,5 | 45,0 | 26,75 | 6 | 2010 | 9 | 6,5 | 6,59 | -0,09 |
| 13 | 28 | | WFM | Noshin Anjum | BAN | 2017 | 2017 | 6,5 | 0,0 | 41,0 | 45,0 | 28,00 | 6 | 2129 | 9 | 6,5 | 5,17 | 1,33 |
| 14 | 5 | | FM | Mehdi Hasan Parag | BAN | 2258 | 2258 | 6,0 | 0,0 | 48,0 | 52,5 | 34,00 | 6 | 2116 | 9 | 6 | 7,23 | -1,23 |
| 15 | 20 | | CM | Ikramul Haq Siam | BAN | 2075 | 2075 | 6,0 | 0,0 | 48,0 | 52,0 | 30,25 | 5 | 2167 | 9 | 6 | 4,70 | 1,30 |
Links
---