Sriram Jha wins 1st Chhindwara All India Rapid Rating Open
Top seed of the tournament, GM Sriram Jha of LIC, scored an unbeaten 8.0/9 along with IM Himal Gusain at 1st Chhindwara All India Open Rapid Rating. Sriram won the tournament due to better tie-break score, Himal was placed second. Madhya Pradesh's very own, IM Anuj Shrivatri secured third place 7.5/9, edging past Harish Sharma on tie-breaks. The tournament had the total prize fund of ₹100000 with the first prize being ₹21000 cash and a trophy. It took place on 11th and 12th December at Parasia, Chhindwara, Madhya Pradesh. This is Sriram Jha's first triumph since he won Nagoya Open in Japan in November 2019. Check out a pictorial report of this tournament. Photo: Shahid Ahmed
Top four finish in the same order
Chhindwara district hosted their first Rapid Rating tournament earlier this month. Top three seeds, GM Sriram Jha of LIC, IM Himal Gusain of Chandigarh and IM Anuj Shrivatri of Madhya Pradesh claimed top three places in the same order. Even fourth seeded Harish Sharma of Delhi also secured fourth place.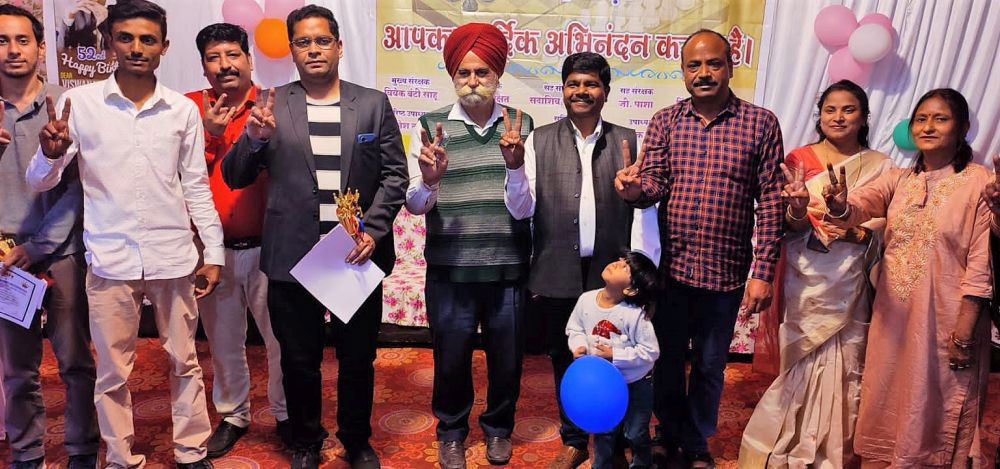 Chief Guest, Vivek Bunty Sahu, BJP President, GM Sriram Jha, Special Guest, Mr. Gurmeet Singh, President MPCAC, Mr. Ritesh Chourasia, Chhindwara District Chess Association, were present during the inauguration ceremony.
Chief guest, Mr. Prakash Uikey, Damoh, and special guest Ms. Rajni Prakash, District Judge, distributed the prizes with Mr. Gurmeet Singh, President, MPCAC and Mr. Rinku Ritesh Chourasia, President of CDCA distributed the prizes at the closing ceremony.
The tournament was organized by Chhindwara District Chess Association on 11th and 12th December 2021 at Parasia, Chhindwara at Madhya Pradesh. A total of 132 players including a GM and two IMs took part in the nine-round Swiss league Rapid tournament which had a time control of 15 minutes + 10 seconds increment from move no.1.
Final Standings
| | | | | | | | | | | | | | |
| --- | --- | --- | --- | --- | --- | --- | --- | --- | --- | --- | --- | --- | --- |
| Rk. | SNo | | Name | Typ | sex | Gr | FED | Rtg | Club/City | Pts. | TB1 | TB2 | TB3 |
| 1 | 1 | GM | Sriram Jha | | | | IND | 2389 | Lic | 8,0 | 54,5 | 58,5 | 50,75 |
| 2 | 2 | IM | Gusain Himal | | | | IND | 2329 | Chandigarh | 8,0 | 53,0 | 57,0 | 49,75 |
| 3 | 3 | IM | Anuj Shrivatri | | | | IND | 2095 | Mp | 7,5 | 52,5 | 57,0 | 45,25 |
| 4 | 4 | | Sharma Harish | | | | IND | 2036 | Delhi | 7,5 | 50,0 | 55,0 | 43,25 |
| 5 | 8 | AFM | Choubey Saurabh | | | | IND | 1762 | Mp | 7,0 | 49,0 | 50,5 | 35,00 |
| 6 | 10 | | Shukla Shishir | | | | IND | 1725 | Mp | 7,0 | 46,5 | 48,5 | 36,50 |
| 7 | 20 | | Mishra Kamad | | | | IND | 1541 | Mp | 7,0 | 45,0 | 49,0 | 35,50 |
| 8 | 25 | | Nakul Chaudhary | | | | IND | 1462 | Up | 7,0 | 44,0 | 45,5 | 33,50 |
| 9 | 24 | | Tiwari Shivansh | | | | IND | 1474 | Mp | 7,0 | 42,0 | 46,0 | 32,50 |
| 10 | 11 | AIM | Abhay Bandewar | | | | IND | 1722 | Chhindwara,Mp | 6,5 | 49,0 | 53,0 | 34,50 |
| 11 | 7 | | Amit Soni | | | | IND | 1782 | Mp | 6,5 | 42,0 | 45,0 | 32,00 |
| 12 | 23 | | Satish Bele | S60 | | | IND | 1475 | Chhindwara,Mp | 6,5 | 41,0 | 44,0 | 29,25 |
| 13 | 9 | | Bajaj Prakhar | | | | IND | 1757 | Mp | 6,0 | 53,5 | 56,5 | 34,50 |
| 14 | 28 | | Shrivastava Kushagra | | | | IND | 1428 | Mp | 6,0 | 48,5 | 51,5 | 32,25 |
| 15 | 21 | | Paritosh Malvi | | | | IND | 1502 | Chhindwara,Mp | 6,0 | 47,5 | 51,0 | 29,00 |
| 16 | 14 | | Gurmeet Singh Bagga | | | | IND | 1594 | Maharashtra | 6,0 | 47,0 | 50,0 | 31,50 |
| 17 | 6 | | Hitesh S. Jariya | | | | IND | 1836 | Mp | 6,0 | 46,5 | 50,5 | 32,75 |
| 18 | 34 | | Chepte Dilip | S60 | | | IND | 1350 | Maharashtra | 6,0 | 46,0 | 49,5 | 32,00 |
| 19 | 37 | | Brijbhooshan Dubey | S60 | | | IND | 1337 | Mp | 6,0 | 46,0 | 47,0 | 29,50 |
| 20 | 61 | | Harshit Dawar | | | | IND | 1153 | Mp | 6,0 | 45,0 | 48,0 | 29,00 |
---