15-year-old Kheerthi Ganta becomes the first girl to win Telangana State Rapid and Blitz 2022
15-year-old Kheerthi Ganta created history on 15th April when she became the first female player to win Telangana State Rapid and Blitz Chess Championships 2022. Kheerthi scored an unbeaten 6.0/7 and 7.5/8 to win the Rapid and Blitz titles respectively. In the Rapid, she edged past Tata Keerthi Rana, Md Bashiq Imrose, top seed of the tournament FM Rishpal Singh S, Sriram R and Rithvik R. They were placed second to sixth. However, she was a clear champion in the Blitz event by finishing a half point ahead of the competition. CM Amithpal Singh 7.0/8 and Bashiq 6.5/8 secured second and third place. Kheerthi joins the rare list of women like Sonakshi Rathore and Rutuja Bakshi to win a State Open title in India.
Kheerthi's fourth unbeaten State title of the year
Sonakshi Rathore won the Rajasthan State Senior Open three times. She won it the first time when she was just 13-years-old. Rutuja Bakshi became the first woman to win Maharashtra State Senior Open in 2019. Now 15-year-old WCM Kheerthi Ganta won Telangana State Rapid and Blitz Open. Yes it is a different format unlike Sonakshi and Rutuja's triumph in the Classical format, however, it was also an Open event triumph. Thus, it is certainly a historic feat. Kheerthi had won Telangana State Sub-Junior Girls 2022 and Telangana State Women 2022 early this year.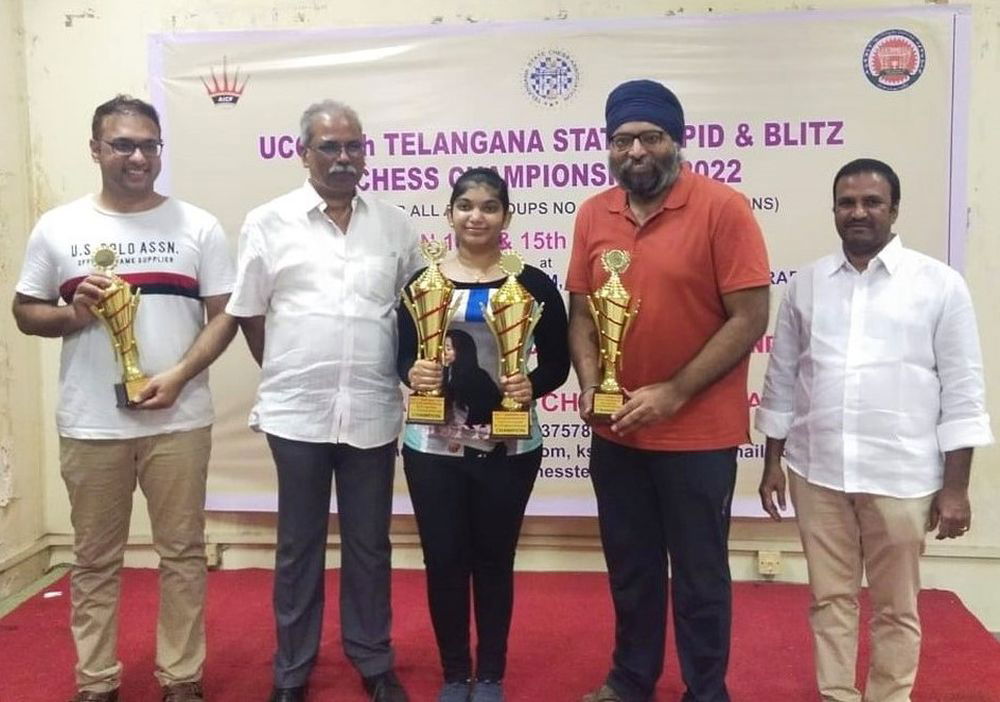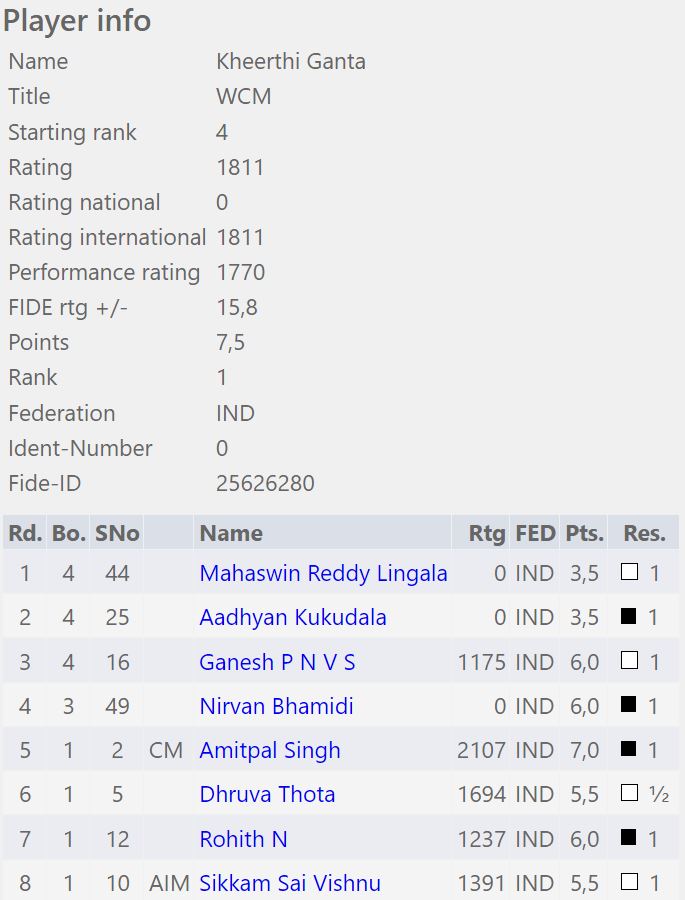 Kheerthi's coach IM Krishna Teja Chess shared, "The sheer amount of hard work and dedication towards the game has brought this success to her along with the right guidance that helped her to tap into her potential. I, International Master Mr. N Krishna Teja had the great opportunity to explore and provide her this guidance under my academy - Velocity Chess Academy. She joined us about a month ago and has showcased massive improvement in her approach. She is a go-getter and has put in 6-8 hours of undivided attention daily, and I have been able to push her out of her comfort zone to attain this triumph. I'd want her story to stand as an inspiration to all aspiring female chess players, and I'm waiting to see her attain greater heights in the coming future."
A total of 118 players in the Rapid and 69 in the Blitz event took part from various districts across the state of Telangana. The Rapid tournament had seven rounds and the Blitz event had eight. It was organized by Telangana State Chess Association at Lal Bhadur Stadium, Hyderabad, Telangana on 14th and 15th April 2022. The time control for the Rapid event was 15 minutes + 10 seconds increment and for Blitz it was 3 minutes + 2 seconds increment.
Final Standings in Rapid
| | | | | | | | | | |
| --- | --- | --- | --- | --- | --- | --- | --- | --- | --- |
| Rk. | SNo | | Name | FED | Rtg | Pts. | TB1 | TB2 | TB3 |
| 1 | 5 | WCM | Kheerthi Ganta | IND | 1492 | 6,0 | 32,0 | 35,0 | 28,50 |
| 2 | 2 | | Tata Keerthi Rana | IND | 2029 | 6,0 | 29,5 | 32,5 | 25,75 |
| 3 | 6 | | Md Bashiq Imrose | IND | 1451 | 6,0 | 28,5 | 31,5 | 25,25 |
| 4 | 1 | FM | Singh Rishpal S | IND | 2098 | 6,0 | 28,5 | 31,5 | 22,50 |
| 5 | 4 | | Sriram R | IND | 1696 | 6,0 | 28,0 | 31,0 | 23,50 |
| 6 | 28 | | Rithvik R | IND | 1091 | 6,0 | 27,5 | 30,0 | 24,00 |
| 7 | 3 | CM | Amitpal Singh | IND | 2023 | 5,5 | 29,0 | 32,0 | 22,50 |
| 8 | 10 | | Dhruva Thota | IND | 1396 | 5,5 | 27,5 | 29,5 | 22,00 |
| 9 | 18 | | Nihal Parvathaneni | IND | 1159 | 5,5 | 25,0 | 28,0 | 21,50 |
| 10 | 12 | | Pavan Karthikeya Varma Gunturi | IND | 1312 | 5,5 | 25,0 | 27,5 | 20,75 |
Final Standings in Blitz
| | | | | | | | | | |
| --- | --- | --- | --- | --- | --- | --- | --- | --- | --- |
| Rk. | SNo | | Name | FED | Rtg | Pts. | TB1 | TB2 | TB3 |
| 1 | 4 | WCM | Kheerthi Ganta | IND | 1811 | 7,5 | 38,5 | 42,0 | 40,25 |
| 2 | 2 | CM | Amitpal Singh | IND | 2107 | 7,0 | 39,5 | 42,5 | 35,50 |
| 3 | 7 | | Md Bashiq Imrose | IND | 1653 | 6,5 | 36,0 | 37,0 | 28,00 |
| 4 | 1 | FM | Singh Rishpal S | IND | 2117 | 6,5 | 34,0 | 37,0 | 30,50 |
| 5 | 12 | | Rohith N | IND | 1237 | 6,0 | 40,5 | 44,5 | 30,50 |
| 6 | 49 | | Nirvan Bhamidi | IND | 0 | 6,0 | 40,5 | 44,0 | 30,50 |
| 7 | 11 | | Pavan Karthikeya Varma Gunturi | IND | 1312 | 6,0 | 36,0 | 38,0 | 25,50 |
| 8 | 16 | | Ganesh P N V S | IND | 1175 | 6,0 | 35,0 | 38,0 | 21,00 |
| 9 | 18 | | Ayush Yadav | IND | 1116 | 6,0 | 34,0 | 37,5 | 23,00 |
| 10 | 5 | | Dhruva Thota | IND | 1694 | 5,5 | 40,0 | 43,5 | 23,75 |
---