Sonakshi Rathore wins Rajasthan State Senior Open for a record third time
Sonakshi Rathore of Jaipur wins Rajasthan State Senior Championship for a record third time in her career. Unlike the first two of her triumphs, Sonakshi scored an unbeaten 6.5/8 to win the tournament. AGM Chandrajeet Singh Rajawat of Udaipur also finished with the same score, however since she beat him in round 6, Sonakshi clinched the title for the third time. This time it was difficult for her to win because she was not feeling well from the beginning of the tournament and she had viral fever too. This article contains an interview with Sonakshi and her best game annotated by herself on her third State Open triumph. Photo: Sonakshi
Sonakshi sensational at Rajasthan State Senior for the third time
Here is a game annotated by Sonakshi herself from round 6 against Chandrajeet Singh Rajawat who also finished with the same score.
Here is an interview conducted with Sonakshi after she won Rajasthan State Senior Open three times.
Shahid Ahmed (SA): How does it feel to win the State Senior Open Championship for the second consecutive year? What does it mean to you?
Sonakshi Rathore (SR): It always feels good to win any tournament, so does winning State senior. Winning it for the 2nd consecutive year feels great!
SA: Which one was difficult to win, 2018 or 2019 edition?
SR: Both were difficult to win, but for different reasons. In 2018 it was maybe because I faced stronger players as compared to 2019.
This year it was tough because from the first round of the tournament I was not feeling well and was suffering from viral fever, so I always had to motivate myself to fight on the board despite bad health as I had very little energy to play.
SA: Going into the final round, you had a half-point lead, what was going through your mind before the final round? Did it cross your mind that you might win it again?
SR: Yes, actually before the final round many known people came to me and said that "even if you draw the game, you will win the State right", or "Have you seen the ranking after this round, Where do you stand" these types of questions. So, yes this thought crossed my mind before and during the round as well, but I focused on giving my best in the game and not letting this thought of winning the state senior championship for the second time affect my play.
SA: Last year you made zero draws and lost one game, this year you have made three draws. Did you change your approach towards the game?
SR: Not really, but last year I was motivated to not to lose a single rating point in the tournament and after losing a game to a lower-rated I felt more motivated to win the remaining rounds at any cost just to cover my rating points only. This year, I was very low on energy, so I was just trying to give my best and not to lose a single game and also this was not a rating tournament so rating was not an issue.
SA: You do not seem to play a lot of tournaments, what is the reason behind this?
SR: Yes, there is no real reason actually but I have just completed my graduation so, I just need some time to get back on the track.
SA: Who is your coach/trainer/practice partner?
SR: I practise alone.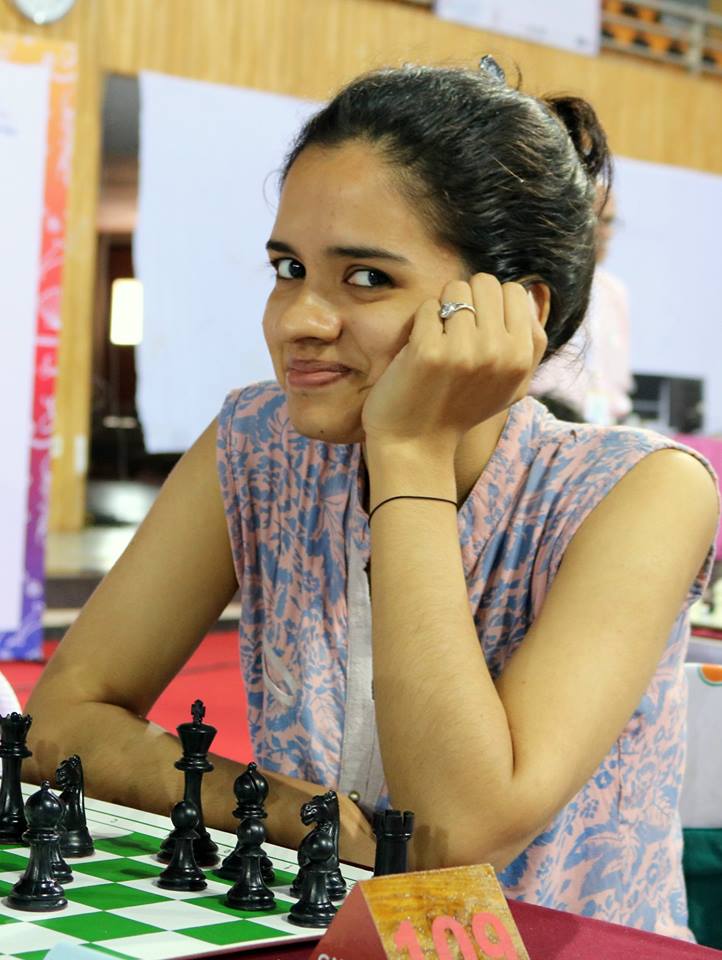 SA: Whom would you like to thank for your success?
SR: It has always been my parents and brother. I would also like to thank Tarun bhaiya (Tarun Sharma)‌, as he is not really my coach or a trainer but I can always count on him especially relating to any chess guidance and also I would like to thank one of my friend who supported me throughout my career.
SA: Being a woman, you have won the State Open for two consecutive years, which is a rare feat. What do you have to say about this?
SR: Yes, it is rare. When I won the first time there were many people who said that she won because she was just lucky or won by fluke or the competition was not that tough, etc, so I was motivated to prove them the 3rd time that I can win the tournament again.
SA: What are you pursuing currently?
SR: I am currently not pursuing anything. I have just completed my graduation in BBA-LLB in June 2019.
SA: What's next for you?
SR: My next tournament will be Udaipur GM Rating tournament in September.
SA: Thank you for taking the time to answer the questions. Wish you the best in your future endeavors.
SR: Thank you.
---