Grandmaster Chess Training Festival at Udaipur by Kingdom of Chess
Kingdom of Chess organized a Grandmaster Training Camp in Udaipur, Rajasthan last month. GM Debashis Das and the founder of the academy, Chandrajeet Rajawat provided the main guidance. It also featured experienced trainers of the state - Gautam Kataria, Dhruv Dak and Naman Porwal. The objective of the camp was to strengthen the state's top youngsters and get them ready for their upcoming events. It was a residential camp where both trainers and students resided on campus, consumed healthy food, followed a strict routine and stayed away from any kind of electronic gadgets. Chandrajeet writes about the camp and shares three positions with detailed analysis which was discussed in this one-of-a-kind chess champ. Photos: Chandrajeet Rajawat/Kingdom of Chess
The Kingdom of Chess organized the Grandmaster Training Festival in Udaipur from 5th to 15th May, with the guidance of GM Debashis Das and Chandrajeet Rajawat. The camp also featured experienced trainers from Rajasthan, including Gautam Kataria, Dhruv Dak, and Naman Porwal.
The residential camp held in Rajasthan was the first of its kind, where both students and trainers resided on the camp premises. The camp focused on top talents from Rajasthan, including Yash Bharadia (Former Commonwealth Gold medalist, National U-13 Bronze medalist 2022), Arun Kataria (51st National Junior 2022 Bronze medalist), Paarshva Parmar (5th at National U-9 2022), Kiyana Parihar (National Schools U-7 Silver medalist 2022, 4th at National U-7 2022), Rishen Jilowa (6th At National Schools U-9 2022), along with other Rajasthan State Champions and promising youngsters such as Honi Arora, Rudradaman Mertia, Rishaan Jain, Harshwardhan Swami, Aman Balana, Bharat Bansal, Amay Jain, Kavyansh Jain, and Shikar Karn.
Five students of Kingdom of Chess from this camp have been selected at Nationals 2022 to Represent India at the World Championships and Asian Championships stages later this year.
The camp followed a disciplined routine that emphasized physical activity, yoga, self-care, in addition to eight hours of intense chess training each day. The focus on physical fitness aimed to promote a healthy lifestyle among the students. The kids also had the opportunity to enjoy daily games of cricket, badminton, football, and basketball.
Throughout the 11-day camp by Kingdom of Chess, a strict and healthy diet was followed, with a ban on sugar and processed food. The children enjoyed a variety of fruits, dry fruits, and home-cooked simple meals. The kids went on an 11-day digital detox, refraining from using the internet or electronic gadgets. They relied solely on sports and quizzes for entertainment.
GM Debashis Das provided valuable guidance on crucial topics during the camp, including deep game analysis, exploiting small advantages, time management, disciplined calculation, dealing with critical moments, how to prepare openings and how to use engines and ChessBase effectively. His world-class insights on these subjects were enlightening for the camp's students and proved to be highly beneficial. The topics that may have initially seemed trivial revealed their profound depth and potential for improvement.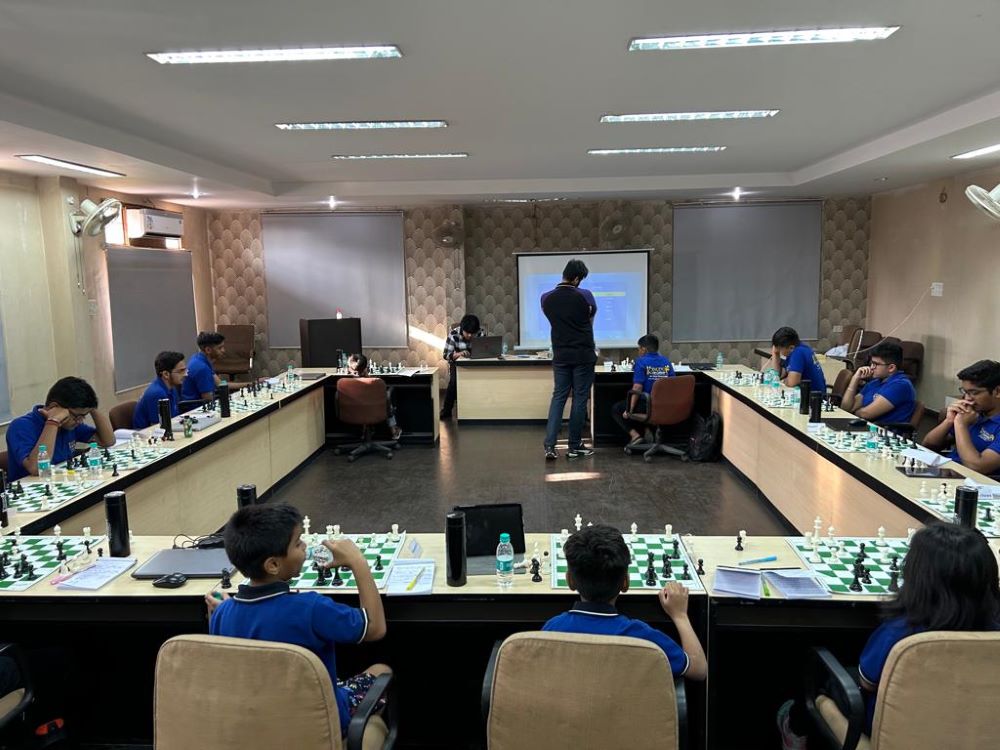 In the latter part of the camp, Chandrajeet Rajawat dedicated his attention to the psychological aspects of the game and practical endgame play. Additionally, the children were educated on how the human body functions and the significance of hormones such as dopamine, serotonin, oxytocin, endorphin, and melatonin. Understanding these hormones is crucial for enhancing productivity, time management, controlling nerves, resisting temptations, maintaining motivation, achieving confidence equilibrium, effective learning, and improving focus memory.
Replay three positions shown in camp
About Kingdom of Chess
The Kingdom of Chess is an academy that teaches students from all over India and ten foreign countries, with 2500+ students. The Kingdom of Chess is based out of Rajasthan, where most state champions are among its students. The academy actively supports the development of chess in Rajasthan and India through various initiatives, including providing scholarships, sponsorships, and laptops to deserving students.
About the Author
Chandrajeet Rajawat, the founder of Kingdom of Chess, learnt and discovered his passion for chess at the age of 17 and has been fully dedicated to the game ever since. He has won Rajasthan State Championships several times. Apart from his chess pursuits, he possesses a fondness for Retrograde analysis, neuroscience, psychology, philosophy, mathematics and loves to read for hours on any subject. His mission to bring Rajasthan among top chess states in India and dreams to see India as the number one country in the world of chess.
---