Ojasya Saxena dominates Summer Cup Classical Below 1600 Rating Tournament 2023
13-year-old Ojasya Saxena (UP) scored an unbeaten 8.5/9 to win Summer Cup Below 1600 Rating Tournament 2023. He finished a half point ahead of the field. Sujeet Kumar Chaudhari (UP) and Pallav Maheshwari (RAJ) scored 8/9 each. They were placed second and third respectively according to tie-breaks. The total prize fund of the tournament was ₹1500000. The top three prizes were ₹111000, ₹71000 and ₹41000 along with a trophy each respectively. There were three prizes worth ₹100000 and above. The tournament was organized by Chess in Lakecity from 16th to 18th June 2023 at Orbit Resort in Udaipur, Rajasthan. This was Ojasya's first tournament triumph of his nascent career. Photos: IA Vikas Sahu/Chess in Lakecity
Ojasya's first tournament triumph
103rd seeded Ojasya Saxena (UP) was playing his tenth over-the-board tournament, nine of them were rated event. The teenager scored 7.5/8 and had a half point lead heading into the final round. Six players were trailing him at 7/8 each. He defeated Samarth Sreeni Warrier (GUJ) in the final round to become a clear champion. Sujeet Kumar Chaudari (UP) and Pallav Maheshwari (RAJ) defeated Habib Qureshi Raaz (MP) and Kishore S M (TN) respectively to finish at second and third place with a score of 8/9 each.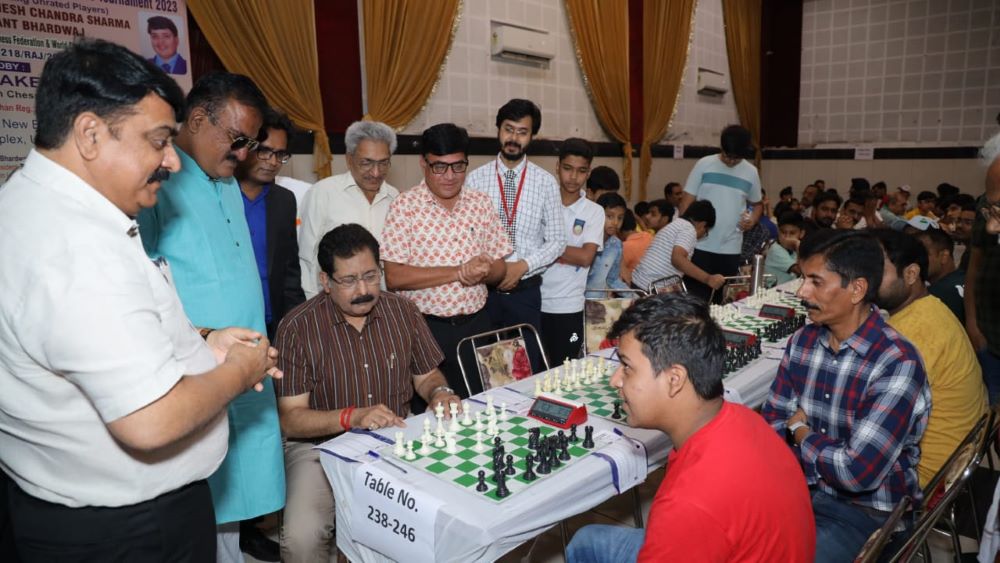 The tournament was inaugurated by Rajendra Bhatt, IAS, Divisional Commissioner, in presence of IA Vikas Sahu, Secretary, Chess in Lakecity, Executive Member, Rajasthan Chess Association, Rajeev Bhardwaj, President CIL, Tushar Mehta, Chief Patron, CIL, IA Sunil Soni, Sanjeev Bhardwaj, Org. Chairman and FA Neelesh Kumawat.
Standing at the back (L to R): IA Rajendra Teli, VP Rajasthan Chess Association, Rajeev Bhardwaj. President CIL, Prem Singh Shkatawat, Sanjeev Bhardwaj, Org. Chairman, CP Bhatt Sahab, Pankaj Bhardwaj, Vipin Lodha, FA Neelesh Kumawat and Bhawesh Pandiyar.
Thanks to the tournament organizer, IA Vikas Sahu, for sharing the photos and info about event.
A total of 561 players took part from various states across the country and one from South Africa and USA each in this three-day nine-round Swiss League Below 1600 Rating tournament. The event was organized by Chess in Lakecity at Orbit Resort in Udaipur, Rajasthan from 16th and 18th June 2023. The time control of the event was 30 minutes + 30 seconds increment from move no.1.
Final standings
| | | | | | | | | | | | | | | |
| --- | --- | --- | --- | --- | --- | --- | --- | --- | --- | --- | --- | --- | --- | --- |
| Rk. | SNo | | Name | Typ | sex | FED | Rtg | Club/City | Pts. | TB1 | TB2 | TB3 | TB4 | TB5 |
| 1 | 103 | | Ojasya, Saxena | | | IND | 1336 | Uttar Pradesh | 8,5 | 49,5 | 51,5 | 48,00 | 0 | 8 |
| 2 | 13 | | Sujeet, Kumar Chaudhari | | | IND | 1506 | Uttar Pradesh | 8 | 50 | 53,5 | 46,50 | 0 | 7 |
| 3 | 23 | | Pallav, Maheshwari | | | IND | 1471 | Rajasthan | 8 | 45,5 | 50 | 44,50 | 0 | 8 |
| 4 | 10 | | Kavitha, P L | | w | IND | 1510 | Tamil Nadu | 7,5 | 49 | 53 | 41,00 | 0 | 7 |
| 5 | 193 | | M Tulasi Ram, Kumar | | | IND | 1238 | Telangana | 7,5 | 49 | 50,5 | 40,25 | 0 | 6 |
| 6 | 7 | | Kabnurakar, Rushikesh | | | IND | 1516 | Maharashtra | 7,5 | 45 | 48,5 | 40,00 | 0 | 7 |
| 7 | 142 | | Kishore, S M | | | IND | 1296 | Tamil Nadu | 7 | 54 | 57,5 | 41,25 | 0 | 6 |
| 8 | 5 | | Saikat, Nath | | | IND | 1522 | Delhi | 7 | 52 | 55,5 | 41,25 | 0 | 5 |
| 9 | 36 | | Habib, Qureshi Raaz | S60 | | IND | 1430 | Madhya Pradesh | 7 | 51,5 | 56 | 39,50 | 0 | 7 |
| 10 | 61 | | Ravi, Palsule | | | IND | 1384 | Madhya Pradesh | 7 | 50 | 54 | 40,25 | 0 | 5 |
| 11 | 8 | | Samarth, Sreeni Warrier | U11 | | IND | 1514 | Gujarat | 7 | 49,5 | 53,5 | 40,00 | 0 | 7 |
| 12 | 41 | | Bhanushali, Kunj | | | IND | 1412 | Maharashtra | 7 | 49 | 53,5 | 40,75 | 0 | 5 |
| 13 | 82 | | Aadish, Shah | U13 | | IND | 1359 | Gujarat | 7 | 49 | 53,5 | 39,00 | 0 | 5 |
| 14 | 105 | | Akash, Srivastav | | | IND | 1334 | Uttar Pradesh | 7 | 49 | 52,5 | 38,75 | 0 | 6 |
| 15 | 159 | | Kush, Ajay Agarwal | | | IND | 1275 | Maharashtra | 7 | 49 | 52,5 | 38,50 | 0 | 6 |
| 16 | 236 | | Saurabh, Somvanshi | | | IND | 1199 | Uttar Pradesh | 7 | 49 | 51 | 37,75 | 0 | 6 |
| 17 | 71 | | Singhal, Keshav | | | IND | 1370 | Uttar Pradesh | 7 | 48,5 | 52,5 | 39,50 | 0 | 6 |
| 18 | 127 | | Rubesh, C | | | IND | 1308 | Tamil Nadu | 7 | 48,5 | 52,5 | 38,75 | 0 | 5 |
| 19 | 113 | | Chourasiya, Hemant | | | IND | 1321 | Madhya Pradesh | 7 | 48 | 51,5 | 36,75 | 0 | 6 |
| 20 | 88 | | Dhinesh, Kannan | | | IND | 1354 | Tamil Nadu | 7 | 47,5 | 51 | 36,50 | 0 | 6 |
| 21 | 16 | | Bajpai, Anil | | | IND | 1495 | Uttar Pradesh | 7 | 47 | 52 | 39,00 | 0 | 7 |
| 22 | 120 | | Pratish, Raj | | | IND | 1313 | West Bengal | 7 | 46,5 | 50 | 38,75 | 0 | 5 |
| 23 | 20 | | Yogesh, Loganathan | | | IND | 1481 | Tamil Nadu | 7 | 45 | 49 | 36,50 | 0 | 7 |
| 24 | 52 | | Harshit, Dawar | | | IND | 1395 | Madhya Pradesh | 7 | 45 | 49 | 36,25 | 0 | 6 |
| 25 | 42 | | Manish, Kumar | | | IND | 1409 | Gujarat | 7 | 44,5 | 48,5 | 36,50 | 0 | 6 |
| 26 | 34 | | Pawar, Sohum | | | IND | 1442 | Maharashtra | 7 | 44,5 | 48,5 | 36,00 | 0 | 6 |
| 27 | 37 | AIM | Gopal, Krishna Maheshwari | | | IND | 1426 | Uttar Pradesh | 7 | 44 | 47,5 | 34,50 | 0 | 6 |
| 28 | 4 | AFM | Hariom, Solanki | | | IND | 1524 | Delhi | 7 | 44 | 46,5 | 35,50 | 0 | 7 |
| 29 | 38 | | Mohd, Tabseer Alam | | | IND | 1421 | Bihar | 7 | 43 | 46,5 | 36,00 | 0 | 6 |
| 30 | 185 | | Indrajeet, Tomar | | | IND | 1246 | Guajrat | 7 | 42,5 | 45 | 33,00 | 0 | 7 |
---