Chakravarthi Reddy dominates 5th Holi Cup Rating Open 2023
IM Chakravarthi Reddy M scored an unbeaten 8.5/9 to win 5th Holi Cup Rating Open 2023. He finished a full point ahead of the competition. Six players - IM Rajesh Vav, FM FT Matta Vinaykumar, Kumar Gaurav, Narayan Iyengar, Harshvardhan Swami and Sham R scored 7.5/9. They were placed second to seventh according to tie-breaks. Third seeded Chakravarthi drew with Rajesh and defeated Matta en route his championship. The total prize fund of the tournament was ₹1501000. The top three prizes were ₹111000, ₹71000 and ₹41000 along with a trophy each respectively. This was Chakravarthi's third consecutive podium finish in the month of April. The five-day nine-round Swiss league rating tournament was organized by Chess in Lakecity. Photo: Aditya Sur Roy
Chakravarthi's second rating tournament triumph in April
IM Chakravarthi Reddy was in the sole lead 7.5/8 heading to the last round. He defeated his Telangana statemate Bharat Kumar Reddy Poluri in the final round to become a clear champion. Kumar Gaurav drew with IM Rajesh Vav and Soham Roy lost to FM FT Matta Vinaykumar. Thus, Rajesh and Matta secured second and third place respectively according to the tie-breaks.
Chief Guest at the Closing Ceremony was Ms. Mamta Kanwar, Jila Pramukh, Distinguished Guest Mr. Pramod Samar, Sahkarita Prakoshth Pradesh Adhyaksh, Special Guest Mr. Siddhant D'Souza of St. Anthony's SSS, Udaipur, Mr. Bhanwar Singh Rathore, Mr. Gajpal Singh, Mr. Anil Agrawal, Vice President of Rajasthan Chess Association IA & FI Rajendra Teli, Mr. Tushar Mehta, Chief Patron, Chess in Lakecity and in presence of Vikas Sahu, Organizing Secretary.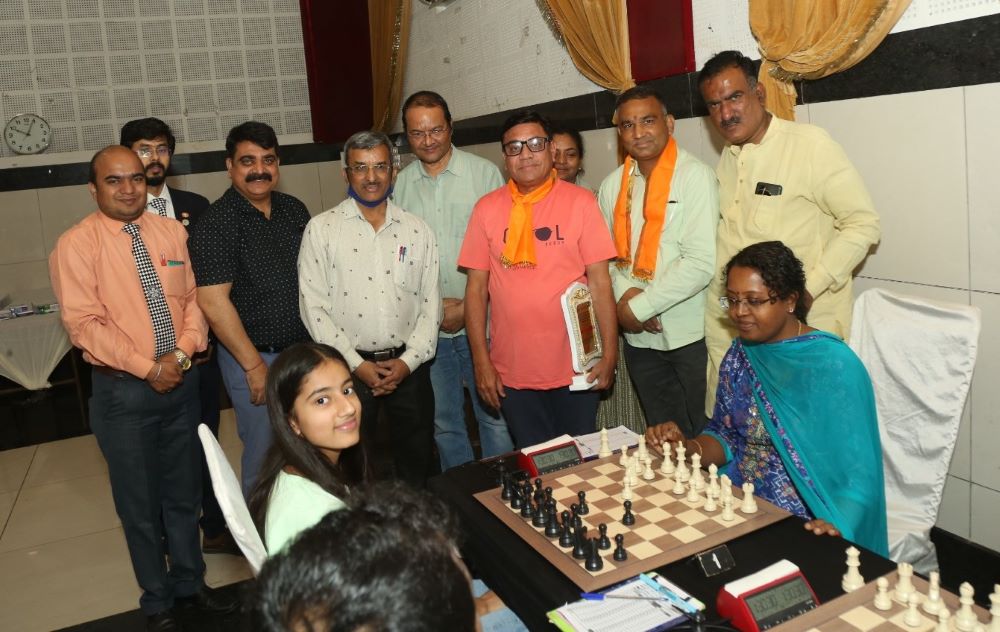 The tournament was inaugurated by Mrs. T Shubhmangala, IES, CEO Jila Parishad, Sirohi. Standing (L to R) - IA Varun Kumar, Deputy Chief Arbiter, FA NI Neelesh Kumawat, Deputy Chief Arbiter, Mr. Rajeev Bhardwaj, President Chess in Lakecity, Mr. Rajendra Teli, Tournament Director, Mr. William D'Souza, Principal, St. Anthony, Mr. Sanjeev Bhardwaj, Ms. Jessy D'Souza, Mr. Ashish Kothari, Corporator and Chess in Lakecity's Chief Patron - Mr. Tushar Mehta.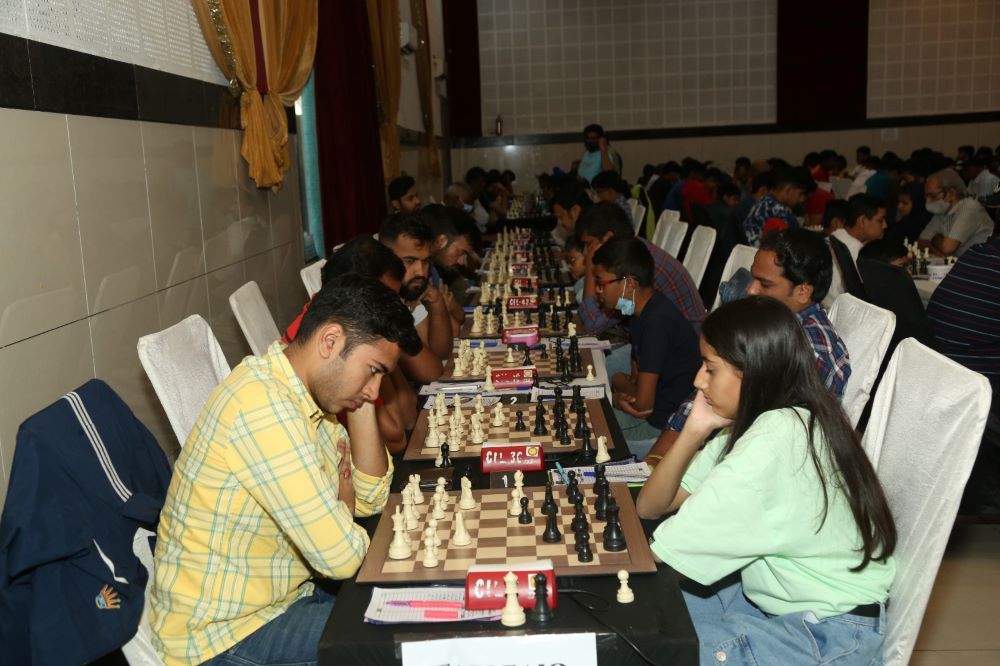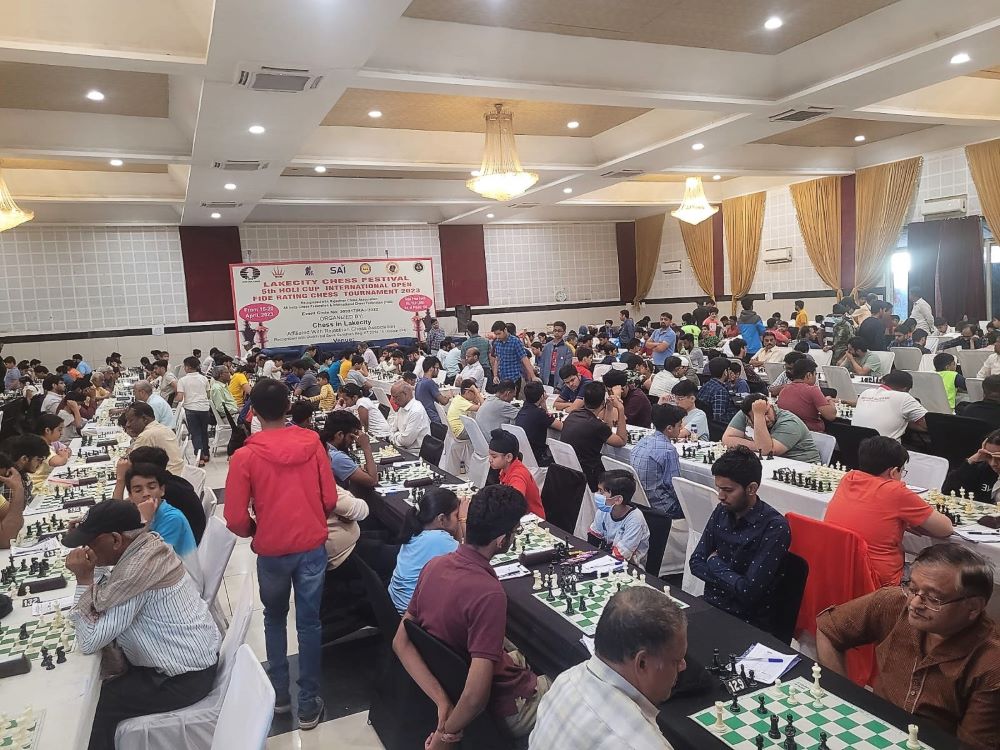 Thanks to Chess in Lakecity for sharing the photos and info about the tournament.
A total of 356 players including 4 IMs participated from various states across the country and one each from Sri Lanka and USA. The five-day nine-round Swiss league Rating tournament was organized by Chess in Lakecity at Orbit Resort in Udaipur, Rajasthan from 16th to 20th April 2023. The time control for the event was 90 minutes + 30 seconds increment from move no.1.
Final standings
| | | | | | | | | | | | | | | |
| --- | --- | --- | --- | --- | --- | --- | --- | --- | --- | --- | --- | --- | --- | --- |
| Rk. | SNo | | Name | Typ | sex | FED | Rtg | Club/City | Pts. | TB1 | TB2 | TB3 | TB4 | TB5 |
| 1 | 3 | IM | Chakravarthi Reddy M | | | IND | 2278 | Telangana | 8,5 | 52 | 55,5 | 51,75 | 0 | 8 |
| 2 | 2 | IM | Rajesh V A V | | | IND | 2323 | SCR | 7,5 | 54 | 58,5 | 47,75 | 0 | 6 |
| 3 | 5 | FM | Matta Vinay Kumar | | | IND | 2190 | UBI | 7,5 | 52,5 | 57 | 45,00 | 0 | 7 |
| 4 | 7 | | Kumar Gaurav | | | IND | 2021 | Bihar | 7,5 | 49 | 54 | 45,00 | 0 | 6 |
| 5 | 29 | | Narayan Iyengar | | | IND | 1645 | Tamil Nadu | 7,5 | 49 | 53 | 42,00 | 0 | 7 |
| 6 | 93 | | Harshvardhan Swami | | | IND | 1419 | Rajasthan | 7,5 | 49 | 52,5 | 41,75 | 0 | 7 |
| 7 | 49 | | Sham R | | | IND | 1560 | Tamil Nadu | 7,5 | 45,5 | 49,5 | 39,75 | 0 | 7 |
| 8 | 4 | | Bharat Kumar Reddy Poluri | | | IND | 2197 | Telangana | 7 | 53,5 | 58 | 42,00 | 0 | 6 |
| 9 | 45 | | Pranay Akula | | | IND | 1571 | Telangana | 7 | 48 | 52 | 37,00 | 0 | 7 |
| 10 | 6 | FM | Ramakrishna J. | | | IND | 2053 | UBI | 7 | 47,5 | 52 | 38,25 | 0 | 6 |
| 11 | 30 | | Sahil Bheron | | | IND | 1644 | Haryana | 7 | 46 | 50,5 | 37,50 | 0 | 6 |
| 12 | 13 | | Sinha Santosh Kumar | S50 | | IND | 1894 | Gujarat | 7 | 45,5 | 50,5 | 39,00 | 0 | 6 |
| 13 | 1 | IM | Utsab Chatterjee | | | IND | 2338 | West Bengal | 7 | 45,5 | 50,5 | 38,00 | 0 | 7 |
| 14 | 46 | | Samarateja K | | | IND | 1571 | Telangana | 7 | 45,5 | 50 | 36,75 | 0 | 6 |
| 15 | 88 | | Vandan Alankar Sawai | U13 | | IND | 1440 | Delhi | 7 | 43,5 | 47 | 34,75 | 0 | 6 |
| 16 | 12 | | Arun Kataria | | | IND | 1935 | Raj-Lakecity | 6,5 | 52,5 | 57 | 37,75 | 0 | 6 |
| 17 | 15 | | Daksh Goyal | | | IND | 1799 | Delhi | 6,5 | 51 | 56,5 | 40,00 | 0 | 5 |
| 18 | 8 | | Prakash Ram | | | IND | 2016 | Punjab | 6,5 | 51 | 54 | 34,50 | 0 | 6 |
| 19 | 14 | | Chavan Nameet | | | IND | 1841 | Maharashtra | 6,5 | 47,5 | 52 | 34,00 | 0 | 6 |
| 20 | 66 | | Naveen K S | | | IND | 1523 | Tamil Nadu | 6,5 | 47 | 50 | 32,75 | 0 | 6 |
| 21 | 40 | | Aman Balana | | | IND | 1579 | Rajasthan | 6,5 | 46,5 | 51,5 | 36,50 | 0 | 6 |
| 22 | 11 | IM | Ramnathan Balasubramaniam | S50 | | IND | 1949 | Tamil Nadu | 6,5 | 46,5 | 51 | 35,00 | 0 | 6 |
| 23 | 39 | | Lakshmi Charan Naidu G | | | IND | 1580 | Andhra Pradesh | 6,5 | 46,5 | 51 | 34,75 | 0 | 5 |
| 24 | 83 | | Ramandeep Singh Gill | | | IND | 1449 | Punjab | 6,5 | 46,5 | 50,5 | 32,75 | 0 | 6 |
| 25 | 76 | | Patil Harshal U | | | IND | 1481 | Maharashtra | 6,5 | 46,5 | 50 | 33,00 | 0 | 5 |
| 26 | 17 | | Ujjawal Bansal | | | IND | 1771 | Gujarat | 6,5 | 45,5 | 49,5 | 35,00 | 0 | 5 |
| 27 | 27 | | Soham Roy | U13 | | IND | 1647 | West Bengal | 6,5 | 45 | 49 | 33,75 | 0 | 6 |
| 28 | 36 | | Sasvatha A | | w | IND | 1590 | Tamil Nadu | 6,5 | 44 | 47 | 31,25 | 0 | 5 |
| 29 | 16 | | Bhoir Paras Dilip | | | IND | 1782 | Maharashtra | 6,5 | 43,5 | 47,5 | 33,75 | 0 | 5 |
| 30 | 33 | | Harminder Singh | S50 | | IND | 1597 | Delhi | 6,5 | 42 | 45,5 | 32,75 | 0 | 5 |
| 31 | 92 | | Prithvi Sharma | | | IND | 1428 | Haryana | 6,5 | 42 | 45,5 | 31,25 | 0 | 5 |
| 32 | 72 | | Gaurav Sharma | | | IND | 1495 | Delhi | 6,5 | 42 | 45 | 30,00 | 0 | 5 |
| 33 | 312 | | Mann Akbari | U13 | | IND | 0 | Gujarat | 6,5 | 41,5 | 44,5 | 29,25 | 0 | 6 |
| 34 | 47 | | Ujaan Bhattacharya | | | IND | 1568 | West Bengal | 6,5 | 41,5 | 44,5 | 27,25 | 0 | 6 |
| 35 | 101 | | Abhishek Shankar | | | IND | 1401 | Uttar Pradesh | 6,5 | 41,5 | 44 | 29,00 | 0 | 6 |
---