Sanskar Gaigore wins All India Below 1600 Rating Tournament 2023
by Shahid Ahmed - 15/05/2023
12-year-old Sanskar Gaigore scored an unbeaten 8/9 to win All India Below 1600 Rating Tournament 2023. He finished a half point ahead of the field. Six players scored 7.5/9. Out of them Mradul Yadav and Nilay Kulkarni secured second and third place respectively according to tie-breaks. Sanskar drew with Mradul in the penultimate round and beat Nilay in the previous. The entire podium finishers are from Nagpur. The total prize fund of the tournament was ₹400000. The top three prizes were ₹50000, ₹35000 and ₹21000 along with a trophy each respectively. The three-day nine-round Swiss league Rating tournament was organized by Jai Sai Welfare Foundation Nagpur. Photo: NA Sushant Jumde
Sanskar's first rating tournament triumph
Sanskar Gaigore had a half point lead 7.5/8 heading into the final round. Three players - Mradul Yadav, Yashsva Anil Kanholkar and Sumedh Ramteke were in pursuit at 7/8 each. Sanskar drew against Sumedh and Yashsva drew with Mradul. Thus, Sanskar became a clear champion. Aahana Pachchigar became the sole player to make a top ten finish. She scored 7/9 to finish tenth overall. Sanskar has won quite a few tournaments, including Maharashtra State Under-9 Open in 2019. However, this was the first time he won a rating tournament.
The guests at the Prize distribution ceremony were - Pratik Parakh, NA Sushant Jumde, Tournament Organizing Secretary, IA Swapnil Bansod, Chief Arbiter, IA Deepak Chavhan, Deputy Chief Arbiter, SNA Nilesh Channawar. Tournament Organising Committee member, Abhijit Mule compèred the program. SNA Akash Punde, SNA Gayatri Panbude, SNA Sheetal Panbude, SNA Amit Tembhurne, Shubham Soni and Amit Bhongare were also present.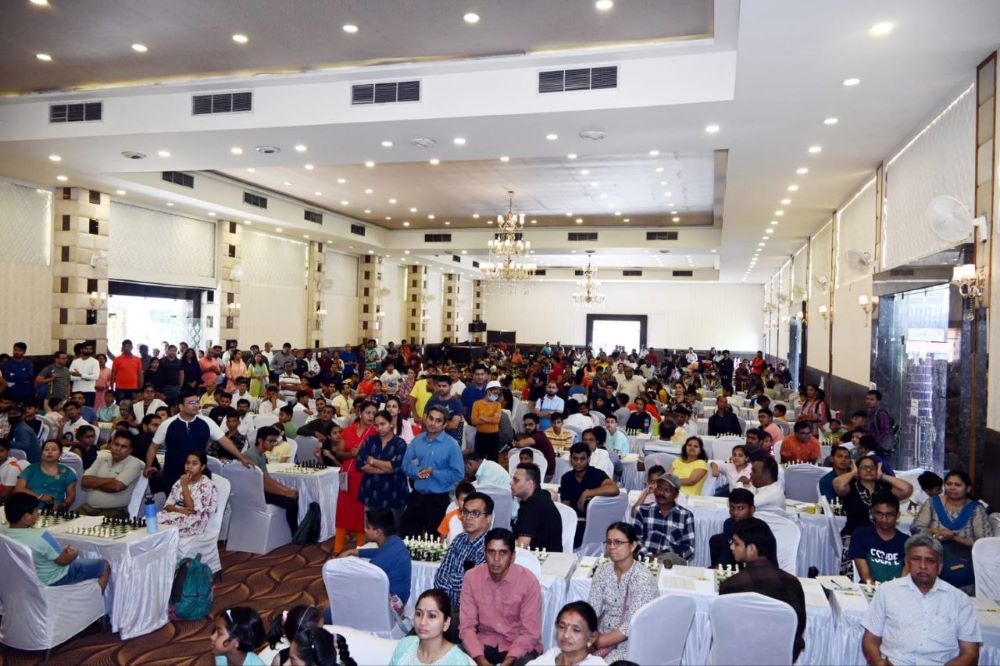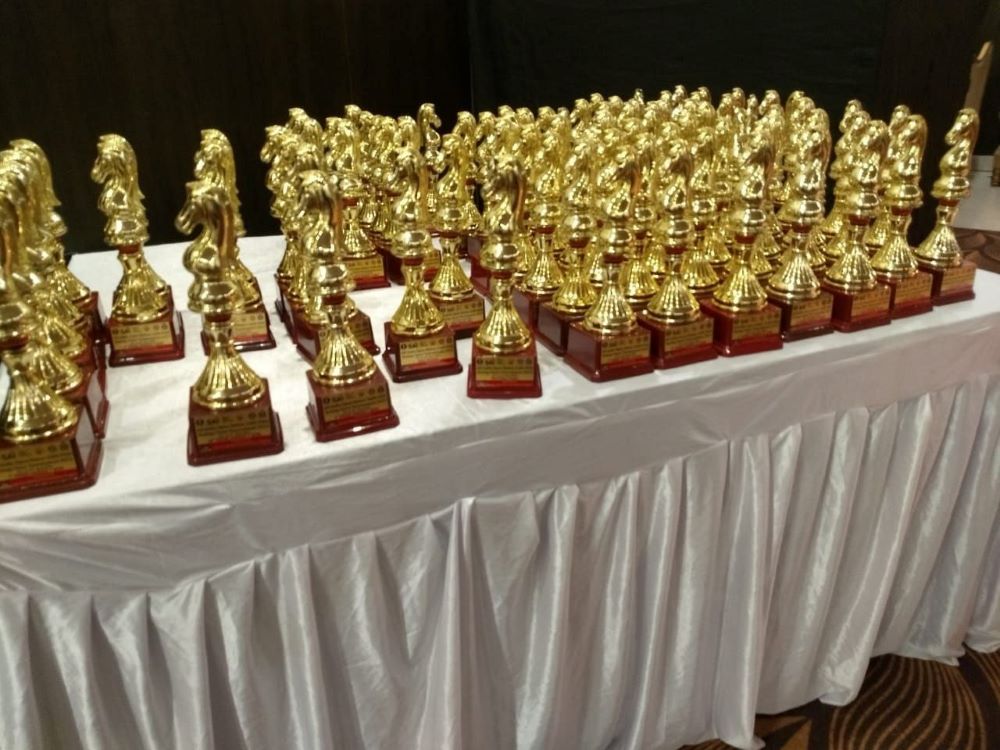 Thanks to NA Sushant Jumde, Tournament Director for sharing photos.
A total of 343 players participated from various states across the country. The three-day nine-round Swiss league Rating tournament was organized by Jai Sai Welfare Foundation Nagpur at 7 Vachann Banquet Hall Wardhaman Nagar in Nagpur, Maharashtra from 22nd to 24th April 2023. The time control for the event was 30 minutes + 30 seconds increment from move no.1.
Final standings
| | | | | | | | | | | | | | | | | | | | |
| --- | --- | --- | --- | --- | --- | --- | --- | --- | --- | --- | --- | --- | --- | --- | --- | --- | --- | --- | --- |
| Rk. | SNo | | | Name | Typ | sex | Gr | FED | Rtg | Club/City | Pts. | TB1 | TB2 | TB3 | TB4 | TB5 | w-we | K | rtg+/- |
| 1 | 17 | | | Gaigore, Sanskar | U13 | | | IND | 1403 | MAH-N | 8 | 52,5 | 56,5 | 49,00 | 0 | 7 | 2,18 | 40 | 87,2 |
| 2 | 26 | | | Mradul, Yadav | U15 | | | IND | 1332 | MAH-N | 7,5 | 54 | 59 | 48,00 | 0 | 6 | 1,81 | 40 | 72,4 |
| 3 | 2 | | | Kulkarni, Nilay | | | | IND | 1566 | MAH-N | 7,5 | 50,5 | 55 | 44,00 | 0 | 7 | -0,11 | 40 | -4,4 |
| 4 | 13 | | | Yashsva, Anil Kanholkar | | | | IND | 1412 | CG | 7,5 | 50 | 54,5 | 43,75 | 0 | 7 | 0,89 | 40 | 35,6 |
| 5 | 14 | | | Ramteke, Sumedh | | | | IND | 1411 | MAH-N | 7,5 | 49 | 52 | 41,75 | 0 | 7 | 0,74 | 20 | 14,8 |
| 6 | 10 | | | Chandwani, Prateek | | | | IND | 1417 | MP | 7,5 | 48,5 | 53 | 43,50 | 0 | 6 | 0,72 | 20 | 14,4 |
| 7 | 20 | | | Sagar, G Shenoy | U15 | | | IND | 1383 | MAH | 7,5 | 48,5 | 51,5 | 42,50 | 0 | 6 | 0,84 | 40 | 33,6 |
| 8 | 45 | | | Abhishek, Kumar Mishra | | | | IND | 1262 | UP | 7 | 50,5 | 54,5 | 39,75 | 0 | 6 | 1,88 | 20 | 37,6 |
| 9 | 34 | | | Tikam, Aradhya | U15 | | | IND | 1303 | MAH | 7 | 50,5 | 54 | 39,75 | 0 | 5 | 1,90 | 40 | 76 |
| 10 | 27 | | | Pachchigar, Aahana | | w | | IND | 1328 | MAH | 7 | 49,5 | 54,5 | 40,00 | 0 | 7 | 0,97 | 40 | 38,8 |
| 11 | 28 | | ACM | Arnav, Drolia | U15 | | | IND | 1324 | CG | 7 | 49,5 | 53 | 39,00 | 0 | 7 | 1,26 | 40 | 50,4 |
| 12 | 51 | | | Gawande, Devanshi | | w | | IND | 1255 | MAH | 7 | 49 | 52,5 | 38,50 | 0 | 6 | 1,14 | 40 | 45,6 |
| 13 | 29 | | | Gaurav, Danu | | | | IND | 1323 | SSCB | 7 | 49 | 51 | 36,00 | 0 | 7 | 1,67 | 20 | 33,4 |
| 14 | 68 | | | Kush, Ajay Agarwal | U15 | | | IND | 1214 | MAH | 7 | 46,5 | 49,5 | 35,00 | 0 | 6 | 2,02 | 40 | 80,8 |
| 15 | 15 | | | Saket, Atul Kumar | | | | IND | 1407 | MP | 7 | 46 | 50 | 37,25 | 0 | 5 | 0,03 | 20 | 0,6 |
| 16 | 8 | | | Pavan, C | | | | IND | 1470 | KAR | 7 | 45,5 | 48 | 35,75 | 0 | 5 | -0,43 | 20 | -8,6 |
| 17 | 47 | | | Gurudutt, Goswami | | | | IND | 1260 | UP | 7 | 44 | 46 | 32,00 | 0 | 7 | 1,13 | 20 | 22,6 |
| 18 | 80 | | | Padmawar, Amey | U15 | | | IND | 1199 | MAH-N | 7 | 43 | 46,5 | 33,25 | 0 | 6 | 1,27 | 40 | 50,8 |
| 19 | 79 | | | Sadawrate, Atharv | | | | IND | 1202 | MAH | 7 | 42,5 | 45,5 | 33,25 | 0 | 6 | 2,72 | 20 | 54,4 |
| 20 | 78 | | | Ishwar, Ramteke | S60 | | | IND | 1202 | MAH-N | 7 | 40,5 | 44 | 33,25 | 0 | 6 | 0,93 | 20 | 18,6 |
---