Somak Palit wins Tata Steel Chess Festival 2019 Open Blitz
IM Somak Palit scored 6.5/7 to win Tata Steel Chess Festival All Bengal Open Blitz 2019. He received a huge beautiful trophy and ₹10000 cash as a prize for his efforts. In the penultimate round, Somak had a narrow escape against Debankan Dhara which the eventual champion survived using stalemate trick. IM Mitrabha Guha also finished at 6.5/7 but due to a lower tie-break score, he had to settle for second place. IM Sayantan Das scored 6.0/7 and he was placed third according to his tie-break score. Total 118 players including 7 IMs participated from all across the state of West Bengal, in this seven-round Blitz tournament with a time control of 3 mins + 2 seconds each. Tata Steel Chess India 2019 Tournament Director Jeroen van den Berg inaugurated the event. Photo: Shahid Ahmed
Somak Palit becomes unbeaten champion
Second seeded IM Somak Palit scored 6.5/7 to win Tata Steel Chess Festival All Bengal Open Blitz tournament 2019. IM Mitrabha Guha also finished with the same score, however due to a lower tie-break score, he was placed second. IM Sayantan Das scored 6.0/7 to secure third position according to the tie-break score.
When I reached out to Somak for his thoughts on winning the tournament, this is what he said, "I feel very happy. It was a thrilling experience, it prods and inspires me to perform better in future. The organizers should be thanked for conducting such an event besides the main 'Grand Chess Tour' tournament."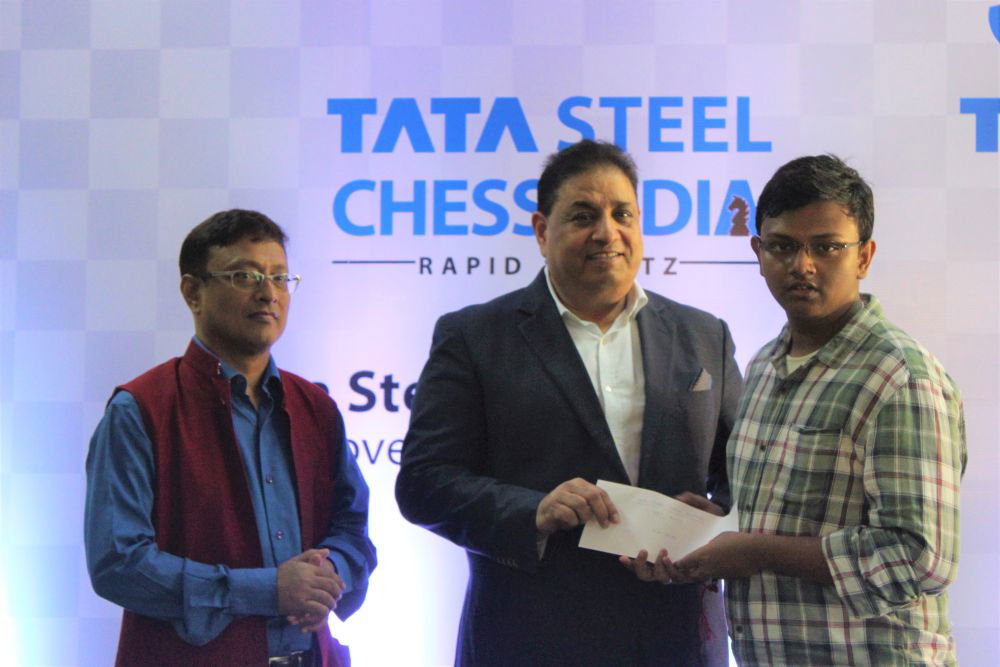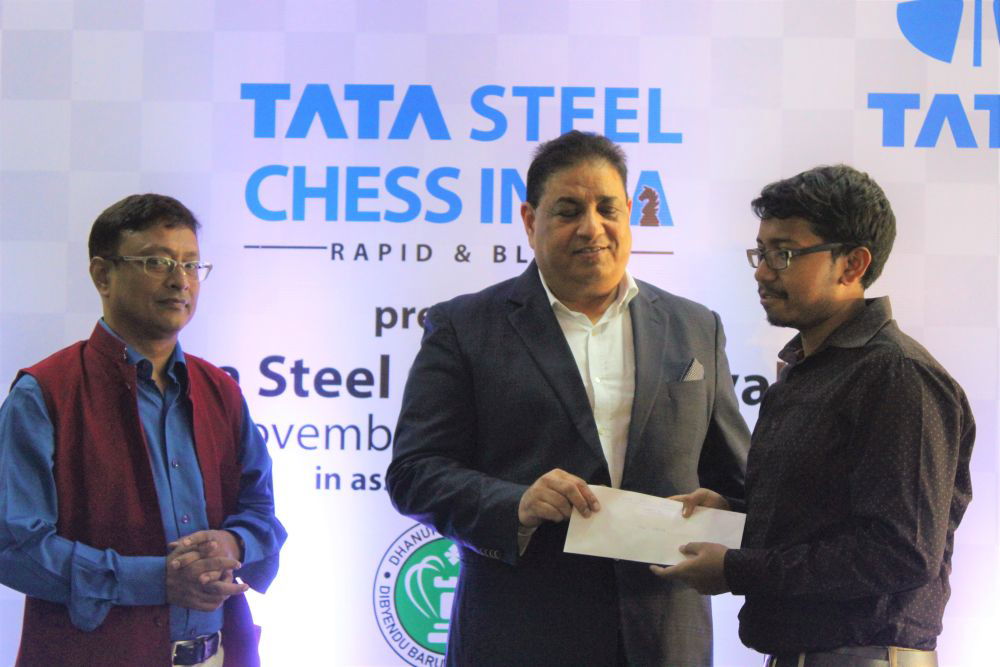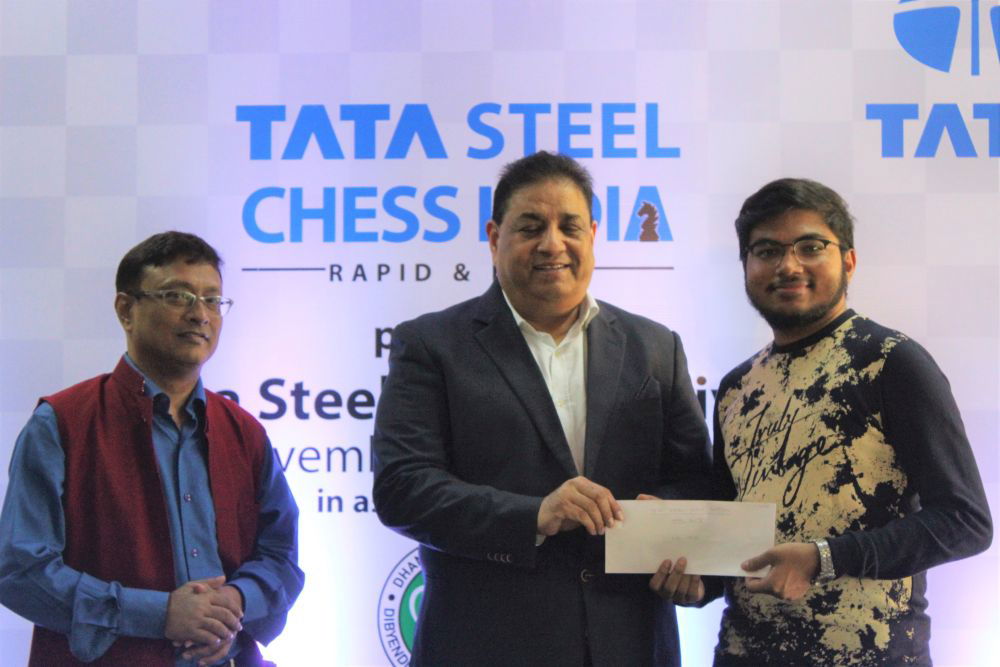 'Moment of the day' definitely goes to top seed of the tournament IM Arghyadip Das as he quickly offered a draw immediately after noticing that he got flagged. His opponent accepted without taking a look at the clock.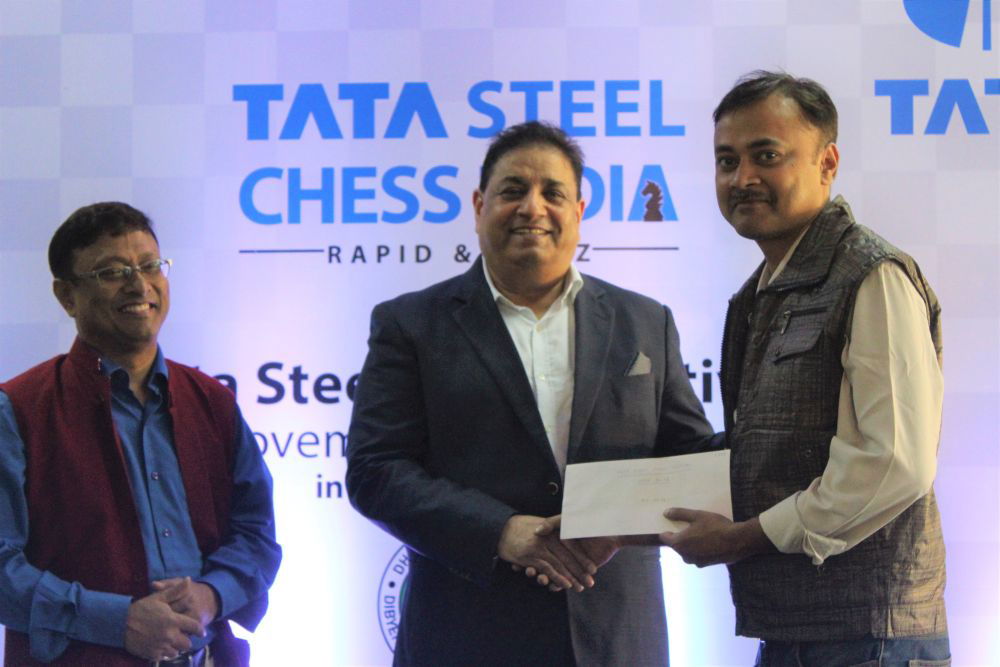 Final Standings
| | | | | | | | | | | | | |
| --- | --- | --- | --- | --- | --- | --- | --- | --- | --- | --- | --- | --- |
| Rk. | SNo | | Name | sex | FED | Rtg | Pts. | TB1 | TB2 | TB3 | TB4 | TB5 |
| 1 | 2 | IM | Palit Somak | | IND | 2374 | 6,5 | 0,0 | 29,0 | 32,0 | 29,25 | 6 |
| 2 | 4 | IM | Mitrabha Guha | | IND | 2334 | 6,5 | 0,0 | 25,5 | 28,0 | 26,50 | 6 |
| 3 | 3 | IM | Das Sayantan | | IND | 2370 | 6,0 | 0,0 | 30,5 | 32,0 | 26,50 | 6 |
| 4 | 9 | | Sarbojit Paul | | IND | 2045 | 6,0 | 0,0 | 28,0 | 30,5 | 24,00 | 6 |
| 5 | 20 | | Debankan Dhara | | IND | 1948 | 5,5 | 0,0 | 30,5 | 33,5 | 23,75 | 5 |
| 6 | 6 | | Debarshi Mukherjee | | IND | 2235 | 5,5 | 0,0 | 30,0 | 33,5 | 24,75 | 5 |
| 7 | 1 | IM | Das Arghyadip | | IND | 2382 | 5,5 | 0,0 | 27,0 | 30,0 | 23,00 | 4 |
| 8 | 10 | | Arindam Mukherjee | | IND | 2037 | 5,5 | 0,0 | 26,5 | 28,0 | 18,75 | 5 |
| 9 | 27 | AGM | Shahid Ahmed S.K. | | IND | 1815 | 5,5 | 0,0 | 25,5 | 27,0 | 19,25 | 5 |
| 10 | 15 | | Praloy Sahoo | | IND | 2007 | 5,5 | 0,0 | 23,5 | 25,5 | 19,50 | 5 |
---