Aronyak Ghosh wins Tata Steel Chess Festival 2019 Open Rapid
IM Aronyak Ghosh scored an unbeaten 6.5/7 to win Tata Steel Chess Festival 2019 All Bengal Open Rapid tournament. Sayan Bose also scored 6.5/7, however he had to settle for second position according to the tie-break score. IM Sayantan Das scored 6.0/7 and he was placed third, bettering three other player who also finished the same score. Total 149 players including four IMs and a WIM participated from various parts across the state of West Bengal. This was the third and final tournament part of Tata Steel Chess Festival, where all participants were given free entry to spectate the world's best in action on the respective days. A pictorial report of the tournament. Photo: Shahid Ahmed
IM Aronyak Ghosh becomes the unbeaten champion
Starting out as the sixth seed of the tournament, Aronyak scored an unbeaten 6.5/7 to win the tournament. He scored six consecutive victories along with Sayan Bose whom he faced in the final round. After a draw in the seventh and last round of the tournament, Aronyak clinched the championship.
This is what Aronyak had to say after winning the tournament, "Yeah well it definitely feels good to finish first ahead of players like Sayantan da Mitrabha and others. After the blitz tournament massacre, I am obviously very happy to play better chess at the rapid format. Last game against Sayan da, I had some advantage but agreed to a draw as the position was quite complicated and I had some time pressure."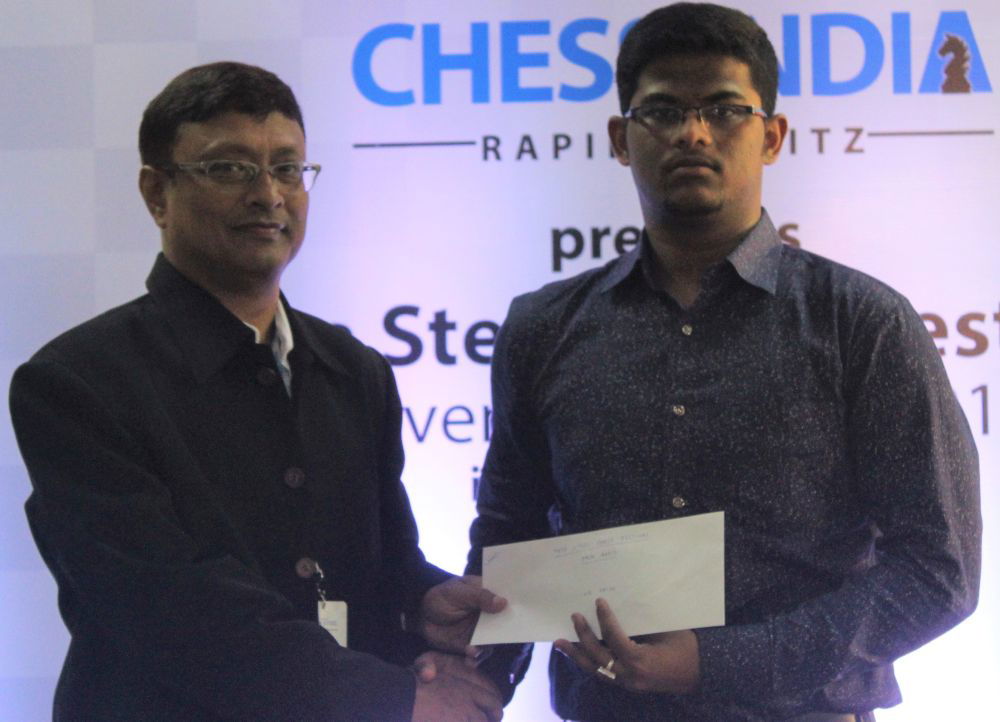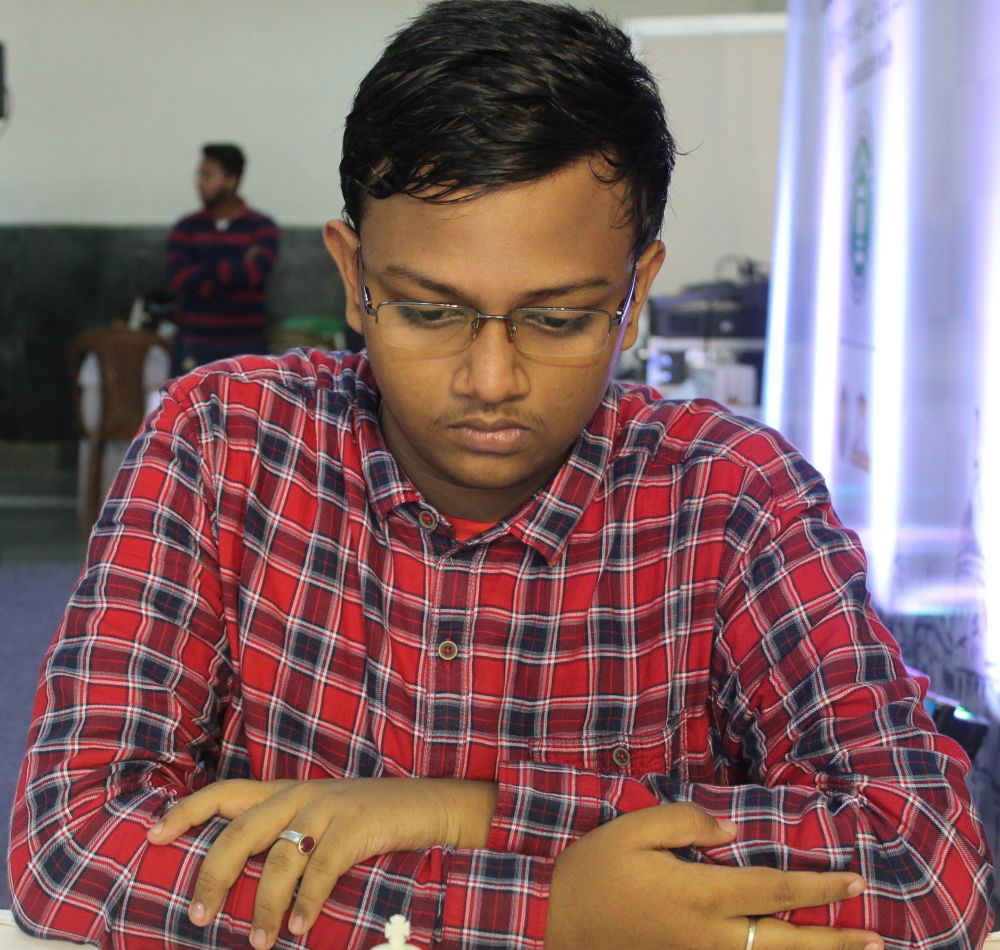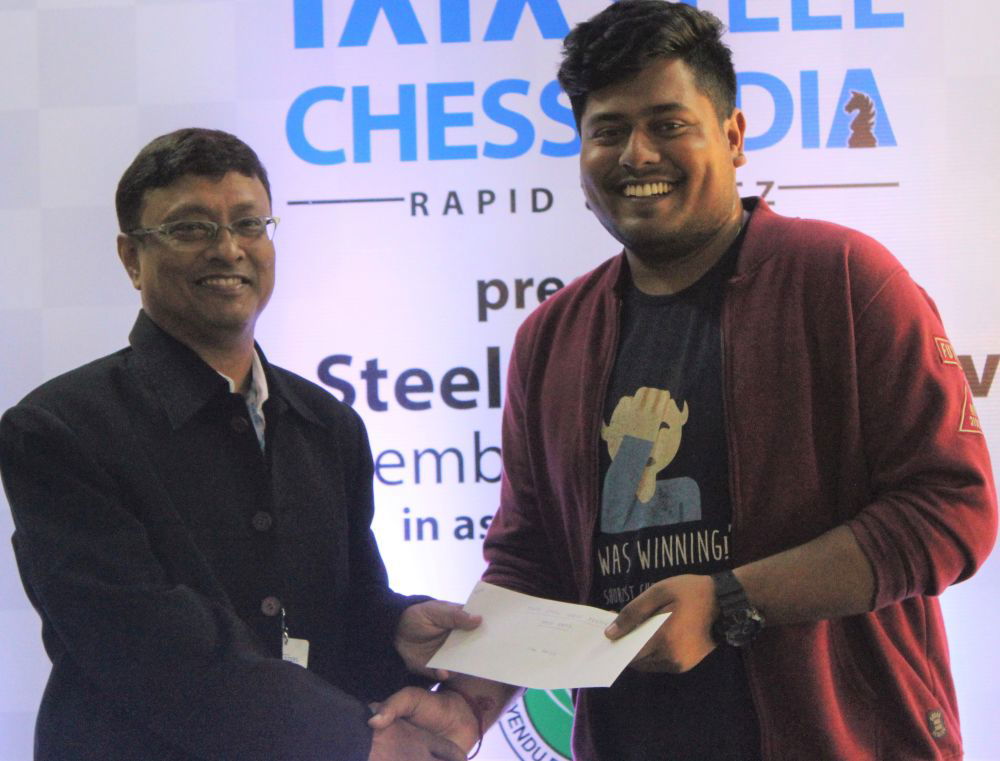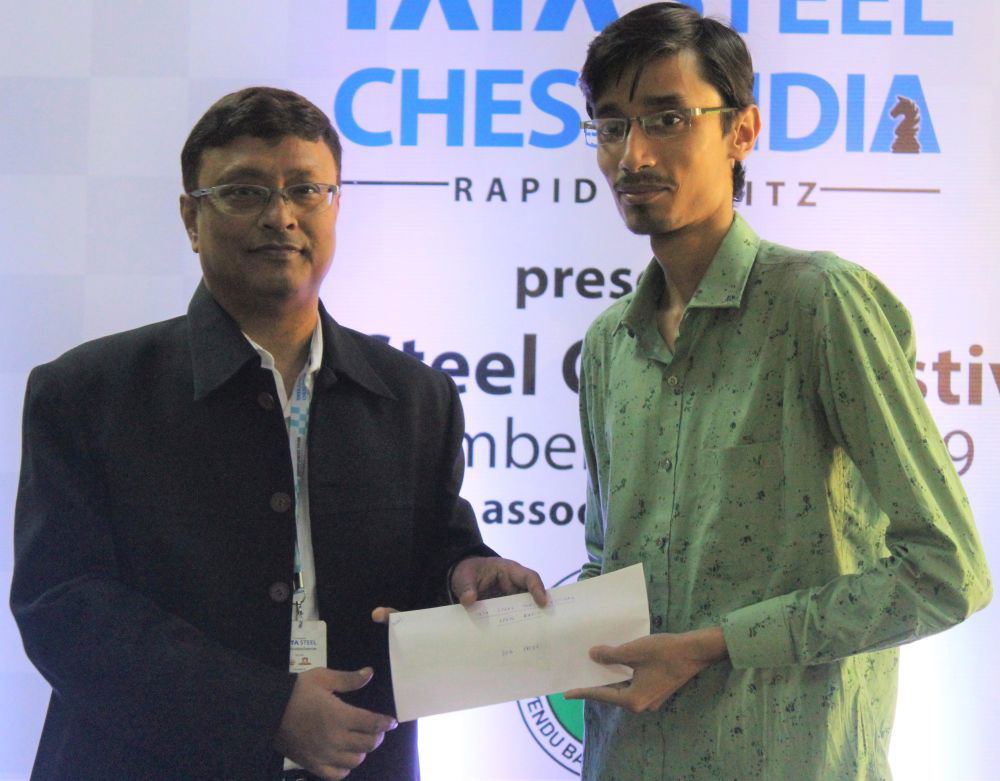 Photo Gallery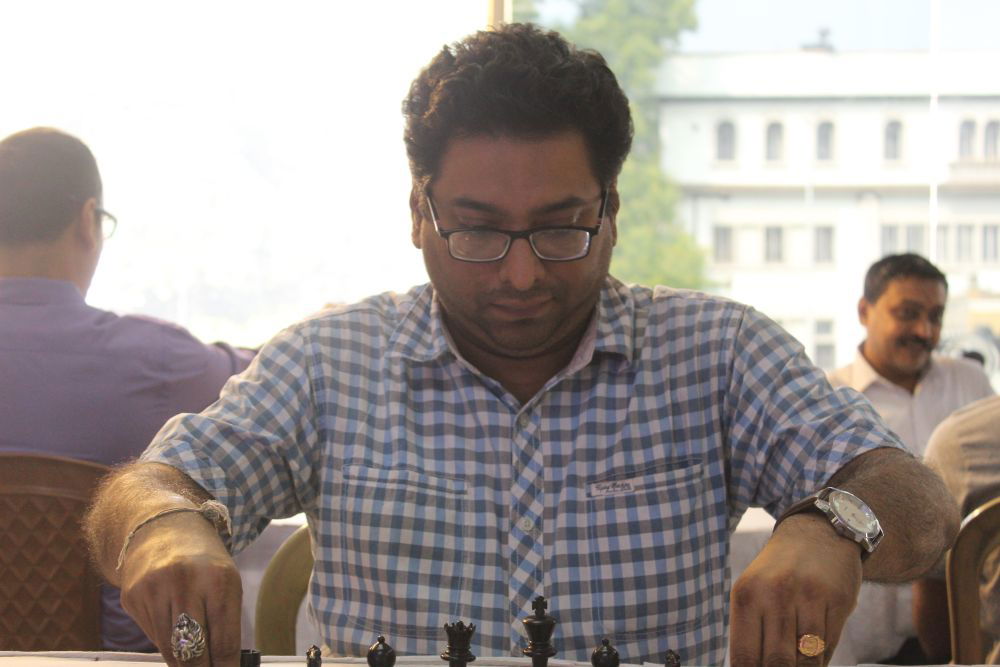 While C N Pal won the Best Veteran prize, Nirmal Kumar Bose received the Best Veteran second prize. Both of them scored 4.0/7 each and they were placed according to their tie-break score.
Total 149 players including four IMs and a WIM participated from various parts across the state of West Bengal.
Final Standings
| | | | | | | | | | | | | | |
| --- | --- | --- | --- | --- | --- | --- | --- | --- | --- | --- | --- | --- | --- |
| Rk. | SNo | | Name | Typ | sex | FED | Rtg | Pts. | TB1 | TB2 | TB3 | TB4 | TB5 |
| 1 | 6 | CM | Aronyak Ghosh | | | IND | 2046 | 6,5 | 0,5 | 30,0 | 33,0 | 27,75 | 6 |
| 2 | 14 | | Bose Sayan | | | IND | 1912 | 6,5 | 0,5 | 27,5 | 30,0 | 27,25 | 6 |
| 3 | 1 | IM | Das Sayantan | | | IND | 2413 | 6,0 | 0,0 | 29,0 | 33,5 | 28,50 | 6 |
| 4 | 32 | | Utsab Chatterjee | | | IND | 1650 | 6,0 | 0,0 | 29,0 | 30,5 | 26,00 | 6 |
| 5 | 22 | | Suvradeepta Das | | | IND | 1827 | 6,0 | 0,0 | 24,0 | 26,5 | 23,50 | 5 |
| 6 | 24 | | Sarbojit Paul | | | IND | 1763 | 6,0 | 0,0 | 22,5 | 24,0 | 17,00 | 6 |
| 7 | 9 | | Bhattacharya Niladri Shekhar | | | IND | 2015 | 5,5 | 0,0 | 30,5 | 33,5 | 24,75 | 5 |
| 8 | 3 | IM | Mitrabha Guha | | | IND | 2122 | 5,5 | 0,0 | 30,5 | 33,5 | 22,25 | 5 |
| 9 | 35 | | Praloy Sahoo | | | IND | 1633 | 5,5 | 0,0 | 28,0 | 30,5 | 22,25 | 5 |
| 10 | 25 | AGM | Shahid Ahmed S.K. | | | IND | 1751 | 5,5 | 0,0 | 24,5 | 27,0 | 21,00 | 5 |
| 11 | 36 | | Sayantan Chandra | | | IND | 1623 | 5,5 | 0,0 | 24,5 | 27,0 | 18,50 | 4 |
| 12 | 7 | | Debarshi Mukherjee | | | IND | 2027 | 5,5 | 0,0 | 23,5 | 26,5 | 20,25 | 5 |
| 13 | 21 | WIM | Arpita Mukherjee | | w | IND | 1837 | 5,5 | 0,0 | 22,5 | 25,0 | 20,75 | 5 |
| 14 | 13 | | Sumit Kumar | | | IND | 1916 | 5,0 | 0,0 | 29,0 | 32,0 | 18,50 | 5 |
| 15 | 29 | | Sumit Roy | | | IND | 1685 | 5,0 | 0,0 | 28,5 | 32,0 | 18,00 | 5 |
| 16 | 19 | | Samrat Ghorai | | | IND | 1875 | 5,0 | 0,0 | 28,0 | 31,5 | 20,25 | 4 |
| 17 | 10 | | Anurag Jaiswal | | | IND | 1962 | 5,0 | 0,0 | 28,0 | 31,0 | 19,00 | 5 |
| 18 | 57 | | Arghya Sen | | | IND | 1475 | 5,0 | 0,0 | 28,0 | 29,5 | 15,50 | 5 |
| 19 | 38 | | Ambarish Sharma | | | IND | 1598 | 5,0 | 0,0 | 26,0 | 28,0 | 18,50 | 5 |
| 20 | 18 | | Subhayan Kundu | | | IND | 1882 | 5,0 | 0,0 | 25,0 | 28,0 | 19,00 | 5 |
| 21 | 33 | | Satya Sekhar Mitra | | | IND | 1634 | 5,0 | 0,0 | 25,0 | 28,0 | 16,00 | 5 |
| 22 | 52 | | Aditya Bikram Paul | | | IND | 1508 | 5,0 | 0,0 | 24,5 | 27,0 | 15,00 | 5 |
| 23 | 31 | | Akash Tiwari | | | IND | 1677 | 5,0 | 0,0 | 23,5 | 26,5 | 19,00 | 5 |
| 24 | 43 | AIM | Debarghya Samanta | | | IND | 1574 | 5,0 | 0,0 | 23,5 | 26,5 | 18,75 | 4 |
| 25 | 20 | | Haldar Ajoy | | | IND | 1866 | 5,0 | 0,0 | 23,5 | 26,0 | 18,50 | 5 |
| 26 | 30 | | Yudhajeet De | | | IND | 1683 | 5,0 | 0,0 | 22,0 | 24,0 | 16,75 | 4 |
| 27 | 16 | | Subhajit Bhattacharyya | | | IND | 1901 | 5,0 | 0,0 | 21,5 | 24,0 | 14,75 | 4 |
| 28 | 26 | | Avijit Ghosh | | | IND | 1729 | 5,0 | 0,0 | 20,5 | 22,5 | 15,00 | 5 |
| 29 | 58 | | Shuvam Roy | | | IND | 1469 | 4,5 | 0,0 | 30,5 | 31,0 | 16,75 | 4 |
| 30 | 87 | | Dhritabrata Kundu | | | IND | 1297 | 4,5 | 0,0 | 28,0 | 31,5 | 18,75 | 3 |
---