10 things that made the Tata Steel Chess India 2019 special
The Tata Steel Chess India 2019 was held from the 22nd to the 26th of November 2019 in Kolkata, India. It was truly a path-breaking event being the strongest tournament ever to be organized on not just Indian but Asian soil. What were the things that made the event special? Who are the people who worked day in and out to make this a success? In this article, IM Sagar Shah tells you about the ten things that according to him made the Tata Steel Chess India special - Magnus Carlsen, Vishy Anand, National Library of India, huge fans, the cricket touch, Grand Chess Tour, Tata Steel and the organizers, the Anand quiz, the ChessBase India coverage and last but not the least the amazing players themselves!
The Tata Steel Chess India 2019 was the strongest ever chess tournament to be held not just on Indian soil, but throughout Asia! For a country that is crazy about chess, the Tata Steel Chess India super tournaments have been just what the chess fans wanted! The first edition in 2018 was a very successful one. Things only improved in 2019. Here are ten things that made the 2019 edition special!
1. Magnus Carlsen
It goes without saying that this tournament would never have reached the same popularity levels if it were not for Magnus Carlsen and his brilliant play at the event.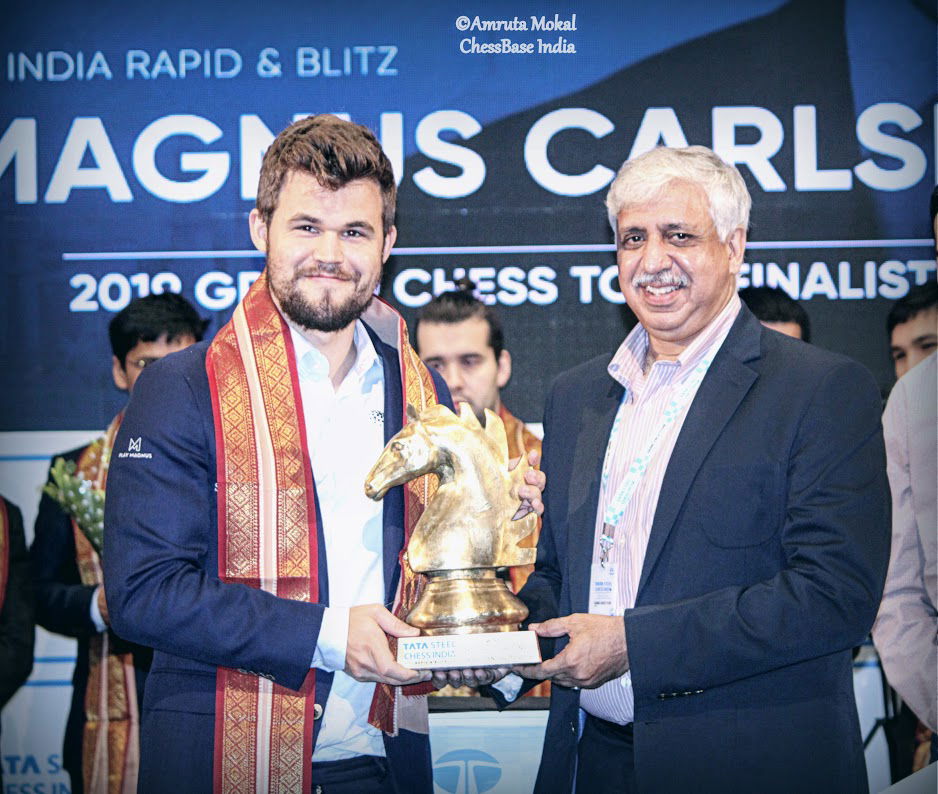 It was not just that Carlsen played good chess over the board. He simply won the hearts of the spectators.
Whenever you see Magnus with his tournament face on, you would witness him walking fast, trying to get away from the crowd. At the closing ceremony he clarified this, "I am not always forthcoming with autographs and selfies. It has to do because I try to be focused on my game. But I will be available for it at the end of the day. Please be patient, don't push! Everything will be fine."
Behind the stage, there was a player's resting area where all the players would relax after their round. There was food and air conditioner and overall they would have their own space. However, Magnus always has his own way of doing things. After four rounds of rapid chess and before facing Anish Giri in round five, the World Champion needed some air and exercise. So what does he do? He goes to the terrace of the venue, takes off his shoes and socks and with his bare feet begins playing Football! The spectators and the journalists were simply awe-struck!
It was a pleasure to have the World Champion in India and we hope that his visits to the country grow more frequent in the years to come!
2. Vishy Anand
For many years chess in India was synonymous to just one man! Vishy Anand. The five-time World Champion is single-handedly responsible for the chess boom in the country today. It was amazing to see Vishy playing and giving it his best in Kolkata.
On 11th of December 2019, Vishy will turn 50 years old. But the Indian legend is still holding his own against the best in the world. In fact against the recently crowned Fischer Random World Champion Wesley So, Anand scored three wins in three games. He beat him in the rapid and also in both the blitz games! Vishy is nowhere close to stopping just yet!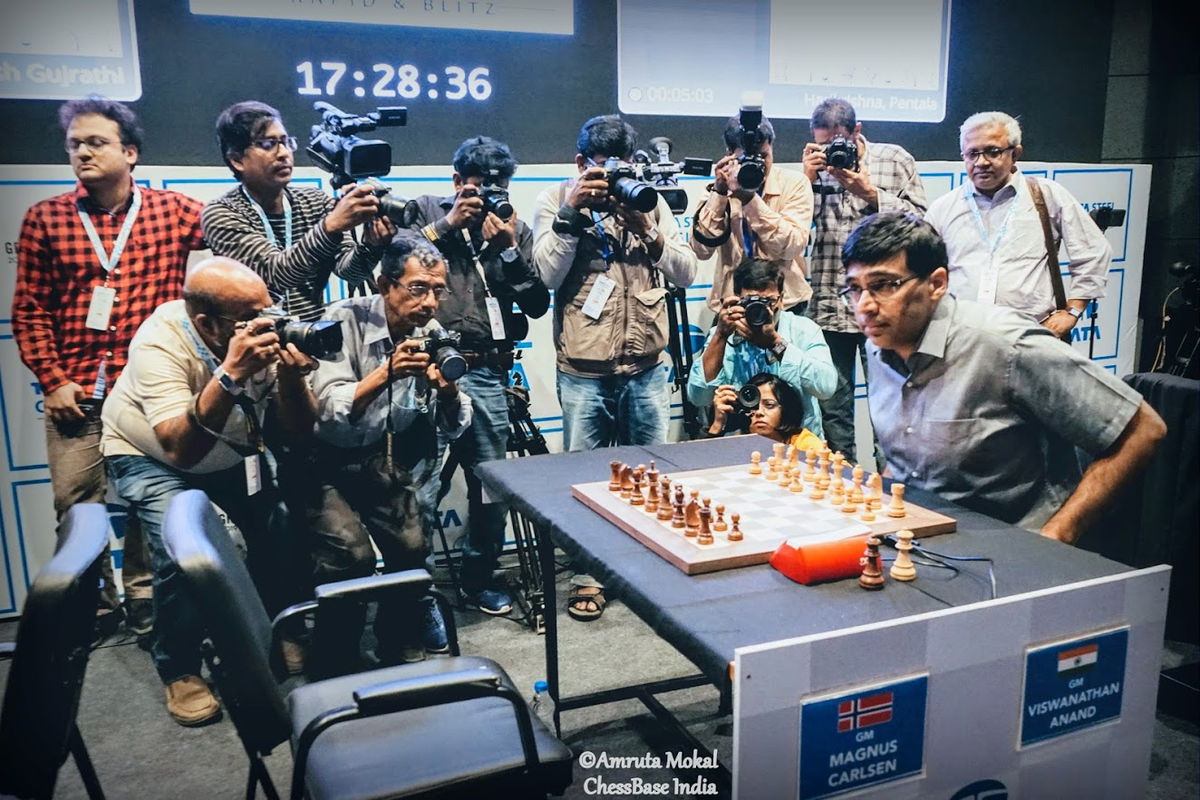 No matter who is leading the event, who is winning it, the largest cheer from the crowd always goes to Vishy Anand!
If you are in India, then the loudest cheer will always be for @vishy64theking!#chess #chessbaseindia @grandchesstour @TaniaSachdev @anishgiri pic.twitter.com/lyFCa2SLOW

— ChessBase India (@ChessbaseIndia) November 27, 2019
3. National Library of India
In 2018, the venue for Tata Steel Chess India was the Indian council for Cultural Relations (ICCR). While the venue was nice, the seating capacity inside the playing hall was limited. This time the organizers decided to shift the venue to the National Library of India. This was much bigger, grander and greener!
One could definitely say that the venue this year played a vital role in popularizing the event.
4. Huge fans
"The huge number of fans that you (India) have at this tournament is the most exciting part for me. It has made a huge impression on me and I quite like it," says Jeroen van den Berg, the famous tournament director of Tata Steel Chess India in Wijk Aan Zee and now also the tournament director of Tata Steel Chess India.
He had lost his game to Carlsen and was quite upset about it. But when the fans surrounded him, @LevAronian did not disappoint them. He smiled and he gave autographs and he made sure the spectators went back with nice memories! That's why he is such a great person! #tschessindia pic.twitter.com/mYcETjvNlU

— ChessBase India (@ChessbaseIndia) November 23, 2019
5. The cricket touch!
The most popular sport in India is cricket. They say it is more than just a sport. Cricket in India is like a religion! Until now chess and cricket never really had come close to each other. But the main organizers of the Tata Steel Chess India were Gameplan Sports Private Limited, who are into the organization of cricket in a big way. It was their idea to bring chess and cricket closer.
6. Grand Chess Tour
In 2019 Tata Steel Chess India became a part of the Grand Chess Tour. This meant that the prize money shot up in a big way. While the total prize fund in 2018 was US $40,000, the first prize this year itself was US$37,500. The total prize fund in 2019 was US $150,000.
Vishy Anand had played really well in the entire Grand Chess Tour of 2019. He just needed 5 points to make it to the London Finals starting from the 2nd of December. This brought a lot of excitement in the event and until the very last day whether Vishy would qualify or not was unsure! In the end the Indian GM missed it by a whisker, but it goes without saying that Grand Chess Tour added a completely new flavour, a better flavour, to the event this year!
7. Tata Steel and the organizers
Tata Steel has already powered chess across the world with its famous event in Wijk Aan Zee, which is into its 82nd edition. Taking a leaf out of their book, the Tata Steel Chess India begun in 2018. In a year it has become a part of the Grand Chess Tour and the sponsors Tata Steel couldn't have been happier with the progress. "Our support to this event will continue and in the coming years you will see it taking place in Kolkata and growing from strength to strength," says Chanakya Chaudhary. So why does Tata Steel support chess in such a big way. Isn't chess supposed to attract less eyeballs as compared to say a sport like Cricket or Tennis or Badminton? Chanakya clarifies Tata Steel's position. "I joined the company 31 years back and till today we have a tag line which we have remained true to - At Tata Steel, Sports is a way of life! If you come to any of our operating units in Jamshedpur or even in Jharkhand or Odisha where we have our mining operations, you will see that we invest a lot in the infrastructure for sports. We have stadiums, we have academies, we have training centres. GM Dibyendu Barua was with us and he was a part of the chess training centre in Jamshedpur. Chess has been a part of our curriculum. We do not promote sports for eyeballs. We sincerely feel that there is a huge talent pool in the country which needs to be honed. We want to be the facilitators. We do not see the return on investment. That comes for our steel making business. Our aim is to make the infrastructure for the talents, train them, and then throw him/her in the water and let them swim!"
8. The Anand quiz
At the Tata Steel Chess India 2019, I handpicked nine positions from Vishy Anand's career-best games and posed them in the form a quiz to Magnus Carlsen, Anish Giri, Hikaru Nakamura, Vidit Gujrathi, and Erwin l'Ami. The reason why I did this was because the super tournament was being held in India and the Indian maestro was soon going to turn 50 years old. I felt that it would be a nice way to pay our respect to the greatest chess player that the world has ever seen.
The challenge was to not only guess the moves Vishy played in those positions but also recognize the opponents they were played against. So how did the five top-class Grandmasters, including the current World Champion himself, fare in the test? To know, check out the videos below.
After the above interviews were over, I got in touch with Vishy himself. Anand, who was found in a relaxed mood after the tournament, spoke unreservedly and went down the memory lane relating many untold stories connected to these masterpieces.
This quiz made the event more exciting. You could even hear Peter Svilder and Jen Shahade talk about it on commentary and the Magnus video now has over 150,000 views in the last one week. We are happy that people enjoyed it.
9. The ChessBase India coverage:
The most intense on site coverage of the event was done by ChessBase India. We were a four member team present at the venue who brought you articles, photos, videos and social media updates on a daily basis.
Here are our daily articles which you can read and get a complete recap of the event:
Curtain raiser: Everything you wanted to know about Tata Steel Chess India 2019
Press conference: The Tata Steel Chess India Rapid and Blitz 2019 press conference
Pre tournament activities: So, Ding, Nakamura, Hari and Giri take Kolkata by storm
Opening ceremony: When Magnus Carlsen took on the Vishy Anand quiz
Side event: Somak Palit wins Tata Steel Chess Festival 2019 Open blitz
Live games: Live games and updates from Tata Steel Chess India 2019
Day one: Magnus Carlsen dominates day one of Tata Steel India Rapid 2019
Day two: Football, Cricket, chess - Magnus Carlsen impresses one and all
Side event: Pralay Sahoo wins a dream moment
Day three: Carlsen performs at an astronomical rating of 3027 to win Tata Steel India rapid
Day four: Scandinavian, cheap tricks, brilliant tactics at Tata Steel Chess India blitz
Side event: Aronyak Ghosh wins Tata Steel Chess Festival 2019 Open Rapid
Day five: Express report - Magnus Carlsen is the champion
Day five full report: Vishy misses his ticket to London, the biggest ever event on Indian soil comes to an end
Interview with Anand: Vishy on Vishy gems
There was extensive coverage also on Chessbase.com and you can find all the articles here.
India's ace photographer Amruta Mokal captured many excellent pictures at the event. In this link you can find 166 photographs taken by her.
All videos by Hindi ChessBase India and Niklesh Jain can be found here. The most popular one being Carlsen vs Vidit game which ended in five moves.
Most popular videos:
One of the major efforts taken by ChessBase India in covering the event was to give you the feel of being present at the venue. In this respect we feel that there is no better medium than videos. We used the ChessBase India YouTube Channel to publish some of the videos and many of them became very popular. Here we jot down the ones that have over 50,000 views! Mind you the view count would change quite drastically if you are reading this after a few hours, because many of the videos are growing in view counts very aggressively.
Those are nine videos that have above 50,000 views just a couple of days after the event has ended. We are sure that by next month, many more will join. In each of the video we had the logo of Tata Steel Chess India Rapid and Blitz. According to us this is great value for any sponsor as his logo is seen innumerable times in the videos.
Check out the Tata Steel Chess India Rapid and Blitz playlist on YouTube. It has 90 videos already!
10. The amazing players!
None of this would have been possible without the 10 amazing players who fought it out with all their might for five days at the event! Thank you Magnus, Ding Liren, Vishy, Anish, Levon, Hikaru, Wesley, Ian, Hari and Vidit! Each one of you made these five days memorable!
ChessBase India giveaway!
We have a special prize for all our readers. Write down in the comments section below as to why you enjoyed the Tata Steel Chess 2019. The most interesting and creative answer will win the ChessBase 15 DVD (above) signed by eight participants of the event! It's a memory for a lifetime, so don't miss this opportunity!
---