Carlsen performs at an astronomical 3027 at the Tata Steel India Rapid
Magnus Carlsen performed at an astronomical Elo of 3027 at the Tata Steel Chess India 2019 Rapid. He scored 15.0/18, with six wins and three draws. According to Magnus, this was his best performance ever in rapid format. He gained 36.8 Elo points, taking his rapid rating to 2885. He also overtook MVL and thus became World no.1 in rapid format. Hikaru Nakamura took the second spot with 11.0/18 and Wesley So was third. The tournament has not yet ended. We move to the blitz section with 18 more rounds to be played. The cumulative score of both the formats will determine the winner. A detailed day three report from the National Library in Kolkata.
Chess is not a spectator sport?
By Sagar Shah
For years we have had the impression that chess is not a spectator's sport. But at the Tata Steel Chess India 2019 things looked much different. Here's a view of the playing hall:
The question is - how can the audience see what is going on in the games. Aren't the boards too far?
The main difference I see in India is that instead of tweaking the way in which you present chess to accommodate people who do not understand the game, focus is on teaching chess to more kids. When someone knows the rules of chess, it is quite natural that he is going to enjoy this spectacle. After all, the best chess players in the world have gathered in the country!
I asked them about their favourite players and the overwhelming majority were Carlsen and Anand fans. But then we also had the Vidit fans, Anish Giri fans, the Ding Liren fans and more! Chess is truly becoming more and more popular in India.
Being a Sunday, we definitely had more people coming to the venue and the first round of the day (seventh round of the rapid section) was Magnus Carlsen taking on Vishy Anand.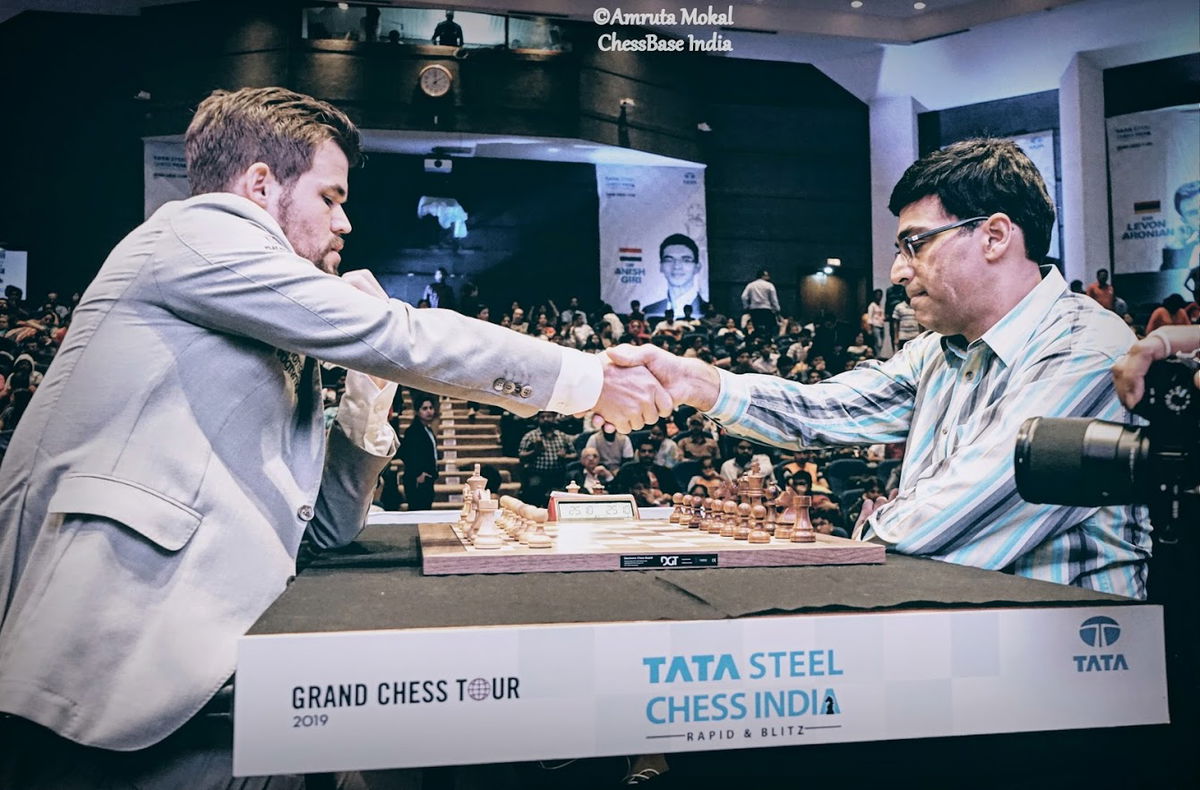 Magnus dominates day three with two wins and a draw
by Satanick Mukhuty
The two titans were playing against each other on Indian soil after a spell of six years. The last time was in Chennai back in 2013 where a 22-year-old Magnus defeated Vishy to be crowned as the World Champion of classical chess. Quite naturally, their encounter today evoked a lot of nostalgia attracting audiences from far and wide, and oh boy! all of that did live every bit to its expectations. The Madras Tiger had the black pieces and went for some very ambitious play in the Ragozin variation of Queen's Gambit Declined. But at the end of what was a fiery nail-biting melee, it was the Norwegian phenom who emerged triumphant. Vishy created some fascinating complications out of the opening, going for the blood right from the word go. But the ever steady Magnus proved too difficult to crack. In a wildly double-edged position the Indian made one inaccuracy on move 19 and only that was enough for the World Champion to rip his opponent apart.
Magnus Carlsen - Vishy Anand, Round 7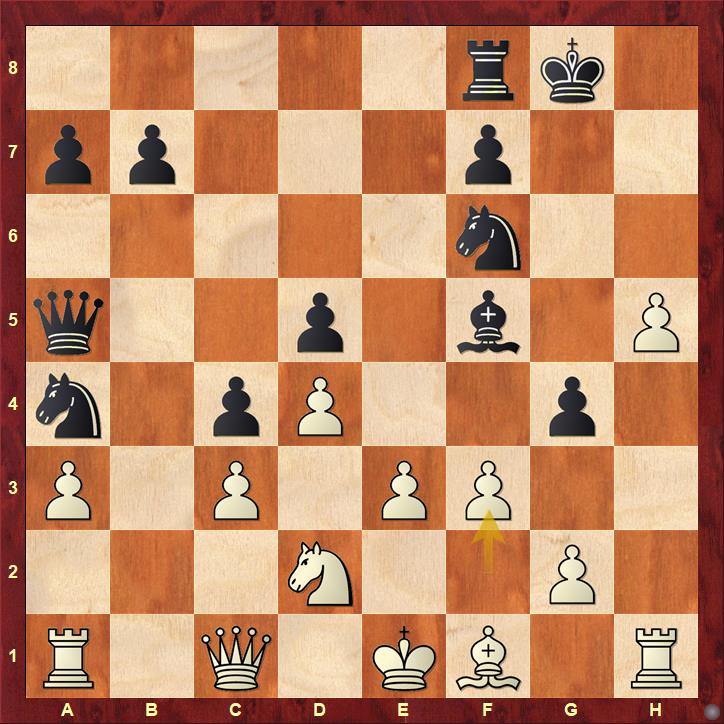 The above was the most critical moment in the game. As is clearly visible, the position is quite complex and double-edged with Black trying to force his way on the queenside by exploiting the weakened c3 pawn and White hoping to use his extra material and get counter chances on the kingside via the potentially dangerous c1-h6 diagonal. Vishy opted here for the move 19...Re8, perhaps with idea of stopping e3-e4 but this proved to be a fatal error as this allowed White to consolidate his position with 20.Kf2! and after 20...b5 21. e4 dxe4 22. Nxc4 bxc4 23. Qg5+ White was simply crushing through.
The most logical move here instead of Rf8-e8 would have been 19...g3, taking control of the critical f2 square and keeping the white king sort of stuck in the middle. If now White chooses 20.e4 then Black always has 20...Re8 after which he is just fine. Magnus was lagging behind in development and Vishy at this point had to keep it that way. After the Indian maestro made this crucial slip it was all Magnus for the rest of the game. Check out the full game with detailed annotations below:
For Magnus this win was a huge confidence booster. At the press conference he mentioned, "In the past Vishy used to outcalculate me in such complicated positions. So it felt nice to do that against him!"
After Vishy's loss, the Indian contingent suffered the second blow in round seven when Vidit Gujrathi went down against Ian Nepomniachtchi of Russia. Vidit had the black pieces and played a solid game against Nepo's Scotch opening and it was only on move 39 he made the decisive mistake that landed him in a worse minor piece ending with an inferior bishop.
Ian Nepomniachtchi - Vidit Gujrathi, Round 7
Well, in the game Nepo played 40.Nb3! and this is indeed a very strong move. After the literally forced exchange of queens with 40...Qxc4 41.Qxc4 Bxc4 the white knight clearly stood much superior than the black bishop and the outside passed a-pawn meant that all pawn endgames were winning for White. The game followed 42.Kc3 Bd5 43.Nc5 Kb6 44.Kb4 h5 45.a5+ Ka7 and with that the c5 knight and a5 pawn together became self-immune, all other white pawns were already safe by the virtue of being on dark squares which meant the white king could travel to the kingside and take hold of the weak f6, g5 squares there. This very simple and standard winning plan was executed to perfection by the Russian super GM. Vidit had to resign after struggling for 60 moves.
Vidit suffered his second defeat of the day in the hands of Levon Aronian in the final round of the rapid event. The number three ranked player of the country finished at the bottom of the rank-list with a sombre score of 6.0/18 points. His defeat in the last round too was caused due to some inaccurate play in the endgame. Let us have a look at the decisive turn of this encounter.
Levon Aronian - Vidit Gujrathi, Round 9
Notice that Black has an extra piece on board but White has pinned the knight on e6. Therefore, essentially it is Black who has to play carefully as White has an excellent pawn majority on the kingside ready to march down the board, while Black's king is exposed and weak.
The best way to counter Aronian's kingside onslaught would have been 30...Rd8! 31.f4 Rd5! and 31.Bxe6 is met with Bxe6 Rxe6 Bxf2! - this forces equality and after 32.Bxd5 cxd5 33.Re5 Black's pair of bishops gives him excellent chances, 33...Bc7 34. Rxd5 Bxf4 is roughly equal. In the game White was really able to get his pawns rolling down the board wrecking havoc.
Magnus Carlsen was absolutely on rampage today and could have actually scored a clean three out of three wins. In round eight he found a decisive advantage with black pieces against Harikrishna Pentala but quite surprisingly ended up misplaying a rook-pawn ending to settle for just a draw.
Harikrishna Pentala - Magnus Carlsen, Round 8
Black wins here clearly with 63...Ke4, after 64.Kxg3 Ra1 65.a6 Rg1+ Black forces the king to the h-file, stops the white pawns on a-file, and his own advanced e-pawn gives him a decisive edge. In the game Magnus erred with 63...Rxa4 and the game fizzled out into a draw after 64.Kxg3 Ke4 65.Rb6 Ra1 66.Rxe6+. It was quite a narrow escape for Harikrishna.
Magnus was quite upset at having missed a win against Harikrishna. In the final round the World Champion struck again with a victory and this time against the Chinese star Ding Liren. In this game Magnus converted a slight edge in his hallmark style when Ding went wrong on move 38.
Magnus Carlsen - Ding Liren, Round 9
38...a5 is a mistake because it weakens Black's queenside situation. Magnus recognized this and immediately went 39.Qe2 attacking the b5 pawn.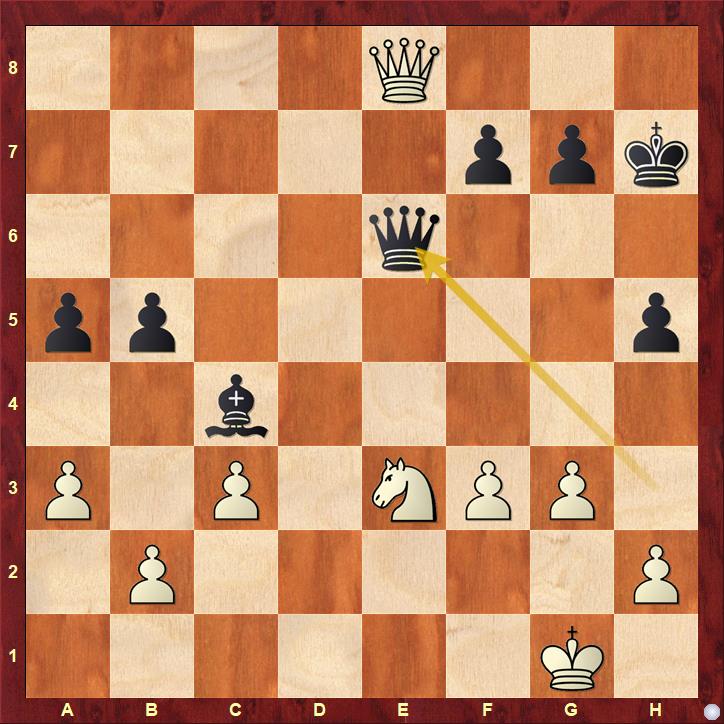 After the game Magnus said, "In the last game I wanted to play it fairly safe. So we get this position where I have an extra pawn, and he has the bishop pair, so basically it's just equal. I felt that I wasn't risking so much and for the tournament situation it was a good choice. I felt that Ding might not show the necessary patience required in defence and that is exactly what happened! He got a bit frustrated with making most of the defensive moves and reacting to my ideas. And when this happens things can go astray very soon. You could see this in the game - I got a little more ground each time. And Ding missed a few things and I won."
Over to Blitz now!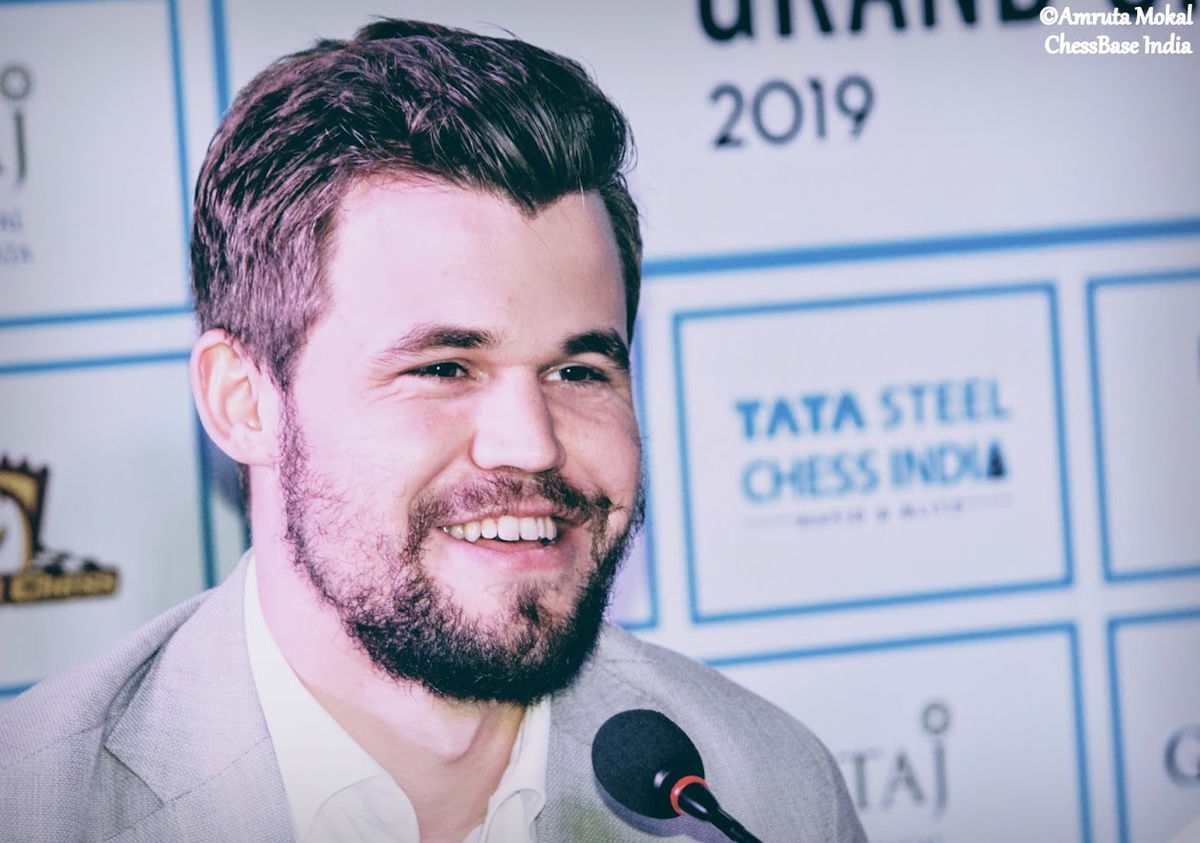 Magnus Carlsen performed at an astronomical Elo of 3027 at the Tata Steel Chess India 2019 Rapid. He scored 15.0/18, with six wins and three draws. According to Magnus, this was his best performance ever in rapid format. He gained 36.8 Elo points, taking his rapid rating to 2885. He also overtook MVL and thus became World no.1 in rapid format. Carlsen scored wins against Ding Liren, Vishy Anand, Ian Nepomniachtchi, Levon Aronian, Hikaru Nakamura and Anish Giri. Surprisingly Carlsen was held to a draw by Wesley So and two wild cards - Harikrishna and Vidit. Going into 18 rounds of blitz, Carlsen now has a four point lead over the field. It remains to be seen if someone can stop him, but as of now Force Magnus has taken over the city of Kolkata by storm!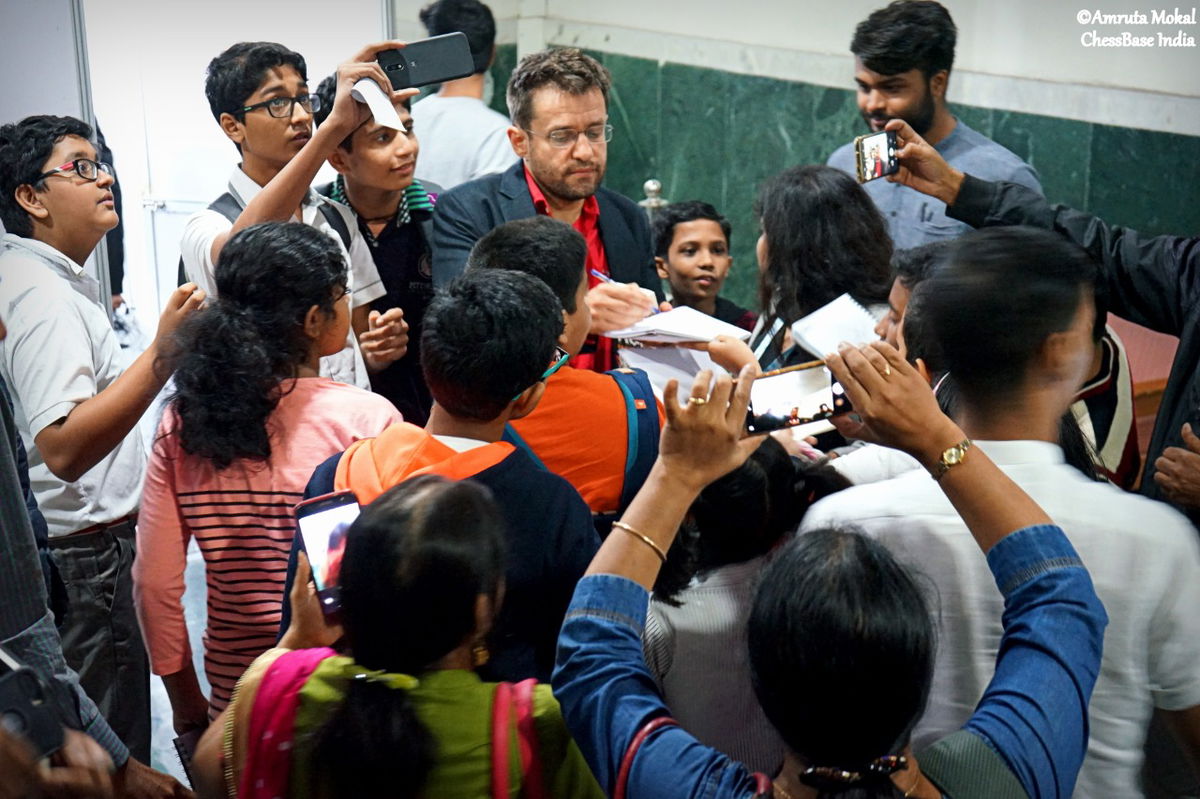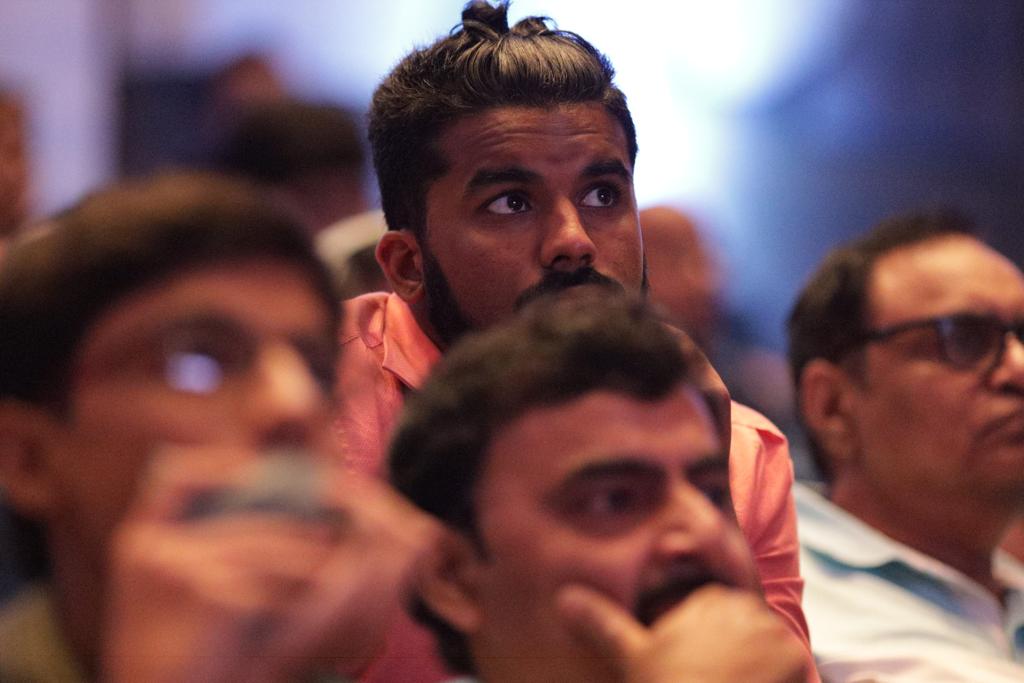 ---