The opening ceremony of the first super tournament on Indian soil
And we are off! The opening ceremony of the first super tournament on Indian soil was held in the evening of 8th of November 2018. For chess fans across the country this was a big moment. At one place we had the absolute best chess players of the world which included our very own Vishy Anand, the man in form Shakhriyar Mamedyarov, Sergey Karjakin, Levon Aronian, Hikaru Nakamura and Wesley So. This will be a great exposure for players like Harikrishna, Vidit Gujrathi, Surya Sekhar Ganguly, Nihal Sarin (rapid) and Praggnanandhaa (blitz). The short time control of 25'+10'' in rapid and 5'+3'' in blitz makes this an event to look forward to. It starts on the same day as the World Championship between Carlsen and Caruana. ChessBase India brings you pictures from the opening ceremony by Amruta Mokal and video interviews by Sagar Shah and Shahid Ahmed.
The speed at which Indian chess has been progressing in the last few years has made the world take attention to all our players. It's now time to step it up a notch further. The first super-tournament, the much looked forward to, Tata Steel Chess India 2018 is here! While India had witnessed many individual great players visiting the country like Viktor Korchnoi, Vasily Smyslov and others, this is the first time that you have so many world class players playing under one roof at the same time.
The International stars include Shakhriyar Mamedyarov, Hikaru Nakamura, Sergey Karjakin, Levon Aronian and Wesley So, while the Indian players are Vishy Anand, Pentala Harikrishna, Vidit Gujrathi, Surya Sekhar Ganguly, Nihal Sarin and Praggnanandhaa. If you look carefully at this list you will realize that there are five international stars while there are six players from India. That is because the two little youngsters of Indian chess Nihal Sarin and Praggnanandhaa will play the Rapid and Blitz sections respectively! It's a fantastic move by the organizers to give a chance to these youngsters to fight it out against the best in the business.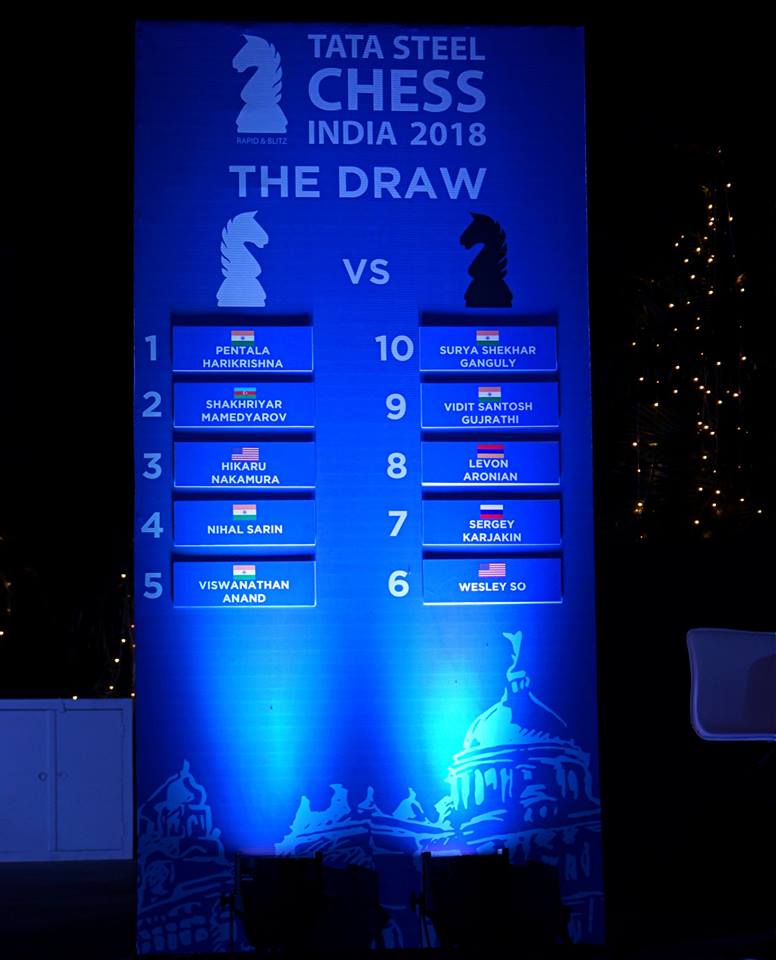 Round 1 pairings:
| | | | | | | | | | | | | | |
| --- | --- | --- | --- | --- | --- | --- | --- | --- | --- | --- | --- | --- | --- |
| Bo. | No. | FED | Rtg | | | Name | Result | | Name | | FED | Rtg | No. |
| 1 | 1 | IND | 2743 | | GM | Harikrishna Pentala | | GM | Ganguly Surya Shekhar | | IND | 2608 | 10 |
| 2 | 2 | AZE | 2794 | | GM | Mamedyarov Shakhriyar | | GM | Vidit Santosh Gujrathi | | IND | 2660 | 9 |
| 3 | 3 | USA | 2844 | | GM | Nakamura Hikaru | | GM | Aronian Levon | | ARM | 2802 | 8 |
| 4 | 4 | IND | 2127 | | IM | Nihal Sarin | | GM | Karjakin Sergey | | RUS | 2792 | 7 |
| 5 | 5 | IND | 2737 | | GM | Anand Viswanathan | | GM | So Wesley | | USA | 2808 | 6 |
Check pairings for all the rounds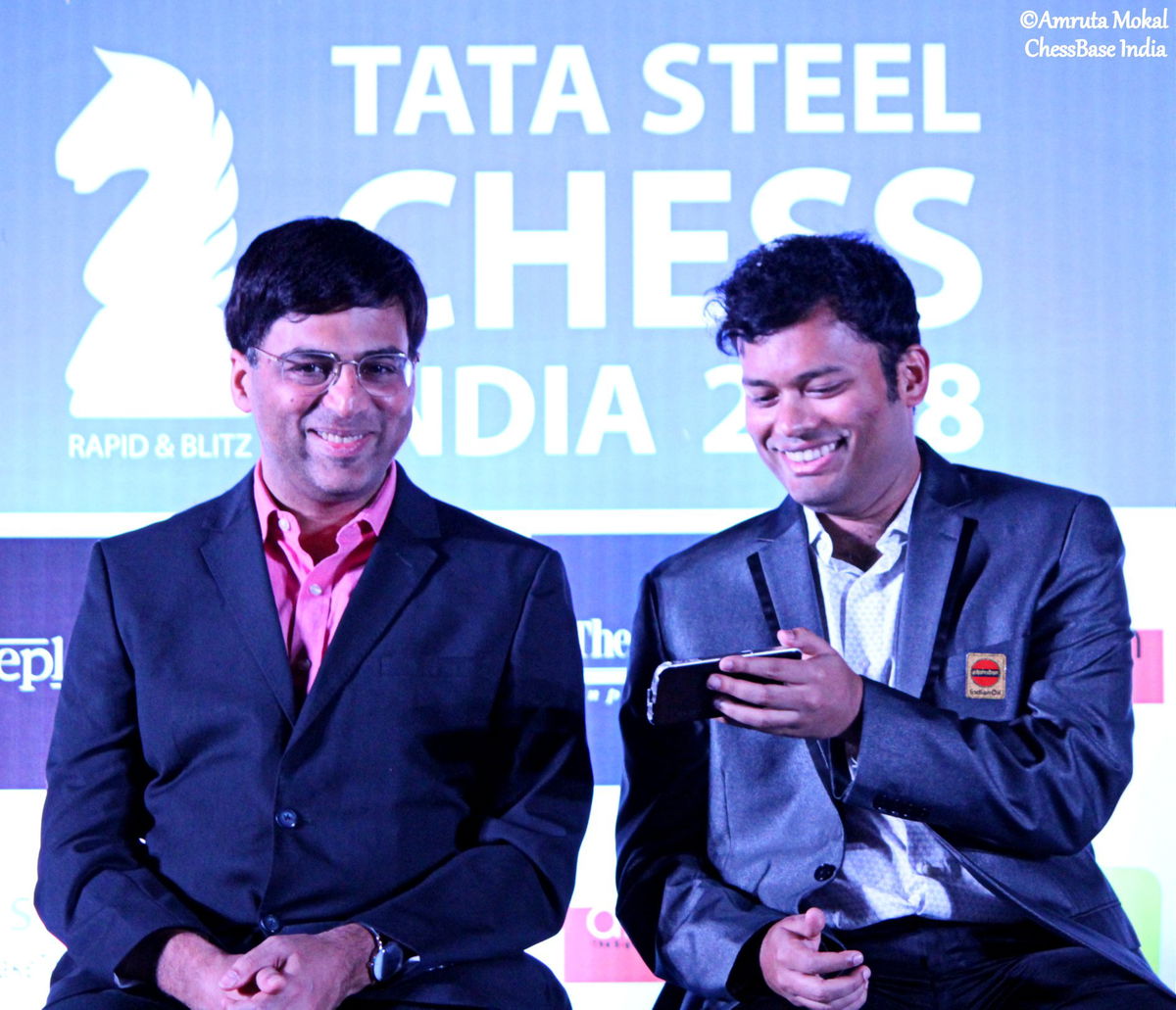 The Live Commentary will begin on 9th of November 2018 at 2 p.m. IST and you can follow it live here.
Tata Steel is going to support this rapid and blitz tournament in India for a total of five editions! This is fantastic news for all the Indian chess fans.
The ChessBase India quiz on India!
ChessBase India had prepared an interesting quiz for all the International players to test their general knowledge about India.
The quiz was not too tough. Before having a look at the answers it would be a good idea for you to attempt at solving the quiz!
The main difficulty faced by people was to solve the photo where the faces of six Indian players are given! While Nakamura and So struggled really hard, Levon Aronian breezed through all the questions!
Levon Aronian:
Everyone knows that Levon Aronian is a class act on the chess board. But through this video, you also get to know what a well-read person he is. Levon was confronted by a special quiz prepared by the ChessBase India team - the India quiz, in which we asked the International players a few things about India. Levon was simply unstoppable as he answered questions related Taj Mahal to prime minister of India, with ease! Levon also recounts his experience of World Youth Olympiad in 1998 where he was able to trick Pentala Harikrishna with a very nice idea off the board. In the end of the video Levon tells us his take on the World Championship Match beginning in London from today and at the same time wishes all the viewers of ChessBase India a very happy Diwali.
Hikaru Nakamura:
It's for the first time that Hikaru Nakamura is in India. We ask him about his experience in India until now. We then come to the India quiz that we have prepared for the international GMs. Nakamura shows his fantastic general knowledge as he blitzes through the questions! The last two prove to be the most difficult for him as he tries hard to crack the photos of Indian players! Check out the video! You are sure to be entertained.
Wesley So:
Wesley So took the Indian quiz at the opening ceremony of the Tata Steel Chess 2018. It was a roller coaster ride for Wesley as he found some questions quite easy, but some were extremely tough. At the end he stumbled upon a picture where he just couldn't identify Levon Aronian. At the end he said, "Levon has become more handsome now!"
Vidit Gujrathi and Surya Sekhar Ganguly:
The India quiz was just meant for players outside India, but Ganguly and Vidit gave a go at it! And although some questions were very easy, in some of them they did have a tough time!
More videos:
It's a big moment for Indian chess that a super tournament has finally made it to our country. A lot of people have worked hard to make this possible, but one of the most important personalities it Jeet Banerjee, the director of Game Plan - the company which is organizing the Tata Steel Chess India 2018. We ask Jeet about the challenges involved in putting this grand show together, how did he decide to get Pragg and Nihal in the tournament and whether this would be a continued involvement in chess or just a one-off event by Game Plan. Game Plan is the company that manages Kolkata Knight Riders in IPL.
It's a great opportunity for 14-year-old Nihal Sarin, who will fight it out against the best players in the world of chess in the rapid section of the Tata Steel Chess India 2018. The organizers have added this exciting element in the tournament to have Nihal Sarin in the rapid and Praggnanandhaa in the blitz section. The idea was to give these two talented Indian youngsters a chance to fight with the best players in the business. But isn't it overwhelming? For 14-year-old Nihal Sarin to play against guys like Anand, Nakamura, Aronian, So, Karjakin, Mamedyarov! We speak to Nihal at the opening ceremony and get to know what's going on in his mind!
Important links:
Watch the action live from 2 p.m. onwards IST
---