Arjun Erigaisi and Levon Aronian are the winners of Tata Steel Chess India 2021 Rapid and Blitz
The final day of the Tata Steel Chess India 2021 Blitz witnessed lots of exciting chess. It was difficult to predict who is going to take the winner's trophy as the leaders kept changing throughout the day between Nihal, Gukesh, Parham, Aronian and Arjun. Nihal had the championship fingertips away as he was the sole leader heading into the final round. A win against Parham would have given him the championship as no one else would have been able to catch him. Raunak played a spoilsport in Gukesh's championship hopes as he beat him in the penultimate round. It was Arjun and Aronian who tied for the first place. When two Blitz games could not decide the winner, it was time for Armageddon which Aronian won and emerged the winner of the Blitz event. Photo: Lennart Ootes
Nihal so near, yet so far
Nihal is always the favorite when it comes to the faster format of chess. He showed the world why he is so on the final day of Tata Steel Chess India 2021 Blitz. However, a last round loss pushed him back to a fourth place finish. Nevertheless, the Indian youth showcased their talent, earned acknowledgement from their peers and once again reminded everyone that they are the present and the future, the force to be reckoned with when given an opportunity. They are going to conquer sooner than later, it's inevitable. For more details on winners' thoughts, Playoff games and Closing Ceremony photos, click here.
Round 10: Arjun - Nihal: 0-1
Nihal Sarin ended Arjun Erigaisi's 16-game unbeaten streak in the tenth round.
22.g3 was played to prevent Nf4. However, Black went 22...dxe4 23.dxe4 Nd4 24.Nxd4 exd4 and White's position fell apart quickly as both bishops are piercing the board like swords.
Parham - Shankland: 1-0
Sam Shankland was completely winning for the better part of the endgame against Parham Maghsoodloo.
Black only needs to worry about the g4-pawn. Shankland panicked and did everything his opponent needed him to do to win the game. There are multiple ways for Black to win this game.
Round 11: Liem - Gukesh: 0-1
Gukesh beat World Blitz 2013 champion Le Quang Liem for the second time in the tournament.
This time also Gukesh used his tactical alertness to gain the upper hand. 27.Bf3 was played to capture the pawn at c6 after the bishop gets exchanged if Black decides to take the a5-pawn. Gukesh had seen it thoroughly, and he denied his opponent to regain the lost pawn. The game continued 27...Qxa5 28.Bxc6 Rc8 29.d5 exd5 30.Qg4 Qd8! what an amazing backward move, something which is easily overlooked during a game. It made sure Black does not have to return the extra pawn. Gukesh converted his advantage into a win with a perfect technique.
Nihal - Aronian: 0.5-0.5
The rematch between Nihal and Aronian also ended in a draw. This time we got some more and interesting combat.
Aronian made an interesting sacrifice to create an imbalance by gaining two pawns and a rook for two minor pieces. 30...Bxa3 31.bxa3 Nxc3+ 32.Kf3 Nxd1 33.Rxd1. Nihal played precisely and made sure of his opponent's passed pawn on the b-file does not prove to be fatal.
Parham - Raunak: 0-1
Parham Maghsoodloo lost to Raunak Sadhwani in the rematch too.
White needed to get the bishop out of the pin, perhaps 24.Be3 was playable. However, 24.Ncd6 was played which turned out to be the point of no return for the knight as 24...Rf6 makes sure Black gets two knights for the rook. 24.Nc4 is not a good idea because d3-pawn is pinned which means the knight will fall 24...Bxc4. Raunak converted his advantage into a win comfortably.
Round 12: Aronian - Shankland: 0-1
Shankland managed to get his revenge against Aronian. Although it was not an easy one. The balance shifted a lot between both players in the endgame.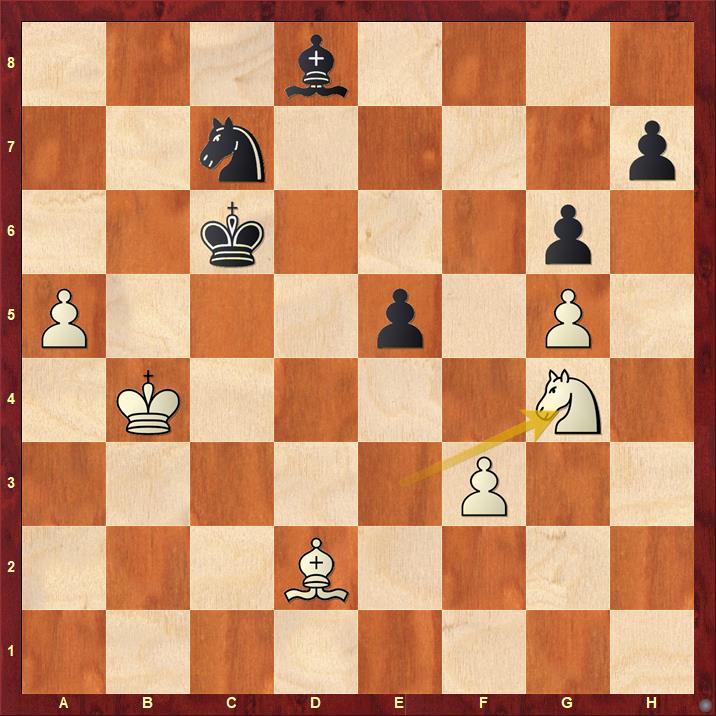 White is threatening to take the e5-pawn. Both 41...Kd6 and Kd5 seem to be okay. The game continued 42.Kc4 Ke6 43.Be3 and White got a completely winning position. A few errors allowed Black to get back in the game and eventually win it.
Gukesh - Nihal: 0-1
Nihal played the endgame beautifully in the final seconds to avenge his earlier lost against Gukesh in the same event. Thus, began Nihal's second streak of hat-tricks.
Round 13: Parham - Aronian: 0.5-0.5
Parham had a lucky escape against Aronian as the latter missed a checkmate in time scramble.
Find out the winning continuation for Black after 37.Kh3
Shankland - Gukesh: 0-1
Shankland had a decisive advantage against Gukesh. An incorrect retreat of the knight, created a tiny window of opportunity for his opponent which Gukesh seized.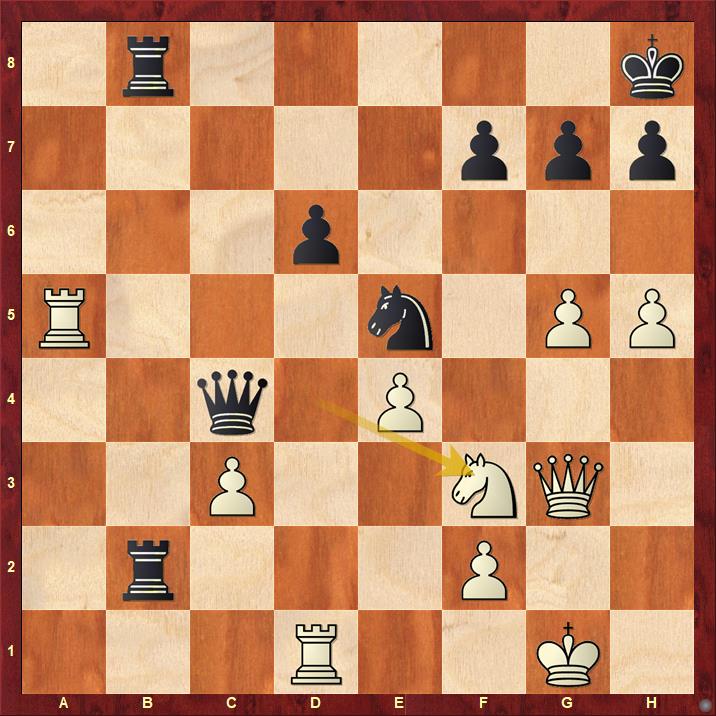 30...Qe2 forks both rook and knight, and it's all over for White. This win started a hat-trick for Gukesh and his ascension to the top of the points table.
Nihal - Vidit: 1-0
After making a 2.0/3 start, Vidit suffered his first loss on the second day as he erred in the final moments of the endgame against Nihal.
Round 14: Gukesh - Parham: 1-0
Gukesh scored a beautiful win against Parham where the former played harmoniously throughout the game on every side of the board. It is absolutely a delight to study this game, a must-see for those who love positional games.
Aronian - Arjun: 0-1
Arjun Erigaisi scored a very nice win against Levon Aronian.
Raunak - Liem: 1-0
Raunak Sadhwani scored his biggest win of the event as he defeated Le Quang Liem in a game which could have gone either player's way.
Round 15: Parham - Vidit: 0-1
Vidit scored his only second win of the day with a picturesque finish.
White is threatening Rh8#, however his own king is under attack. Where should he move the king?
Shankland - Harika: 0-1
Harika scored her sole win of the second day, her second at the event against Sam Shankland in a back and forth game.
Arjun - Gukesh: 0-1
Gukesh jumped ahead of Arjun, handing him his third loss of the day.
Round 16: Gukesh - Aronian: 0-1
Gukesh played well and had a significant decisive advantage. However, in the last few seconds he blundered and lost a crucial game against Aronian. A win would have kept him as the front runner to win the event and Aronian's chances would have reduced.
35.Qd7 makes sure White is still in the game. However, 35.Qd2 finishes the game for White. Find out how.
Round 17: Shankland - Nihal: 0-1
Shankland made an incorrect tactical calculation which cost him the game in just 20 moves.
Gukesh - Raunak: 0-1
Gukesh lost his second consecutive game, this time against Raunak, although the former was completely winning the endgame. A blunder in time scramble cost him dearly. It removed Gukesh from the championship picture, after he had a great day playing some fantastic games.
Parham - Liem: 1-0
Parham completely turned around a difficult position and managed to beat Liem eventually.
Round 18: Liem - Arjun: 0-1
Arjun missed a couple of quicker checkmates which made things a bit difficult for him. However, in the end he managed to prevail against Liem.
Vidit - Gukesh: 0-1
Gukesh persevered a very difficult endgame against Vidit, eventually managed to win the game to finish the tournament on a high note.
Photo Gallery
Replay Round 10-18 and Playoff games
Round 18 results
Round 18 on 2021/11/21 at 1700 h
Bo.
No.
FED
Rtg
Name
Result
Name
FED
Rtg
No.
1
10
IND
2517
GM
Sadhwani Raunak
0 - 1
GM
Shankland Sam
USA
2660
5
2
4
IND
2667
GM
Nihal Sarin
0 - 1
GM
Maghsoodloo Parham
IRI
2601
6
3
3
VIE
2774
GM
Le Quang Liem
0 - 1
GM
Erigaisi Arjun
IND
2616
7
4
2
IND
2422
GM
Harika Dronavalli
0 - 1
GM
Aronian Levon
ARM
2767
8
5
1
IND
2739
GM
Vidit Santosh Gujrathi
0 - 1
GM
Gukesh D
IND
2376
9
Standings after Round 18
| | | | | | | | | | | | | |
| --- | --- | --- | --- | --- | --- | --- | --- | --- | --- | --- | --- | --- |
| Rk. | SNo | | | Name | sex | FED | Rtg | Pts. | TB1 | TB2 | TB3 | TB4 |
| 1 | 8 | | GM | Aronian Levon | | ARM | 2767 | 11,5 | 1 | 0,0 | 91,75 | 8 |
| 2 | 7 | | GM | Erigaisi Arjun | | IND | 2616 | 11,5 | 0 | 0,0 | 92,00 | 8 |
| 3 | 6 | | GM | Maghsoodloo Parham | | IRI | 2601 | 11,0 | 0 | 1,0 | 94,50 | 10 |
| 4 | 4 | | GM | Nihal Sarin | | IND | 2667 | 11,0 | 0 | 1,0 | 92,50 | 9 |
| 5 | 9 | | GM | Gukesh D | | IND | 2376 | 10,0 | 0 | 0,0 | 85,25 | 8 |
| 6 | 3 | | GM | Le Quang Liem | | VIE | 2774 | 8,5 | 0 | 0,0 | 68,75 | 6 |
| 7 | 5 | | GM | Shankland Sam | | USA | 2660 | 8,0 | 0 | 2,0 | 66,00 | 6 |
| 8 | 10 | | GM | Sadhwani Raunak | | IND | 2517 | 8,0 | 0 | 0,0 | 77,00 | 7 |
| 9 | 1 | | GM | Vidit Santosh Gujrathi | | IND | 2739 | 6,5 | 0 | 0,0 | 54,00 | 5 |
| 10 | 2 | | GM | Harika Dronavalli | w | IND | 2422 | 4,0 | 0 | 0,0 | 33,25 | 2 |
Links
---