Tata Steel 2023 R1: Maximum start for Warmerdam
44th Olympiad God medalist, Nodirbek Abdusattorov and Ding Liren made a winning start at 85th Tata Steel Chess Masters 2023. While the World no.2 showed his prowess against Gukesh, Rapport's surprise choice of Vienna Game did not have the desired effect against the former World Rapid champion. Praggnanandhaa and Arjun Erigaisi had a well contested draw. In the Challengers section, Adhiban drew with Tabatabaei and IM Vaishali survived a minor scare against IM Thomas Beerdsen. It will be So vs Arjun, Aronian vs Praggnanandhaa, Giri vs Gukesh, Vaishali vs Donchenko and Adhiban vs Beerdsen in Round 3 which starts today at 6:30 p.m. IST. Photo: Lennart Ootes/Tata Steel Chess Tournament 2023
Abdusattorov, Ding Liren and Abhimanyu score full points
Defending champion Magnus Carlsen drew his game comfortably against Levon Aronian.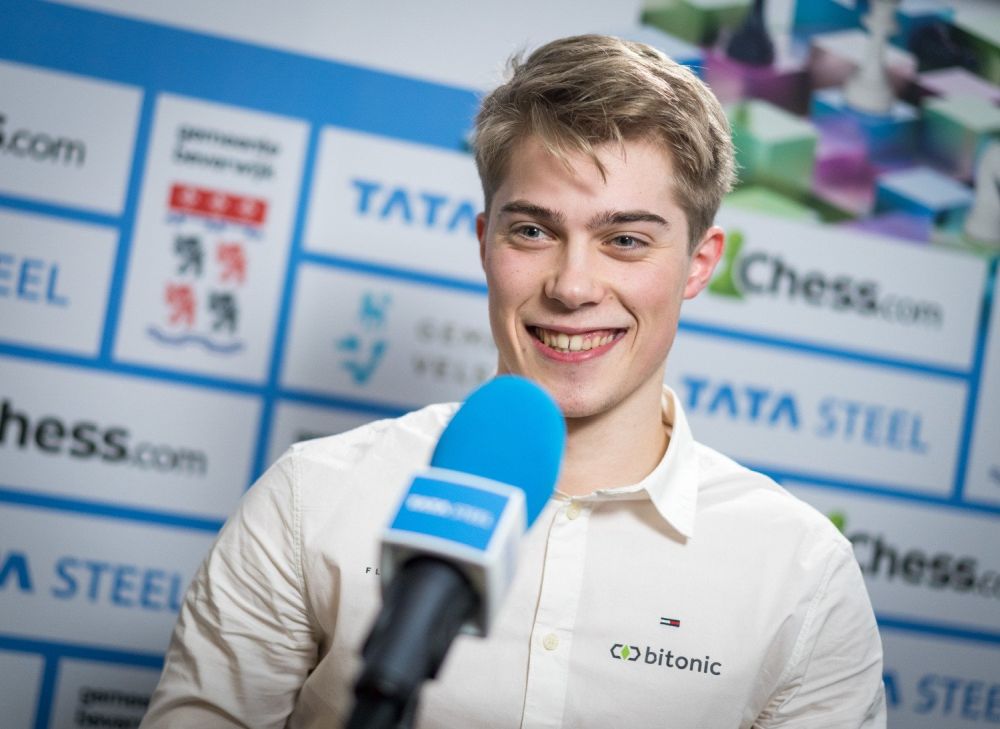 Gukesh - Ding Liren: 0-1
D Gukesh (2725) got into trouble in the middlegame against World no.2 Ding Liren (CHN, 2811). The latters bishop pairs seemed menacing as they pierced through White's kingside.
24.Nf4 allowed an opportunity for Black to go for 23...g5 24..Nh5 Qh6 25.Bf3 c5 26.g4 f5 27.Ng3 fxg4 28.Nf5 Qf6 29.Be4 h5 Black created a strong pawn mass on the kingside. 30.b4 Kf8 ensuring White does not get anything on the a2-g8 diagonal. 30.b4 Kg8 31.a3 h4 32.Re1
Find out the winning continuation for Black after 32.Re1.
Try to solve the critical moments from the game in an interactive board at ChessRanga.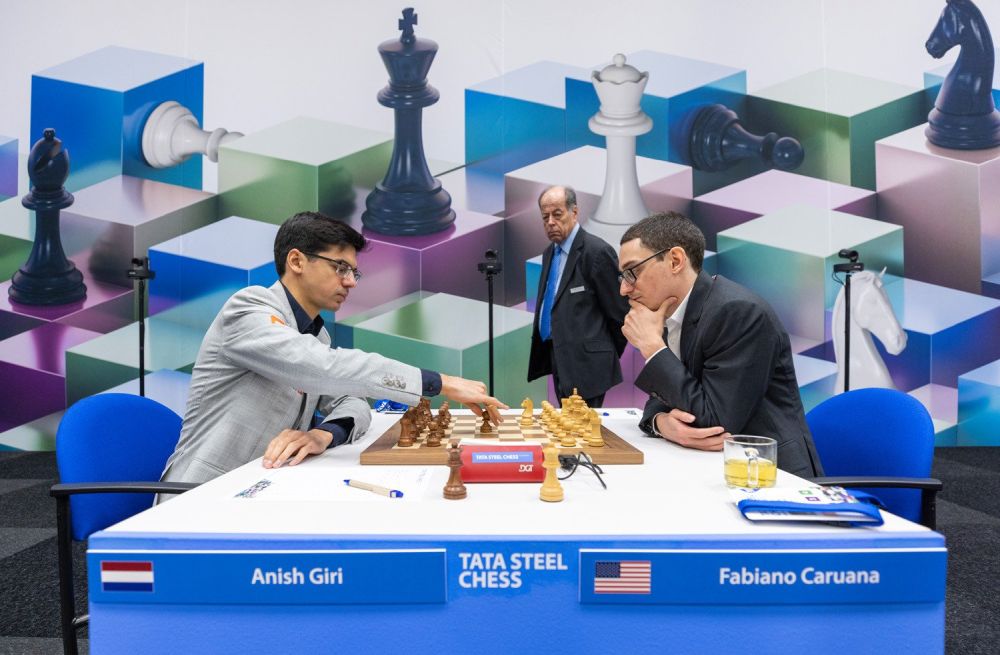 Magnus Carlsen always finds time for his another love - football
Max - Jergus: 1-0
Perhaps, one of the most exciting games of the first round was between GM Max Warmerdam (NED, 2616) and GM Jergus Pechac (SVK, 2637).
20.Bc3! continues White's attack on Black's attack on the kingside. 20....Qh6 21.Re7! Qxh5 22.Rxg7+ Kh8 23.Rf7+ Kg8 24.Rg7+ Kh8 25.Rxd7+ Rf6 26.Bxf6+ Kg8 27.Rg7+ Kf8 28.Ng5 and White checkmated in another three moves.
Vishy Anand on good vibes and being happy to be at Tata Steel Chess tournaments
Replay Round 1 Masters games
Replay Round 1 Challengers games
Round 1 results
Round 2 pairings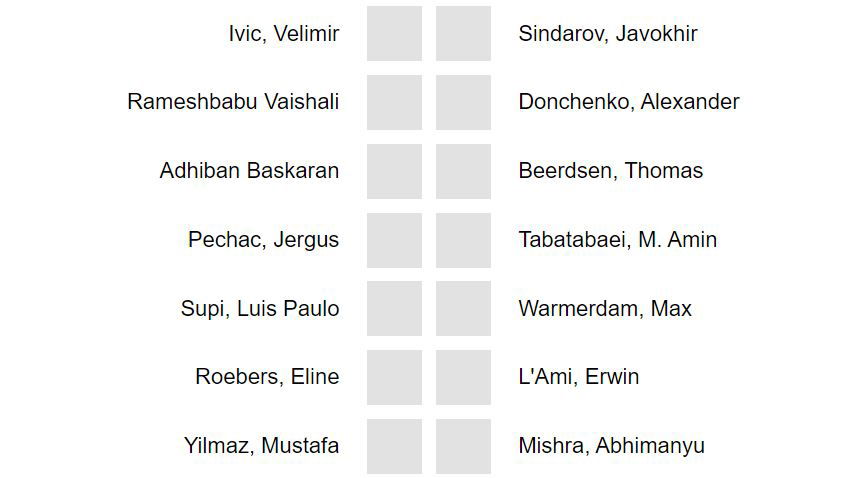 Standings after Round 1
Schedule
Starting from Saturday, 14th January, all round starts at 6:30 p.m. IST, only Sunday 29th January, the final round will start at 4:30 p.m. IST. Rest days are - 18th (Masters), 19th (Challengers), 23rd and 26th January.
Time Control
100 minutes for 40 moves, followed by 50 minutes for 20 moves, then 15 minutes for the remaining moves with 30 seconds cumulative increment for each move starting from the first move.
Links
---