New: ChessBase Magazine #194
by ChessBase Shop - 28/02/2020
ChessBase Magazine is the most comprehensive and most sophisticated chess magazine there is. Star analyses: Giri, Firouzja, So, Duda, Navara, Van Foreest, Nielsen, Ganguly, Nihal and many more. Anish Giri reviews his game against one of his seconds Jorden Van Foreest, Simon Williams discusses Dubov's King Hunt against Svane, David Navara analyses his endgame victory over Dmitry Jakovenko from the Jerusalem Grand Prix, Karsten Müller shows another fundamental endgame topic, Mihail Marin explains how to evaluate positions when only Queen and Rook remains on the board after minor pieces are exchanged off, 11 opening articles with new repertoire ideas and much more. Photo: ChessBase
Highlights of issue #194
The cunning 6.a3!?
Alexander Seyb investigates a fresh way to tackle the Najdorf
IQP positions welcome!
Robert Hungaski recommends 3.e3 e5! In the QGA
Middlegames without minor pieces
Mihail Marin on successful strategies with queen and rooks
All for the trade of queens - 13.g4!? vs. the Maroczy
David Navara dissects his endgame triumph over Dmitry Jakovenko in Jerusalem
"My favourite game of 2019"
Together with Simon Williams, retrace the game Dubov-Svane - "Move by Move"!
Star analyses
Annotated games by Giri, Firouzja, So, Duda, Navara, Van Foreest, Nielsen, Sarin, l'Ami and more
A fresh wind against the Caro-Kann Exchange Variation
Roven Vogel recommends ...Bf5 as an antidote
My first draw against the World Champion!
Jan-Krzysztof Duda analyses an explosive encounter from Wijk
Dutch duel
Anish Giri reviews his game vs. Jorden Van Foreest
Long-term compensation
Real sacrifices are the ones not leading to victory directly. Interactive video with Oliver Reeh!
Quiet move decides king hunt
Rainer Knaak presents another trap in the Philidor Defence (video)
Top tournament Tata Steel 2020 with lots of star analyses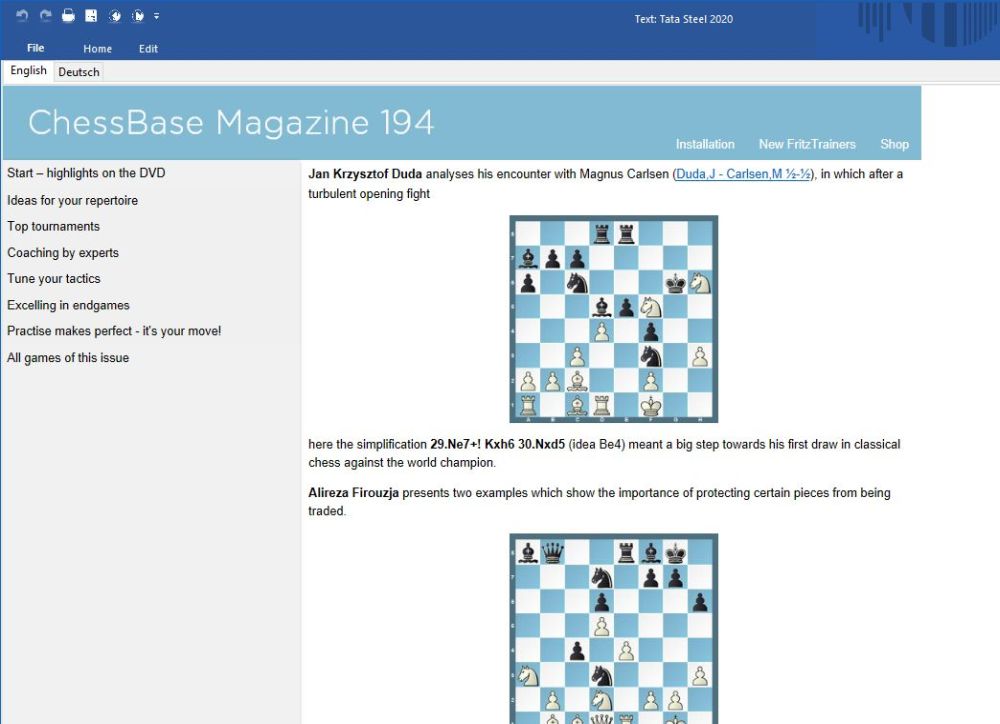 Jan-Krzysztof Duda, Alireza Firouzja, Wesley So, Anish Giri, Erwin l'Ami, Nihal Sarin, Peter Heine Nielsen, Roven Vogel, Surya Ganguly and many more analyse the best games from Wijk aan Zee. Moreover, GM Romain Edouard presents the highlights of the Grand Chess Tour Final in London 2019, and David Navara comments on his best game from the FIDE Grand Prix in Jerusalem which completed the 2019 series in December.
"Move by Move" !
Simon Williams' favourite game of 2019 (Dubov-Svane) is on the training program this time. Together with the GM from England set off on a king hunt. But take care: accurate calculation of variations is required! Let yourself be inspired and together with the GM from England find the moves of the creative super GM from Russia. Move by move: improve White's position, provoke weaknesses, and conclude the game with a decisive blow!
New ideas for your repertoire
11 opening articles with new recommendations for your repertoire await you:
Romain Edouard: English 1.c4 e5 2.d3
Roven Vogel: Caro-Kann with 3.exd5 cxd5 4.Bd3 Nc6 5.c3
Petra Papp: Sicilian Najdorf with 6.Bd3 e6 7.f4
Alexander Seyb: Sicilian Najdorf with 6.a3
Viktor Moskalenko: French 3.Nd2 Nf6 4.e5 Nfd7 5.f4 with Black playing c5-c4
Renato Quintiliano: Two Knights Game 3.Bc4 Nf6 4.Ng5 d5
Robert Ris: Ruy Lpez 4.Ba4 Nf6 5.0-0 Bc5 6.c3 0-0 7.d4 Ba7
Krisztian Szabo: Ruy Lopez Anti-Marshall 8.a4 d5!?
Robert Hungaski: Queen's Gambit Accepted 1.d4 d5 2.c4 dxc4 3.e3 e5
Evgeny Postny: Grünfeld Defence 3.g3 Bg7 4.Bg2 and 7.Ne2
Lars Schandorff: Queen's Gambit Ragozin with 9.Rc1
Topical opening traps
Rainer Knaak presents eight traps from recent tournament practice (including three Fritz Trainer videos). This time our trap expert found material, e.g. in the Caro-Kann, Philidor Defence, English Opening, and last but not least in the Sicilian!
Strategy – "Only queens and rooks!"
Whenever all the minor pieces have been exchanged, play takes on quite unique characteristics. What features are important for the evaluation of positions? What does the optimal position for the king look like? Mihail Marin shows you what is important!
Tactics – "Queens on the rampage"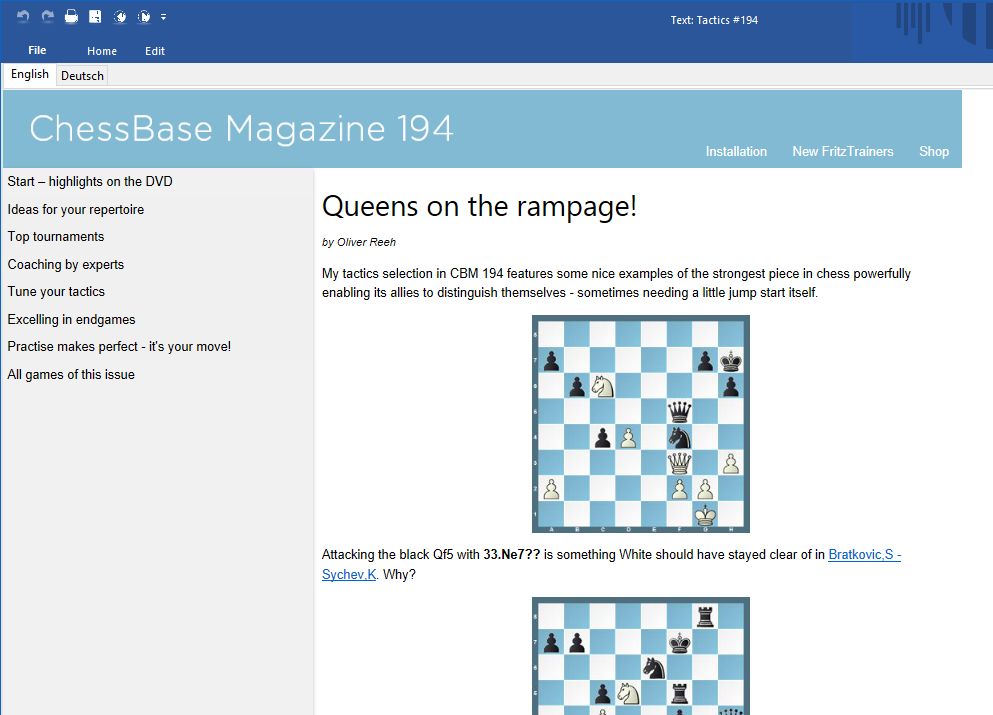 Oliver Reeh's tactical selection contains 28 recent games, which are each studded with at least one training question. Moreover, the IM from Hamburg presents his three favourite combinations in interactive video format.
Opening videos
Three contributions await you with more than an hour of total running time! From Daniel King's video about a highly topical variation in the Queen's Gambit via Simon Williams' discovery of an idea with genuine "shock value" in the Vienna Game to Mihail Marin's analysis of the rare but sharp "Bisguier Variation" against the Reti.
Daniel King: Queen's Gambit Declined
1.d4 d5 2.c4 e6 3.Nf3 Nf6 4.Nc3 Be7 5.Bf4 0-0 6.e3 Nbd7 7.Be2
Simon Williams: Vienna Game
1.e4 e5 2.Nc3 Nf6 3.f4 d5 4.fxe5 Nxe4 5.d3
Mihail Marin: Anti-Reti
1.Nf3 d5 2.d4 Nc6 3.g3 Bg4
"The Classic"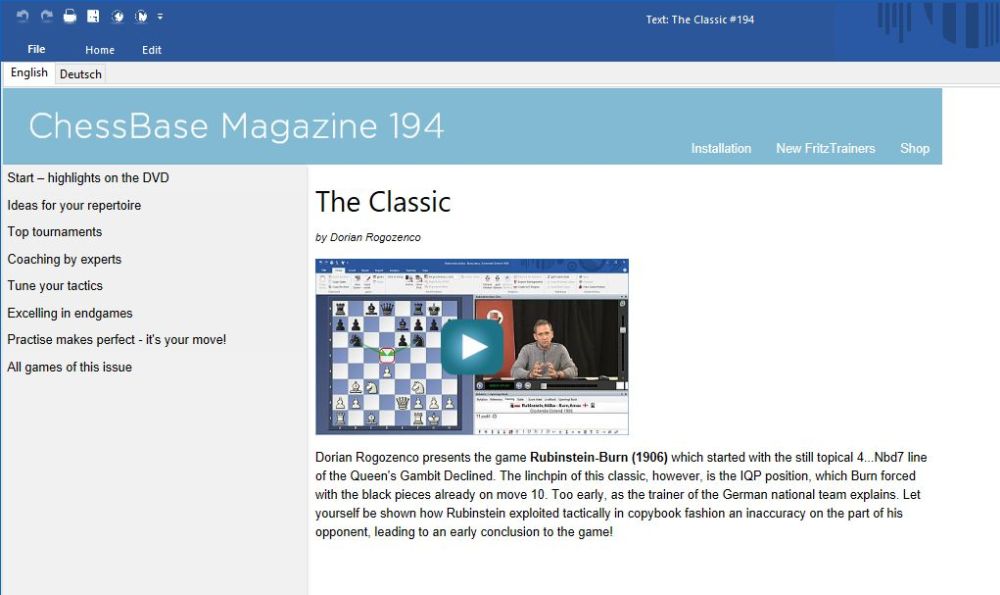 Dorian Rogozenco presents the game Rubinstein-Burn (1906) with a position involving an IQP on d4. Watch how Rubinstein tactically exploited his opponent's inaccuracy in textbook style, leading the game to an early conclusion!
Endgame – "Recent endings with bishops of the same colour"
Karsten Müller explains another fundamental endgame topic by means of catchy terminology, such as "granite blocks of pawns", and rules of thumb like "Centurini's rule". Plus endgame videos with a total running time of over an hour and an extra column: "Readers write".
---
Related news
:
New: Markus Ragger: Power openings: Grünfeld Defence Volume 1 + 2

@ 24/11/2021 by ChessBase Shop (en)
New: Svitlana Demchenko: Understanding Material Imbalances

@ 23/11/2021 by ChessBase Shop (en)
New: ChessBase Magazine #204

@ 13/11/2021 by ChessBase Shop (en)
Harikrishnan and Neelash win Pursue your Chess Scholarship-3, get Rs.50,000 each

@ 09/11/2021 by Sagar Shah (en)
How to get the most from ChessBase 16

@ 08/10/2021 by ChessBase (en)
Master Class Vol. 8: Magnus Carlsen – new edition!

@ 03/10/2021 by ChessBase Shop (en)
New: Robert Ris: Calculation Training in Attack & Defence Vol. 1+2

@ 15/09/2021 by ChessBase Shop (en)
New: Nico Zwirs: The Fianchetto Scandinavian (1.e4 d5 2.exd5 Nf6)

@ 04/09/2021 by ChessBase Shop (en)
New: ChessBase Magazine #203

@ 02/09/2021 by ChessBase Shop (en)
New: Mihail Marin: The Catalan vs. the Semi-Slav, Chebanenko and Triangle

@ 20/08/2021 by ChessBase Shop (en)
New: Master Class Vol. 14: Vasily Smyslov

@ 22/07/2021 by ChessBase Shop (en)
New: Nicholas Pert: A Complete Black Repertoire versus the English, 1...e5

@ 09/07/2021 by ChessBase Shop (en)
New: ChessBase Magazine #202

@ 29/06/2021 by ChessBase Shop (en)
ChessBase India Foundation and the work it has done since inception

@ 25/06/2021 by Sagar Shah (en)
New: How to study the classics by Adrian Mikhalchishin

@ 04/06/2021 by ChessBase Shop (en)
New: The Saemisch Variation against the King's Indian and Benoni by Jan Werle

@ 20/05/2021 by ChessBase Shop (en)
New: ChessBase Magazine #201

@ 30/04/2021 by ChessBase Shop (en)
New: The Flexible Open Spanish by Sipke Ernst

@ 18/04/2021 by ChessBase Shop (en)
New: Andrew Martin: The Grünfeld Formula

@ 07/03/2021 by ChessBase Shop (en)
New: ChessBase Magazine #200

@ 01/03/2021 by ChessBase Shop (en)
New: Nico Zwirs: The flexible Panov – a weapon against the Caro-Kann

@ 03/02/2021 by ChessBase Shop (en)
Five years of Powering Chess in India

@ 26/01/2021 by Sagar Shah and Amruta Mokal (en)
New: Nicholas Pert: A Black Repertoire versus the Anti-Sicilians

@ 13/01/2021 by ChessBase Shop (en)
ChessBase 16 - The search booster in action

@ 12/01/2021 by Arne Kaehler (en)
The preposterously fast ChessBase search booster

@ 05/01/2021 by Frederic Friedel (en)
New: ChessBase Magazine #199

@ 29/12/2020 by ChessBase Shop (en)
The new Fritztrainer - Practical chess strategy: The Bishop

@ 16/12/2020 by ChessBase Shop (en)
Mega cool: The games update of Mega Database 2021

@ 03/12/2020 by Martin Fischer (en)
ChessBase 16 - The new features Part 5

@ 17/11/2020 by Arne Kaehler (en)
ChessBase 16 - The new features Part 4

@ 16/11/2020 by Arne Kaehler (en)
ChessBase 16 - The new features Part 3

@ 15/11/2020 by Arne Kaehler (en)
ChessBase 16 - The new features Part 2

@ 13/11/2020 by Arne Kaehler (en)
ChessBase 16 - The new features Part 1

@ 12/11/2020 by Arne Kaehler (en)
New: ChessBase Magazine #198

@ 02/11/2020 by ChessBase Shop (en)
New: Mihail Marin - The English Opening - Tactic and Strategy Toolbox

@ 28/10/2020 by ChessBase Shop (en)
New: Chris Ward - Sicilian Dragon: The Real Deal!

@ 14/10/2020 by ChessBase Shop (en)
New: Sergei Tiviakov - How to play the Ruy Lopez with Qe2

@ 06/10/2020 by ChessBase Shop (en)
New: Sokolov's first Fritztrainer - Understanding Middlegame Strategies Vol. 1 + 2

@ 17/09/2020 by ChessBase Shop (en)
NEW: Claus-Dieter Meyer / Karsten Müller: Magical Chess Endgames

@ 09/09/2020 by ChessBase Shop (en)
New: ChessBase Magazine #197

@ 05/09/2020 by ChessBase Shop (en)
Watching videos, getting better: 400,000 minutes of ChessBase training and entertainment!

@ 03/09/2020 by Arne Kaehler (en)
New: Master Class Vol. 13: Tigran Petrosian

@ 30/08/2020 by ChessBase Shop (en)
Daniel King: Powerplay 28: Tactic Toolbox King's Gambit

@ 19/08/2020 by ChessBase Shop (en)
New: Simon Williams - The Exciting Budapest Gambit

@ 03/08/2020 by ChessBase Shop (en)
New: ChessBase Magazine #196

@ 01/07/2020 by ChessBase Shop (en)
New: Nicholas Pert - An attacking Repertoire with 1.d4

@ 24/06/2020 by ChessBase Shop (en)
चेसबेस इंडिया एमपी मास्टर्स - प्रखर बजाज बने विजेता

@ 18/06/2020 by ChessBase India (hi)
Samay Raina and ChessBase India Foundation raise Rs.3,70,131 for the blind youngsters of India!

@ 16/06/2020 by Sagar Shah (en)
New: How to slay the Sicilian Vol. 1-3 + Tactic Toolbox by Pruijssers and Zwirs

@ 13/06/2020 by ChessBase Shop (en)
चेसबेस इंडिया मेगा मिड इयर सेल- सिर्फ 48 घंटों के लिए

@ 12/06/2020 by Niklesh Jain (hi)
Shahil Dey and Aniruddha Potawad win the 2nd Pursue your Chess Scholarship for Rs.75,000

@ 12/05/2020 by Avathanshu Bhat (en)
Lucena in Lockdown #8: The boy next door

@ 03/05/2020 by Avathanshu Bhat (en)
New: ChessBase Magazine #195

@ 30/04/2020 by ChessBase Shop (en)
Lucena in Lockdown #7: IM Sreeshwan Maralashikari

@ 28/04/2020 by Avathanshu Bhat (en)
New: Fundamentals of Chess Openings and Tactics by Qiyu Zhou

@ 27/04/2020 by ChessBase Shop (en)
Lucena in Lockdown #6 : GM Raunak Sadhwani

@ 25/04/2020 by Avathanshu Bhat (en)
Lucena in Lockdown #5 : GM D.Gukesh

@ 20/04/2020 by Avathanshu Bhat (en)
New: Daniel King: Power Play 27: The King's Gambit

@ 16/04/2020 by ChessBase Shop (en)
Lucena in Lockdown #4: IM Aditya Mittal

@ 16/04/2020 by Avathanshu Bhat (en)
Lucena in Lockdown #3: IM Raahil Mullick

@ 11/04/2020 by Avathanshu Bhat (en)
Lucena in Lockdown #2: IM Leon Mendonca

@ 09/04/2020 by Avathanshu Bhat (en)
New: Kasimdzhanov: The Benoni is back in Business

@ 07/04/2020 by ChessBase Shop (en)
Lucena in Lockdown #1 - WIM Rakshitta Ravi

@ 07/04/2020 by Avathanshu Bhat (en)
Improve your planning and understanding

@ 06/04/2020 by Martin Fischer (en)
चलिये एक साथ लड़ेंगे कोरोना से : 9 अप्रैल को खेले चेसबेस इंडिया ऑनलाइन ब्लिट्ज़

@ 05/04/2020 by Niklesh Jain (hi)
NEW: Charlie Storey: The White Sniper

@ 19/03/2020 by ChessBase Shop (en)
चेसबेस इंडिया कैंडीडेट प्रतियोगिता 2020

@ 16/03/2020 by Sagar Shah (hi)
Caruana's "Navigating the Ruy Lopez" - Review by IM Roven Vogel

@ 16/03/2020 by Roven Vogel (en)
NEW: Erwin l'Ami: The Benko Gambit Explained

@ 11/03/2020 by ChessBase Shop (en)
Apply for the "Pursue your chess" scholarship of Rs.75,000

@ 06/03/2020 by Sagar Shah (en)
NEW: Mastering the Sicilian Najdorf

@ 21/02/2020 by ChessBase Shop (en)
Last four seats left for the ChessBase India Group Tour to Dubai and Sharjah 2020

@ 19/02/2020 by Sagar Shah (en)
Endgame training with the ChessBase Magazine

@ 18/02/2020 by Martin Fischer (en)
NEW: Sicilian The Rossolimo and Moscow Variation Bundle by Jan Werle

@ 04/02/2020 by ChessBase Shop (en)
It's time for the ChessBase India Group Tour to Dubai Open and Sharjah Masters 2020

@ 02/02/2020 by Sagar Shah (en)
CRG Krishna wins Delhi Open ChessBase India Blitz 2020

@ 29/01/2020 by Shahid Ahmed (en)
NEW: A nightmare for the Najdorf

@ 07/01/2020 by ChessBase Shop (en)
New: ChessBase Magazine #193

@ 03/01/2020 by ChessBase Shop (en)
Studying openings with the ChessBase Magazine, II: Creating a repertoire database

@ 15/12/2019 by Martin Fischer (en)
Announcing the winners of 3 ChessBase India contests

@ 10/12/2019 by ChessBase India (en)
NEW: Mastering Pattern Recognition in the Opening

@ 06/12/2019 by ChessBase Shop (en)
यहाँ मिलेगा आपको हिन्दी शतरंज विडियो का खजाना !

@ 12/11/2019 by हिन्दी चेसबेस इंडिया (hi)
New: ChessBase Magazine #192

@ 03/11/2019 by ChessBase Shop (en)
NEW Simon Williams bundle: The London System with 2.Bf4 Reloaded & Tactic Toolbox

@ 30/10/2019 by ChessBase Shop (en)
Training with ChessBase 15: Creating interactive training tasks

@ 26/10/2019 by Martin Fischer (en)
Niclas Huschenbeth recommends...

@ 06/10/2019 by ChessBase (en)
A new generation of FritzTrainers: for Windows and (now) Mac and iOS!

@ 27/09/2019 by ChessBase (en)
How to train with ChessBase 15

@ 24/09/2019 by Martin Fischer (en)
Tutorial CB 15: Finding critical moves (1)

@ 20/09/2019 by Martin Fischer (en)
Navigate the Ruy Lopez with Fabiano Caruana

@ 12/09/2019 by Sagar Shah (en)
Fun and instructive: the new search mask in ChessBase 15

@ 11/09/2019 by André Schulz (en)
Organizing databases in ChessBase 15

@ 07/09/2019 by ChessBase (en)
NEW: Nicholas Pert: Typical Mistakes by 1000-1600 Players

@ 03/09/2019 by ChessBase Shop (en)
NEW: ChessBase Magazine #191

@ 30/08/2019 by ChessBase Shop (en)
8 hours of training material to understand Vishy Anand better!

@ 29/08/2019 by ChessBase Shop (en)
NEW: Christian Bauer: The nasty Nimzowitsch Defence

@ 19/08/2019 by ChessBase Shop (en)
Preparation made easy: the ChessBase 15 Playerbase

@ 15/08/2019 by Nadja Wittmann (en)
ChessBase 15: Online help and manuals

@ 12/08/2019 by Nadja Wittmann (en)
Chess Friendship Band and ChessBase India Pen for all orders placed on 8th August 2019

@ 07/08/2019 by Sagar Shah (en)
NEW: Sergei Tiviakov: Queen's Indian Defence – The Modern Approach

@ 31/07/2019 by ChessBase Shop (en)
Share games with ChessBase 15

@ 24/07/2019 by Nadja Wittmann (en)
This International Chess Day, ChessBase India launches 12 new T-Shirt designs!

@ 20/07/2019 by Amruta Mokal (en)
Getting better: The ChessBase 15 Training Database

@ 15/07/2019 by Nadja Wittmann (en)
Five Points to You

@ 15/07/2019 by Avathanshu Bhat (en)
NEW: Nicholas Pert: A Sicilian Stunner - The Kalashnikov

@ 14/07/2019 by ChessBase Shop (en)
Mega cool: The games update of Mega Database 2019!

@ 09/07/2019 by Martin Fischer (en)
NEW: Erwin l'Ami: The Shining Sveshnikov Sicilian

@ 05/07/2019 by ChessBase Shop (en)
Make chess art with ChessBase 15 raytracing

@ 05/07/2019 by Nadja Wittmann (en)
ChessBase 15: The new fast reference search

@ 03/07/2019 by Martin Fischer (en)
The launch of ChessBase India App

@ 02/07/2019 by Sagar Shah (en)
Review of ChessBase 15

@ 19/06/2019 by Carl Portman (en)
How to share games on social media with ChessBase 15

@ 16/06/2019 by Nadja Wittmann (en)
ChessBase 15: Replay Training - part 2

@ 14/06/2019 by Martin Fischer (en)
The Fun of Chess Tactics

@ 09/06/2019 by Matthias Wüllenweber (en)
The ChessBase India Matrimony Portal

@ 01/04/2019 by Sagar Shah (en)
NEW: Yannick Pelletier: Anti-London System

@ 26/03/2019 by ChessBase (en)
The boy who attacked Celebral Palsy - Samarth Rao wins the Dennis Kow Scholarship for Rs.51,000

@ 26/03/2019 by Sagar Shah (en)
ChessBase Magazine (CBM) 188 with a new layout!

@ 19/03/2019 by ChessBase (en)
Pack your bags! It's time for the ChessBase India Power Tour to Spain

@ 16/03/2019 by Sagar Shah (en)
Do you want to start playing the main lines after 1.d4 with White?

@ 27/02/2019 by Sagar Shah (en)
CBIJ #13: Meenal Gupta - The Sunshine Girl from Jammu & Kashmir

@ 20/02/2019 by Avathanshu Bhat (en)
This Valentine's Day gift your loved ones ChessBase 15 hard copy

@ 14/02/2019 by Sagar Shah (en)
All ChessBase 15 tutorials at a glance

@ 08/02/2019 by Nadja Wittmann (en)
ChessBase India Calendar: The place to get all tournaments around the world

@ 05/02/2019 by Shahid Ahmed (en)
Reviewing the new-look ChessBase Magazine

@ 03/02/2019 by Davide Nastasio (en)
This March - April 2019 plan two strong open events in Sharjah and Dubai

@ 24/01/2019 by Sagar Shah (en)
ChessBase India turns three years old

@ 22/01/2019 by Sagar Shah (en)
K Rathnakaran wins the ChessBase India Bhopal Blitz

@ 03/01/2019 by Niklesh Jain (en)
What did this 10-year-old play here-Solution!

@ 25/12/2018 by Avathanshu Bhat (en)
What did this 10-year-old play here?

@ 22/12/2018 by Avathanshu Bhat (en)
CBIJ #12: To the children, for the children, by the children!

@ 18/12/2018 by Avathanshu Bhat (en)
The exciting new features of ChessBase 15

@ 02/11/2018 by Sagar Shah (en)
Celebrate this Diwali with ChessBase 15 and huge discounts!

@ 02/11/2018 by Sagar Shah (en)
CBIJ #11: What it takes to become a national champion?

@ 25/10/2018 by Avathanshu Bhat (en)
How a bunch of Indians went to Spain and gained 4359 Elo points!

@ 13/10/2018 by Sagar Shah (en)
My experience of spending 50 days in Barcelona

@ 19/09/2018 by Kavisha Shah (en)
Priyanka K wins the MKG Scholarship for Rs.50,000

@ 02/08/2018 by Sagar Shah (en)
Nihal on the cover of the ChessBase Magazine 178

@ 04/06/2017 by Sagar Shah (en)