New: Move by move - (how to) get into a master's mind! by Daniel King, Simon Williams and Robert Ris
by ChessBase Shop - 08/08/2022
Daniel King, Simon Williams and Robert Ris present 10 selected games from top tournaments. Thoroughly explaining the ins-and-outs of the position, in key moments they put you to the test. You enter your candidate move, then you will get video feedback from the authors, depending on your choice. Typically, all candidate moves are covered, i.e. you don't only get to know why the solution is right, but also why other continuations are wrong, enabling you to learn from your mistakes. These carefully chosen examples on this video course are part of the "Move by move" column in ChessBase Magazine and cover a lot of topics: attack, defence, tactics, strategy, opening, traps, initiative, endgame and many more – in short, the perfect course to improve every aspect of your game! Photo: ChessBase
Move by move - (how to) get into a master's mind!
by Daniel King, Simon Williams, and Robert Ris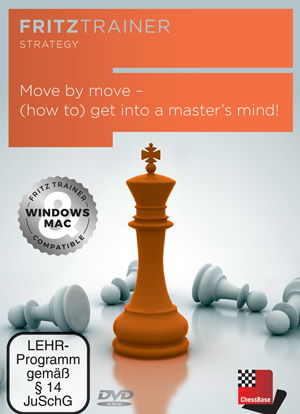 Daniel King, Simon Williams and Robert Ris present 10 selected games from top tournaments. Thoroughly explaining the ins-and-outs of the position, in key moments they put you to the test.

You enter your candidate move, then you will get video feedback from the authors, depending on your choice.
Watch how this is done, in the video:
Typically, all candidate moves are covered, i.e. you don't only get to know why the solution is right, but also why other continuations are wrong, enabling you to learn from your mistakes.
These carefully chosen examples on this video course are part of the "Move by move" column in ChessBase Magazine and cover a lot of topics: attack, defence, tactics, strategy, opening, traps, initiative, endgame and many more – in short, the perfect course to improve every aspect of your game!
• Video running time: more than 9 hours (English)
• With interactive training including video feedback
• 10 games with 170 video questions
System Requirements
Minimum: Dual Core, 2 GB RAM, Windows 7, DirectX 11 graphic card with 256 MB RAM, Windows Media Player 9, ChessBase 14/Fritz 16 or included Reader and internet access for program activation.
Recommended: PC Intel i5 (Quadcore), 4 GB RAM, Windows 10, DirectX 10 graphics card with 512 MB RAM or more, 100% DirectX10-compatible sound card, Windows Media Player 11 and internet access for program activation.
Mac OSX
Minimum: MacOS "Yosemite" 10.10
---