Five years of Powering Chess in India
ChessBase India turned five years old on 18th of January 2021. Each and every day of its existence for the last 1826 days, it has indulged in activities to power chess in India. But how did this company come into existence? What are the core values of the organization and what is its story? What have been significant milestones in this journey? This article is dedicated to the work that has been done by the organization in last five years. 21 grandmasters of Indian chess including Vidit Gujrathi, Nihal Sarin, Praggnanandhaa, Ramesh, Harika, Soumya and others have given their feedback about the work done by ChessBase India. Check it out!
The story and evolution of ChessBase India
"Powering Chess in India" is the motto of ChessBase India. We want to ensure that chess is the most popular sport in the country and bring inspiration and motivation for the masses to learn and follow it. ChessBase India wants to create an ecosystem in the country where a chess player can thrive. The sport of chess must become an Olympic sport. We work to spread quality chess content at an unparalleled level.
ChessBase, a 35- year-old organization headquartered in Hamburg is world's leading chess software company. International Master Sagar Shah and his wife Amruta Mokal during their travel to Germany in 2014 met Frederic Friedel one of the founder members of ChessBase GMBH. When they visited the ChessBase Office, they were totally surprised to see the people working on things related to chess in a spacious beautiful office. And Sagar quoted to Amruta, "Imagine such a company in India where people are dedicatedly working for chess." And the seed was planted in the mind.
In 2015, Sagar understood the need for a Chess Company to create an ecosystem in the country where a chess player can thrive. Initially, Amruta was reluctant for the idea of the company in conflict with the profession of a chess player but after brainstorming for innumerable hours she agreed. They identified two problems at the basic level that needed to be worked upon in order to boost Indian chess:
1. Have world class news and services to promote the sport and uncover young talents in the country.
2. Provide technological support for chess players at affordable prices.
They made a deal where ChessBase CEO Rainer Woisin agreed to slash prices of world class ChessBase softwares by 60% for the Indian subcontinent. This was keeping in mind the concept of Purchasing Power Parity - the fact that people in the Indian sub continent had low spending capacity. Sagar and Amruta, in early 2016 founded ChessBase India.
Why do we need a chess company?
Solving problem 01 - Recognition of chess players:
One of the problems when you spoke about sports in India, was that it always revolved around Cricket. Other sports, although equally important, were always under the shadow for various reasons. When it came to chess, the printing media had gradually stopped recognizing chess talents unless they performed exceptionally well in tournaments. It was difficult to get information related to the sport from a reliable source. Vishy Anand being five-time World Champion had created great interest in chess, and a lot of young children followed his footsteps. While chess was becoming popular in India, there was not enough recognition and appreciation. This put an important question in front of us, "How can this problem be solved"?
The answer was not difficult. These talents had to be recognized. Their efforts had to be showcased in front of the world. This is exactly what we began with. Using the latest technology combined with our passion and knowledge for the game, ChessBase India built up a powerful following on social media. Our website www.chessbase.in, proved to be the most important source in chess journalism for all the people who wanted to follow all the updates in depth globally. We started covering Indian players who would perform well anywhere and everywhere. Very soon, the difference could be seen. Parents of chess kids were happy because they now had articles to show the authenticity of their child's performance to their schools, relatives and well wishers. Little kids started keeping an aim to perform well and be featured on the ChessBase India. More sponsors started to enter the sport because of the visibility and reach of ChessBase India. And soon, we became India's most loved chess news platform.
Solving problem 02 - Lack of chess resources
The other basic problem that needed to be tackled was the availability and affordability of the extremely essential high-quality chess material in India. This definitely impacted the growth of several players in the country. Original softwares and books were available outside India, but were either too expensive, or logistically difficult to procure.
We began with ChessBase softwares that are used by all the professional chess players for their preparation. All of the essential ChessBase softwares were now made available at a discount of 60% over their actual prices. The fact that all the Indian players including young kids get original high quality products at discounted price makes them much better at chess than what they were before the launch of ChessBase India.
The idea of ChessBase India has always been to indulge in all of the activities that would help to take Indian chess to the next level. With this in mind, we were able to launch a foundation in the coming years. It was the popularity and trust among people which strengthened the ChessBase India Foundation.
In 1987, when India got its first GM it took another 3 years to get its next one. Since 2016, in the last five years, 26 new GMs have been created. A massive leap. This is the golden era of Indian chess, and ChessBase India which began five years ago is glad to be right in the center of this chess revolution.
The Founders:
Sagar Shah
Sagar Shah, born in Mumbai, has been a chess player since he was 11 yrs old. He is the CEO and Co-Founder of ChessBase India. He is the first Chartered Accountant in India who achieved the prestigious International Master Title. He was awarded the Shiv-Chatrapati award, by Maharashtra Govt. He started blogging since 2011 and later since 2014 became a popular chess author and interviewer for ChessBase International newspage. Between 2015-17, he managed multiple roles of Chess Player, Chess Journalist, and Chess Entrepreneur. While at the peak of his Chess career in 2017, he decided to devote all his time to ChessBase India to promote chess in India. He holds two Grandmaster norms. He also became a Fide Trainer in June 2020. That's our Co-Founder, CEO, IM, CA, FT!
Amruta Mokal
Amruta Mokal, born in Pune, has been a chess player for 25 years with an incredible experience in the field of chess. She is the COO and Co-Founder of ChessBase India. She is a former National Champion and has been a member of the Indian Team for various International events. Amruta was 2199.5 on the Elo rating scale, with 5 WIM norms, but missed her WIM title. She married Sagar Shah in 2014 and complemented his path of journalism by becoming a Chess Photographer.
The Team and our core values
The team is built up on the principles of honesty and integrity in character and at the same time sustained and consistent hard work to powering chess in India. We work with a lot of freelancers as well but these are the members of our core team, who have been working for quite some time now.
Some of the people who worked for us in the past and have contributed to ChessBase India's growth story are Priyadarshan Banjan (one of the first editors), Hinduja Reddy (took care of social media), Rupali Mullick (one of the finest video interviewers), Tanmay Srinath (a passionate author who wrote high quality articles), Atul Dahale (helped us in the initial days of setting the book business), Dipankar Kamble (worked at the backend office), Dipalee Thakar (worked at the backend office), Chetna Mhatre (worked at the backend office), and several others.
What we offer?
Media:
Chess news: The newspage on www.chessbase.in has daily articles with over 4500 articles in the last five years. This covers achievements of players, tournament results, game analysis, interviews, features, and much more.
Social media news: The fastest way to know about the happenings related to Indian and world chess is by staying in touch with ChessBase India's social media accounts on Facebook, Instagram, Twitter and YouTube.
World Class Calendar: For years, players all across the world have been looking for a free calendar that would meet their needs with regards to tournaments that are held all across the world. Hence we decided to launch a calendar which has all Indian and World events - absolutely free of cost to the users.
Education:
Articles: While the newspage has updates of the achievements of chess players and the latest happenings in the world of chess, we dedicate a lot of time to make our content instructive so that players can read it and improve as chess players.
YouTube series: Without doubt ChessBase India Youtube channel has the most instructive chess material out there. From opening traps, to deep middlegame strategies and carefully explained endgame concepts. We have it all.
Position of the day: Since 2019 we have been posting the position of the day on all our social media platforms for chess enthusiasts to solve. This is also featured on the ChessBase India Android App with the solution.
Events:
Online tournaments: We have held over 50 online tournaments successfully. Players can sit at home and compete with the best in Indian and world chess. The aim is to provide an opportunity for our players to improve before they travel to tournaments.
Workshops: We have conducted physical workshops in hundreds of tournaments explaining how to improve on chess using the ChessBase softwares.
Live shows: We realized the importance of videos and video interviews to bring an authentic feel to our journalism. On our YouTube channel you can find videos of the all the best players in India and the world.
Products:
Softwares: ChessBase Softwares are used by all the top Grandmasters in the world. If you have not begun your journey with a ChessBase Software you are definitely missing it.
Books: Books have the capability to raise the chess culture of an entire nation. For this reason we have brought the highest quality original chess books to India at affordable prices. Quality Chess, Gambit, Everyman, Thinkers, Russell, Siles James Press we have all the major publishers working with us.
Merchandise: If you have the pride of being an Indian Chess Player, then we recommend you to use our merchandize. Add style and glamour your chess.
Social Media: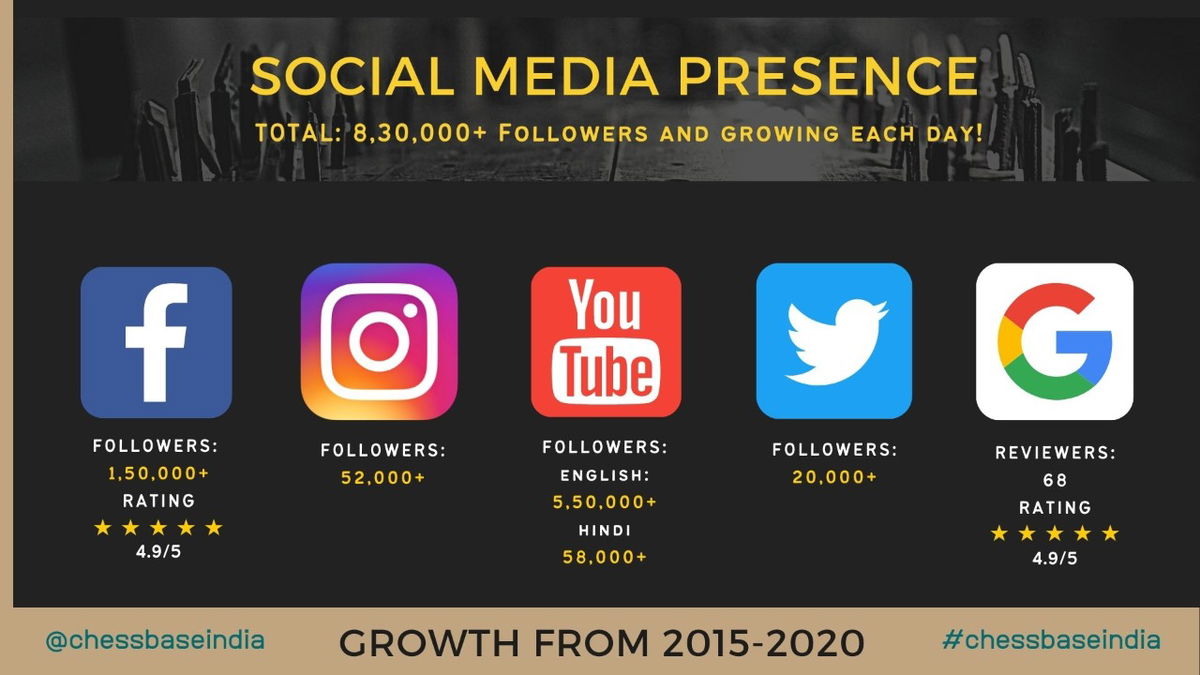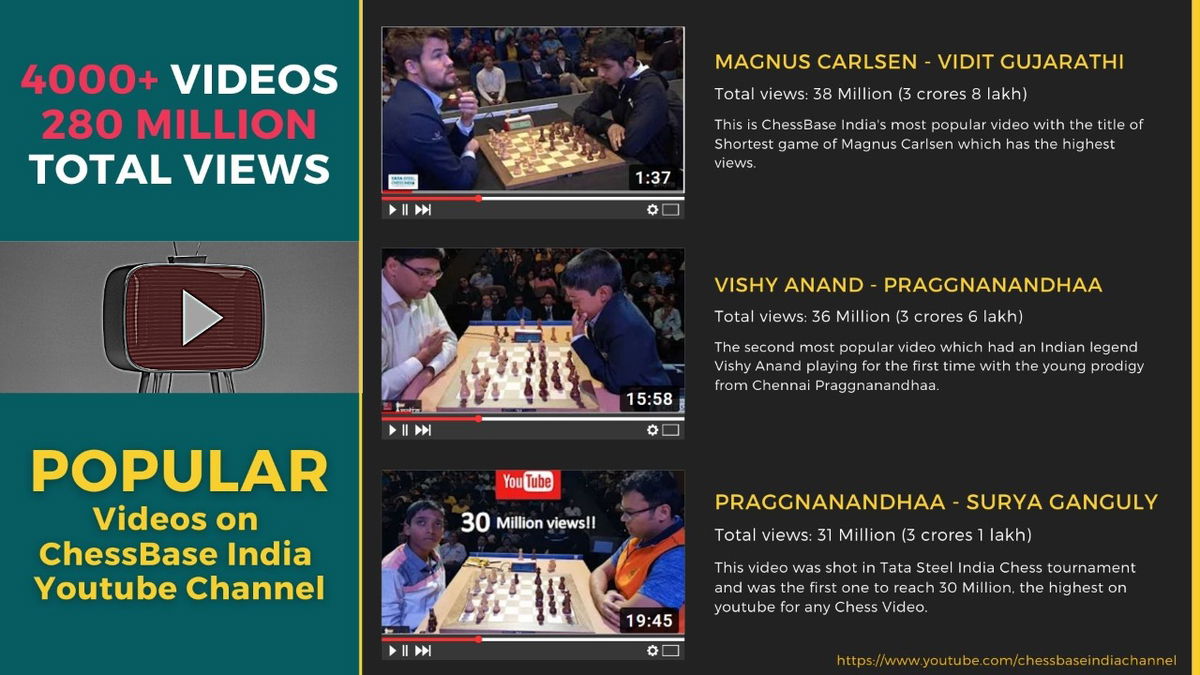 ChessBase India Foundation:
ChessBase India Foundation was established on 21st June 2018, two and a half years after ChessBase India was founded. HelpChess - the name clearly mentions what we are aiming for. We are looking for individuals who would like to help the talents of Indian chess by donating money or instituting a scholarship or donating in kind, so that the financial burdens on the players who come from humble background are reduced to an extent. We believe that when ordinary people come together and contribute, extraordinary things can happen to our chess society. The logo of HelpChess clearly shows this philosophy. There are many people all over the world who want to contribute financially to the growth of Indian chess. There are many talents in India who are in need of these finances. ChessBase India Foundation aims to act as a bridge.
Reviews and Feedback by top Indian chess players
On our 5th anniversary we asked top players of Indian chess about their feedback and review related to five years of ChessBase India's work and existence. Here is what they have to say:
GM Vidit Gujrathi
Congratulations to you and your team for running a successful company for five years. Doing this is never easy and you have managed to cross many hurdles. Kudos to all of you. One thing I have always admired is your vision. The tagline of ChessBase India is "Powering Chess in India" and I believe you guys have stayed true to it. Back in 2012 when I was an improving player I used to go on YouTube and try to find videos of player interviews and there were very few. In fact there was only one company who used to do it - ChessVibes. There was a clear gap here and ChessBase India has simply filled that vacuum. Close to 4000 videos on chess is insane! This was way before the chess boom.
You have always made your decisions with one thought in mind - will this help Indian chess. And if it does, then you have gone ahead with it. I think this approach has helped Indian chess tremendously - for eg. we have more sponsors into chess now and you have played an important role in that. Also my father follows all the top events through the coverage of ChessBase India. This is nothing short of a revolution when it comes to chess journalism not only in India, but world wide. I am glad to be a part of this journey and I hope you go on to fulfil your vision in the years to come.
GM D. Harika
My hearty congratulations to ChessBase India for completing five years. And a big congrats to you, Sagar. I remember you from the days when you were mad about chess as a player and wanted to become a professional and that too not at a very young age. If I am not wrong, you used to collect all the these tips from the grandmasters and you had a special book for it. You worked on your chess - got to high rating, also made norms. I believe every person will reach a point where you have to take a risky decision, which not many people around you will believe you for it. But you will believe your instincts and gut feeling that this is the right decision for you. I think it is commendable that you made a decision to give up your chess playing career and go into chess journalism. I feel that's the best practical decision you have taken. You used your chess knowledge in a different way. Chess journalism was not very popular, but you carved your own path in Indian chess and the chess world. I really appreciate the fact that you have chosen a different path and have been very successful at it. If I am not wrong, Amruta is not as mad as you about chess, but she has supported you beautifully in all these years. A big congratulations to ChessBase India and I wish you more and more success.
GM Nihal Sarin
Congratulations on completing 5 years, staying true to the promise of powering chess in India in every possible way. Starting from making educational materials available to every Indian Chess player at affordable prices to really supporting players who need the backing. May this continue and keep getting better.
IM Padmini Rout
First of all a very happy 5 year anniversary to Chessbase India. It's been an incredible journey taking chess to new heights. Chess from the nooks and corners of India (also world) as well as the players are covered and we are well informed about the chess scene in India at all times. I also congratulate and thank you for starting the chess learning series and for the numerous articles by you & team alongwith and about many strong players which are useful to beginners and stronger players alike, also making chess books and DVDs available to us at affordable prices! I wish Chessbase India many more glories!
GM S.P. Sethuraman
Dear Sagar First of all hearty congratulations to you, Amruta, and the CBI team for the immense effort you guys have put in throughout these years. A lot of great initiatives by Chessbase India for Indian chess, and I was recently impressed by the organization of the online event ( The Super Juniors Cup 2020) for our talented juniors. Kudos and fingers crossed to see many more interesting ideas this year Cheers Sethu
GM R. Praggnanandhaa
Congratulations to ChessBase India on completing 5th anniversary! I am being recognised by many people because of ChessBase India articles and especially ChessBase India Youtube videos! I remember when I was playing World juniors in Italy in 2017, I was around 12 years old and was close to winning the event, but ended up 4th and I made my first GM norm, as soon as I finish my game, have dinner and return back to room, there will be a video analysing my game by Sagar shah! It will be around 2-3 am IST, I seriously don't know how Sagar was doing that, it kind of motivated me so much! I also buy a lot of products like books, ducats from ChessBase India shop regularly which is helping me to get stronger. Thank you very much! and Best Wishes to Sagar, Amruta akka and the whole ChessBase India team!
IM Nisha Mohota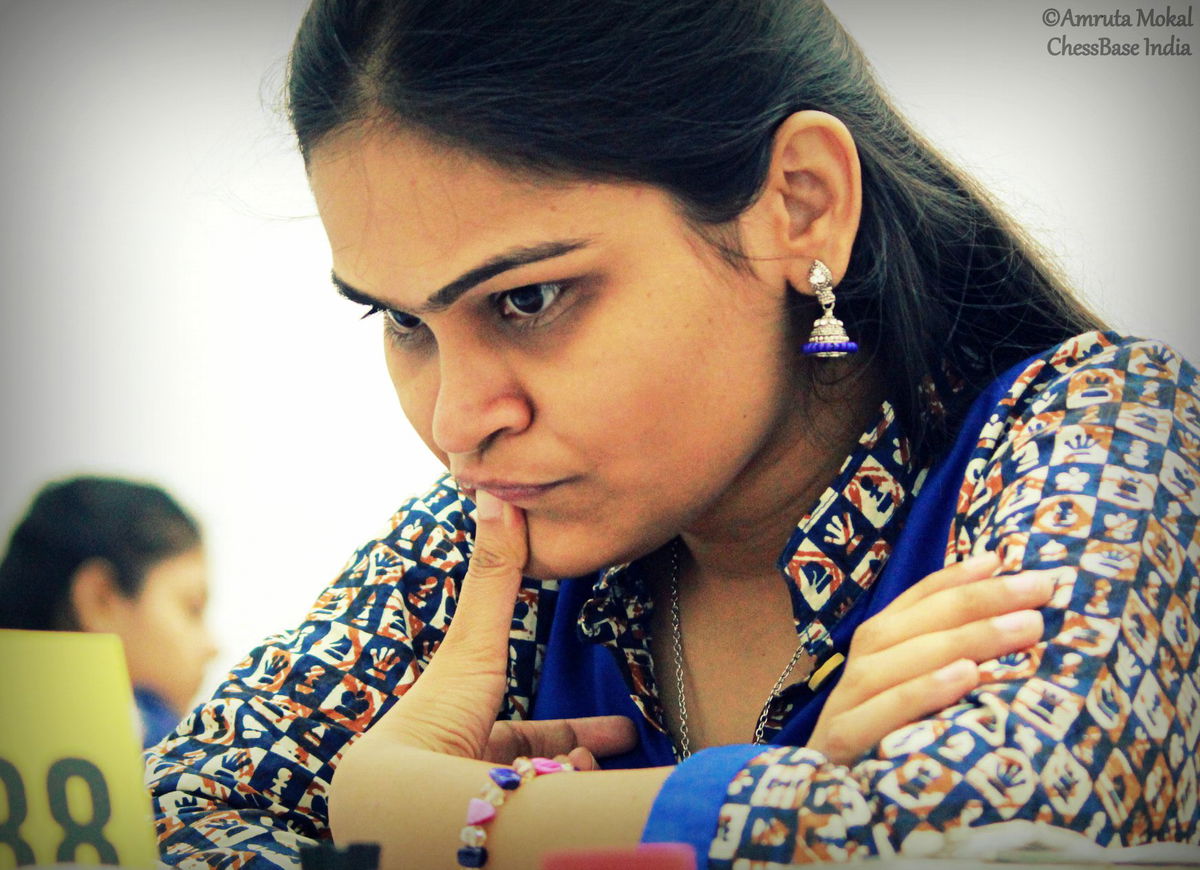 Congratulations Sagar on this amazing journey! The hardwork and dedication that you and Amruta have put in chess through ChessBase India is commendable! You have taken chess journalism to a new level! I have totally enjoyed the journey with ChessBase India- sometimes as a reader, sometimes as a viewer of your channel and at times as a contributor to your newspage! Also, I am one of those who has totally enjoyed the discounted products of ChessBase through the special Indian pricing of the products in the ChessBase India shop! (I remember 5-5 and a half years back I was eagerly waiting for CB India to be formed!) Hope your romance with chess continues and that in turn will help maintain the same level of content in your channel and newspage! Kudos to all the achievements of CB India, you and Amruta and Good Luck for the future!
GM Sandipan Chanda
Back in August 2017 when I saw Amruta and Sagar in Poland for an open tournament (Warakomska memorial) they told me that they were into a project that will see a wing of chessbase specifically for India. Little did I imagine that this tournament will be the last classical tournament for both of them in several years to come (BTW a good time to remind both of them to return as players as well!). Nor did I imagine then the vastness of the project and how it may affect so many Indian chess players.
From time to time I keep following the reports and videos on ChessbaseIndia. Sometimes I agree, sometimes I don't. From the outside I am not in a position to know all the efforts and struggle that the founders of ChessbaseIndia have gone through. But I do appreciate what it takes to be a successful entrepreneur, from launching big projects, interviewing the great champions to taking care of the smallest of things which are necessary to keep going. I wish ChessbaseIndia a great journey ahead!
GM Arjun Erigaisi

Hearty congratulations to you and Amruta! Your contribution towards Indian chess has been absolutely immense!
IM S. Vijayalakshmi
Dear Sagar and Amruta, firstly many congratulations and wishing ChessBase India a very happy birthday. It's amazing what you guys are doing. I have seen you guys grow, and I have seen ChessBase India grow to what it is today. It's an amazing growth in the last five years and I wish you many more successes in the years to come. I want a day to come when the world would say we are comparing our website to ChessBase India. That's what I am expecting in the future! Our family - myself, Sriram and Meenakshi are eternally wishing ChessBase India to be every so successful.
GM Sriram Jha
Many congratulations for the 5th birthday of ChessBase India. It's a big day for chess in India. What you have done for chess in India is simply unbelievable. Vishy Anand took Indian chess to great heights and after that I would say the biggest contribution has been of ChessBase India to take the country to the world map. Today I was googling about ChessBase India, and I saw that the net worth of it is 1.2 million US dollars. It's excellent what you have achieved in five years. Chess is not a high profile sport in the country and to take your website to such a high level is simply unbelievable. I hope that the net worth of ChessBase India matches that of Cricinfo or Cricbuzz in the next five years to come. Heartfelt wishes from me and Viji for doing this, for making chess so popular.
GM D. Gukesh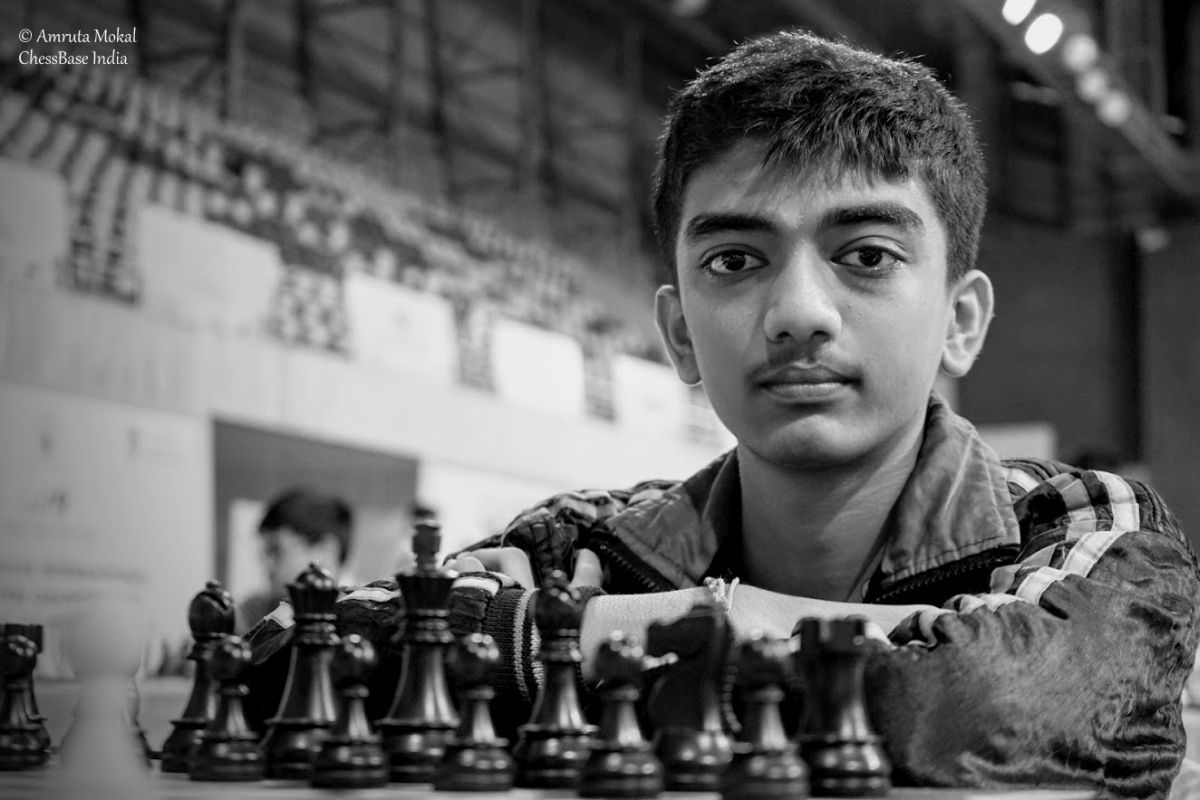 Congratulations to the entire team of ChessBase India for completing 5 years. What you have done for Chess in India is fantastic, starting from making top level Books,Softwares and DVDs available to Indian players at affordable rates to covering so many tournaments and I personally learnt so much from watching your interviews with top players. Thank you very much for all the support you have provided me and many other players and I wish all the best for the future.
IM Bhakti Kulkarni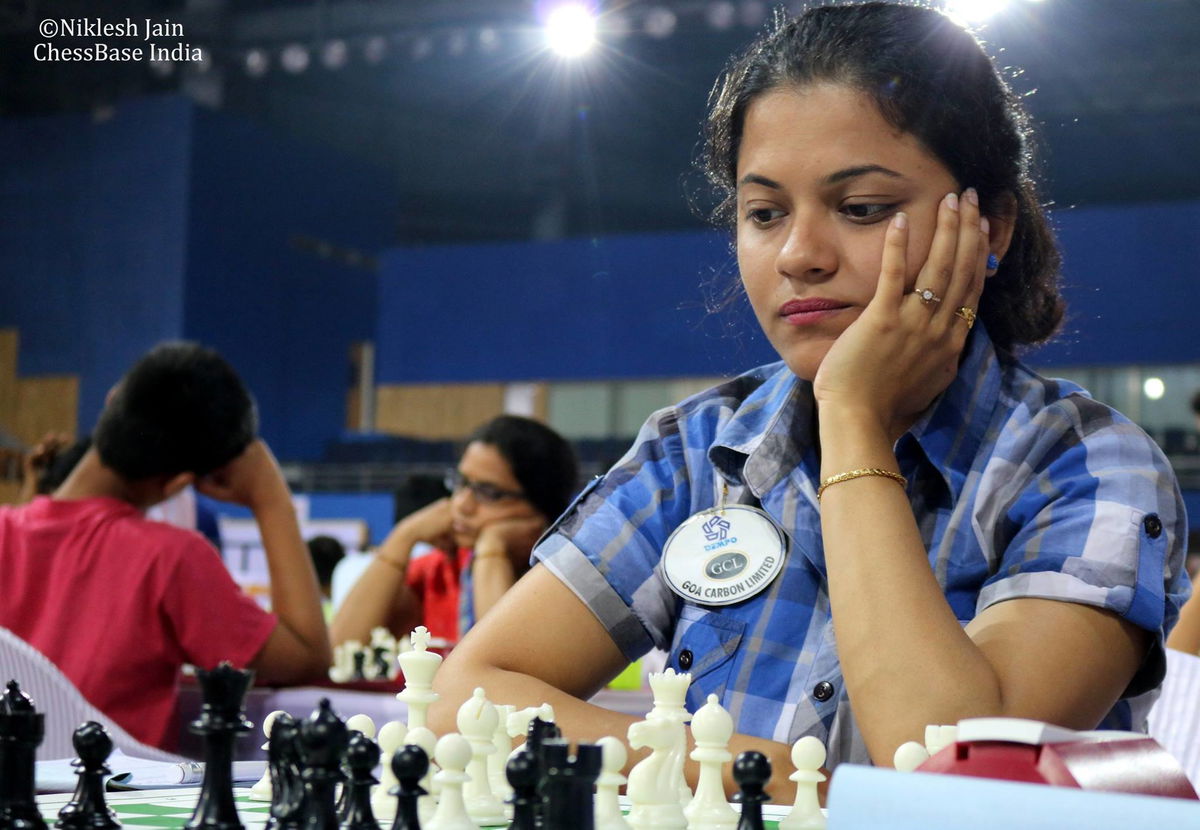 First of all wishing ChessBase India a very happy birthday. I really want to congratulate Sagar and Amruta and their hardworking team for starting this initiative and taking chess to a totally new level. I remember in 2017 when we met in National Premier at Gujarat, you and Amruta had begun with your 1 year nomadic journey. You not only covered so many tournaments across the country, but also helped us to plan our itinerary as chess players. Thank you for covering tournaments. I feel that Tanmay has also played a wonderful role here. Avathanshu started with the Juniors series where people got to know about our wonderful juniors. Your Dr. Chess series is also very nice and I also enjoy the Learn from Classics series. The lockdown was quite difficult for all of us but your channel kept us busy and many new people started following chess. I was amazed at how people have started to follow the sport and close to 70,000 people watched the commentary of the Online Chess Olympiad finals. Wow! Sagar and Amruta, you have always been creative coming up with new ideas - blindfold chess series by Amruta, wonderful chess accessories and also training the comedians. Thanks for popularizing chess not just in India but world over. It would be wonderful if ChessBase India starts a new initiative of the Indian Chess League along with AICF. Best wishes!
GM Srinath Narayanan
Congratulations on reaching your 5th anniversary. Coincidentally, I met Nihal for the first time at around 10th January 2016 :)
"Deepest respect for Sagar and Chessbase India. Although Chessbase India began officially in 2016, Sagar's work started a bit earlier. I remember the old 2013 videos of 'Sagar Shah teaches chess' when none of us were watching Chess on Youtube. I remember Sagar taking a camera and shooting videos of people playing in the National Premier Chess Championship in Jalgaon and at that time pretty much no one took any of it seriously.
It took a bit of time for it to dawn on all of us the profound impact of the work of Chessbase India. It is a lot clearer now. Among other things, Chessbase India has played a role in helping build a profile for almost every Indian Chess player in the previous decade. This initial work done will of course compound for everyone involved and become even more valuable in the times to come. Chessbase India is quite well known across India and the World now, but I can attest that a lot of it initially came through Sagar and Amruta's selfless dedication towards building this. I thank and congratulate Chessbase India for this.
ChessBase India has a profile of pretty much every player in India, young and old. Most of the kids who are superstars now were first known to me from Chessbase India. Nihal's first Chess video was the "Boy who never sits" The article and video by Priyadarshan Banjan of Nihal's was the first chess interaction I had seen of him :) Priyadarshan Banjan also introduced me to Nihal in Delhi Open 2016, whilst writing for Chessbase India! I came to know about Raunak, Divya, Arjun, Gukesh, and several others for the first time from Chessbase India. And the previous year I came to know Illam :)
My deepest respect and congratulations to Sagar,Amruta and the rest of the Chessbase India team from past, present and future :) Best wishes to them to keep going :) ChessBase India OP!"
GM Arun Prasad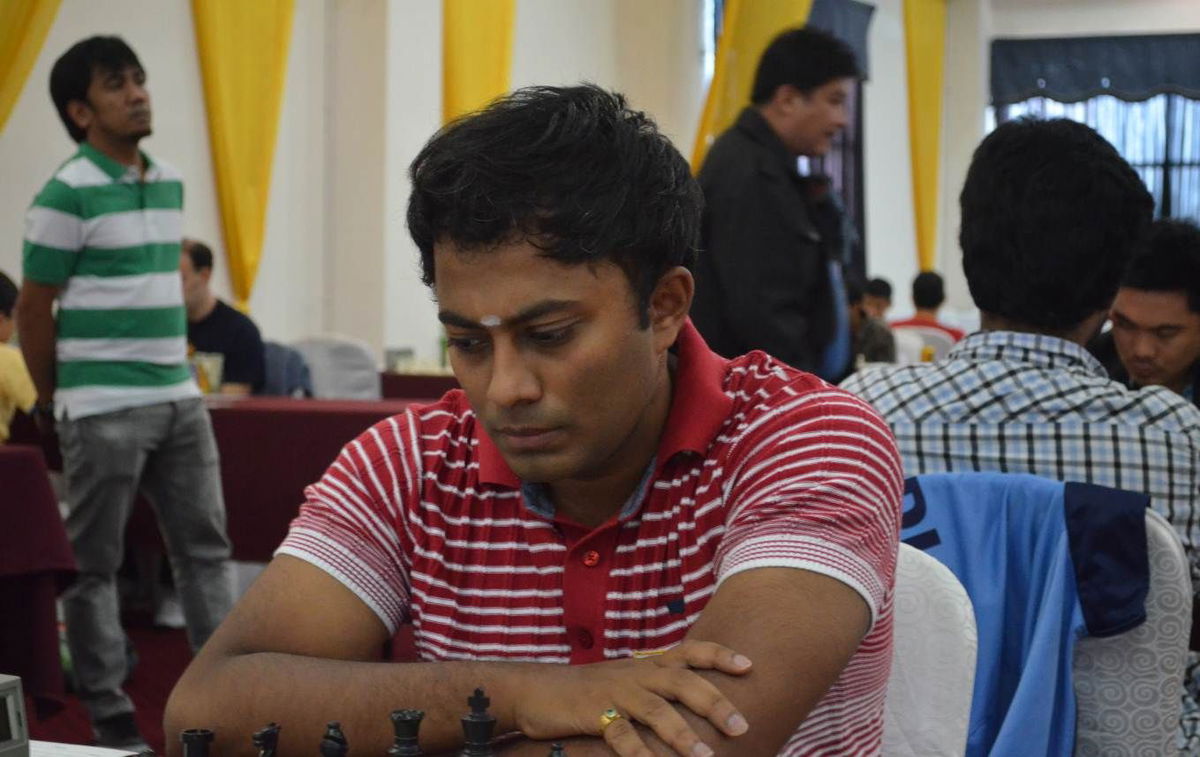 ChessBase India has done an incredible job of bringing the game to the common man.
Our great Vishy Anand inspired millions of players into the world of chess and mostly we all belong to that category. There will be a time when we can say a whole generation of players were introduced to chess by the efforts of chessbase India. Sagar shah has been a true visionary, his love for the game is immense and it is clearly visible how he is bringing a change.
I wholeheartedly congratulate Sagar and his team and wish them for all they have done and also for their future undertakings.
GM Swayams Mishra
Congratulations for the achievement. I remember a time, when you come to Bhubaneswar to cover KIIT cup, and I asked what are your plans with ChessBase India. You said - we are planning to expand with the accessories. And now ChessBase India T-shirt is a common thing for most players. In fact in 2019 commonwealth, a South African participant asked me where he can get the t-shirt which I was wearing! Cheers to good memories and good times to come. Wishing you all the best in future.
IM Soumya Swaminathan
Congratulations for completing five years of ChessBase India! Doesn't seem like just five years. I feel like it has been there forever! Only five years and so much progress - it.s incredible what you and ChessBase India and everyone in the team has been able to achieve. You are definitely one of the most hard working persons I have ever met. Your dedication for chess in India and ChessBase India has been very inspiring. You have done so much to popularize chess in India, I wish more and more growth in the years to come. A sweet memory that I would like to share - when you started ChessBase India, you had a Facebook account, this was roughly around 2015-16. And a lot of my friends and family started to follow chess because of your posts and articles on Indian chess on the Facebook page! They used to keep a track of what I am doing, where I am playing through this account! What I couldn't achieve by 15 years of playing chess - getting my family interested in the sport, you were able to do it with two years of your writings! This is definitely something I cherish. Many of my cousins still follow the news on ChessBase India and follow the website. Mainly your intent is amazing and that is what makes this so successful. One more thing I would like to add is about the ChessBase India Foundation. It has done so much good work to support all chess players. I hope the foundation keeps growing and keeps receiving love and support.
GM R.B. Ramesh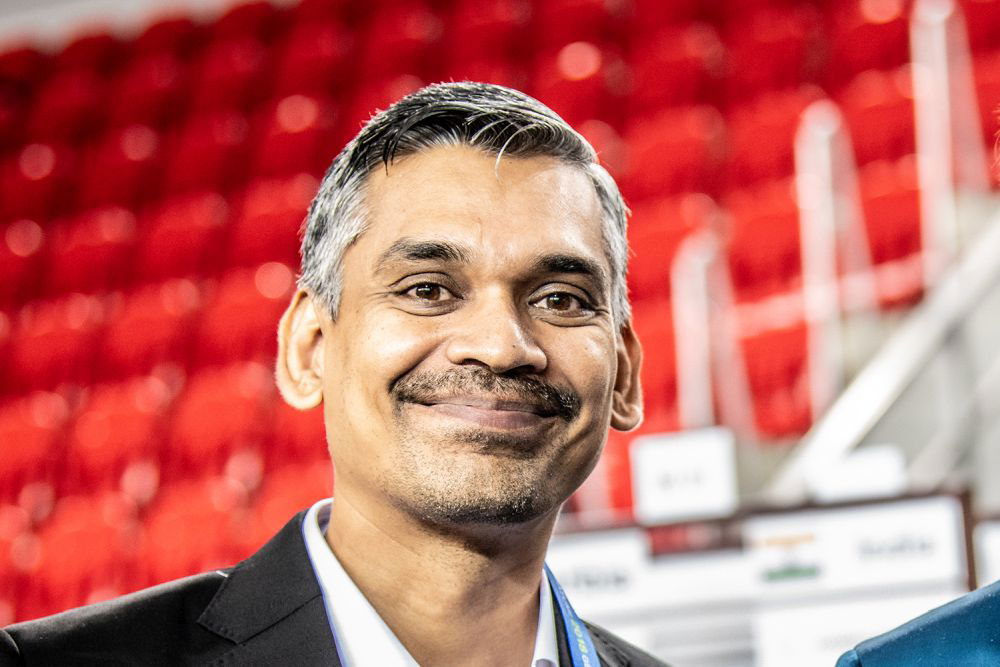 GM Stany GA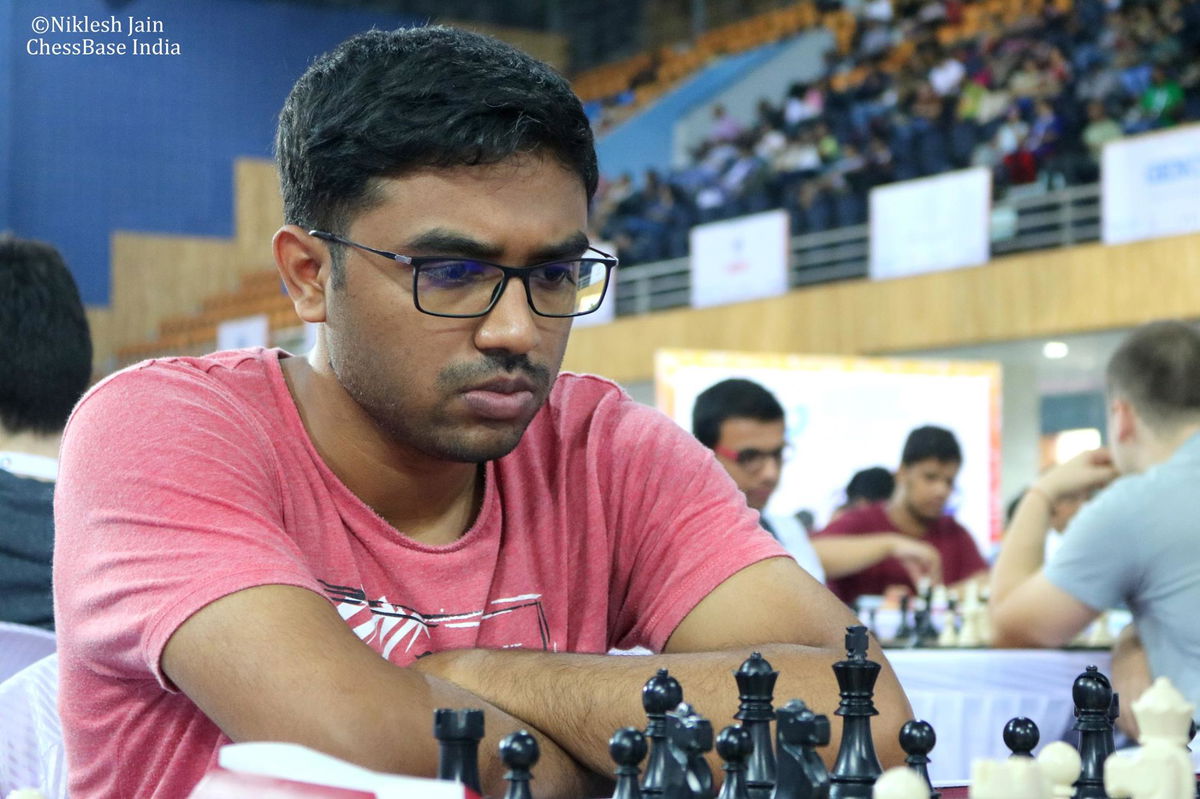 Congratulations Sagar, to you and your team for five wonderful years of ChessBase India. It is wonderful to see the impact that ChessBase India has had on the lives of so many chess players throughout these years. A big shoutout to you and your team for the efforts and consistent work that has gone into connecting the entire chess world. I hope that in the coming years, the impact doubles and triples and that ChessBase India is able to connect more people to this wonderful game. All the best!
GM Magesh Chandran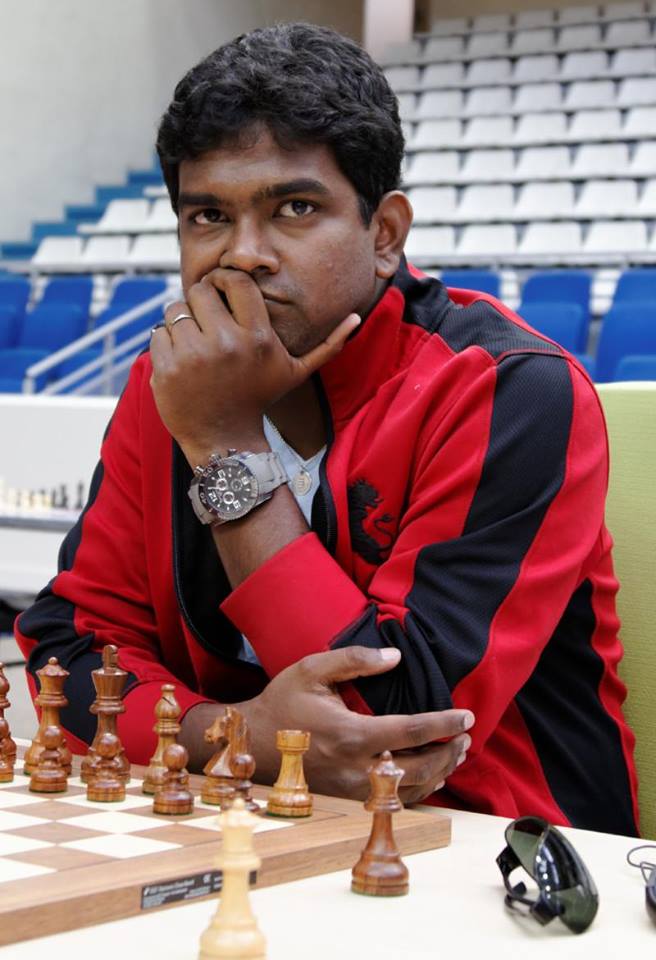 To begin with, a hearty congratulations to you and your team for the completion of five years of Chessbase India. Your team has made some high-quality chess content accessible to everyone in India. I remember the times when buying a chess book or buying the Chessbase software was very difficult for Indians because most of them could not afford it. At that point I did not realize your biggest impact on the chess world was yet to happen with your videos. With your YouTube videos about tournaments and training, you have brought chess to our household and made it easy. I remember a friend of mine once mentioning that watching your videos made them think that they were in the tournament hall with the players during the games. I am sure the constant traveling around the world and the hours of dedicated effort to make videos were not easy, but kudos to you and your team for achieving this. The best part about Chessbase India is that you are really connected with the chess world in India. It is not just the National championships or the Grandmaster Invitational, but it is every open tournament, every aspiring player and every nook and corner of India that watches your videos and buys your chess books and software. You have brought attention to the sport and helped so many get sponsors and other financial aid through the platform. I wish you and your team good luck, and I am sure you will continue your great efforts and scale new heights in coming years.
GM Neelotpal Das
Within a very short span of time Chessbase India has become a household name in the Indian chess community. In a country where cricket is like a religion, I can't imagine live chess is being followed by thousands of people online and thanks to the entire team of Chessbase India all such things are happening in recent times. I wish a very happy 5th birthday to Chessbase India :) Keep growing like this in promoting our royal sport to the world.
Important links:
---