CBIJ #12: To the children, for the children, by the children!
ChessBase India Juniors (CBIJ) began in March 2018 with its inaugural article. 13-year-old Avathanshu Bhat has worked hard in the last nine months and we have reached the 12th edition of CBIJ, which celebrates the achievements of the juniors of Indian chess. From being alone, Avathanshu's team has doubled as Arhan Anand, a youngster from Bangalore now annotates games in his inimitable style. In this article you can find the magic of both these youngsters as they bring to limelight the dark knights of Indian chess - Kushagra Mohan, Jeet Shah and Rautela brothers. There's a section on Sparkling titans and not to be missed is Editor's Pick at the end. We also have a Trivia this month with three months of ChessBase Premium Account at stake for the one who is able to annotate a chess game in the best possible manner.
A look at their games is enough for you to understand that they have a bright future. They also have achieved a lot but not much has been written about them. They are the ones silently doing their job and improving at the game. We definitely think that all of them will make it big in the time to come and hence dedicating this article to the dark knights of Indian chess! Let us have a look at some of them:
Kushagra Mohan:
Kushagra Mohan is a 2256 rated upcoming chess player. As can already be seen with his rating, he has been quite successful before. He was taught chess when he was 5 years old by his mother, and became interested when solving puzzles in the newspaper, Deccan Chronicles. Taking chess very seriously, the boy has made his mark on the chess world, and will surely take it further. Here are some of his more notable achievements:
1. U-7 National Champion
2. U-9 Nationals Runner-Up
3. Asian U-10 Bronze
4. Asian U-10 Silver
5. National U-13 Silver, 2017
6. Asian U-14 Bronze 2018
He has also expressed his views on coaches very firmly, back in the start of the year. You can see the full interview below:
His role model is Bobby Fisher. When asked why it was the case, Kushagra replied that he liked how Fisher had risen to the top; Independently, beating the best Russian players. "His play fits my style," said Kushagra. Along with his chess, the Hyderabad lad plans to stay firm with his studies; when asked what he wanted to become, he replied without hesitation, "a GM and an Engineer." Clearly, there is a lot to be learned from him!
Below is a game of Kushagra's annotated by ChessBase India Junior annotator Arhan Anand:
Jeet Shah
One of the more well-known faces of Mumbai, Jeet Shah is a talented chess player who started off when he was in 3rd grade. He was taught by his father and used to play against him. After he began defeating his dad, Jeet took coaching from SH Kenkre. One day, after nearly two years of chess, Jeet played a simul which his coach had recommended him. It was then that he took serious interest in the game, and possibly where he got his fierce tiger-like attitude. He got his first rating of 1269 when he played a tournament in Hyderabad, 2014.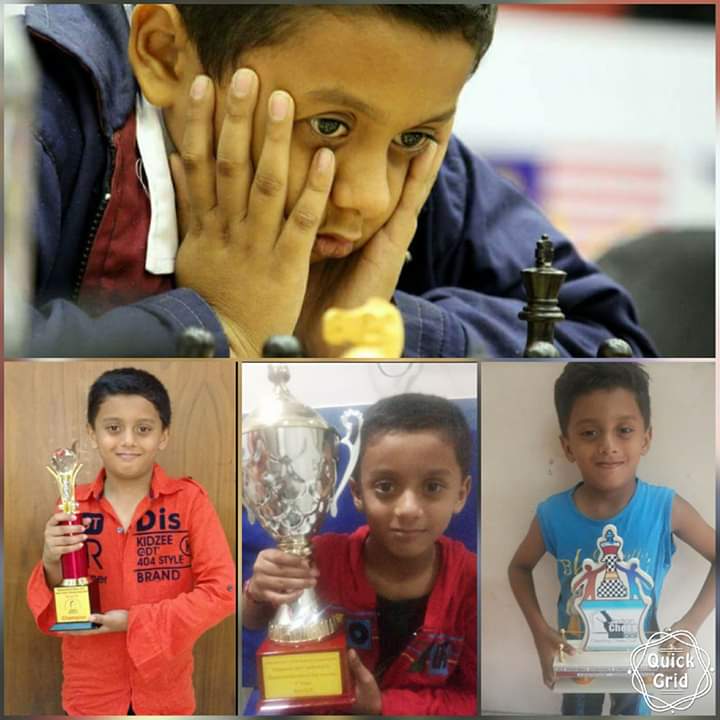 Now, Jeet stands at a rating of 1904. His most memorable experience was the U-11 State in Andheri, where he scored 8.5 out of 9 and came first. He also came first in U-13 state tournament that took place in Pune. Apart from chess, Jeet likes to play cricket and football. A remarkable point to note here is that Jeet has been holding his own academically as well; he came 3rd in India in a math quiz, quite fittingly called 'Center of Excellence'. What an all-rounder! He is currently trained by Ketan Boricha, who is a popular coach in the city of Mumbai.
His goal, reportedly, is to become a GM as fast as possible. Judging by his game against Nitish Belurkar (2310), he might get there pretty quickly!
Saksham and Sadbhav Rautela:
This sibling duo may not be as popular as Pragg and Vaishali, but they have been holding their own in Uttarakhand for quite a while now. Saksham, the older of the two, was introduced to chess in 2012. In fact, ever since then, he has constantly been the state champion of Uttarakhand till date. Sadbhav, on the other hand, rocked the Asian Youth 2018 with a combined third spot.
Besides Chess, Saksham likes to read on geography and history while Sadbhav likes to read on animals and wildlife. It must be said these are very unique interests that these boys possess! They are currently fighting it out with others in Europe; Let us hope they emerge victorious!
Shriyana Mallya:
She is a Mangalorean girl who was born in 2010. She is the Commonwealth U-8 Gold Medalist this year and the highest rated in U-9 girls. We're sure that the one-word question on your mind is, "how?" Well, it all started when her father, Sandeep, taught her how to play chess. After going to a local chess academy, she 'found' her coach, Gahan, at Chess Saga. Their most memorable experience together was during the Commonwealth Championship, when she was in need of urgent preparation against her opponent for the last round. They had to prepare together for two hours on end via Skype, which went on late into the night. The next day, Shriyana faced her opponent, Sri Harini - who happened to be her state-mate - for her crucial last round, and that's when the preparation really kicked in. Here is the game below. If you want to learn how to crush the Dragdorf (Dragon + Najdorf) then this is it!
In fact, here is one very intriguing interview that was taken not long back:
What a phenomenal dedication at this young age; we will see her frequently from now. Look out for this girl!
Sparkling Titans:
These are the players who are top of their age, or are the most skilled of the pack. They have made appearances everywhere, and there is no-one from their category who do not know who they are. We were able to get a hold of a few of them, and we asked them about their friends; here is the response that it elicited:
Khush Bhagat and Hridhay Sheth:
Kush Bhagat is one of the prominent players of Mumbai. At the age of 9, he is rated 1618. In 2016, Kush triumphed by winning Gold medals in all three formats at the 1st Western Youth Chess Championship at UAE. Another one in his kitty, is the title of U-7 Maharashtra State Champion, 2016 and the World Schools U-7 Blitz Champion in Sochi, Russia. His parents have stood rock solid by his side as well as that of IIFLW tournament that is coming up within 10 days and so are the coaches of SMCA.
His best friend is Hridhay Sheth, rated 1746. He is a bronze medalist in blitz format at World Schools Championship 2017 at Iasi, Romania. Although Hridhay is 4 years older than Kush, the two are good friends. The two first met at their chess academy, SMCA, and had a memorable experience at Sochi, were they played three different sports (chess, cricket, football) all while they were playing a chess tournament! Below is a game of Hridhay Sheth:
Although these two are a good pair, they are not the only ones around! Some others are...
Aditya Samant and Gukesh:
Aditya Samant is a 2205 Elo rated boy from Pune. He is a very strong and consistent player; as can be seen earlier this year, Aditya completely outplayed GM Mikhail Mozharov, rated 2558. One person's game whom he admires is that of IM Gukesh D. Aditya really likes the way Gukesh plays until the end, giving himself a chance of a blunder from his opponent. It would make sense for them to be friends, as they share playing styles. Here is a game of Gukesh's against Karthikeyan which Aditya likes:
Ilamparthi and Akash G (u8):
Ilamparthi is a huge, formidable, and talented chess player. He hails from Tamil Nadu, and has proven his mettle innumerable times in the past. He has quite a few achievements, including but not limited to:
 Current U-9 champion in India
 2017 Asians Usbekiztan 2 gold and 1 silver
 U-5 national schools 1st, Delhi
Of the two well-known Akash Gs in India, the one Ilamparthi is friends with is the younger counterpart; Akaash G from U-8 category, rated 1510. Aakash is a 'pretty good chess player,' in Ilamparthi's view, who lives in Coimbatore, Tamil Nadu. There was an interview conducted by IM Sagar Shah back in Jan 2018, where Aakash, sitting on Sagar's lap, rattles off the moves of his game! Here is the video below:
Here is a game between the two friends:
Divya Deshmukh:
We have seen her countless times before. She is one of the dominating girl chess players out there. Divya is a WIM (Inching closer to WGM!) and, more importantly, a fantastic chess player. Her friends are of a similar league, WGM R Vaishali, and WIM Aakanksha Hagawane. They all have a kind of attacking fire in them and share the same style of play. Here is each of their games:
Here's one of Divya's fine victories:
WGM R Vaishali is also a sparkling talent alongside her brother, Pragg. Here is a game of hers against Munguntuul Batkhuyag:
WIM Aakanksha Hagawane is no less than either of the two! Here is another game between her and Divya- a tough fight!
Trivia:
13-year-old Raunak Sadhwani recently played five-time World Champion in the first round of Isle of Man International 2018. He gave Anand such a big scare and was so close to winning. We have asked Raunak to annotate that game for us and he has done so. But before publishing it, we would like to ask you to annotate this game for us. The best entry will get a prize of three months of ChessBase Premium Account. Here's the game without any annotations. Please do download it (the download button is on the top right corner). You need to download it, annotate it and send it to us in Pgn or cbv format on chessbaseindiajuniors@gmail.com. Raunak Sadhwani himself will be the judge of this contest.
Editor's Pick:
Getting the true benefits out of chess
Chess may not be the king of games, but it is definitely the game of kings. It has stayed that for its long history. There is always a way to make a profit out of such sports, by rising to the top above all else. However, a person out there unable to do all that can still enjoy quite a few benefits. Thanks to chess, One will notice that they're at attention and aware of where they are and what is going on. Chess players can be really intuitive, and that flexes their ability to reflex and make decisions during a tough situation. Just like in the game!
We can remember things much more vividly and far back than most people, and have a knack of ruling out possibilities. Best of all we have a mental toughness and grit in us that no outsider will understand. We are stubborn and, in my view, show no mercy at times to any mistake. Through this beautiful game, one can learn a lot of important lessons about both life and game. Chess rarely shows any downsides, apart from an occasional dreamy state and an empty pocket. But, as all true chess players will realize, all we can do is pick ourselves up time and again and plough through to success.
About the author:
Avathanshu Bhat has been writing about chess for well over a year now. He has published innumerable articles on ChessBase India and his reports have been well received by the audience. He is the editor-in-chief of ChessBase India Juniors. His main intention is to bring the best junior players of our country into the limelight with his writings. Here is some of the work he has done in the past:
G. Akash wins the Grand Hyderabad affair
10-year-old boy's deep calculation (71,000+ hits on Youtube)
12-year-old chessentrepreneur Avathanshu Bhat
Hemant Sharma becomes International Master
Champion from Chudamani - IM Sidhant Mohapatra
Blindfold simul by Timur Gareyev
---