Lucena in Lockdown #8: The boy next door
Hello! Today we are met with ████████. He lives in the suburb of Padi, in Chennai, Tamil Nadu. I'm sure you all have heard about this boy, and about what a formidable chess player he is. The boy has persevered for a long time, and his meticulous efforts earned him the rank of ██████████████ all over India, one of the many other amazing successes that he has under his belt! What makes him particularly special is his humility, and that virtue alone has brought him a long way. His simplicity and friendliness is enough to enamor anyone into a pleasant chat. Below he shares a wonderful perspective on the coronavirus situation, and much, much more. Do read on and have a great time!
First thing he'd like to do once lockdown is lifted?
Would he go for a tournament, or would he go to his chess academy? Turns out, he cannot wait to seek peace and calm at a temple nearby. How tranquil!
He hasn't had outside food in ages…
…so what would he have now? The boy says he would be delighted to have something outside of home, and wants to go straight to a restaurant once lockdown is over, and enjoy some non-veg! Wouldn't we all?
Finally, we're face to face!
Who would he want to meet in person as soon as he can? I mean, before going for the sudden tournament spree; "I would visit my cousins who live a few blocks away from me and play with them."
The Red Pill is Classical Chess forever. The Blue Pill is Blitz Chess forever. Choose wisely, boy…
"I would be okay with anything; as long as it's not rapid! I am not a fan of the rapid time control and would choose maybe Classical forever!"
Be forever stuck inside your home, or always constantly travelling?
"Oh, this is a difficult one! I love both, but I guess my heart lies at home! I could manage playing chess if all tournaments were online sitting at home. And in the process, I would be very comfortable!"
Post-lockdown activities, anyone?
"I would love to play tournaments, definitely. Actually, it would also be nice to go to school as well, for a change. I'm in 10th grade now after all! I didn't really study much before, and I'm picking up the pace now, so I guess that's different. It is difficult sometimes, and some things are very boring, but I'm slowly learning to enjoy the process, and understand that it is important too!"
Imagine he has been chosen for the candidates. Who would he choose to play against first?
"It doesn't matter to me who I'm playing specifically, what matters is my game! I would play against everyone, as they all have different play-styles and experiences, so I could possibly learn a thing or two after!"
A secret that nobody knows…
"I enjoy watching comedy movies on tv, and will watch whatever is playing as well. I do also listen to music, but not as frequently!"
"If you could become another chess player, which one would you be?"
"Myself!"
The advice that kept him going…
"Never play for the results, what matter is the game, learning, and enjoying the journey!"
By now, you all probably want to know who it is. Sounds like any other interview, right? No one could possibly suspect that these simple, heartfelt replies were from the one of the youngest GMs in India… yes you read that right! Today's guest is none other than GM R. Praggnanandhaa! As a recap, what has this 14-year-old boy managed to accomplish in the 10 years of playing in this game? The WYCC U-8 title first back in 2013, in 2016 became the then youngest IM in chess history, from 2017-2018 achieved all three GM Norms, becoming one of the youngest GMs in the world; in July last year he won the Xtracon Chess Open in Denmark, in October he won the WYCC in the Under-18 section and two months later, in December of 2019, he crossed the 2600 ELO mark at the age of 14 years, 3 months and 24 days.
Pragg is still just a 14-year-old boy, like any other! Yet he lives a completely different life and routine, one that is more complex and calculated than any other. Find out more on Pragg's views below!
"Staying at home obviously isn't the best, and I would rather be outside, but isn't making much of a difference to me, as I never really leave my house very often anyway, apart from for tournaments. If you're really a serious chess player, then you shouldn't need to be too upset about the lockdown affecting your chess, as this is the best chance for you to catch and break, and work on improving your chess abilities. I honestly think that, assuming there was a solution for tournaments, I would manage perfectly fine staying at home. It's what I would've preferred anyway. So I haven't been fazed much by the whole situation, and am carrying on while keeping my calm!
"I begin my day at 8:00 in the morning. I spend anywhere from 7-10 hours a day on chess, looking for areas to improve and weaknesses to work upon. There are multiple things that need fine-tuning, such as openings, and I look for ideas that I can use in games. Most of the time, however, is spent on online tournaments, playing games to practice my preparation. Coaching also plays a big role, and I attend classes of GM RB Ramesh based on when I need help with my preparation, and not on a set schedule. When I'm not doing chess, I relax by spending time with my family, watching movies and the like. "I'm still unable to find a physical exercise routine that I can do, so I spend more time inside the house than going out. I do take a break and walk around a little bit. Sometimes, me and my sister, Vaishali, also play badminton outside the house… although we are definitely not that good at it!"
Check out this wonderful game of Pragg's against, Viachaslau Zarubitski (2435) at the World Youth 2019. "I chose this game as my best game because I outplayed my opponent from an equal position. This was a crucial game. I showed this game to Gelfand sir during Microsense Training Program and sir liked this game which made this game very special for me!" says Pragg.
"I am also studying more and more in lockdown as time goes by. I am definitely learning new things very quickly, and I trust myself to study without the need of online classes. Since the last two years I have been catching up quite a bit, and now is the chance for me to learn what I can! I'm learning all the different aspects, including mathematics, sciences, and a bit of Tamil too. I am managing perfectly fine with material online, and am taking 10th standard much more seriously.
"Online classes are different from a face to face class for sure, but I still feel that that shouldn't really impact it much. Yes, there are distractions, yes there can be internet issues, but that doesn't ruin the classes! If you are focused, and ignore the occasional hiccups, it is just as good as face to face classes. Personally, I find that I can concentrate very well and so I feel both experiences are equal."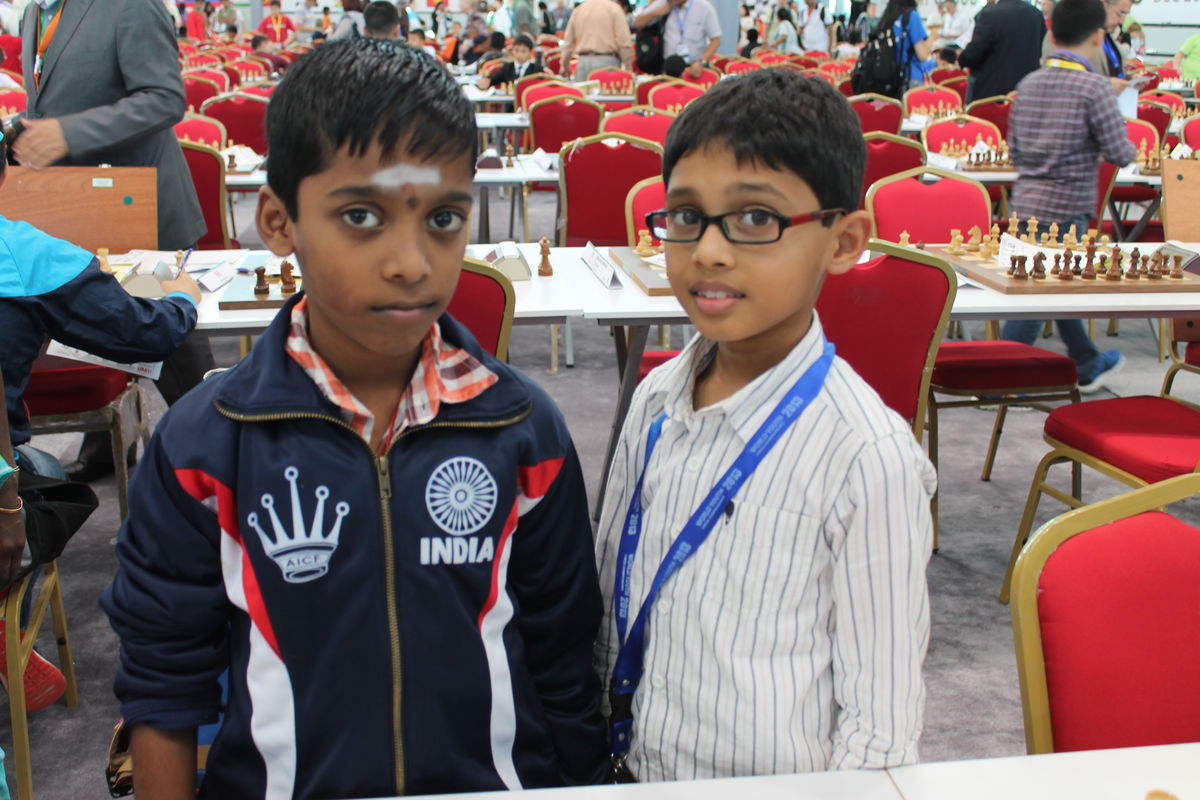 From U-7 Nationals where I first met him, Pragg always was a boy of few words. He was simple, humble, and willing to help in any situation and I have always admired that about him ever since. The night that I was going to call him, I was quite anxious, as I wasn't sure how much he would have changed. Soon, I got my answer: he had not changed at all! He was still the same friendly boy from all those years ago, and we talked at length. It might've been bad luck, but hours later I found that the recording was distorted – and almost none of his voice could be properly discerned!
I didn't know what to do, because calling again meant intruding again asking for more time, especially of something already done once. Not many would have the patience to sit through that again! Well aware of this, I still put a message on WhatsApp with trepidation, and three hours later, got to chat with Pragg once more. It was his readiness to help that surprised me so much. At that point, he didn't even need to reply and everything would have been the same for him! However, he has never shown any attitude before, and seems to already posses the maturity and matters to be patient and kind to all that he meets!
This ray of humility is a defining characteristic to being a good chess player and a human being. Pragg has touched the lives of many in India, inspiring other kids to be like him, to chase his record, and to follow in his footsteps at such a young age. Pragg is aware of this, and yet never speaks about it in a prideful manner. He is just happy that he contributed to Indian Chess than his own personal glory. He still has a long way to go, and he will definitely continue the same selflessness from all those years ago. After all, there is another great Indian Chess player who, just like Pragg, possesses the same humility; and I think we all know who that is without saying.
Bonus:
"The video of your chess game against Suryashekhar Ganguly has over 30 million views on YouTube. How do you feel knowing that so many people worldwide love seeing you play?"
"Well, it is a good feeling, but I'm honestly a little disappointed; I didn't play the opening that well!"
If you haven't seen the video yet, check it out below:
And this one below now is closing in on the 25 million mark!
Know more about Praggnanandhaa:
Praggnanandhaa gives a major scare to Wesley So at the Leon Masters 2018
Praggnanandhaa wins the London Chess Classic FIDE Open 2019
Praggnanandhaa's love for chess
Praggnanandhaa in sole lead at Xtracon chess with 6.5/7 and a rating performance of 2788!
Praggnanandhaa becomes the youngest Indian to cross 2600 Elo ever, second youngest in the world
12 years, 10 months and 13 days - Praggnanandhaa becomes the 2nd youngest GM in the history of chess!
About the author:
Avathanshu Bhat is one of the youngest and finest journalists of Indian chess. He is 15 years old now, but wrote his first article when he was just 11. He is also the head of ChessBase India Juniors and the manager of ChessBase India Elite Pass.
---