What happened when Gukesh and Pragg visited Vishy Anand's home in Chennai
by Sagar Shah - 07/02/2019
5th February was a wonderful day in the life of India's youngest GM D. Gukesh. He was invited by the five-time World Champion Vishy Anand at his residence in Chennai. Gukesh, as always, was a bit shy and tensed, but once the duo sat down in Anand's training room in front of the chess board, all the shyness vanished. What did Anand and Gukesh analyze. And when later Praggnanandhaa joined in which was game that Pragg wanted to have a look at with Anand? We spoke to Gukesh after the meet and he tells us about his experience and the various positions that were analyzed in the session.
Anand is a busy man. Being the five-time World Champion, and one of the top ten players in the world (even at the age of 49!) he is sought after by organizers for world's strongest tournaments. Facing players half is age, Vishy has to prepare meticulously not to fall in some prepared lines against guys like Carlsen, Caruana, Ding Liren, Giri, Karjakin etc. He is also the brand ambassador for many prominent companies and brands and has to spend time with him. He works for many different organizations including OGQ (Olympic Gold Quest) to promote the sports in our country. Not to forget he is the father of a seven-year-old boy! In spite of all his commitments and schedule, Vishy almost always finds time to boost the young talents of our country.
Anand took note of Gukesh's performance when he was in Tata Steel Chess in Wijk Aan Zee, Netherlands. On the rest day, Anand tweeted: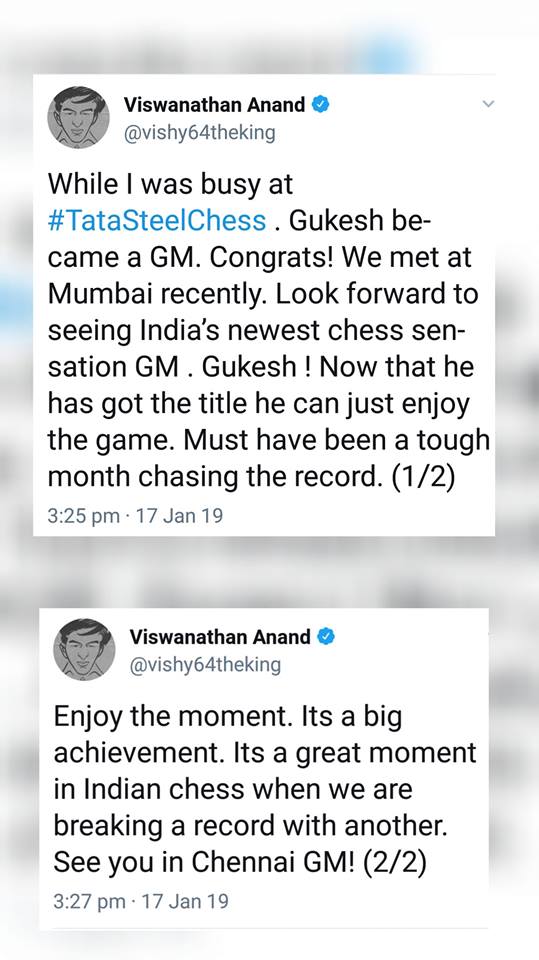 Anand doesn't take his words lightly. He invited Gukesh to his home in Chennai. The young lad finished his tournament at the Gibraltar Masters 2019 and met Anand at his residence on the 5th of February 2019.
After some initial greetings, Anand and Gukesh both went inside Vishy's training room and started analyzing chess!
So what did Anand and Gukesh discuss on the chess board?
Had some new Grandmasters over . @DGukesh and @rpragchess ! Was fun playing with them. Very quickly we started analysing games from Gibraltar and Wijk.What can I say! Was a proud moment watching them watching me

— Viswanathan Anand (@vishy64theking) February 5, 2019
ChessBase India spoke to Gukesh after the interaction. Here's a gist of what happened:
Gukesh's game against Adams:
Gukesh lost to Michael Adams in the third round of the Gibraltar Masters 2019. It was the Rossolimo opening where Gukesh had faced some problems from the black side. Anand and Gukesh went over the game and at the same time Anand suggested some new possibilities for Black which is mentioned in the PGN below:
Praggnanandhaa had a problem in the same line as the game between Aronian and Mamedyarov from Batumi Olympiad 2018. Together they analyzed the game and tried to understand what was going through the mess. If you haven't seen this spectacular game already, then have a look at it with Surya Sekhar Ganguly's excellent analysis and then also watch the final minutes of Mamedyarov beating Aronian which was captured on the video by Amruta Mokal.
The use of engines:
It almost seems unbelievable when Gukesh revealed in one of his interviews on ChessBase India that he doesn't make use of engines to prepare at chess. In the present day when computers have become such an integral part of chess preparation Gukesh's approach is fresh and unconventional. Talking to ChessBase India Gukesh said, "Anand sir told me that right now it would be fine to continue without engines, but at some point I will have to make the switch." But how does Gukesh prepare without an engine? "I usually play the Reti with 1.Nf3 and 2.g3 so I didn't need to use much of engines. It is more about the positional feel."
And what about the sharp Meran system that he plays with Black? Well, Gukesh has good preparation on the opening which he revises before the game. Of course, in some of his games he is unable to recollect his exact preparation and has to invent over the board. Like he had to do against Fernando Peralta where he was outplayed in the opening. After the game Gukesh analyzes his games, once again without engines and tries hard to understand the mistake he made and how he can improve. The use of engines might give Gukesh objectively the best move in the position, but the youngster prefers that his mind is doing the thinking and is not influenced by the engines. This has worked for him until now. It will be interesting to see how long Gukesh will wait before making the switch. In any case, becoming a GM without the use of engines is in itself a commendable feat.
Gukesh was extremely inspired after meeting Anand. Not only was the ches analysis session great fun for him but at the same time just sitting in the room where Anand trains regularly and being surrounded by just about every super tournament trophy, can be a highly motivating experience. As Gukesh told us, "Trophies were great, but I really liked the medals!"
Other coverage:
On what he makes of Gukesh the person, Anand said, "Well, basically, he's a Grandmaster and he's understanding. I don't have to explain stuff very much. We're mostly on the same page on many things. But he's very quiet. He's, you know, obviously one of these 'My chess will do the talking for me' kind."
---
Related news
:
Chairman of ISRO S. Somanath visits Praggnanandhaa's home in Chennai

@ 24/10/2023 by Sagar Shah (en)
There was a bank row!

@ 25/09/2023 by Frederic Friedel (en)
There was a bank row?

@ 17/09/2023 by Frederic Friedel (en)
How the world reacted to Praggnanandhaa's silver medal finish at World Cup 2023

@ 11/09/2023 by Sneha Tiwari (en)
Gukesh dethrones Vishy Anand's 37-year-long reign as India no.1 officially, also becomes World no.8

@ 01/09/2023 by Shahid Ahmed (en)
मैंने नहीं सोचा था कैंडिडैट में होगा चयन " प्रज्ञानन्दा

@ 27/08/2023 by Niklesh Jain (hi)
The life story of Praggnanandhaa in 120 pictures: From a talent to a Candidate

@ 22/08/2023 by Sagar Shah (en)
The most valuable chess guestbook ever

@ 17/08/2023 by Sneha Tiwari (en)
Gukesh reaches 2756 Elo, surpasses Vishy Anand as the new India no.1

@ 04/08/2023 by Sagar Shah (en)
Indian chess community on Praggnanandhaa crossing 2700 Elo at the age of 17 years

@ 29/07/2023 by Sagar Shah (en)
From an IM to an unrated player - Reviews for Attack like a super GM video course with Gukesh

@ 27/07/2023 by Sagar Shah (en)
Praggnanandhaa triumphs at V Géza Hetényi Memorial 2023 with a 2833 performance

@ 20/07/2023 by Shahid Ahmed (en)
Praggnanandhaa on the verge of winning V Géza Hetényi Memorial 2023

@ 19/07/2023 by Shahid Ahmed (en)
ये तो होना ही था ! प्रज्ञानन्दा हुए 2700 के पार

@ 13/07/2023 by Niklesh Jain (hi)
Gukesh glorious at Armageddon Championship Series: Asia and Oceania

@ 10/04/2023 by Shahid Ahmed (en)
Praggnanandhaa teams up with Carlsen for the first time for Offerspill and wins Norwegian Elite League 2022-23

@ 06/03/2023 by Shahid Ahmed (en)
Ilamparthi tests Gukesh from Dusseldorf to Hamburg!

@ 01/03/2023 by Sagar Shah (en)
Gukesh and Vaishali in Forbes India Showstoppers 2022-23 Top 50 list

@ 08/01/2023 by Shahid Ahmed (en)
Gukesh gets signed by FairPlay Sports

@ 17/12/2022 by Himank Ghosh (en)
Velammal Nexus felicitates Gukesh

@ 16/12/2022 by Himank Ghosh (en)
Your chance to meet Vishy Anand and the young super talents of Indian chess in Bangalore!

@ 06/09/2022 by Sagar Shah (en)
"Don't worry, just beat Magnus Carlsen" The Praggnanandhaa Interview

@ 23/08/2022 by Himank Ghosh (en)
Gukesh continues his meteoric rise, now World no.18

@ 19/08/2022 by Shahid Ahmed (en)
मौका मिले तो मैं विश्व चैम्पियन कार्लसन से सीरीज खेलना चाहूँगा – गुकेश

@ 15/08/2022 by Niklesh Jain (hi)
Anand speaks on the Indian youngsters, Olympiad 2022 and the FIDE elections

@ 04/08/2022 by Himank Ghosh (en)
Reaction of top Indian GMs after Gukesh hit 2700 Elo

@ 24/07/2022 by Sagar Shah (en)
गुकेश नें रचा इतिहास :उम्र 16 और हुए 2700 के पार

@ 17/07/2022 by Niklesh Jain (hi)
Praggnanandhaa clinches 15th Paracin Open with a 2789 performance, now World no.89

@ 17/07/2022 by Shahid Ahmed (en)
Gukesh dominates 14th Gijon City Closed, now World no.41

@ 09/07/2022 by Shahid Ahmed (en)
The Praggnanandhaa interview on winning the Norway Chess Open

@ 14/06/2022 by Himank Ghosh (en)
Gukesh scores a hat-trick by winning Chessable Sunway Formentera Open, now World no.66

@ 09/05/2022 by Shahid Ahmed (en)
Gukesh marvels at 1st Menorca Open, now World no.80

@ 25/04/2022 by Shahid Ahmed (en)
15-year-old Gukesh becomes the youngest Indian ever to break into World Top 100

@ 22/04/2022 by Shahid Ahmed (en)
Gukesh set to star at 55th Biel Chess Festival GMT 2022

@ 12/03/2022 by Shahid Ahmed (en)
Praggnanandhaa on his debut at Tata Steel Chess 2022 Masters

@ 09/02/2022 by Shahid Ahmed (en)
Praggnanandhaa will fight against Carlsen, Caruana & Co. at the Tata Steel Masters 2022

@ 27/10/2021 by Sagar Shah (en)
Gukesh makes a Golden debut for Prilep at 36th European Chess Club Cup 2021

@ 25/09/2021 by Shahid Ahmed (en)
Gukesh clinches Norway Open 2021 Masters, Iniyan finishes second

@ 18/09/2021 by Shahid Ahmed (en)
Gukesh triumphs 4th Concello de Carballo Clasico

@ 12/09/2021 by Shahid Ahmed (en)
Gukesh crosses 2600 at the age of 15 years 2 months and 27 days

@ 26/08/2021 by Sagar Shah (en)
Arjun Erigaisi and Gukesh dominate 2nd Terras de Trás-os-Montes Open

@ 25/08/2021 by Shahid Ahmed (en)
Praggnanandhaa and his visa issues

@ 06/07/2021 by Sagar Shah (en)
Billionaire Nikhil Kamath admits to beating Vishy Anand using unfair means

@ 14/06/2021 by Sagar Shah (en)
Vishy Anand and Vladimir Kramnik to play a four-game match of No-Castling Chess

@ 23/02/2021 by Sagar Shah (en)
एआईसीएफ़ के सलाहकार बोर्ड में शामिल होंगे आनंद

@ 09/01/2021 by Niklesh Jain (hi)
Vishy Anand turns 51 years old

@ 11/12/2020 by Sagar Shah (en)
भारत के सुनहरे भविष्य का संकेत : निहाल -प्रग्गानंधा

@ 03/09/2020 by Niklesh Jain (hi)
Praggnanandhaa shows his phenomenal knowledge and skills on his 15th birthday

@ 11/08/2020 by Sagar Shah (en)
Blitz Challenge with GM D.Gukesh

@ 07/08/2020 by Sagar Shah (en)
Vishy Anand back home...finally!

@ 15/06/2020 by Susan Ninan (en)
जर्मनी से वतन भारत वापस लौटे विश्वनाथन आनंद

@ 01/06/2020 by Niklesh Jain (hi)
Vishy Anand beats Ian Nepomniachtchi in 17 moves | Online Nations Cup Day 3

@ 08/05/2020 by Sagar Shah (en)
Vishy Anand's art of building a fortress | Nations Cup 2020 Day 2

@ 07/05/2020 by Sagar Shah (en)
Lucena in Lockdown #8: The boy next door

@ 03/05/2020 by Avathanshu Bhat (en)
Lucena in Lockdown #5 : GM D.Gukesh

@ 20/04/2020 by Avathanshu Bhat (en)
Attend the Vishy Anand ET Now webinar on 19th of April 2020 at 1.30 p.m.

@ 19/04/2020 by Sagar Shah (en)
"Hang in there and this will pass soon" - Vishy Anand

@ 02/04/2020 by Sagar Shah (en)
Praggnanandhaa wins the TOISA 2019 for best chess player of the year

@ 07/03/2020 by Sagar Shah (en)
Gukesh wins Cannes Open and moves to a live rating of 2565!

@ 25/02/2020 by Sagar Shah (en)
Gukesh wins the tournament held to celebrate 110th anniversary of the Hillerød Chess Club

@ 18/02/2020 by Sagar Shah (en)
Gukesh's unbelievable fortune in Denmark

@ 14/02/2020 by Sagar Shah (en)
Praggnanandhaa's love for chess

@ 24/01/2020 by Sagar Shah (en)
50 वर्ष के हुए आनंद ! भारत रत्न के है हकदार !

@ 11/12/2019 by Niklesh Jain (hi)
Praggnanandhaa wins the London Chess Classic FIDE Open 2019

@ 07/12/2019 by Sagar Shah (en)
Shanghai Haiwan 2019: When you play well and still lose

@ 09/09/2019 by Sagar Shah (en)
Vishy Anand versus Gujarat

@ 08/09/2019 by Sagar Shah (en)
Vishy Anand welcomes Nihal Sarin to the 2600 club!

@ 03/06/2019 by Sagar Shah (en)
World's youngest GM Gukesh is now a teenager

@ 29/05/2019 by Sagar Shah (en)
Which is the most popular chess video on the internet?

@ 27/04/2019 by Sagar Shah (en)
Gukesh sizzles at the Grenke Open 2019 with a 2700+ performance

@ 25/04/2019 by Sagar Shah (en)
Endgame Magic with Gukesh and Karsten Mueller is LIVE!

@ 24/04/2019 by Sagar Shah (en)
The friendship and rivalry between India's first two GMs - Vishy Anand and Dibyendu Barua

@ 15/04/2019 by Rakesh Rao (en)
Ice cool Praggnanandhaa beats Fire on Board Alexei Shirov at Prague Challengers 2019

@ 12/03/2019 by Sagar Shah (en)
Praggnanadhaa beats Women's World Champion Ju Wenjun in Prague

@ 11/03/2019 by Sagar Shah (en)
The solution to the mate in three problem given by Kramnik to Anand

@ 27/02/2019 by Sagar Shah (en)
The mate in 3 study which was given to Anand by Kramnik

@ 20/02/2019 by Sagar Shah (en)
Vintage Vishy - Why do we call him that?

@ 14/02/2019 by Sagar Shah (en)
Watch out for the Indian talents born in 2006! They are coming!

@ 07/02/2019 by Sagar Shah (en)
Anand on Wijk: "It's a bit like coming home"

@ 04/02/2019 by Aditya Pai (en)
Gukesh felicitated with Rs.1,00,000 from Microsense and Rs.30,000 from TNSCA

@ 20/01/2019 by Sagar Shah (en)
Limited spots for two-day chess training workshop with Vishy Anand

@ 19/01/2019 by Sagar Shah (en)
Gukesh becomes 2nd youngest GM in the history of chess at 12 years, 7 months and 17 days

@ 15/01/2019 by Sagar Shah (en)
World Rapid Championship: Anand closes in on the tournament leaders going into the final day

@ 28/12/2018 by Aditya Pai (en)
World Rapid Championship: Tough day for Carlsen

@ 27/12/2018 by Aditya Pai (en)
Karjakin's youngest GM record still stands

@ 23/12/2018 by Sagar Shah (en)
Indian grandmasters share Vishy Anand gems on his 49th birthday

@ 12/12/2018 by Sagar Shah (en)
Gukesh with 2 GM norms and 2490 Elo is on the verge of becoming world's youngest GM

@ 09/12/2018 by Sagar Shah (en)
Vishy Anand recaps Carlsen versus Caruana World Championship Match 2018

@ 01/12/2018 by Sagar Shah (en)
Batumi Chess Olympiad: India's chances of a podium finish diminish after a catastrophic ninth round

@ 04/10/2018 by Aditya Pai (en)
Batumi Chess Olympiad: Sasikiran helps India edge out Czech Republic, women suffer their first loss

@ 03/10/2018 by Aditya Pai (en)
Batumi Olympiad round 4: USA too strong for team India, women beat Poland

@ 28/09/2018 by Aditya Pai (en)
Live Games and Updates of Team india from Batumi Olympiad 2018

@ 24/09/2018 by ChessBase India (en)
I may take risk in chess, but it is completely unacceptable in finance - Vishy Anand

@ 23/09/2018 by Nongsha Angom (en)
Vishy Anand on the cover of Sports Illustrated India

@ 20/09/2018 by Sagar Shah (en)