Karjakin's youngest GM record still stands
by Sagar Shah - 23/12/2018
Two Indians came very close to breaking Karjakin's record of the youngest GM in the world at the age of 12 years and 7 months. They were Praggnanandhaa and Gukesh. While Pragg missed the target by three months, Gukesh had a highly realistic chance if he made his third GM norm at the Sunway Sitges International 2018. The youngster was very close, but in the end missed out on the train. We tell you what happened in the ninth round. More good news from Sunway Sitges is 11-year-old Bharath Subramaniyam making his first IM norm. The last round will be played today at 2 p.m. IST and the exciting pairing is Praggnanandhaa versus Nihal Sarin.
It was quite an important day for the record keepers in chess. Gukesh who was on 5.0/8 at the Sunway Sitges International 2018 had a chance to break Karjakin's record of becoming the youngest GM in the world if things went his way. This is what the situation was before the ninth round:
Gukesh D's current opponent average rating is 2438.11. Checking in FIDE Handbook you realize that for this rating average he needs 6.5/9. As he was on 5.0/8, this is theoretically impossible. So he needed to win the ninth round against Alexander Demianjuk (2344) to get on 6.0/9.
If he did win his final tenth round he needed his average rating of opponents to go up to 2451 so that 7.0/10 gives him a GM norm. In order to push his average opponent's rating to 2451, he needed a minimum of 2567 rated opponent in round 10 and Gukesh had to beat him. So in a nutshell, to beat Karjakin's record of becoming the youngest GM in the world Gukesh needed the following to go his way:
1. He needed to beat his 2344 rated opponent in round 9 with black pieces
2. He needed to be paired with a 2567 or above Elo rated opponent in round 10
3. He needed to beat that opponent in round 10!
Gukesh was not able to beat his ninth round opponent Alexander Demianjuk and had to settle for a draw. With 5.5/9 he has chances of breaking into 2500 if he won his final round, but the GM norm is out of grasps.
On our Facebook post, Gukesh's father Rajinikanth wrote:
"It's been a fantastic year for Gukesh. Honestly at the start of 2018, if someone would have predicted and told me that at the year end he will be close to 2500 and completed IM title and also has 2 GM norms in addition to Asian and World gold medals, I would have laughed it off. So it's that sort of miracle year. I am pretty happy with his efforts and results. Keep supporting him with all your blessings and prayers as I feel he wasn't destined for this record but who knows he has better things to target! Heartfelt thanks for all your support."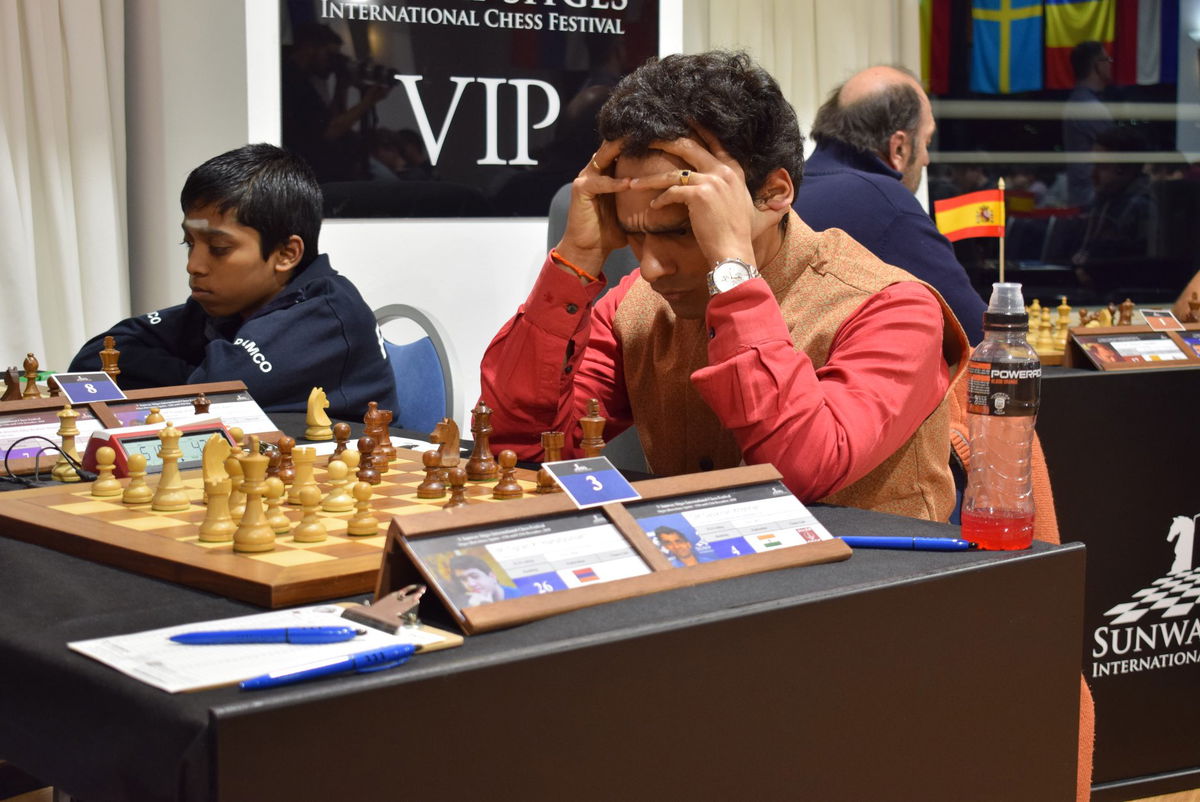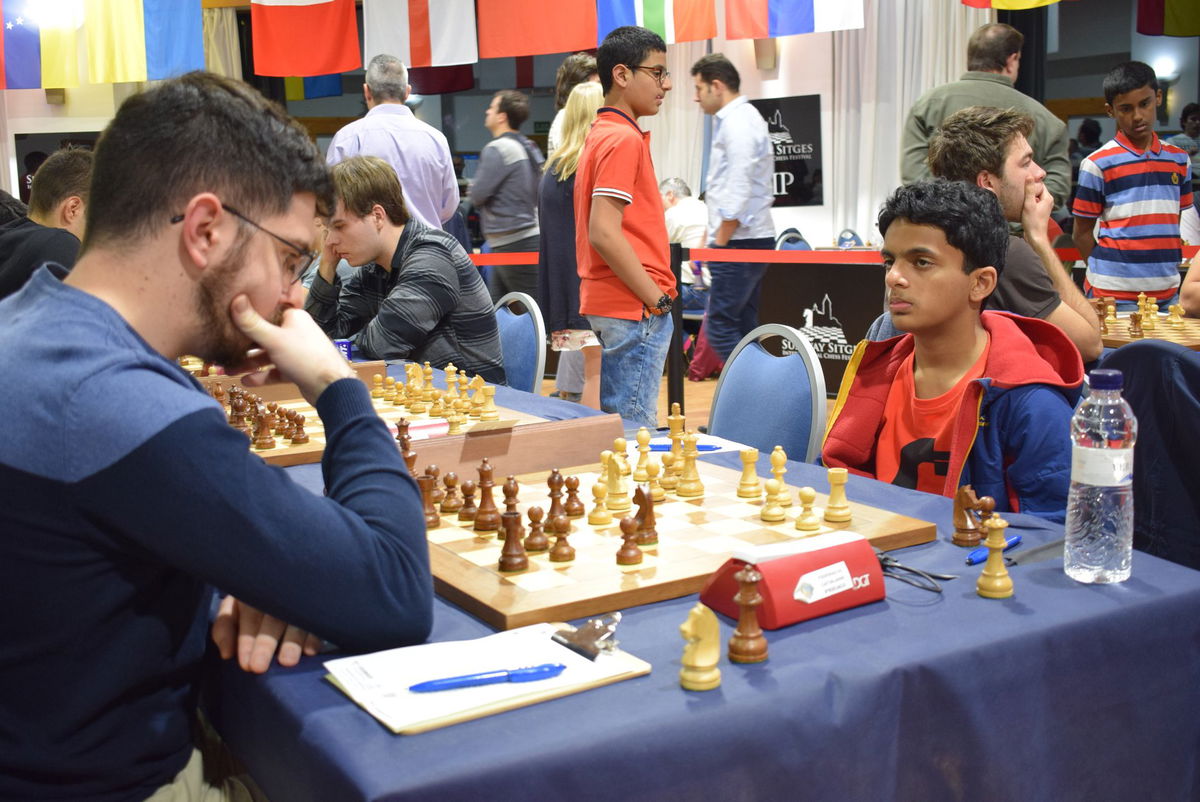 The final round will begin 7 hours before scheduled at 2 p.m. IST
Overview of Indian performances:
| | | | | | | | | | | | | | | | | | | | |
| --- | --- | --- | --- | --- | --- | --- | --- | --- | --- | --- | --- | --- | --- | --- | --- | --- | --- | --- | --- |
| SNo | | Name | RtgI | RtgN | FED | 1 | 2 | 3 | 4 | 5 | 6 | 7 | 8 | 9 | 10 | Pts. | Rk. | Rp | Group |
| 4 | GM | Sasikiran Krishnan | 2673 | 0 | IND | 1 | 1 | 1 | ½ | ½ | 1 | 1 | 0 | ½ | | 6,5 | 5 | 2663 | Group A |
| 16 | GM | Nihal Sarin | 2576 | 0 | IND | 1 | 1 | 1 | 1 | ½ | ½ | 0 | 0 | 1 | | 6,0 | 17 | 2586 | Group A |
| 25 | GM | Praggnanandhaa R | 2530 | 0 | IND | ½ | 1 | 1 | 1 | ½ | ½ | ½ | ½ | ½ | | 6,0 | 21 | 2560 | Group A |
| 35 | IM | Gukesh D | 2466 | 0 | IND | 1 | 1 | 0 | 1 | ½ | 0 | 1 | ½ | ½ | | 5,5 | 34 | 2509 | Group A |
| 41 | IM | Sadhwani Raunak | 2434 | 0 | IND | 1 | 1 | 1 | 0 | 1 | 0 | ½ | 0 | 1 | | 5,5 | 36 | 2527 | Group A |
| 42 | WGM | Soumya Swaminathan | 2428 | 0 | IND | 1 | 1 | 0 | ½ | 1 | 0 | ½ | ½ | ½ | | 5,0 | 59 | 2379 | Group A |
| 45 | IM | Vardaan Nagpal | 2415 | 0 | IND | ½ | ½ | ½ | ½ | 1 | 0 | ½ | ½ | 1 | | 5,0 | 75 | 2190 | Group A |
| 46 | IM | Raja Rithvik R | 2415 | 0 | IND | 1 | 1 | ½ | 0 | ½ | ½ | 1 | ½ | ½ | | 5,5 | 39 | 2388 | Group A |
| 48 | IM | Arjun Kalyan | 2406 | 0 | IND | 1 | 1 | 0 | 0 | ½ | ½ | ½ | 1 | 1 | | 5,5 | 49 | 2234 | Group A |
| 49 | CM | Rohith Krishna S | 2399 | 0 | IND | 1 | 0 | 0 | 1 | 1 | ½ | ½ | ½ | ½ | | 5,0 | 70 | 2305 | Group A |
| 59 | IM | Roy Prantik | 2382 | 0 | IND | 1 | ½ | 0 | 1 | 0 | ½ | 1 | ½ | 0 | | 4,5 | 77 | 2336 | Group A |
| 68 | IM | Krishna Teja N | 2340 | 0 | IND | 1 | 0 | 1 | 1 | ½ | 1 | ½ | 1 | ½ | | 6,5 | 9 | 2612 | Group A |
| 73 | WGM | Vaishali R | 2329 | 0 | IND | 1 | 1 | 0 | 0 | 1 | ½ | 0 | ½ | 1 | | 5,0 | 54 | 2369 | Group A |
| 74 | IM | Dhulipalla Bala Chandra Prasad | 2328 | 0 | IND | 1 | 0 | 1 | 0 | 1 | 0 | 1 | ½ | ½ | | 5,0 | 62 | 2312 | Group A |
| 81 | WIM | Priyanka Nutakki | 2293 | 0 | IND | 1 | ½ | 0 | 1 | 0 | ½ | ½ | ½ | 1 | | 5,0 | 67 | 2145 | Group A |
| 85 | CM | Mullick Raahil | 2276 | 0 | IND | 1 | 0 | 1 | 0 | 1 | 1 | 0 | 0 | ½ | | 4,5 | 82 | 2211 | Group A |
| 86 | FM | Pranav Anand | 2274 | 0 | IND | 1 | 0 | 1 | ½ | 1 | ½ | 0 | ½ | 0 | | 4,5 | 83 | 2309 | Group A |
| 90 | | Sreeshwan Maralakshikari | 2244 | 0 | IND | 1 | 0 | 1 | ½ | ½ | 0 | ½ | 1 | 0 | | 4,5 | 76 | 2353 | Group A |
| 95 | CM | Bharath Subramaniyam H | 2234 | 0 | IND | 0 | 1 | 1 | 1 | ½ | ½ | 0 | ½ | 1 | | 5,5 | 40 | 2426 | Group A |
| 96 | | Moksh Amit Doshi | 2233 | 0 | IND | 0 | 1 | 1 | ½ | ½ | ½ | 0 | 0 | 1 | | 4,5 | 85 | 2297 | Group A |
| 106 | | Alok Sinha | 2187 | 0 | IND | 0 | 1 | 0 | 1 | 0 | 1 | 0 | 0 | 0 | | 3,0 | 142 | 2093 | Group A |
| 108 | | Natarajan C | 2177 | 0 | IND | 0 | 1 | ½ | 0 | 0 | ½ | 1 | 1 | 0 | | 4,0 | 108 | 2176 | Group A |
| 115 | CM | Dev Shah | 2159 | 0 | IND | 0 | 0 | 1 | ½ | 0 | ½ | 1 | ½ | 0 | 0 | 3,5 | 138 | 1961 | Group A |
| 116 | | Manu David Suthandram R | 2153 | 0 | IND | ½ | ½ | ½ | 0 | 1 | ½ | ½ | ½ | 1 | | 5,0 | 55 | 2369 | Group A |
| 120 | | Ajay Karthikeyan | 2143 | 0 | IND | 0 | 1 | ½ | ½ | 1 | ½ | 0 | 1 | 0 | | 4,5 | 84 | 2311 | Group A |
| 121 | | Rakshitta Ravi | 2141 | 0 | IND | 0 | ½ | ½ | ½ | 0 | 1 | ½ | ½ | ½ | | 4,0 | 118 | 1972 | Group A |
| 139 | WFM | Cholleti Sahajasri | 2069 | 0 | IND | ½ | ½ | 0 | 0 | 1 | ½ | ½ | 1 | 1 | | 5,0 | 72 | 2276 | Group A |
| 148 | | Shyam Prasad Reddy K | 2030 | 0 | IND | 0 | 1 | 0 | ½ | 1 | 1 | 0 | 0 | 1 | | 4,5 | 91 | 2313 | Group A |
| 160 | | Aarav Dengla | 1955 | 0 | IND | 0 | 0 | ½ | ½ | 0 | 1 | 0 | ½ | ½ | | 3,0 | 155 | 2008 | Group A |
| 164 | | Mahitosh Dey | 1931 | 0 | IND | 0 | 1 | ½ | ½ | ½ | 0 | ½ | ½ | ½ | | 4,0 | 117 | 2160 | Group A |
| 167 | | Arjun C Krishnamachari | 1895 | 0 | IND | 0 | 1 | 0 | ½ | ½ | ½ | ½ | ½ | 0 | | 3,5 | 132 | 2107 | Group A |
| 177 | | Ilamparthi A R | 1796 | 0 | IND | ½ | 0 | 1 | 0 | 1 | 0 | ½ | 1 | 1 | | 5,0 | 74 | 2224 | Group A |
| 179 | AGM | Vignesh B | 1740 | 0 | IND | 0 | ½ | ½ | 0 | 1 | ½ | ½ | 1 | 0 | | 4,0 | 114 | 2114 | Group A |
Pairing of round 10 of Indian players:
---
Related news
:
Gukesh glorious at Armageddon Championship Series: Asia and Oceania

@ 10/04/2023 by Shahid Ahmed (en)
Ilamparthi tests Gukesh from Dusseldorf to Hamburg!

@ 01/03/2023 by Sagar Shah (en)
Gukesh and Vaishali in Forbes India Showstoppers 2022-23 Top 50 list

@ 08/01/2023 by Shahid Ahmed (en)
Kirill Alekseenko wins Chessable Sunway Sitges Open 2022

@ 24/12/2022 by Shahid Ahmed (en)
Kirill Alekseenko inches away from clinching Chessable Sunway Sitges Open 2022

@ 22/12/2022 by Shahid Ahmed (en)
Chessable Sunway Sitges Open R8: Andrey Esipenko grinds a Knight endgame for 66 moves

@ 21/12/2022 by Shahid Ahmed (en)
Raja Rithvik decimates 9th Chessable Sunway Sitges Blitz 18/12, Adhiban third

@ 20/12/2022 by Shahid Ahmed (en)
Chessable Sunway Sitges Open R6-7: Aravindh defeats Esipenko

@ 20/12/2022 by Shahid Ahmed (en)
Gukesh gets signed by FairPlay Sports

@ 17/12/2022 by Himank Ghosh (en)
Chessable Sunway Sitges Open R5: Alekseenko and Karthikeyan Murali share the lead

@ 17/12/2022 by Shahid Ahmed (en)
Velammal Nexus felicitates Gukesh

@ 16/12/2022 by Himank Ghosh (en)
Chessable Sunway Sitges Open R4: Aditya Samant sensational against Adhiban

@ 16/12/2022 by Shahid Ahmed (en)
Chessable Sunway Sitges Open R1-3: 17-year-old Kushal makes a superb start

@ 15/12/2022 by Shahid Ahmed (en)
Your chance to meet Vishy Anand and the young super talents of Indian chess in Bangalore!

@ 06/09/2022 by Sagar Shah (en)
Gukesh continues his meteoric rise, now World no.18

@ 19/08/2022 by Shahid Ahmed (en)
मौका मिले तो मैं विश्व चैम्पियन कार्लसन से सीरीज खेलना चाहूँगा – गुकेश

@ 15/08/2022 by Niklesh Jain (hi)
Reaction of top Indian GMs after Gukesh hit 2700 Elo

@ 24/07/2022 by Sagar Shah (en)
गुकेश नें रचा इतिहास :उम्र 16 और हुए 2700 के पार

@ 17/07/2022 by Niklesh Jain (hi)
Gukesh dominates 14th Gijon City Closed, now World no.41

@ 09/07/2022 by Shahid Ahmed (en)
Gukesh scores a hat-trick by winning Chessable Sunway Formentera Open, now World no.66

@ 09/05/2022 by Shahid Ahmed (en)
Gukesh marvels at 1st Menorca Open, now World no.80

@ 25/04/2022 by Shahid Ahmed (en)
15-year-old Gukesh becomes the youngest Indian ever to break into World Top 100

@ 22/04/2022 by Shahid Ahmed (en)
Gukesh set to star at 55th Biel Chess Festival GMT 2022

@ 12/03/2022 by Shahid Ahmed (en)
Abdusattorov clinches 8th Sunway Sitges Open 2021 in Playoffs, Abhimanyu Puranik third

@ 24/12/2021 by Shahid Ahmed (en)
Can Abhimanyu Puranik win 8th Sunway Sitges Open?

@ 23/12/2021 by Shahid Ahmed (en)
8th Sunway Sitges Open R8: Arjun Erigaisi, Sethuraman and Abhimanyu Puranik in the title fray

@ 22/12/2021 by Shahid Ahmed (en)
8th Sunway Sitges Open R7: Abhimanyu Puranik joins the four-way lead

@ 21/12/2021 by Shahid Ahmed (en)
8th Sunway Sitges Open R6: Abdusattorov and Kollars are the new leaders

@ 20/12/2021 by Shahid Ahmed (en)
8th Sunway Sitges Open R5: Sethuraman makes a perfect start 5.0/5

@ 18/12/2021 by Shahid Ahmed (en)
8th Sunway Sitges Open R4: Sethuraman in a three-way lead 4.0/4

@ 17/12/2021 by Shahid Ahmed (en)
8th Sunway Sitges Open R3: Soumya Swaminathan beats Rodrigo to be among the leaders

@ 16/12/2021 by Shahid Ahmed (en)
8th Sunway Sitges Open R2: Mary and Soumya stun Cornette and Fier

@ 15/12/2021 by Shahid Ahmed (en)
8th Sunway Sitges Open R1: Priyanka Nutakki and Sharan Rao score big upsets

@ 14/12/2021 by Shahid Ahmed (en)
Nihal Sarin to lead the Indian charge at 8th Sunway Sitges Open starting today

@ 13/12/2021 by Shahid Ahmed (en)
Gukesh makes a Golden debut for Prilep at 36th European Chess Club Cup 2021

@ 25/09/2021 by Shahid Ahmed (en)
Gukesh clinches Norway Open 2021 Masters, Iniyan finishes second

@ 18/09/2021 by Shahid Ahmed (en)
Gukesh triumphs 4th Concello de Carballo Clasico

@ 12/09/2021 by Shahid Ahmed (en)
Gukesh crosses 2600 at the age of 15 years 2 months and 27 days

@ 26/08/2021 by Sagar Shah (en)
Arjun Erigaisi and Gukesh dominate 2nd Terras de Trás-os-Montes Open

@ 25/08/2021 by Shahid Ahmed (en)
सनवे सिट्जस : लियॉन मेंदोसा बने सर्वश्रेष्ठ जूनियर

@ 24/12/2020 by Niklesh Jain (hi)
Ivan Cheparinov wins VII Sunway Sitges Open with 8.0/10

@ 24/12/2020 by Shahid Ahmed (en)
Sunway Sitges Open R9: Leon Mendonca beats Nino Batsiashvili

@ 23/12/2020 by Shahid Ahmed (en)
Sunway Sitges Open R8: Cheparinov and Moussard share the lead with 6.5/8

@ 22/12/2020 by Shahid Ahmed (en)
Sunway Sitges Open R7: Korobov is back at the top

@ 21/12/2020 by Shahid Ahmed (en)
Sunway Sitges Open R6: Cheparinov, Moussard, Latasa and Niemann in a four-way lead

@ 20/12/2020 by Shahid Ahmed (en)
Sunway Sitges Open R5: Leon Mendonca holds Oleg Romanishin to a draw

@ 18/12/2020 by Shahid Ahmed (en)
Sunway Sitges Open R4: Nino Batsiashvili beats Karen Grigoryan

@ 17/12/2020 by Shahid Ahmed (en)
सनवे सिट्जस : राउंड 3 : कोरोबोव नें खेला ड्रॉ

@ 16/12/2020 by Niklesh Jain (hi)
Sunway Sitges Open R3: Korobov concedes a draw

@ 16/12/2020 by Shahid Ahmed (en)
Sunway Sitges Open R2: Korobov survives a scare

@ 15/12/2020 by Shahid Ahmed (en)
सनवे सिट्जस - टॉप सीड कोरोबोव की जीत से शुरुआत

@ 14/12/2020 by Niklesh Jain (hi)
Sunway Sitges Open R1: Top seeds make a smooth start

@ 14/12/2020 by Shahid Ahmed (en)
Blitz Challenge with GM D.Gukesh

@ 07/08/2020 by Sagar Shah (en)
New chess format on the block? | Sunway Sitges International Online Open

@ 05/05/2020 by Avathanshu Bhat (en)
Lucena in Lockdown #5 : GM D.Gukesh

@ 20/04/2020 by Avathanshu Bhat (en)
Gukesh wins Cannes Open and moves to a live rating of 2565!

@ 25/02/2020 by Sagar Shah (en)
Gukesh wins the tournament held to celebrate 110th anniversary of the Hillerød Chess Club

@ 18/02/2020 by Sagar Shah (en)
Gukesh's unbelievable fortune in Denmark

@ 14/02/2020 by Sagar Shah (en)
The biggest gainers at the Sunway Sitges 2019

@ 24/12/2019 by Sagar Shah (en)
Immovable Arjun Erigaisi and Solid Nihal Sarin at the Sunway Sitges 2019

@ 21/12/2019 by Sagar Shah (en)
Abhimanyu Puranik has a performance of 2746 after seven rounds at the Sunway Sitges 2019

@ 20/12/2019 by Sagar Shah (en)
When Ivanchuk roars!

@ 19/12/2019 by Sagar Shah (en)
S.L. Narayanan's perfect 5.0/5 start at the Sunway Sitges 2019

@ 18/12/2019 by Sagar Shah (en)
सनवे सिट्जस - सेथुरमन को हराकर नारायनन पहुंचे शीर्ष पर

@ 18/12/2019 by Niklesh Jain (hi)
सनवे सिट्जस - प्रग्गानंधा का बेहतरीन खेल ,सेथुरमन ,नारायनन के साथ सयुंक्त बढ़त पर

@ 17/12/2019 by Niklesh Jain (hi)
Black Magic by Praggnanandhaa to beat Nino Batsiashvili

@ 17/12/2019 by Sagar Shah (en)
Sunway Sitges 2019 - An event hosting 106 Indian players in Spain

@ 16/12/2019 by Sagar Shah (en)
सनवे सिट्जस 2019 - परहम को हराकर हर्षित नें किया धमाका !

@ 15/12/2019 by Niklesh Jain (hi)
The most popular event in Europe for Indian players - Sunway Sitges Chess Festival

@ 18/11/2019 by Sagar Shah (en)
Shanghai Haiwan 2019: When you play well and still lose

@ 09/09/2019 by Sagar Shah (en)
World's youngest GM Gukesh is now a teenager

@ 29/05/2019 by Sagar Shah (en)
Gukesh sizzles at the Grenke Open 2019 with a 2700+ performance

@ 25/04/2019 by Sagar Shah (en)
Endgame Magic with Gukesh and Karsten Mueller is LIVE!

@ 24/04/2019 by Sagar Shah (en)
What happened when Gukesh and Pragg visited Vishy Anand's home in Chennai

@ 07/02/2019 by Sagar Shah (en)
Watch out for the Indian talents born in 2006! They are coming!

@ 07/02/2019 by Sagar Shah (en)
Gukesh felicitated with Rs.1,00,000 from Microsense and Rs.30,000 from TNSCA

@ 20/01/2019 by Sagar Shah (en)
Gukesh becomes 2nd youngest GM in the history of chess at 12 years, 7 months and 17 days

@ 15/01/2019 by Sagar Shah (en)
Krishna Teja scores his maiden GM norm with a round to spare at Sunway Sitges 2018

@ 22/12/2018 by Sagar Shah (en)
Can Gukesh still become the youngest GM ever?

@ 21/12/2018 by Sagar Shah (en)
Sunway Sitges 2018: 12-year-old Sreeshwan beats Vassily Ivanchuk!

@ 14/12/2018 by Sagar Shah (en)
Gukesh with 2 GM norms and 2490 Elo is on the verge of becoming world's youngest GM

@ 09/12/2018 by Sagar Shah (en)
Get Ready for Sunway Sitges International Chess Festival 2018!

@ 01/12/2018 by Rupali Mullick (en)