Chessable Sunway Sitges Open R1-3: 17-year-old Kushal makes a superb start
19 players have made a perfect start of 3/3 at Chessable Sunway Sitges Open 2022 Group A. 17-year-old Kushal O is the sole untitled player is among them. He defeated FM Jana Schneider (GER, 2272), IM Thomas E Rendle (ENG, 2381) and IM Gerard Ayats Llobera (ESP, 2464). The Gran Hotel Bali Aficionados B winner, is already gaining 114 Elo rating points. His next round opponent GM Andrey Esipenko will be the first GM of the event he is going to face. GM Abhimanyu Puranik, IM Aditya S Samant, GM B Adhiban, GM Aravindh Chithambaram and GM Karthikeyan Murali are the remaining Indians at 3/3. Round 4 starts tonight at 9 p.m. IST. Photo: Tallulah Roberts
Top three seeds at 3/3
Apart from Ojas Kulkarni splitting the point with GM Ivan Cheparinov (BUL) in the first round, GM Arjun Kalyan, GM Aditya Mittal and IM Jubin Jimmy were held to draws by FM Mahitosh Dey, Arhan Chethan Anand and Hiren K G, Vignesh Bhuvaneswari defeated IM Moksh Amit Doshi. In round 2, IM Sidhant Mohapatra, WIM Rakshitta Ravi, Ojas, Venkatesh Renganayaki drew with GM Eltaj Safarli (AZE), IM Irina Bulmaga (ROU), GM Vladislav Nevednichy (ROU) and GM Lothar Vogt (GER) respectively, CM Shaik Sumer Arsh defeated IM Cem Kaan Gokerkan (TUR). The third round witnessed, IM Jubin Jimmy, IM Sidhant Mohapatra, IM Arjun C Krishnamachari and Joel Paul Ganta drawing their respective games with GM Ivan Cheparinov (BUL), GM Jingyao Tin (SGP), IM Fabian Baenziger (SUI) and IM Moksh Amit Doshi respectively.
Round 1: Ojas - Cheparinov: 0.5-0.5
Ojas Kulkarni (2196) drew with Bulgaria no.2 and Sunway Sitges 2020 winner, GM Ivan Cheparinov (2688).
53.Nb4 would have given White some practical chances. The idea is to push the passed a-pawn and gain one of Black's minor pieces. The game ended in a draw after 53.Nc5 Nd5 54.Nxe6+ Kf7 55.Ng5+
Round 2: Sidhant - Safarli: 0.5-0.5
IM Sidhant Mohapatra (2337) held GM Eltaj Safarli (AZE, 2616) to a solid draw.
Round 3: Adhiban - Ajay: 1-0
Rook is best placed on the seventh rank. GM B Adhiban (2611) showed why the saying means a lot in a practical game against IM Ajay Karthikeyan (2430).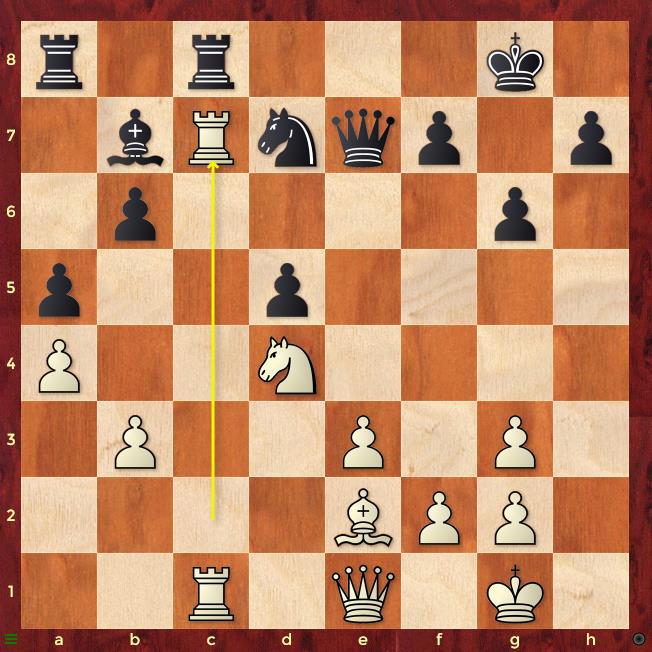 29...a5 invited 30.Rc7 and Black could not avoid material loss. 30...Qd8 31.Rxb7 Nc5 32.Rxc5 bxc5 33.Nb5 not only White got two minor pieces for a rook but also a good square for the knight at b5. Adhiban had no trouble converting his advantage into a win.
Replay Round 1-3 games
Round 3 results
Round 4 pairings
Prizes
Total Prize fund - €27775. For the entire prize details, click here.
Schedule
12th - 21st December - 9:00 p.m. IST
18th December - Rest day
22nd December - 2 p.m. IST
Links
---