Chessable Sunway Sitges Open R5: Alekseenko and Karthikeyan Murali share the lead
GM Kirill Alekseenko and GM Karthikeyan Murali are the coleaders after the fifth round of Chessable Sunway Sitges Open 2022 Group A. While Alekseenko defeated GM Abhimanyu Puranik, Karthikeyan halted IM Aditya S Samant's fantastic momentum. Abhimanyu had to find a difficult resource to save his kingside from crumbling. Aditya needed to use his knight more in the endgame before it became a liability. The tournament leaders will inevitably face each other in the sixth round. GM Aravindh Chithambaram and GM Sankalp Gupta drew with GM Jorden van Foreest (NED) and GM Anton Korobov (UKR). Round 6 starts tonight at 9 p.m. IST. Photo: Shahid Ahmed
Nine Indians at 4/5
IM Jubin Jimmy, IM Sidhant Mohapatra and CM Md. Imran defeated GM Daniel Alsina Leal (ESP), GM Paul Velten (FRA) and GM Marc Narciso Dublan (ESP). IM Ulviyya Fataliyeva (AZE) is currently highest scorer 4/5 among female players.
Aditya Samant - Karthikeyan: 0-1
GM Karthikeyan Murali (2620) showed a very good understanding of the endgame to defeat IM Aditya S Samant (2470).
While both king might seem to be vulnerable and prone to opponent's attacks, it is White who needs to be more concerned about the b7-bishop sitting on the long diagonal. Getting the knight away from d5-square and not giving any further pawns should be the priority for White here. 25.Nf4 Rf8 26.Rf1 Rf6 27.Rxf4 Qxf4 28.Qxd7 is one of the ways White could have opted. Instead, 25.Qf4 Qxb2 26.Qf5 Bc6 27.g3? created more weakness and gave Black some new targets. 27...Re8 28.Qf3 Qe5 29.Qf7 a5 30.Qf3 d6 31.Qf7 White ran out of choices to do much and things fell in favor of Black.
Abhimanyu - Alekseenko: 0-1
GM Kirill Alekseenko (2672) launched a devastating attack on GM Abhimanyu Puranik's (2616) kingside.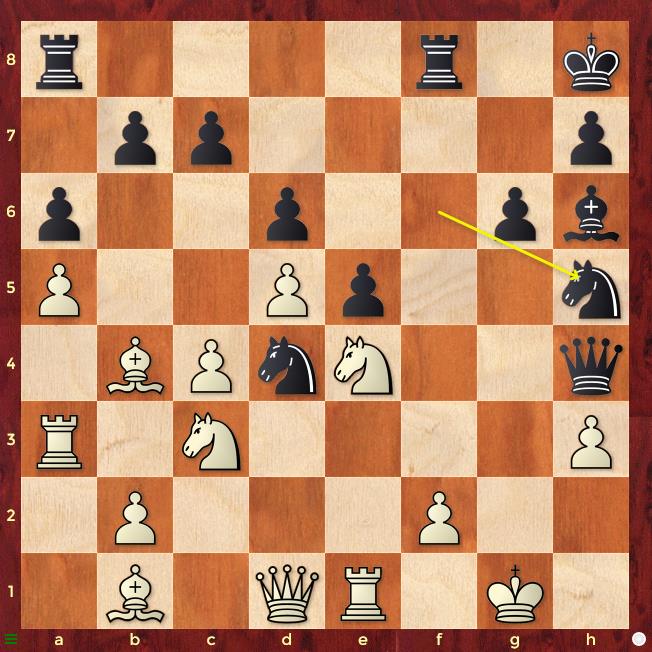 Black sacrificed his bishop at h3 on the previous move, 25...Bxh3 26.gxh3 Nh5. It created the only opportunity for White to get back in the game. It was not easy to find. 27.Qg4 Nf3+ 28.Kh1 Qxg4 29.hxg4 Nxe1 30.Ne2 Nf3 31.gxh5 is how White could have turned the tables. The game continued 27.Ne2 Nf3+ 28.Kg2 Ng5 and Black went on to win the game.
Replay Round 5 games
Round 5 results
Round 6 pairings
Prizes
Total Prize fund - €27775. For the entire prize details, click here.
Schedule
12th - 21st December - 9:00 p.m. IST
18th December - Rest day
22nd December - 2 p.m. IST
Links
---