8th Sunway Sitges Open R1: Priyanka Nutakki and Sharan Rao score big upsets
WIM Priyanka Nutakki and Sharan Rao were the only two Indian players to beat GMs Iniyan P and Arjun Kalyan respectively in the first round of 8th Sunway Sitges Open 2021 Group A. FM Alessio De Santis (ITA) also stunned GM Susanto Megaranto (INA) after the latter made tactical error, much like how Priyanka got the better of Iniyan. Nihal, Karthikeyan Murali, Arjun Erigaisi, Sethuraman, Abhimanyu Puranik, Vaishali, Mary, Soumya, Padmini and Nandhidhaa made a winning start among the top Indian men and women in the field. Round 2 starts tonight at 9 p.m. IST. Photo: Rupali Mullick
A smooth start for the top seeds
Vaibhav Jayant Raut, Namitbir Singh Walia, Atul Dahale and Kush Devnani beat IM Roberto Junio Brito (BRA), IM Milton Pantzar (SWE), IM Pauline Guichard (FRA) and IM Manish Anto Cristiano F. WIM Sakshi Chitlange drew with IM Liam Vrolijk (NED).
Nihal - Tanmay: 1-0
Tanmay Chopra managed to equalize the position after the opening against Nihal Sarin. In the middlegame, the former made a positional mistake.
27...Rac8 or Rec8 keeps the position fine for Black. 27...c5 creates a passed pawn on the c-file for White 28.dxc5 bxa4 29.Rd1 Be6 30.Rd4. White does not hurry in pushing the pawn because it might get captured easily. Instead, he activates his rook first, so that the a1-rook can also later join in the action. White won the game in another seven moves when Black had to concede huge material loss to prevent the c-pawn from being promoted.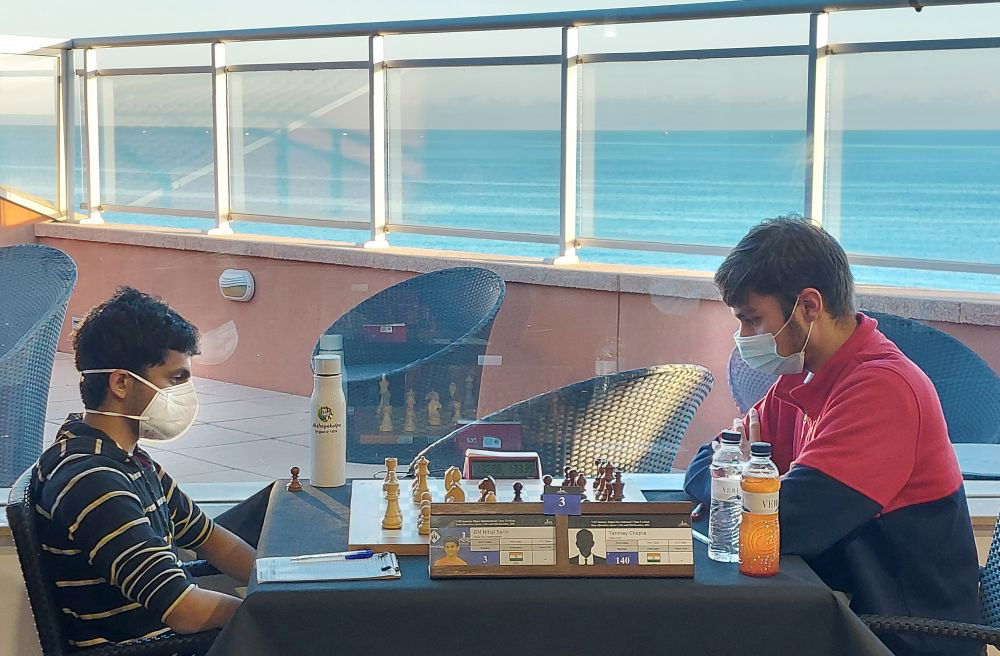 Karthikeyan - Minko: 1-0
CM Dmitry Minko (RUS) went wrong early in the opening, GM Karthikeyan Murali rightly punished him for it.
9...cxd5 is a big mistake. Find out why.
Iniyan - Priyanka: 0-1
WIM Priyanka Nutakki opted for the Petroff's Defence with the black pieces against GM Iniyan P. She got a comfortable position out of the opening.
29.Nf5 self-pins the knight after 29...Qd7 30.Qf3 Ng7 and everything starts falling apart for White. Computer says 29...Ne7 is instantly winning for Black as Nxg3+ fork is looming large. 30.Qf3 does not save the day as 30...Nxf5 31.Bxf5 Nxg3+ 32.Qxg3 gxf5 gives Black the decisive advantage. However, the humane 29...Qd7 is also good for Black which was played in the game. 31.e6 Nxe6 32.Nh4 does not work either as 32...Ng5 33.Bxd7 Nxf3 34.Nxf3 Rxd7 leaves with White with broken pawn structure and also behind by two pawns. Soon, White blundered a piece and lost the game in another four moves.
For more photos, click here.
Replay Round 1 games
Round 1 results
Round 2 pairings
Prizes
Total Prize fund - €27155. For the entire prize details, click here.
Schedule
13th - 22nd December - 9:00 p.m. IST
18th December - Rest day
23rd December - 1:30 p.m. IST
Links
---