MPL 47th National Women R3-4: Priyanka Nutakki halts Vaishali's momentum
WIM Priyanka Nutakki (AP) held the top seed IM Vaishali R (TN) to a draw in Round 4 of MPL 47th National Women Chess Championship 2022. Vaishali and Priyanka are joined by six more women in the lead 3.5/4. They are - WGM Mary Ann Gomes (PSPB), IM Soumya Swaminathan (PSPB), WGM Divya Deshmukh (MAH), WIM Arpita Mukherjee (WB), WGM Srija Seshadri (TN) and WIM Sakshi Chitlange (MAH). Soumya had a great escape against state mate WFM Srishti Pandey in the third round. Sakshi had a great day as she defeated WGM Nandhidhaa P V and drew with Soumya in Round 3 and 4 respectively. Round 5 starts at 10:00 a.m. IST today. Photo: IA Suresh Chandra Sahoo
Eight women share the lead
The competition in the MPL 47th National Women Chess Championship is very close. There is yet to be a clear leader. Eight women sharing the lead at 3.5/4 has allowed the top seed IM Bhakti Kulkarni to reduce the gap 3.0/4.
Round 3: Sakshi - Nandhidhaa: 0-1
WIM Sakshi Chitlange (MAH) played precisely in the endgame to earn a full point against WGM Nandhidhaa P V (TN).
52...a4 was the final mistake which allowed Black to win the game. Find out how.
Srishti - Soumya: 0-1
WFM Srishti Pandey (MAH) was completely winning against IM Soumya Swaminathan (PSPB).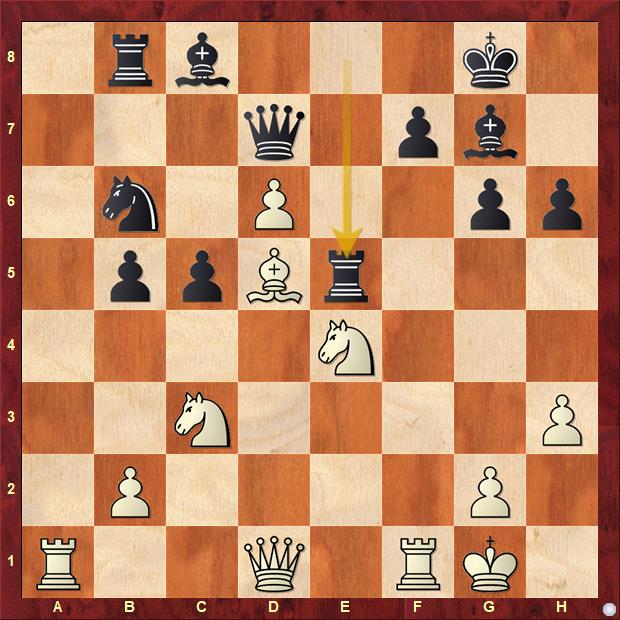 One of the first opportunities White had in the game was when 24...Rxe5 was played. While the text 25.Nxc5 is also winning for White, 25.Rxf7 would have been more emphatic. White got a couple of more opportunities which she was unable to seize.
Swati - Priyanka Nutakki: 0-1
WIM Priyanka Nutakki (AP) persevered a difficult position against WGM Swati Ghate (LIC). She waited for her opportunity and struck when she gained the upper hand.
The pin on the d-file neutralizes the well-placed knight at d5. It is time for Black to take advantage of the position. Find out how.
Round 4: Priyanka Nutakki - Vaishali: 0.5-0.5
WIM Priyanka Nutakki (AP) drew with IM Vaishali R (TN) comfortably.
Michelle - Padmini: 0.5-0.5
After missing out on her chances, IM Padmini Rout's (PSPB) refusal of a threefold repetition almost cost her game against WIM Michelle Catherina (TN).
57...Kg7 would have led to a repetition. 57...Kf5 created an opportunity for White. 58.Qg5+ Ke4 and now 59.gxf3+ first before 60.Qxg6+ would have been winning for White. However, Michelle opted for 60.Qxg6+ and the window of opportunity closed for her.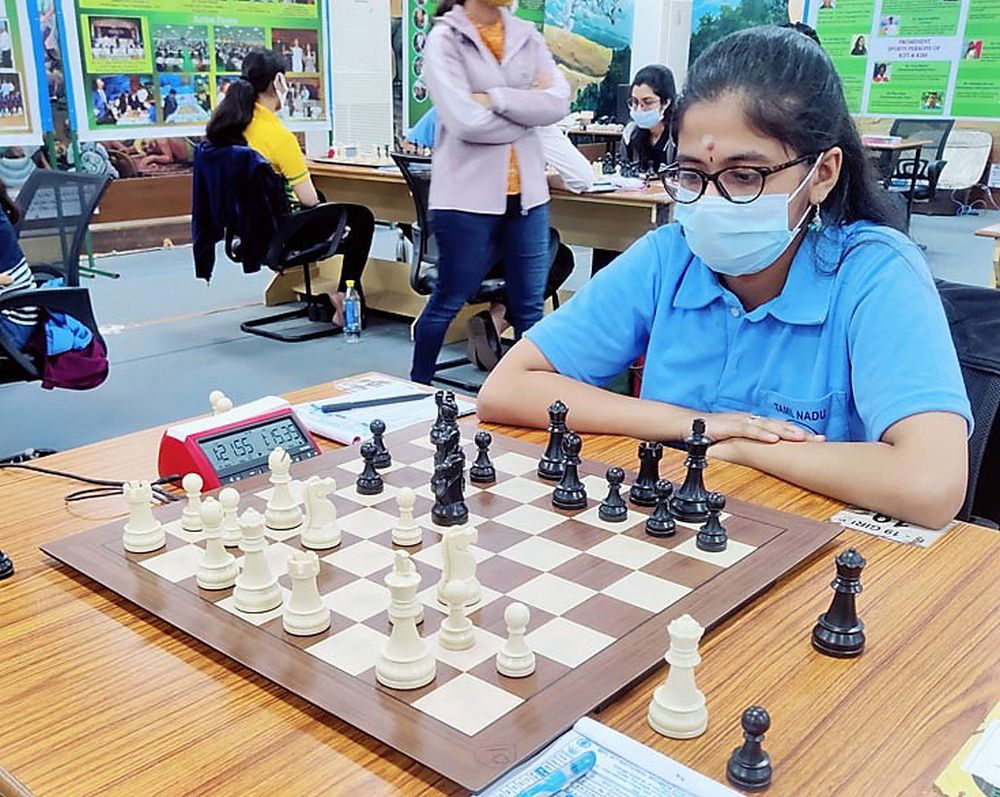 For more Round 3 and Round 4 photos, click here.
A total of 102 players including 5 IMs, 8 WGMs and 10 WIMs are taking part in this tournament organized by All Odisha Chess Association. The event is taking place at KIIT at Bhubaneswar, Odisha from 25th February to 2nd March 2022. The nine-round Swiss league tournament has a time control of 90 minutes + 30 seconds increment from move no.1
National Championship Contest
Your task is to guess the winner in both Open and Women's section correctly. Three winners will be chosen and given some exciting ChessBase India goodies!
1st Prize - Chess Course by FA FT Praful Zaveri (7 books) worth ₹4999
2nd Prize - ChessBase India Premium Chess Set worth ₹1999
3rd Prize - ChessBase India Round Neck T-Shirt worth ₹599.55
Replay Round 3-4 games
Round 4 results
Round 5 pairings
---