Immovable Arjun Erigaisi and Solid Nihal Sarin at the Sunway Sitges 2019
Two Indian youngsters are performing admirably at the Sunway Sitges 2019. Both of them are on 6.0/8 and both of them are unbeaten. They are Nihal Sarin and Arjun Erigaisi. Also on 6.0/8 are S.L. Narayanan and Abhimanyu Puranik. Round 8 at the Sunway Sitges proved to be one where the youth outclassed the experience. Vassily Ivanchuk was beaten by 16-year-old American prodigy Awonder Liang, while Parham Maghsoodloo couldn't hold the 14-year-old Javokhir Sindarov. Anton Korobov continues to lead the event with 7.0/8, with five players half a point behind him on 6.5/8. A pictorial round 8 report from the Sunway Sitges 2019.
With two rounds to go, things are heating up at the Sunway Sitges International Chess Festival 2019. Although Anton Korobov maintains his lead with 7.0/9, he has a group of four hungry players on his heels at 6.5/8. Behind them are 18 players with 6.0/8!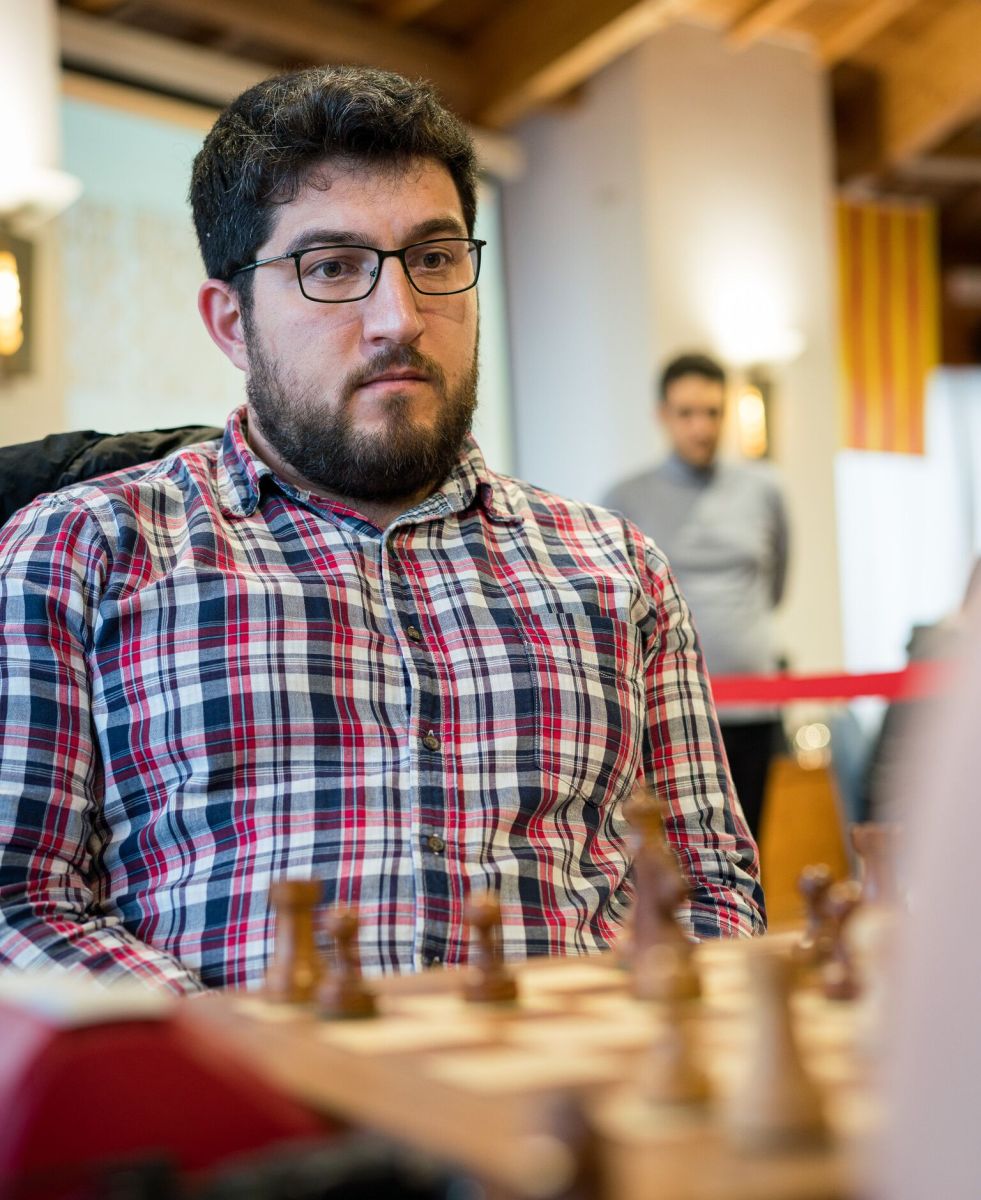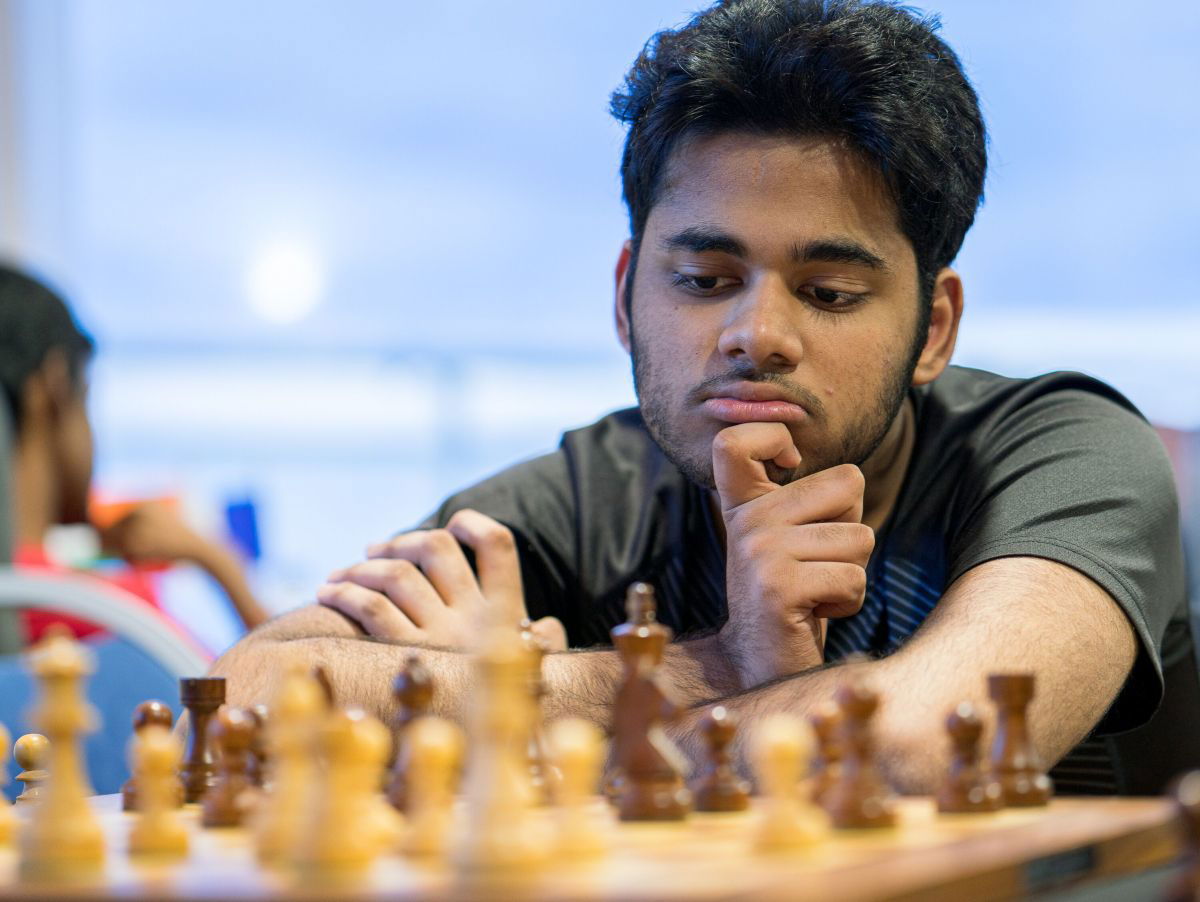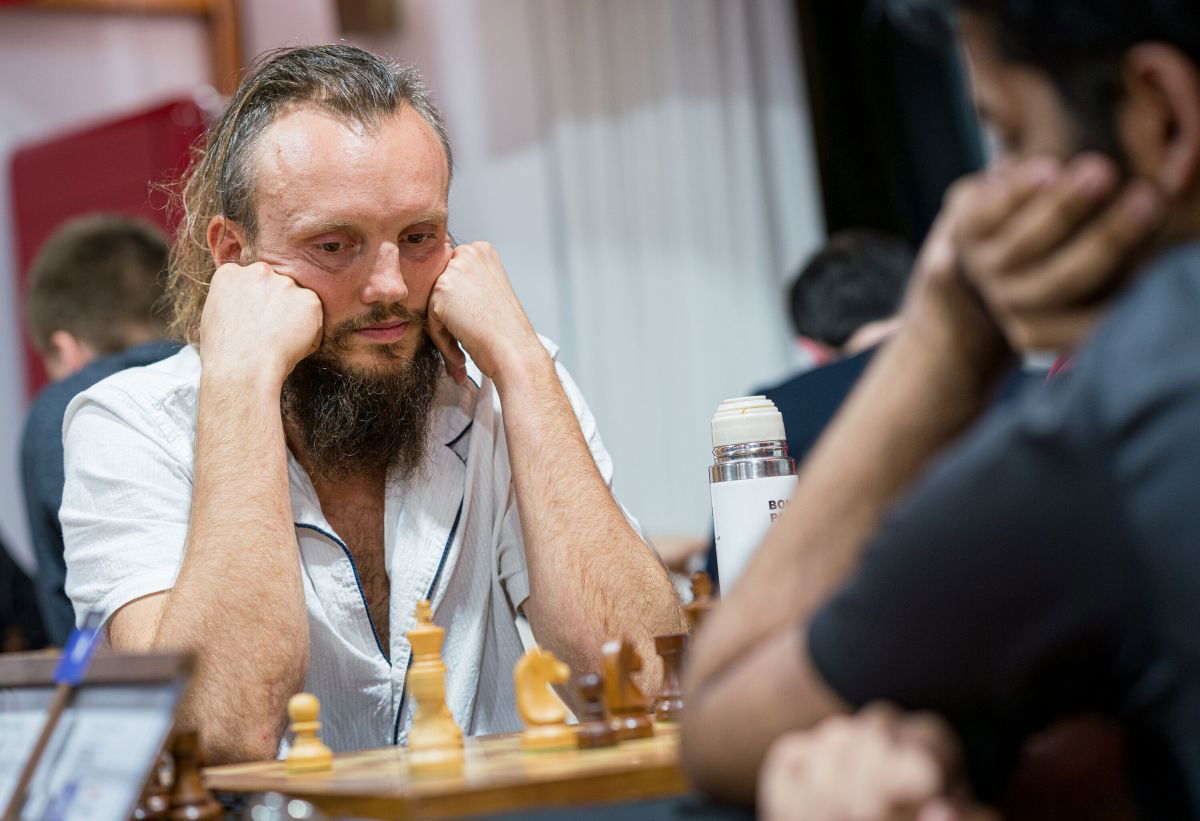 Chess players and food:
One of the important things that chess players must take care off while playing chess is "what should they take along with them to the game for energy?" Lennart Ootes went across the playing hall and captured the different foodstuffs that were carried by different players.
Results of round 8
Standings after round 8
| | | | | | | | | | | | | | | | |
| --- | --- | --- | --- | --- | --- | --- | --- | --- | --- | --- | --- | --- | --- | --- | --- |
| Rk. | SNo | | | Name | Typ | sex | Gr | FED | RtgI | RtgN | Club/City | Pts. | TB1 | TB2 | TB3 |
| 1 | 3 | | GM | Korobov Anton | | | | UKR | 2668 | 0 | | 7,0 | 40,5 | 44,0 | 38,00 |
| 2 | 8 | | GM | Kovalenko Igor | | | | LAT | 2647 | 0 | | 6,5 | 38,0 | 42,0 | 33,50 |
| 3 | 18 | | GM | Durarbayli Vasif | | | | AZE | 2609 | 0 | | 6,5 | 38,0 | 41,0 | 32,50 |
| 4 | 33 | | GM | Nasuta Grzegorz | | | | POL | 2545 | 0 | | 6,5 | 36,0 | 39,5 | 31,75 |
| 5 | 23 | | GM | Liang Awonder | 16 | | | USA | 2593 | 0 | | 6,5 | 33,0 | 36,0 | 28,75 |
| 6 | 9 | | GM | Donchenko Alexander | | | | GER | 2644 | 0 | | 6,0 | 38,5 | 42,5 | 31,00 |
| 7 | 25 | | GM | Santos Latasa Jaime | H | | | ESP | 2585 | 2572 | Ext | 6,0 | 38,5 | 41,0 | 29,50 |
| 8 | 11 | | GM | Tabatabaei M.Amin | | | | IRI | 2635 | 0 | | 6,0 | 38,0 | 41,5 | 29,75 |
| 9 | 34 | | GM | Erigaisi Arjun | 16 | | | IND | 2544 | 0 | | 6,0 | 37,5 | 41,5 | 30,75 |
| 10 | 26 | | GM | Puranik Abhimanyu | | | | IND | 2580 | 0 | | 6,0 | 37,5 | 41,5 | 29,75 |
| 11 | 13 | | GM | Narayanan.S.L | H | | | IND | 2626 | 0 | | 6,0 | 37,5 | 41,0 | 28,00 |
| 12 | 21 | | GM | Gareyev Timur | | | | USA | 2598 | 0 | | 6,0 | 36,5 | 40,5 | 29,00 |
| 13 | 16 | | GM | Nihal Sarin | H16 | | | IND | 2612 | 0 | | 6,0 | 36,5 | 40,0 | 29,25 |
| 14 | 27 | | GM | Wagner Dennis | | | | GER | 2578 | 0 | | 6,0 | 36,5 | 39,5 | 28,50 |
| 15 | 22 | | GM | Svane Rasmus | | | | GER | 2597 | 0 | | 6,0 | 36,0 | 39,5 | 29,00 |
| 16 | 31 | | GM | Gukesh D | 16 | | | IND | 2547 | 0 | | 6,0 | 35,0 | 38,5 | 27,25 |
| 17 | 32 | | GM | Shevchenko Kirill | | | | UKR | 2547 | 0 | | 6,0 | 35,0 | 38,5 | 25,75 |
| 18 | 14 | | GM | Heimann Andreas | | | | GER | 2617 | 0 | | 6,0 | 34,0 | 37,5 | 27,25 |
| 19 | 60 | | IM | Erenberg Ariel | | | | ISR | 2479 | 0 | | 6,0 | 34,0 | 37,0 | 26,50 |
| 20 | 43 | | IM | Bjerre Jonas Buhl | H16 | | | DEN | 2526 | 0 | Skanderborg Skakklub | 6,0 | 33,5 | 37,0 | 26,50 |
Pairings of round 9
---