S.L. Narayanan's perfect 5.0/5 start at the Sunway Sitges 2019
After winning the Ellobregat Open, S.L. Narayanan is continuing his excellent run at the Sunway Sitges 2019. He beat GM S.P. Sethuraman in the fifth round with an excellent game. His opening preparation was top notch and his calculation and understanding of the position ensured that Sethuraman had absolutely no chances. Narayanan, is on 5.0/5 and leads the tournament with Anton Korobov, who beat Praggnanandhaa in the fifth round. Abhimanyu Puranik is on 4.5/5 and plenty of other Indian players including Arjun Erigaisi, D. Gukesh, Sasikiran etc. are on 4.0/5. In this article we bring you all the action from round five along with video interviews with Nihal Sarin and Karthikeyan Murali.
With a rating performance of over 3000, S.L. Narayanan is playing sublime chess at the Sunway Sitges International Chess Festival. He is on 5.0/5 and leading the tournament along with Anton Korobov. Narayanan's win in the fifth round showed what a strong player he is, as he beat S.P. Sethuraman from the black side of an unconventional Anti-Sicilian. With this win he also crossed 2650 Elo in the live rating list.
S.L. Narayanan's play in the opening was extremely logical. He gave importance to rapid piece development in the first phase of the game. When the position was ripe he calculated the piece sacrifice accurately and launched a powerful attack against the white king. While Narayanan could have improved his attack at some point, it didn't really matter, because the way he played was also winning.
Sethuraman vs S.L. Narayanan, Round 5
Narayanan calculated the powerful move ...Nxe4!! here. After Rxe4 Rxe4 Qxe4 Qc3! Kc1 we reach an important position in the game.
Narayanan continued ...Bb5 here. The stronger move was ...Rc8. But it doesn't matter because both the moves are pretty strong. What is more important to understand here is that even though Black is a piece down, he has a continuing attack and that the white pieces cannot do anything. Black can take his time to attack with moves like ...Rc8, ...Re8, ...a4, ...Bb5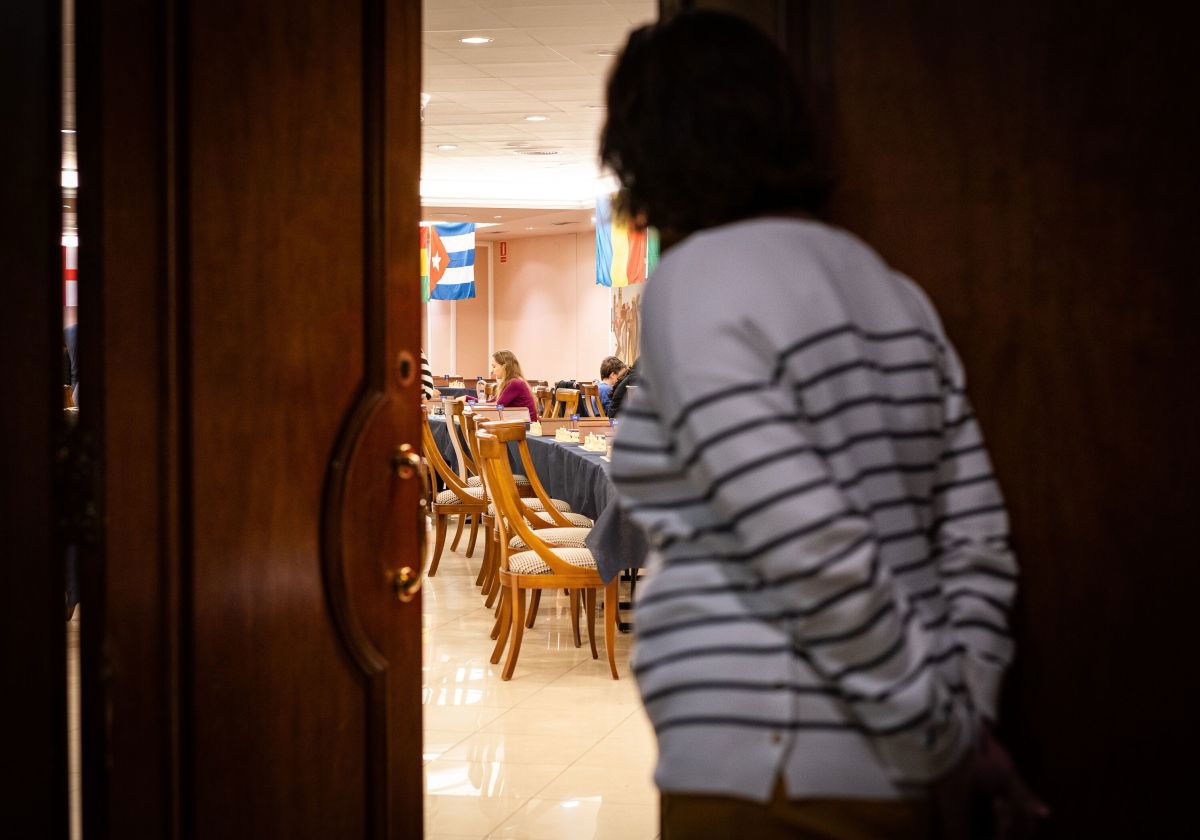 Video interviews:
The organizer of the Sunway Sitges 2019 Oskar Stöber did the interviews after round four. He was not very happy with the fact that he couldn't ask too many chess questions in the interview. Hence after the fifth round, he caught up with two Indian GMs Karthikeyan Murali and Nihal Sarin, who had finished their games and asked them to interview each other! Here's the result! It's very nice to see two top GMs interviewing each other and asking them about their games.
Wine Tasting:
Results of round 5
Standings after round 5
| | | | | | | | | | | | | | | | |
| --- | --- | --- | --- | --- | --- | --- | --- | --- | --- | --- | --- | --- | --- | --- | --- |
| Rk. | SNo | | | Name | Typ | sex | Gr | FED | RtgI | RtgN | Club/City | Pts. | TB1 | TB2 | TB3 |
| 1 | 3 | | GM | Korobov Anton | | | | UKR | 2668 | 0 | | 5,0 | 14,5 | 0 | 17,0 |
| 2 | 13 | | GM | Narayanan.S.L | | | | IND | 2626 | 0 | | 5,0 | 12,5 | 0 | 14,5 |
| 3 | 35 | | GM | Li Di | H | | | CHN | 2543 | 0 | | 4,5 | 14,0 | 0 | 16,0 |
| 4 | 26 | | GM | Puranik Abhimanyu | | | | IND | 2580 | 0 | | 4,5 | 12,5 | 0 | 14,5 |
| 5 | 25 | | GM | Santos Latasa Jaime | | | | ESP | 2585 | 2572 | Ext | 4,5 | 12,0 | 0 | 14,0 |
| 6 | 33 | | GM | Nasuta Grzegorz | | | | POL | 2545 | 0 | | 4,5 | 11,5 | 0 | 14,0 |
| 7 | 11 | | GM | Tabatabaei M.Amin | | | | IRI | 2635 | 0 | | 4,0 | 15,5 | 0 | 17,5 |
| 8 | 47 | | GM | Kelires Andreas | H | | | GRE | 2510 | 0 | O.F.I Chess Club | 4,0 | 15,0 | 0 | 17,0 |
| 9 | 10 | | GM | Sethuraman S.P. | | | | IND | 2638 | 0 | | 4,0 | 15,0 | 0 | 17,0 |
| 10 | 6 | | GM | Lagarde Maxime | | | | FRA | 2655 | 2596 | C.E. Barcelona | 4,0 | 14,5 | 0 | 16,5 |
| 11 | 9 | | GM | Donchenko Alexander | | | | GER | 2644 | 0 | | 4,0 | 14,0 | 0 | 16,0 |
| 12 | 37 | | GM | Moradiabadi Elshan | | | | USA | 2539 | 0 | | 4,0 | 13,5 | 0 | 16,0 |
| 13 | 12 | | GM | Vocaturo Daniele | | | | ITA | 2627 | 2619 | C.E. Mollet | 4,0 | 13,5 | 0 | 16,0 |
| 14 | 34 | | GM | Erigaisi Arjun | H16 | | | IND | 2544 | 0 | | 4,0 | 13,5 | 0 | 15,5 |
| 15 | 21 | | GM | Gareyev Timur | | | | USA | 2598 | 0 | | 4,0 | 13,5 | 0 | 15,5 |
| 16 | 24 | | GM | Praggnanandhaa R | H16 | | | IND | 2586 | 0 | | 4,0 | 13,5 | 0 | 15,0 |
| 17 | 18 | | GM | Durarbayli Vasif | | | | AZE | 2609 | 0 | | 4,0 | 13,0 | 0 | 15,0 |
| 18 | 8 | | GM | Kovalenko Igor | | | | LAT | 2647 | 0 | | 4,0 | 13,0 | 0 | 15,0 |
| 19 | 40 | | GM | Narayanan Srinath | | | | IND | 2529 | 0 | | 4,0 | 13,0 | 0 | 14,5 |
| 20 | 5 | | GM | Sasikiran Krishnan | | | | IND | 2656 | 0 | Oil and Natural Gas Corporation Ltd | 4,0 | 12,5 | 0 | 15,5 |
Pairings for round 6:
---