Sunway Sitges Open R8: Cheparinov and Moussard share the lead with 6.5/8
Cheparinov and Moussard are the only two players among the leaders to have won the game and maintain their lead with 6.5/8 in VII Sunway Sitges Open. They will now face each other in the penultimate round. Korobov was held to a draw by Checa. Leon turned around a difficult position to a favorable endgame and win it. He will now face his GM of the event Nino Batsiashvili in Round 9. Souhardo beat IM Garriga and he will go against IM Yovann Gatineau. Defending champion Korobov still has mathematical chances to retain his title. Round 9 will start tonight from 7:30 p.m. IST. Photo: Lennart Ootes / Sunway Chess Open
Korobov stays in the hunt
GMs Ivan Cheparinov and Jules Moussard broke out of the pack of eight leaders and became the joint leaders at the end of Round 8 with 6.5 points. They will now face each other in the penultimate round. Top seed and defending champion Anton Korobov was held to a draw by Nicolas Checa. Leon Mendonca turned things around and beat Lin Yingrui and Souhardo Basak beat IM Pere Garriga Cazorla. They are now at 5.5 and 5 points each respectively. Shubham Bandikatte beat Antoni Gallego Montes to move to 6.0/8 in Group B.
Cheparinov - Niemann: 1-0
Cheparinov got a good position in the middlegame. He could have increased his advantage a bit earlier than the game.
Cheparinov - Niemann
There is an interesting continuation for white after 31...Re5. Can you find it?
It is time for black to take advantage after 38.Nf4. How can he do so? Black missed this final opportunity and eventually liquidated into a lost Rook and Pawn endgame.
Moussard - Nevednichy: 1-0
GM Jules Moussard made a positional squeeze against GM Vladislav Nevednichy and converted his advantage comfortably to score a convincing win.
Moussard - Nevednichy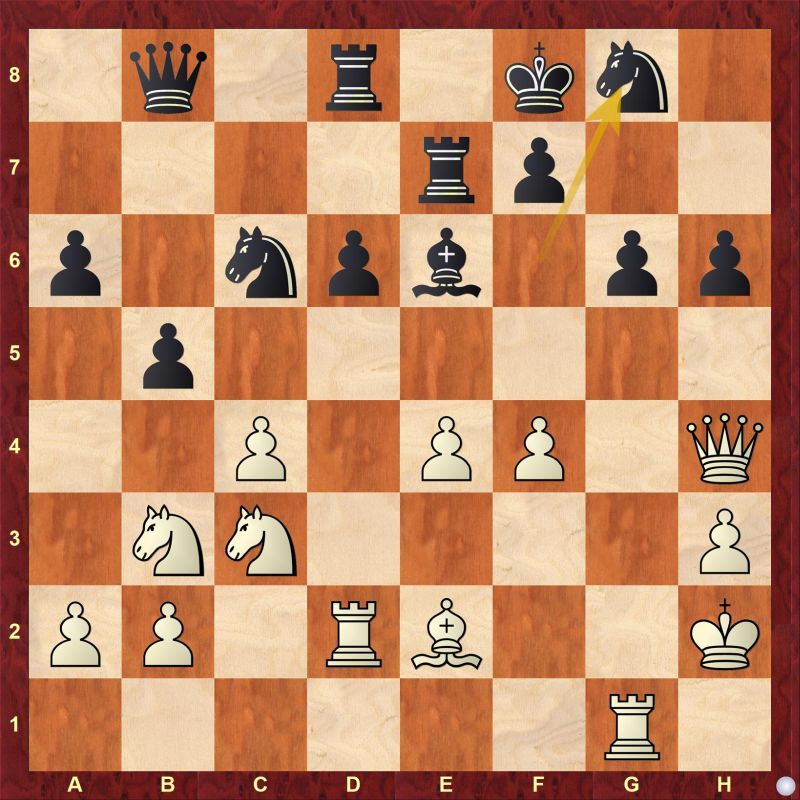 It is evident that white is much better here. Can you think like Moussard? Find out the best continuation for white after 24...Ng8
The position is winning for white. Can you find a spectacular finish here?
Korobov - Checa: 0.5-0.5
Korobov had an uneventful draw with Checa where more than half of the game was a same color bishop ending which Korobov defended well to salvage a draw.
Korobov loses the lead but still he is in the hunt | Photo: Lennart Ootes / Sunway Chess Open
Leon - Lin: 1-0
Leon got into trouble in the middlegame as he missed his opponent tactics.
Leon - Lin
Find out why 35.f6 is a mistake.
What should be the winning plan for white after 58...Rg3 ? Leon found it and completely turned things around from a difficult position in the middlegame.
Pere - Souhardo: 0-1
Souhardo survived the endgame well and eventually his opponent IM Pere Garriga Cazorla blundered his knight and lost the game.
Replay Round 8 games
Round 8 results
Prizes
Total Prize fund - €27155. For the entire prize details, click here.
Schedule
13th - 20th December - 9:00 p.m. IST
18th December - Rest day
21st and 22nd December - 7:30 p.m. IST
23rd December - 1:30 p.m. IST
Links
---