Gukesh reaches 2756 Elo, surpasses Vishy Anand as the new India no.1
17-year-old phenom D. Gukesh won two back to back games at the 2nd round of the FIDE World Cup 2023 against GM Misratdin Iskandarov (Elo: 2559). This helped him pump up his rating from 2751 to 2755.9. With this rating Gukesh has reached World no.9, but more importantly has surpassed Vishy Anand in the live ratings to become the new India no.1 Get to know in this article whether Gukesh becomes the first Indian to have broken Vishy's India no.1 record for the first time in 37 years or that feat still has to wait until the 1st of September. We also bring you some of the reactions of well known chess personalities on this iconic moment for Indian chess.
Gukesh becomes World no.9 and India no.1 with an Elo of 2755.9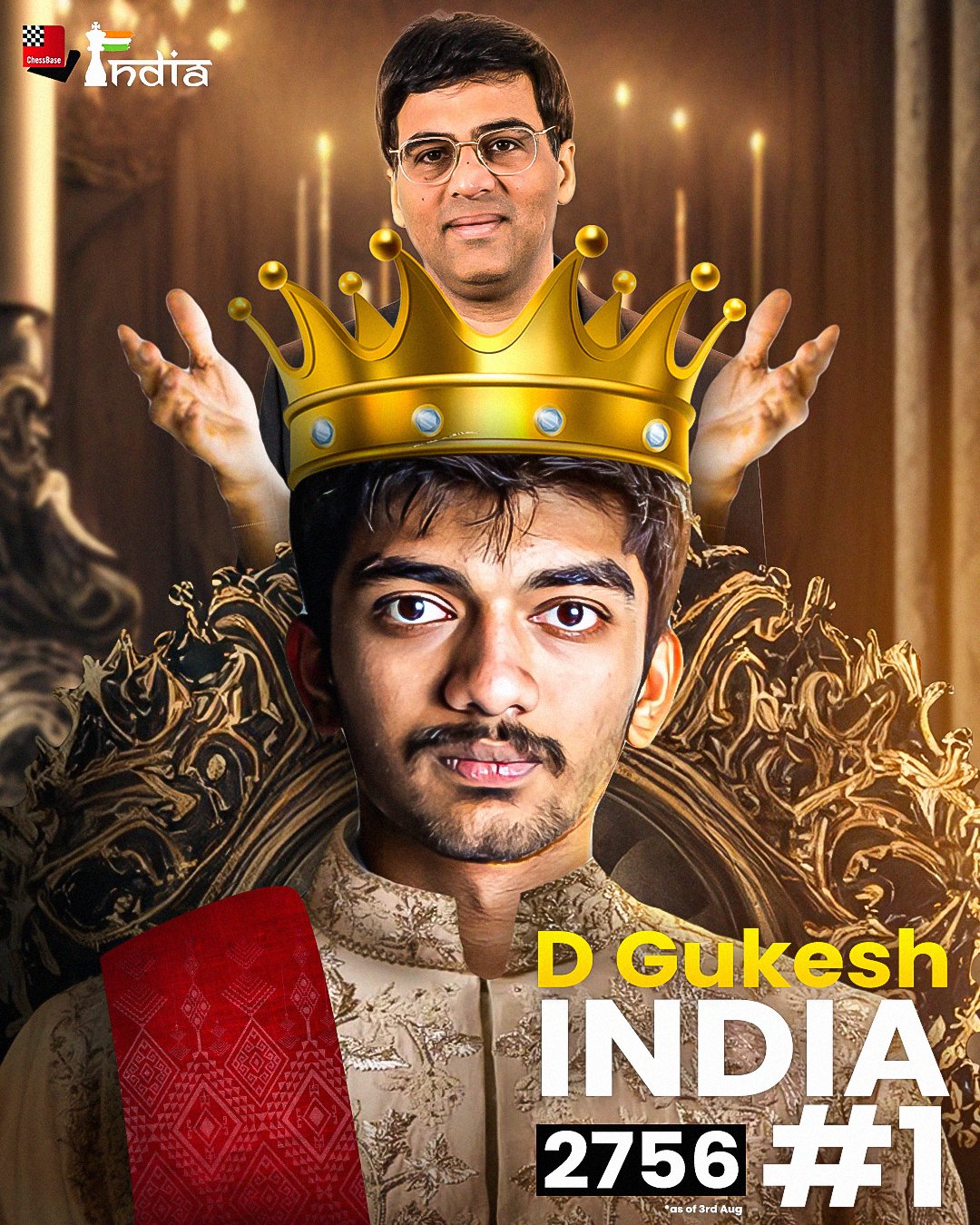 3rd of August 2023 will remain an iconic day for Indian chess. It's on this day that 17-year-old Gukesh surpassed the legend Viswanathan Anand on the FIDE live ratings list to become India no.1. Before the FIDE World Cup 2023 began Vishy Anand sat on world no.9 spot with a rating of 2754. Gukesh had a live rating of 2751. Facing Misratdin Iskandarov in round 1, Gukesh had to win both his classical games to surpass Anand. The youngster did so in style by playing two extremely high quality games and jumping from 2751 to 2755.9. Gukesh thus overtook Vishy to reach world no.9 and take the India no.1 spot.
These are the two games that helped Gukesh gain those valuable 5 Elo points to surpass Anand on the rating list:
There is something about Gukesh which makes him different from all of the talents in the world of chess. A few days ago, he broke the record of the youngest player in the history of the sport to break into 2750, and now he has achieved this by scoring two back to back wins. The boy is surely a big match player and doesn't lose his cool in critical moments. At the same time he has the amazing ability to create complications on the chess board that are extremely difficult even for the best of players to solve.
We asked Gukesh's long time trainer GM Vishnu Prasanna about what he thinks of Gukesh's achievements and Vishnu said, "Gukesh continues to exceed everyones expectations and the amount of work he has put in to be consistent shows in his play. I am very happy for him for crossing his idol Vishy and also to enter the Top 10 in the world. At the beginning of the year this was an important milestone for him and I am impressed by how smoothly he has achieved this."
Vishy's reign as India no.1 began in July 1986 when he surpassed GM Pravin Thipsay in the FIDE ratings. During that period FIDE ratings only used to be published twice every year - once at the start and another at the half year mark. Anand was just 16 years old when he assumed the India no.1 spot. At that point GM Pravin Thipsay was India no.1 with a solid margin of 50-60 Elo points ahead of others. But starting from January 1986, FIDE changed the time control from 2 hours 30 minutes for 40 moves to 2 hours. This led to GM Thipsay losing a lot of his rating points and slipping down to the 2nd spot on the rankings list.
Since the last 37 years Anand has been India no.1 on every published rating list by FIDE. Here. it is extremely important to note the word "published". Because if we consider live ratings, then on 16th of March 2016 Harikrishna had overtaken Vishy Anand for a day to become India no.1. However, that change of baton was short lived, Vishy quickly won his 6th round game against Svidler and regained his India no.1 spot. Hence, what Gukesh has achieved has been achieved by Harikrishna in the past, which is to surpass Anand on the live ratings. However, no one has managed to go past Anand in the published ratings in the last 37 years. If Gukesh manages to keep his rating higher than Vishy as on 1st of September 2023, when the new FIDE ratings come out, then Anand's 37-year-old record would fall.
Viswanathan Anand's contribution to Gukesh's growth
A few hours before Gukesh began his FIDE World Cup 2023 campaign we spoke to Vishy Anand in Baku. Anand was in the same venue as the event as an official commentator for FIDE. When we brought up the subject of Gukesh perhaps surpassing him and getting the India no.1 spot, Anand said, "I knew you are going to ask me that! I will launch off (with a smile). Today I will be in a funny situation of commentating on the event where this record can be broken. At the same time it feels very strange to talk about that because Gukesh's job at the tournament is to be very focused, finish the job every round and qualify to the next one. I will mention it because it will be strange not to mention it, especially tomorrow if it is realistic. But honestly, it is a distraction from his point of view. And even if he does it one day, it doesn't matter because he can lose it the next day. He is top by rating (in this tournament) so he is going to play opponents lower rated than him. It will be a fun thing hanging over our heads, but I don't know how seriously to take it either!"
Personally, I think Vishy Anand's contribution to Gukesh reaching where he is has been quite huge. In 2020, when the pandemic struck, Anand began with WACA (WestBridge Anand Chess Academy) and this helped all the Indian youngster including Gukesh get better. When the pandemic ended, and Gukesh started playing a lot of over the board events, crossing 2700, WACA and Vishy Anand realized that his needs are changing and he needs more specialized attention. That's when they supported him with Gajewski as his second.
Having a second like Gajewski by your side is a huge thing for a young talent like Gukesh. Gajewski's ability to constantly come up with new ideas helps Gukesh go to every game feeling confident about his preparation. Apart from the fact that seconds like Gajewski are extremely rare in the chess world, they are also very expensive. The fact that WACA covers the cost of his work with Gukesh, is a huge support to the youngster.
How did people react to this?
Get to know Gukesh better
There are several videos of Gukesh on the ChessBase India channel. In fact, you can follow his chess career through our YouTube playlist. But there are two videos that I want to bring to your attention. They give you an idea of Gukesh's entire journey and his personality:
Attack like a super GM with Gukesh
When Gukesh arrived in Mumbai to record a video course with us, he was ranked no.18 in the world with a rating of 2730. We together recorded the course "Attack like a super GM with Gukesh". It has a run-time of 4 hours and 14 minutes where Gukesh shows 5 of his most special attacking games. I play the role of the host asking relevant questions to Gukesh at the right intervals. You can read the reviews about this video course here.
---