Vishy's December #10: I walked with a giant
Meeting Vishy Anand is a dream of any chess lover. Speaking a few words would make it special, having an autograph would mean flaunting rights for a lifetime and taking a picture with Anand is a dream come true. Here's a story of a man who always dreamed to meet Vishy Anand, shake hands with him, have a photograph with him. Call it good karma, but as Praful Zaveri started serving the chess community, his meetings with Vishy Anand started becoming more and more intimate. In this article he shares his experience of meeting the legend on several occasions from 2000 to 2019. This December, ChessBase India is celebrating the month as Vishy's December in honour of the Indian chess legend Vishy Anand turning 50 years old. If you have a story, experience or an anecdote related to Anand which you would like to share with the chess world, you can send it to us at chessbaseindia@gmail.com.
Let them say that I lived in the time of Vishy, the King!
By Praful Zaveri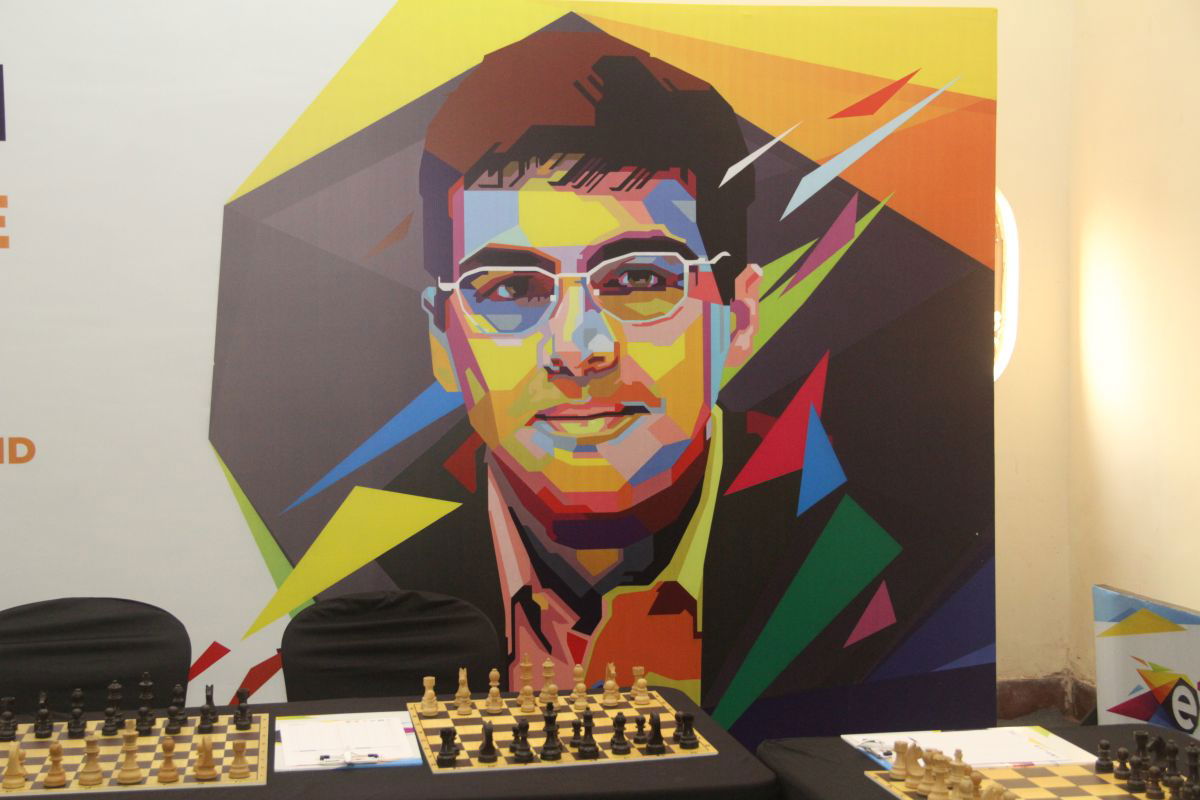 Anand has been the impetus and trigger for the massive popularity that chess in India enjoys today. He is every young Indian player's idol. Every chess player in India dreams to meet him in person, shake hands with him and last but not the least, have a photo with him to cherish it for a life time!
I too dreamt of meeting him, shaking hands, having a word with him, taking his autograph and a photo but never imagined that it would come true! Let me take you down the memory lane of coming face-to-face with him!
My first opportunity of seeing Anand in flesh and blood was in early 2000. It was decided by the Government of Maharashtra to felicitate Anand for being crowned the FIDE World Chess Champion. He was to be awarded Rs.10 Lakhs. This function was scheduled at Raj Bhawan the Governer's Bungalow. Co-incidentally, the then Governer of Maharashtra was Dr. P.C. Alexander - father of renowned chess player, Ashok Alexander.
The chess fraternity of Mumbai, which had its base at the iconic Zandu Canteen, was invited to the function, and it turned out in huge numbers to congratulate the legend who had broken the Russian monopoly of this game! He won the heart of everyone and left a lasting impression by donating the entire amount for the relief of the devastating Gujarat earthquake. I still cherish the chance I got to shake hands with him after the ceremony!
The next chance of seeing him cannot be termed as meeting in real sense as like any other chess lover I too had reached Chennai to see the hero in action at the World Championships 2013 against Magnus Carlsen. I think, I was the first (as informed by AICF office) to buy tickets on-line for games 1 and 2 and later they gifted me tickets for games 3 and 4 as well! I can say with pride that these were the best moments of my life for I had never watched a top-level game in person. Of course, like every other Indian, I was dejected that our hero had lost – we can console ourselves that not all Bollywood movies have a happy ending.
The 3rd meeting with Anand was in 2014 at MCL Pune. It was meeting the hero in real sense! I was lucky to be introduced to Anand by Grandmaster Abhijit Kunte and later on got an opportunity to be photographed! The 4th meeting quickly followed at the Press Conference of World Junior 2014 at the Wankhede Stadium. Anand was the 'Brand Ambassasor' of this event and I was delight to watch him at close quarter and have a photograph.
But, the defining moment came in 2016 – thanks to Karan and Shilpa Bhagat. Mumbai and India got IIFL Wealth Mumbai International Chess Tournament and, as the Tournament Director, I was asked to receive Anand at the Airport, drop him at Sofitel, escort him to the venue (Mount Litera International School) and then drop him back to the airport for his flight to Wik Ann Zee!
Was I dreaming! No – it was real and here I was sitting next to him in the car all the way to the hotel. I wanted to talk to him but words failed to come out as his personality made me nervous. However; it was short-lived. He started asking me about the tournament, how Sandipan was performing and norm chances of other players! It struck me like a lightening that he was following the tournament really well and I was clueless of the happenings because of the task associated with conducting an event of this magnitude! It was a treat to listen to him – an experience in humility too and, I wished that this journey would go a bit longer!
The sequence of being with him on 7th of January continued for next two years and here we are in year 5 of IIFL Wealth Chess, which is also coinciding with Anand's 50th birthday and this time I am hoping to make 7th January 2020 as life's defining moment by playing against him in the annual simultaneous!
I conclude my article with a dialogue from the epic 'Troy', which I have tweaked for my hero:
"If they ever tell my story, let them say that I walked with a giant, Men rise and fall like the winter wheat, but this name will never die! Let them say that I lived in the time of Vishy, the King!!"
About the author
FI Praful Zaveri is the founder of Indian Chess School Academy. He is a popular trainer in Mumbai and also the author of the critically acclaimed beginners' manual 'The Chess Course'. His vision is to build the chess culture in his hometown Mumbai as well as India and help the country produce many more grandmasters in future. The IIFLW chess festival is his brainchild.
Previous articles in Vishy's December
#01: Anand Viswanathanovich by Ravi Abhyankar
#02: Inspiration, teammate, second by Sandipan Chanda
#03: In India, chess = Anand by Sethuraman
#04: India having 65 GMs is unthinkable without Anand by Surya Ganguly
#05: Tyger Tyger burning bright by Upendra Rawat
#06: The Anand Files by Michiel Abeln
#07: From an 18-year-old talent to a 50-year-old legend by Frederic Friedel
#08: Last man standing by Vladimir Kramnik
#09: A rival and a fan by Peter Svidler
Want to share an Anand story this December?
This entire December, ChessBase India is celebrating Vishy Anand's 50th birthday. We would like you to contribute any interesting story that you might have with Anand so that we can publish it on our newspage. In case you would like to share, you can do so from this google form link. Alternatively you can also send it to us via chessbaseindia@gmail.com
You can also get the Vishy Anand 50th anniversary special t-shirt launched by ChessBase India. It comes in two colours - grey and white.
---