Vishy's December #06: The Anand Files
With Anand's 50th birthday coming up, we are seeing the release of two high quality books on the Indian chess legend. The first one is an autobiography written by Vishy Anand himself - it's called the Mind Master and will be released on 13th of December. The other book is called "The Anand Files". It's already released and it deals with Vishy's three World Championship Matches victory in 2008, 2010 and 2012. In this article we interview with the author of the book - FM Michiel Abeln. This December, ChessBase India is celebrating the month as Vishy's December in honour of the Indian chess legend Vishy Anand turning 50 years old. If you have a story, experience or an anecdote related to Anand which you would like to share with the chess world, you can send it to us at chessbaseindia@gmail.com.
The Inside story of Anand's three World Championship victories!
Quality Chess recently released a book named "The Anand Files". What did Anand have to say about this book? Vishy says in the foreword: "Basically, I love this book. The level of detail is fabulous, and as I read it I felt I was reliving the entire five-year period during which these three matches (2008, 2010, 2012), happened."
According to Michiel Abeln, the author, all proceeds from the book will be donated to charity.
We caught up with the author of the book Michiel Abeln and asked him a few questions to get to know more about the book.
Q: Have you met Vishy Anand?
Michiel Abeln (MA): Yes, multiple times, but don't know exactly when the first time was that we met. I do remember clearly I was thrilled to be in New York in 1995 to follow his match against Kasparov. Since then I have reported on many of the tournaments Anand played in Wijk aan Zee for Mark Crowther's The Week in Chess. In the early years it was great to follow the post-mortems between Anand and his opponents: he would show lines so quickly that I could only write down the first few moves and the final position and then had to work out the rest. I also met Aruna several times in the press room; she is such a wonderful person.
Q: Why did you decide to write this book?
MA: In daily life I spend most of my time on two subjects: my job at oil major Shell where I have a senior leadership role, and on chess. For my job I have read many biographies of inspiring leaders, but there are hardly any insightful stories on how chess champions achieve their success. I became curious about uncovering these secrets during Anand's World Championship matches and decided to write the book myself.
The Anand Files operates at three levels:
1. First of all it is a fantastic game collection with all kinds of secrets revealed on how Anand managed to surprise his opponents. In my opinion this will be essential reading for aspiring chess players and their trainers.
2. Secondly, there is plenty of opening theory, including novelties that haven't been played yet, with clear links to overall game strategy.
3. And last but not least, there are many leadership lessons from Anand and his team that can be used directly in the business world.
I would also like to mention the fantastic full-colour pictures in the book that were produced by Cathy Rogers and Eric van Reem. The below one summarizes perfectly game 5 of the Bonn match:
Q: What did you learn while writing the book?
MA: There are many matters that I had no idea about prior to writing the book, but to pick one leadership lesson: Anand combines a 200% commitment to being the best with a high level of empathy for the people he works with. We all know the CEOs who in their ambition to grow their company further also drive their staff crazy. In the chess world it is well known that it is not easy to be a second of a world champion. If you compare that with level of empathy a star like Anand displays, it is so inspiring! Let me share an example from the book:
"Just 21 and with a rating around 2600, Wojtaszek was surprised Anand had asked him to join his team. Wojtaszek was young, relatively unknown, and far from being one of the world's highest rated players, so why did Anand select him? At the end of December 2007, Anand and Wojtaszek had played each other in Germany in a Bundesliga match, after which Anand had asked for the Pole's email address. This was nothing unusual in itself; lots of chess players keep in contact between tournaments. Still, Radek felt honoured by the request.
After the Bundesliga game had ended in a draw the two of them analysed together. Anand was ready to make an offer, but hesitated. Anand feared that if he asked Wojtaszek to join his team, Wojtaszek might get excited and lose focus for an upcoming tournament. Therefore Anand only asked for contact details with the result that Wojtaszek kept wondering why Anand made the request.
When Wojtaszek was 3 ½ years old, he received his first chess magazine. Not being able to read yet, it was explained to him it was Anand on the cover. Ever since then the Indian had been his childhood chess hero. Playing against Anand in the Bundesliga was already a dream, but now the World Champion had asked for Radek's email – why? Wojtaszek completely lost focus! Only a few weeks later the two connected via Skype and the mystery was solved: Radek said yes immediately to the possibility of being part of team Anand. No financial details were discussed, Wojtaszek had no idea what he had said yes to, but he was certainly excited!"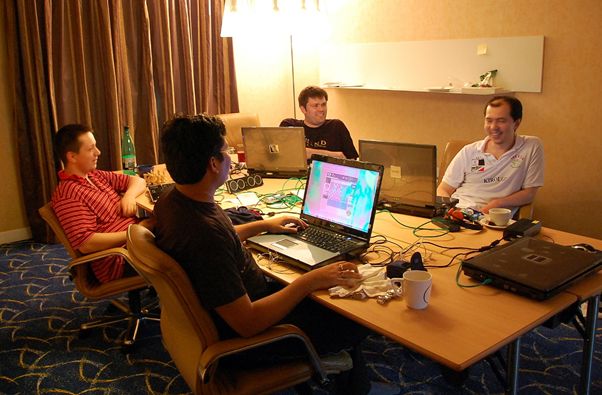 Q: Which is your favourite Anand game?
MA: I noticed that in an earlier article (#4) Surya Ganguly chose Anand's famous game against Aronian from Wijk aan Zee 2013. This game is in the book because the novelty had been developed for Gelfand! So I will chose a different one, with annotations taken from The Anand Files. This is the game three of the match between Anand and Kramnik from Bonn 2008.
About the author:
Michiel Abeln is a FIDE Master from the Netherlands with an Elo of 2327. He has recently published a book for Quality Chess on Anand's three world championship matches against Kramnik, Topalov and Gelfand. The book is called 'The Anand Files' and will soon be available in the ChessBase India shop. If you cannot wait, you can also order it here.
Previous articles in Vishy's December
#01: Anand Viswanathanovich by Ravi Abhyankar
#02: Inspiration, teammate, second by Sandipan Chanda
#03: In India, chess = Anand by Sethuraman
#04: India having 65 GMs is unthinkable without Anand by Surya Ganguly
#05: Tyger Tyger burning bright by Upendra Rawat
Want to share an Anand story this December?
This entire December, ChessBase India is celebrating Vishy Anand's 50th birthday. We would like you to contribute any interesting story that you might have with Anand so that we can publish it on our newspage. In case you would like to share, you can do so from this google form link. Alternatively you can also send it to us via chessbaseindia@gmail.com
---