Vishy's December #12 - My Uncle, A World Chess Champion!
In the Vishy's December series of articles celebrating his 50th birthday, we have articles from his friends, competitors, peers and rivals. Today we bring you stories from someone who is extremely close to Anand. Meet Siddharth Viswanathan, Anand's nephew. With nothing held back, Siddharth discusses some of the most intimate moments of Anand's life, which would only be known to a family member. This December, ChessBase India is celebrating the month as Vishy's December in honour of the Indian chess legend Vishy Anand turning 50 years old. If you have a story, experience or an anecdote related to Anand which you would like to share with the chess world, you can send it to us at chessbaseindia@gmail.com.
The wittiest Chitappa
by Siddharth Viswanathan
We are sitting at the dinner table of a posh Mumbai restaurant. The time is somewhere during the start of the new millennium. He is cracking jokes with his trademark wit. His laughter on the jokes ensures that we also laugh along. Suddenly, one person comes to the table. "Can I have your autograph?", the person asks. Yes, this took place much before the time of selfies. With one person, others also made their way for an opportunity to get his autograph. He obliges them all. It is only then I realise that I am actually sitting with a world champion. That too in chess, a game which was invented in India and which fittingly, is being dominated by an Indian who scorched a revolutionary path to success.
That is the special ability of Viswanathan Anand, the five-time world chess champion who celebrated his golden birthday on December 11. His humility and down-to-earth nature is the prime reason that makes his personality as a world champion very alluring. If you do not know how to play chess, a crash course in humility after having achieved so much is a lesson to take away from Anand. There have been plenty of tributes to Anand from various publications and journalists. Writing about Anand is like writing something new about Sachin Tendulkar. It is a nightmare for writers as their achievements have been chronicled so meticulously.
Writing about Anand is a tough task for me. In one publication, I was accused of conflict of interest just for writing about him. Thus, each time I wrote about him, I had to write a disclaimer below every article. What is presented here are some of the memorable moments that I encountered in my journey with Anand, a person whom I know really closely.
Early Memories
What are my first memories of Vishy Anand, the world chess champion who is also my uncle? The earliest photo that I have of him is me sitting on my grandmother's lap and chewing off his purse with him beaming his million-dollar smile. At that time, he had already made giant strides and as I would later know he would become the first chess Grandmaster from India.
What were the first signs of Anand's greatness in chess? For me, it was Reggio Emilia 1991. At that time, the Soviet Union had not disintegrated and the chess grandmasters coming from that part of the globe had established a new benchmark for dominance. The first crack in the massive red wall of the Soviet Union was when Anand had defeated Garry Kasparov and drew with Anatoly Karpov, two super grandmasters at the height of their powers. To have held Karpov, his 'idol' in his playing years was legendary. To have defeated Kasparov was legendary beyind belief. Anand finished ahead of the two and won Reggio Emilia. If the collapse of communism is credited with the fall of the Berlin Wall in 1989, then Anand's feats at the Reggio Emilia ensured that the Soviet Union dominance in chess would end in the coming decades.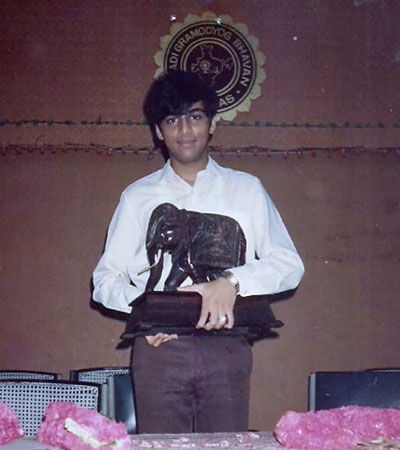 Lack of killer instinct, The Horror Of Sanghi Nagar, Lausanne 'Corpse' And Kasparov
In our home, we tend to whitewash the year 1994. There is an unwritten rule in that we do not mention the name Gata Kamsky and Sanghi Nagar anywhere. The year and venue was the first major low point for Anand. He was a step closer to take on Kasparov and Karpov for the PCA and FIDE titles. He had taken the lead but choked in spectacular fashion. He then lost a rapid play-off in just 17 moves. The lightning kid beaten in his own game. The world knew the word choke in 1999 when South Africa tied with Australia in the World Cup semi-final in Edgbaston. I knew about this term in 1994 itself.
In 1995, the pain of 1994 was extinguished. After years, it was the clash everyone had waited for between the master and the pretender to the throne. Kasparov, a bonafide legend of the sport and the world champion, squared off against Anand in the World Chess Championship at the World Trade Centre in New York. We were all waiting in anticipation after the end of every game. A draw was greeted with relief. Every game, we would silently express our relief he had not lost. After eight drawn games, Anand gave a country of a billion people, hope by winning against Kasparov in round nine. For us, it was a celebration of unseen proportions. However, as the chess world would know, Kasparov's 'dirty tactics' would unsettle Anand.
In the next game, after every move, Kasparov would bang the door and the closed room would shake. Why a closed room? Due to fire safety regulations at the World Trade Centre. Years later, Anand admitted in an interview that he made the mistake of not protesting at that time when in hindsight he should have. However, another lesson in sportsmanship. Anand had realised his position was bad and thus, he did not want to be labelled a 'sore loser'. He lost the championship by a margin of 10.5-7.5. A golden chance was missed. Even today, we still say, "Damm you, Kasparov" for whatever happened in New York.
In 1997, Anand played non-stop chess for a month in Groningen to top the field of 96 players. In cricket, that is like playing 31 consecutive ODIs in one month. He qualified for the World Championships to face Karpov. Although he was undefeated in 31 games, by the time he arrived in Lausanne for the championship in 1998, he was in his own words, "Karpov waited for the corpse of his challenger to be delivered in a coffin." It was no surprise that Anand lost. However, what hurt me the most was the constant murmurs that Anand lacked the killer instinct to become world champion. Anand will always be remembered as a good player but not a legendary player. All such murmurs grew louder as we entered the new millennium.
Trying to keep the crowd away
In 2008, Anand had decided to come to Bhopal on a cold November winter's day. He had told us to keep the visit extremely private. He was exhausted. However, as luck would have it, it was election season in Madhya Pradesh. Raja Bhoj airport would see plenty of politicians making trips all over the state and sometimes to New Delhi. So, reporters would be stationed to catch a glimpse of important personalities. Unfortunately, one of the reporters spotted Anand getting into our car. Even more unfortunately, he tipped off one of the media guys who by coincidence was staying in the same society that we were.
In the next morning, we notice that about 50-60 camerapersons are positioned near the lawn. The news had spread. Anand had arrived in the lake city. By the evening time, every print publication and radio station in Bhopal had managed to make what was a private family visit into a public affair.
The first decade of the millennium was exhilirating for us in the family. Anand finally had silenced the detractors by winning the World Championship in Tehran, 2000. There were still some critics who said that it could not be legitimised as there was a split in FIDE. In 2007, the championship was unified and a double Round Robin eveny was played to crown the undisputed world champion. Anand finally became the undisputed champion. In 2008, he defeated Vladmir Kramnik in Bonn, who had dethroned Kasparov in 2000 in match-play by a solid point. Anand had crossed the magical mark of 2800 ELO and was the world number one ranked chess player in the world. For those who do not know the 2800 ELO mark, in simple terms, it is like having a Test average of over 100.
So much had happened, this reception was the crowning glory for us and also for Anand, who was on top of the world in every sense. The crowd just could not be kept away, neither in our society and neither at the restaurant.
Eclipsing my wedding
I was getting married in December 2013. My in-laws were based in Mathura, the land of Lord Krishna. We had invited Anand for my wedding and he arrived. It was the first time he had come to Mathura. When I asked him about how Mathura was, he replied in his trademark wit, "It is a quaint place. It is like how Krishna left it 5000 years ago minus the IOC refinery." Anand was part of my wedding procession and he did dance a jig for three seconds (video is in our custody and never making it public).
There was a special request for police protection for him which was granted. He was coming from Brijwasi Lands Inn, one of the lone four-star hotels in Mathura and he was accorded total security. He was seated in the front and he posed for photos with me. Was indeed a proud moment. After my thread ceremony in 1995 and his wedding in 1996, this was the third event where we were together.
However, the media did it again. Somehow, a report leaked that he had attended the wedding in Mathura Refinery Nagar. What followed was a travesty of journalism. The headline was: Viswanathan Anand steals the show at nephew's marriage. The report mentioned my wife's name, my father-in-law's name but my name was not even mentioned. In both Hindi and English reports, my name never came up! The Hindi report went one further - stating that the occasion of my marriage was eclipsed and people came to see only him which became a source of pride for Mathura Refinery Nagar. When I think about it, I laugh out loud.
Achieved Everything
He is a five-time world champion. The only player to have won the world title in three different styles. Being in the top 10 of the world chess rankings for a staggering 28 years. Won the World Rapid title in 2017 in Riyadh by also beating the current champion Magnus Carlsen along the way. Winning the 2010 World Championship by battling a volcano and an adamant Bulgarian Chess Federation. Winning the Amber Chess Rapid and Blitz tournaments regularly. Chess Oscar five times. A minor planet in the solar system named after him. Winning the Rajiv Gandhi Khel Ratna and Padma Vibhushan. When he achieved it in 1988, he was the first Indian Chess Grandmaster. Now, 31 years later, after him, India has 64 more Grandmasters.
Is there anything left to achieve for him? Not really. He has actually done it all. Yet, his passion remains. When he won the World Rapid Championship in Riyadh in 2017, he told me with the words that really stuck with me, "It is nice to be known as a current champion rather than a former champion." The quote summed up Anand in a nutshell. Quiet desire, ruthlessness and the fight to continue achieving success. Happy Belated Birthday, Chitappa. For me, you shall and always will be the person who cracks the wittiest jokes with a straight face.
About the author
Siddharth Viswanathan studied journalism at the University of Mumbai. He is a well known sports journalist and has worked for several periodicals and websites including Dainik Bhaskar, Cricbuzz, Indiatimes, NDTV sports etc. Currently he is the digital sports head of News Nation. He is also the nephew of Vishy Anand!
Previous articles in Vishy's December
#01: Anand Viswanathanovich by Ravi Abhyankar
#02: Inspiration, teammate, second by Sandipan Chanda
#03: In India, chess = Anand by Sethuraman
#04: India having 65 GMs is unthinkable without Anand by Surya Ganguly
#05: Tyger Tyger burning bright by Upendra Rawat
#06: The Anand Files by Michiel Abeln
#07: From an 18-year-old talent to a 50-year-old legend by Frederic Friedel
#08: Last man standing by Vladimir Kramnik
#09: A rival and a fan by Peter Svidler
#10: I walked with a giant by Praful Zaveri
Want to share an Anand story this December?
This entire December, ChessBase India is celebrating Vishy Anand's 50th birthday. We would like you to contribute any interesting story that you might have with Anand so that we can publish it on our newspage. In case you would like to share, you can do so from this google form link. Alternatively you can also send it to us via chessbaseindia@gmail.com
You can also get the Vishy Anand 50th anniversary special t-shirt launched by ChessBase India. It comes in two colours - grey and white.
---