A two-day chess pilgrimage to Chennai
As soon as the World Championship Match ended on the 30th of April 2023, IM Sagar Shah decided to visit the Chess capital of India - the city of Chennai. In the plan was to interview the five-time World Champion and the legendary Vishy Anand on the Ding vs Nepo World Championship Match. But apart from this nothing really was planned. However, things unfolded beautifully as Sagar met IM Saravanan, GM Vishnu Prasanna, WIM Raghavi, GM Shyam Sundar, IM Ilamparthi, IM Jubin Jimmy and GM Pranav V. Sagar describes these two days as a chess pilgrimage. Why does he say so? Read on to find out.
When the world championship match 2023 between Nepo and Ding was about the end, I wrote to Vishy Anand if I could continue the tradition of getting his thoughts after a World Championship Match.
Vishy agreed to do this and now the question was if I should be reaching Chennai on the 30th (if there was no tiebreak) or on the 1st of May. The moment Ian Nepomniachtchi missed his chance in game 14 to finish the match, I booked my early morning 7.05 a.m. flight ticket to Chennai for the 1st of May 2023. I have very rarely travelled to a new place for just an interview. But I knew that this was an interview I couldn't do over a zoom call. Meeting in person has a different vibe than doing it online.
The reason for the printouts is not that Vishy would not recollect the positions! I could just say - game 7 and French Defense and that cue would be enough for Vishy to play through the entire game in his head. That's the level of his memory. However, when he sees the position in front of him, he has to put less effort on remembering the position, and more on remembering his analysis and feelings about it. And so before I left I ensured that I had two sets of critical positions prepared, one for me and one for Vishy. I reached Anand's place at 10.30 a.m. Always being the wonderful hosts that they are Anand and Aruna greeted me with a lot of warmth.
Meeting the legend
"So we have two options," says Vishy. "We could do the interview in the living room, like 2018, or we can do it in my training room!" There was no doubt in my mind where the interview had to be done. I have seen Vishy's training room before. It has the trophies of all his tournament victories, his world championships, chess oscars. Every time I enter the room, I feel like Po from Kung Fu Panda as he enters the Hall of Warriors!
When it comes to Vishy interviews and he is in his flow, there is absolutely no one who can match his level of erudition. Anand has the ability to weave top class analysis, with his opinions, anecdotes and experience. Every time I sit in front of him discussing chess, I see a man completely in love with the game. Yes, Vishy is a genius. He is tactically strong and talent wise he is the perhaps the best the world has ever seen, as per what Kramnik recently said. But for me, what stands out about Vishy, is his love for chess. His hunger of the game. You cannot have a career that spans over 4 decades, three of them at the very top of the rankings without loving the game.
When it came to the duration of the interview, I had no time in mind. I wanted to speak about the match, but also about Carlsen's decision of not defending his title. If there was someone who could understand him, it had to be the person who has played more World Championship matches than Magnus! I wanted to know about what made World Championship such a high pressure event. We analyzed the critical moments of all 18 games of the match and Vishy also spoke deeply about all the other questions surrounding the match. When the interview ended, I looked at the time and it was 93 minutes! Wow! The excitement of having done this interview easily overshadowed my worry of how I was going to edit such a long video!
0:00 - Sagar's journey to Chennai starts!
0:43 - In Vishy Anand's home! Was this one of the most exciting World Championship matches of all time?
2:58 - The overall level of play in World Championship 2023 compared to the other matches
5:11 - Game 1 - an exciting draw
7:00 - Game 2 - What was 4.h3?
11:25 - Ding's prep leaked on lichess
12:42 - Game 3 - a small miss by Nepomniachtchi
13:37 - Game 4 - Ding's energetic play
20:16 - Game 5 - Nepo's powerful d3 Ruy Lopez
24:26 - Game 6 - Ding plays the London system in a WC match for the first time
30:09 - Game 7 - The resurrection of French Defense in World Championships
39:00 - Game 8 - Ding Liren's Cannonball prep: Ra2!?
47:53 - What is it about the World Championship which puts so much pressure on players?
52:40 - Game 9 - Going for the Berlin
54:34 - Vishy's moment of panic before facing Kramnik for the World Championship match
57:30 - Game 10 - High-class preparation by Nepo
59:30 - Game 11 - Nepo rushing with it
1:00:47 - Game 12 - most dramatic of them all?
1:08:05 - Game 13 - Ian's actual meltdown
1:13:24 - Game 14 - Ng5: Interesting or dubious?
1:17:08 - Rapid tiebreaks game 1 - Brilliant defense by Nepomniachtchi
1:17:45 - Rapid tiebreaks game 2 - a missed opportunity
1:18:09 - Rapid tiebreaks game 3 - Both players get a break
1:18:24 - Rapid tiebreaks game 4 - The game which decided it all
1:26:33 - Ding's reaction after becoming the World Champion
1:28:52 - The situation now with Ding Liren and Magnus Carlsen
1:30:10 - Magnus Carlsen's decision to not defend his title
1:31:40 - Nepo and Ding's team of seconds
1:33:14 - Is there a need to change the format of WCC?
1:34:40 - Thank you Vishy for your insights!
One of the joys of visiting Vishy and Aruna's home in Chennai is meeting their son Akhil. A couple of years after Akhil was born, everyone would ask Vishy, would Akhil be taught chess. Would he play chess? Well, the answer is yes! Akhil does play chess and enjoys it. But that's not where his real talent lies. The 11-year-old has a way with the paint brush! Here is some of his best work.
What is extremely heartening to see is the way in which Aruna and Anand are supporting Akhil's passion and talent for Art. They have encouraged him to setup his own business. It's called "Akhilism". The boy takes orders, manages inventory, the accounts and is able to learn about the many facets of entrepreneurship through this endeavour.
In the letter, Akhil further writes, "I have Bookmarks, Fridge Magnets, Mugs and notebooks. I have used Indian tribal art such as Madhubani and Kalighat to make gift items. I enjoy Indian tribal art like Gond, Cheriyal, Madhubnai, Warli, Kalighat, and Pichwai. I hope we do more products during the summer time when I have holidays. I am also planning my art exhibition soon on "Math, Geometry, Patterns in Nature with Indian Art. Hope you will come!"
If you too are interested to support Akhil in his artistic endeavours, you can write to him at saiakhilanand@gmail.com. I am sure you will love his work. You can also follow him on his YouTube channel.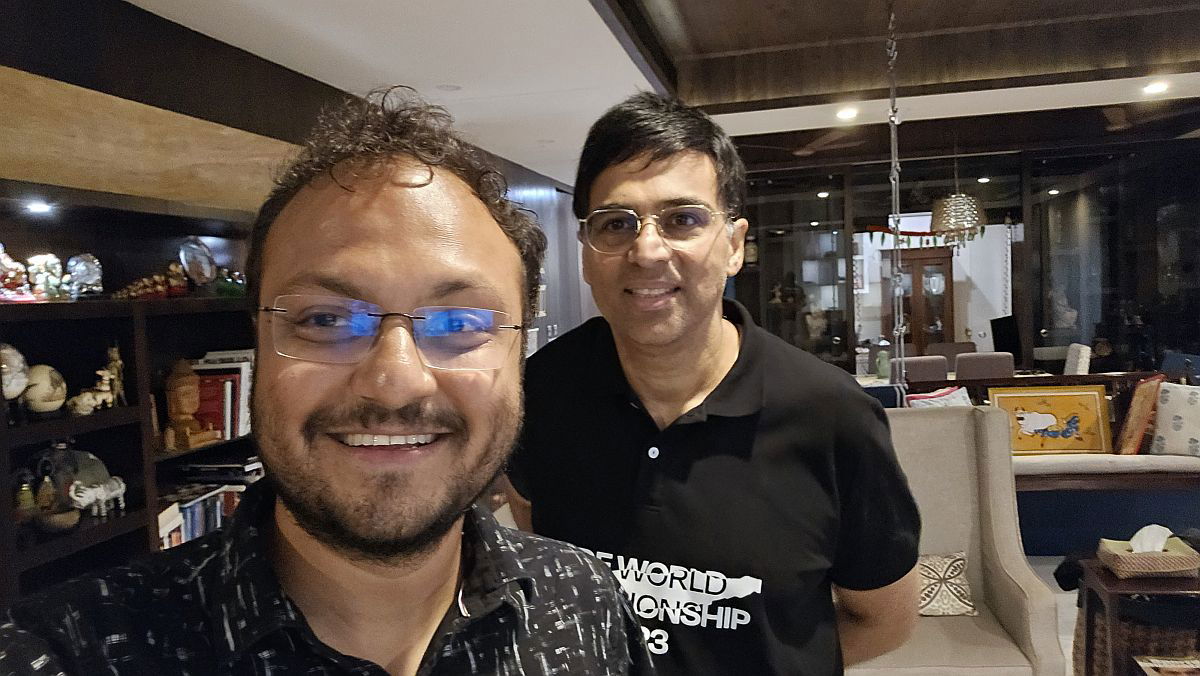 What next after Vishy's house in Chennai? I had an option to take my flight back home to Mumbai. But I also had the option to continue my pilgrimage. That's the beauty of travelling without a return flight ticket. You don't know when you are returning back. To take it one step forward I didn't know my next move as well. I was very keen to publish Vishy's interview. I could have sat down in some cafe and started editing the video, but I knew that it was no small task. Putting in the chess board would take me roughly 6-8 hours of editing. It was best to put off that work for the night, so that I could meet more of my friends. I had a few options on my plate and I decided to go to the home of IM V. Saravanan.
The famous library of Saravanan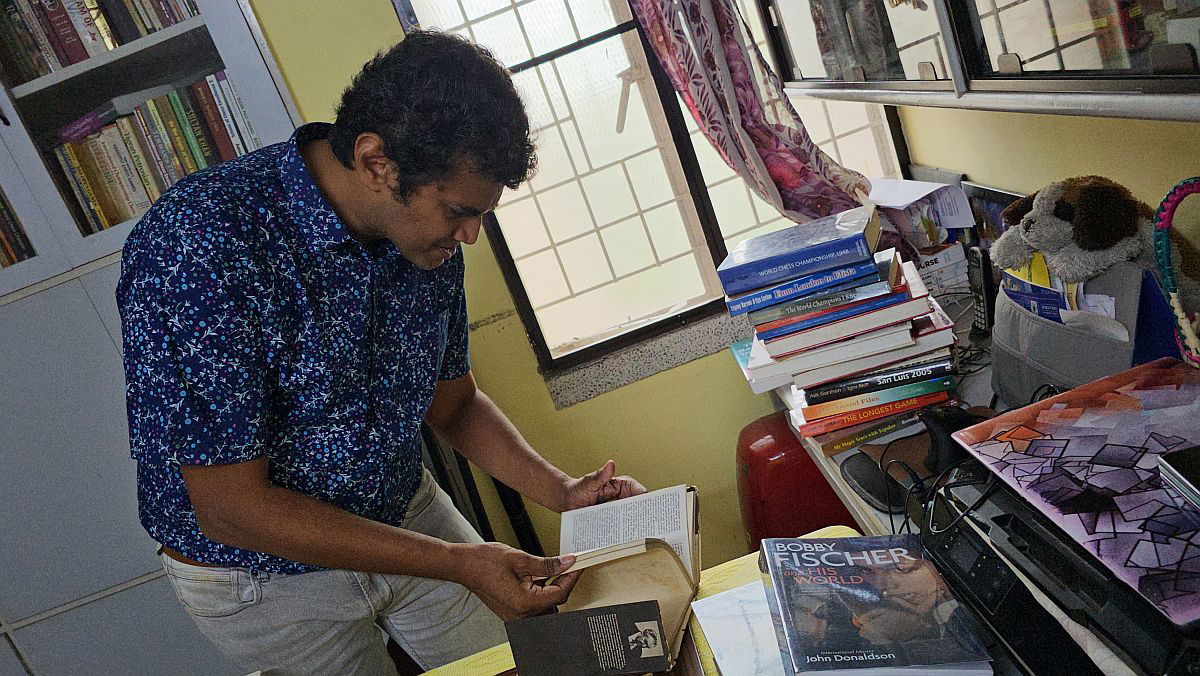 Whenever I feel my life has become too mechanical, I like to visit Saravanan's place. The man is filled with passion. Passion for chess, passion for books, passion for life! When I first visited Saravanan's place in early 2018, I saw his chess book library and we shot a video:
This video became very popular and close to 150,000 views! People loved Saravanan's book recommendations, but more than that they loved how he described each and every book. It was filled with so much love for chess. And so my subscribers would always ask me to go back to his home and do more videos with him. As the World Championship Match had ended, we decided to do a video on the must-read World Championship chess books!
I had never told Saravanan that I would be eating at his place. But his family cooked the food for me. I did not know what my next plan was but Raghavi and Vishnu came to pick me up! It was amazing how things just fell into place step by step.
The spiritual guru and the energy monster
When you meet GM Vishnu Prasanna, you meet a man who speaks very few words. But it's not true that Vishnu speaks less. He speaks the right amount at the right time. Ask Gukesh, Vishnu's student, about how much his coach talks - a lot! But when it is not his time and space to speak, Vishnu let's others do the talking. In him I see a peaceful warrior. Vishnu loves chess, he loves to train, but at the same time he is very relaxed about it. Raghavi, his better half, on the other hand is a ball of energy. She cannot stop talking, she cannot stop working, she cannot stop executing stuff! It's like the two complete each other!
Since Shri Deekshitha was born, Vishnu has slowed down in his coaching career. But he still finds time to train Gukesh and Leon, handles his chess academy in Anna Nagar and also goes once a month for 4 days to Sivakasi where he heads the Hatsun Training center. "Life is completely different there, Sagar," Vishnu tells me about his training at Sivakasi. People travel hundreds of kilometres to get training there. It's life away from publicity, life away from glamour. It's real grassroot level work. "When are you going next?" I ask Vishnu. I have a flight in 9 hours he says. "That's 3 a.m." I exclaim. With a calm smile Vishnu gets busy playing with little Shri Deekshitha. The flight was booked at odd hours so that he could reach Sivakasi in the morning and then begin his training at 9 a.m. on the same day. With the 2-year-old daughter being the center of his life, every hour has its weight in gold.
It was around 6 p.m. when we left Saravanan's home and I asked Vishnu and Raghavi if we could go to their newly opened chess academy in Anna Nagar.
Anna Nagar is a place bustling with energy in Chennai. To open a chess center there is a wonderful idea. But at the same time to get the space that they have, the rents are pretty steep! Raghavi and Vishnu decided to make this bold move. This has been the trajectory of their life. Raghavi executes the things which are important for them and the chess world. She doesn't wait. She has this monsterous energy and this impeccable drive to execute stuff. How does she do it, I do not know, but I guess that's how one becomes a WIM + an ENT specialist + a laryngology expert + the founder of a massive chess club. You don't overthink, you just do things!
The question now was where do I stay for the night? Vishnu and Raghavi opened the doors for me and asked me to stay the night with them. For them it was no big deal. Food was cooked for dinner at home. We had some wonderful conversations with hot chappatis and chole. I began editing the Vishy Anand video in the night. The reason why it takes time to edit a video like the one I did with Vishy is because whenever he says a move, I must make that on a chess board and screen record it. Then I must properly merge the timelines so that the board comes over his video. As we discussed over 18 games, this was a tedious task, but I knew that I had to publish it by the next day. If I didn't manage that, my trip to Chennai and Vishy's time would not have been useful. I slept for a few hours and woke up at 5 a.m. and began working. Vishnu had already left for his training camp in Sivakasi. Next day morning, I finished the editing around 10 a.m. It felt amazing. Dosas with hot coffee were served to me as breakfast - what more can one ask for! And then I got ready to go to my next destination - GM Shyam Sundar's Chess Thulir.
GM Shyam Sundar - a coach with a difference
GM Shyam Sundar has been my friend since many years. A strong player and now a wonderful coach, I have had the privilege to share an apartment with him back in 2013 when we had travelled to Bulgaria for a tournament in Varna. Shyam's highest Elo has been roughly around 2550. While this is an amazing rating and chess playing strength, it was chess coaching that brings the best out of him. While there are many amazing coaches in India, I feel Shyam is made up of different material. For him, a student unleashing his complete potential is the most important thing in the world. For this he is ready to go to any extent. The 30-year-old GM is married (to Varshana) and has a 2-year-old daughter Meghashree. But he hardly finds time to spend with them. Because he dedicates almost all of his time to chess training.
When Ilamparthi was rated much lower than what he is now, I asked Shyam if he was keen to train him. We discussed how the boy came from weak financial background and that he might not be able to charge him his usual fees. Shyam was fine with it. After a few months, talking with Shyam on the phone, he asks me, "Sagar, if you think the scholarship amount of Ilamparthi can be better utilized for his tournaments, then please don't pay me my fees. Because tournaments are the most important thing for him right now, I am fine with not being paid." In the end the funds were found - not only were Shyam's fees paid, but Ilamparthi also played in several tournaments and became an IM and is now racing towards his GM title. But it was this very thought that shows what a wonderful person Shyam is. To ensure that kids have a place to stay when they train, he rented a bigger space with rooms to sleep. He organizes camps regularly so that ambitious players from all across India come together and work on chess. He quite often subsidizes his fees so that a youngster can fulfil his potential. One such example is IM Jubin Jimmy from Kerala.
Shyam and his students struggle with finances as the coach tries to stay true to his vision. He hopes that some day a sponsor would come forward and ease things for his students. If you are a sponsor and would like to support Shyam's students, then please do reach out to him at shyamsundarmohanraj@gmail.com.
Infinite Engineers
Infinite engineers is a start-up located in Chennai. It was started by Jaikanth Chinnathambi. I met Jaikanth recently in Gujarat when I had spent a week walking the banks of river Narmada with a group of people. Jaikanth was one of them. I had promised him that when I visited Chennai, I would come to his office in Mogappair.
Infinite Engineers makes learning fun through hands on activities. They setup scientific labs in schools and also provide kids with science related kits. Science is something that needs to tried and experimented, not just read in books! That's why when you visit their office, you see 3D printers, Dexter Boxes, various experiments going on. It's a beautiful place. You can check out what they do from their official website.
After meeting Jaikanth, his team and Chandru, I went back to GM Vishnu's Chess Academy. Waiting there for me was...
The unstoppable Pranav V.
It was almost 9 p.m. and I had a decision to make. Should I stay the night in Chennai or should I go back home to Mumbai. I was very keen that before I left Chennai, I meet the latest entrant into the 2600+ club GM Pranav V. The young boy had had the trip of his life in the last month. He had played in four tournaments - Reykjavik open, La Roda Open, Menorca Open, and Formentera Open 2023 and he gained a massive 63 Elo points. From 2545, he reached an Elo of 2608 in just one month. Pranav played 37 games in 30 days and beat six players above the Elo of 2600! In it was also included his first 2700+ GM scalp - Hans Niemann. I had asked Pranav to give me a call as soon as he landed in Chennai. He was coming back from Dubai. He landed around 9 p.m. and reached his home at around 10.30. I was there at 11 p.m. at their place and they welcomed me with a broad smile!
Pranav and his entire family hail from a very modest financial background. The number of difficulties they have faced and the number of sacrifices that both Venkatesh (father) and Indumati (mother) have made for their son's progress has been massive. That's why reaching 2600 is very special and it was also the reason why I wanted to meet them in person and congratulate them. While leaving their house, I saw some beautiful trophies in the living room and I asked Venkatesh if he could take me down the memory lane! He agreed.
It was almost 1 a.m. and Venkatesh asked me if I would like to stay back for the night at their place. A generous invitation, but I had to go back home and prepare for Surya Ganguly's visit to the studio on 4th of May 2023. I booked an Uber and made my way to the Chennai airport for the 2.55 a.m. flight. Amruta helped me to book the flight ticket. It was one of those rare occasions when I had nothing really planned, but every plan worked out like a charm. One of the main reasons for this was the love and abundance that each individual showed me in Chennai. Everyone opened their homes, fed me food and gave me their precious time.
As the flight took off from Chennai and landed in Mumbai, I asked myself how I felt about the trip. Sure, I was physically exhausted. I hadn't slept for more than 4 hours for 3 nights now, but my heart was happy and my soul was full. Isn't that what happens after a pilgrimage?
---