The young guns who ruled the Olympiad- Team Uzbekistan
After the closing ceremony, well past midnight, IM Sagar Shah made his way to the Grand Sheraton hotel where the Uzbekistan team was staying. Youngsters - Nodirbek Abdusattorov, Nodirbek Yakubboev, Javokhir Sindarov, Shamsiddin Vokhidov, and Jakhongir Vakhidov had just won the gold medal at the Chess Olympiad 2022. The Uzbek team was kind enough to give their time for an interview where all five of them sat together. We asked them about their best moves, and best games, and also spoke about what this victory means to them and their country.

The triumph of youth over experience!
Sagar Shah (SS): Guys. congratulations. How is the feeling right now? I think you guys are very tired, you have not slept much.
GM Jakhongir Vakhidov (JV): Yeah [smiles]. In the last couple of rounds, we only slept for a couple of hours each night. There was emotional pressure because each match was so important to us. We are happy because now the match has finished, and now we can have rest. We are also happy because we finished great, as Carlsen said "everything is good when it ends good".
SS: I think what is special about the team is that all of you are so young, I think one of the youngest teams apart from India 2. The other thing is, each one of you contributed to the team's success. First of all, Abdusattorov, you defeated Fabiano Caruana and helped your team draw the match against USA. How did you feel beating Caruana?
GM Nodirbek Abdusattorov ( NA): I felt very happy. But at the same time, I was a little bit disappointed because we had great winning chances as Jakhongir had a winning position. Overall, I'm quite satisfied with our performance in the Olympiad, and I'm sure with this team we can fight for the next Olympiad as well.
SS: When Caruana played the move 23.d5 in this position, were you surprised?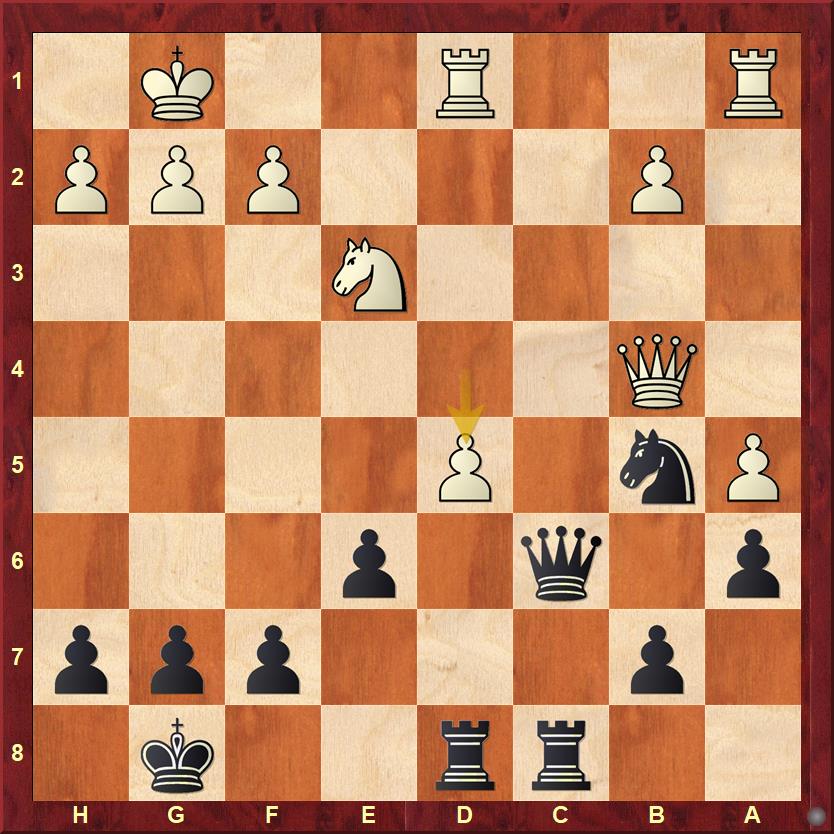 NA: No, I was actually not surprised because I was expecting d5. He gets some activity with Nf5 and Qh4, but I had calculated his idea, so I was quite optimistic with my chances. I was a little bit surprised with the engine's evaluation, as it gives 0.00. But I didn't agree with this evaluation, because I'm just a pawn up and playing for 2 results. I was just very happy with the game.
SS: In the match against India 1, Abdusattorov had a tough game against Harikrishna, but it was Shamsiddin who managed to beat Sasikiran to draw the match 2-2. Can you tell us a bit about how that felt?
GM Shamsiddin Vokhidov (SV): I did not expect Sasikiran to play 3.Bb5+ in the Sicilian, because he usually plays 3.d4. In the middlegame, he started to play a little bit strange with this h3-Bh2- Kh1 plan. This plan is maybe a bit illogical, but maybe he had his own idea in the position.
In the middlegame part, he started to take long thinks, and he made a really strange choice by playing 34.Nxd4, exchanging the knight with the bishop.
After that, I had a really strong bishop and a passed pawn, and I was very happy with gaining this position.
SS: You won the game very smoothly after that, you did not give any chance to your opponent!
JV: We were waiting when he will push f5 [smiles], and he timed it perfectly. He repeated the position 2 times, and we were so worried because if he repeats 3 times, it'll be a draw [everyone laughs]. But he kept it under control.
SS: Against Germany, I think it was Yakubboev who managed to win against Bluebaum.
I think when your opponent played ..g6, it was a mistake right?
GM Nodirbek Yakubboev (NY): Yes. He should just play 21...Bf4, and it's an equal game. But after 22.Bh4, I think it's just winning if White plays well. 21...g6 was the final mistake.
SS: It was an early mistake, and you capitalized on it. You beat Germany, which was a big result. Then came the Silver medalists Armenia, and you beat them 3-1. Sindarov, Nf5 was such a beautiful sacrifice against Ter-Sahakhyan Samvel!
GM Javokhir Sindarov (JS): I think against Armenia, all of us played very well. In my game, I had prepared until 18 moves.
In my prep, I had prepared for him to play Rc8 first, but in the game he played Re8 followed by Rc8. After that, I was on my own. But I knew the idea- you have to play c4, e4, Bd4 , Queen comes to f2, and there might be a knight sacrifice on f5. I think my opponent also played very well. I think he had a chance to play 27 ...g5, and after that his game is good. But after he didn't play ...g5, I played well and won easily.
SS: In the same match, Jakhongir also beat Hovhannisyan. I think the opening didn't go so well for you?
In this position, your opponent played Bc4, but he could've just taken a pawn with Rxd6.
JV: Yeah, I was really surprised by that. I thought he can capture the pawn, and I can run and quickly come back. When I came back to the board, the pawn was still sitting on d6! [chuckles].
Bc4 was a very ambitious move, but I understand because his teammate Ter-Sahakhyan had a little bit worse position. He wanted to win, and maybe he thought Rxd6 will give a symmetrical position, his game will end in a draw and Armenia will lose. After the closing ceremony, I was discussing this game with him.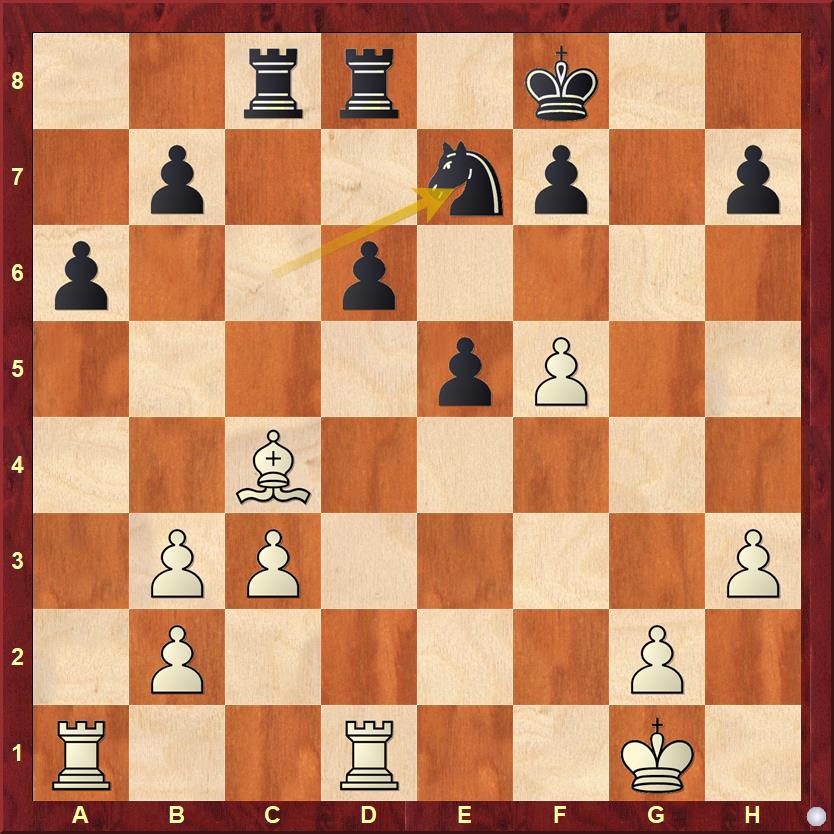 In this position, he said he missed 24...Ne7 25.f6 Ng8. He calculated 24...Ke7 25. f6+ and white is better. But I was lucky to have Ne7, which I calculated beforehand. From the opening, I think he got a good advantage because in the game there was 13.c3 instead of a3. Somehow he decided to sacrifice a pawn, which I was really happy with. But I also blundered and lost my advantage, maybe due to time pressure, or maybe I thought my teammates had good positions. The rook ending was equal, but he had a chance to put me under pressure. But he was also under pressure, as he needed to win and a draw was okay for me. In this game, I think the luck was there for me.
SS: And then came the India 2 match [everyone smiles].
JV: This was one of the toughest matches we have ever faced.
SS: One of the most dramatic matches of the Olympiad. You guys were almost losing- Abdusattorov, you have to tell us what kept you so inspired because you were totally lost against Gukesh!
NA: At some point, I felt like I should resign . But this is a Team event, and I have to try to keep the game going.
Here I was a little surprised by Kd1, because he's allowing me to coordinate my pieces with ...Qe8 and ...Bc8. After 44.Ne4 it's still okay for white, but atleast my bishop gets the f5 square, and I thought I had good drawing chances.
When he missed this 46.Nc5 Qa3+ 47. Kb1 g3 idea, I felt it's already equal. Then at some point I felt he will push hard, and I will get my chance.
SS: You made all the accurate moves!
NA: Yes, I have to, because that was my only chance to save the game [smiles].
SS: When Gukesh played Nf3 and you played Qb7+ , how did you feel?
NA: Okay, I was very happy, but it is very sad winning these kind of games. I felt very sad for him, but it happens.
SS: Were you guys impressed with Gukesh's overall performance in the tournament?
JV: Gukesh plays so well! Before the match, we said to Abdusattorov maybe you should make a draw [laughs]. He's always playing for a win, doesn't matter who he's playing against, we saw his win against Caruana.
I think Gukesh will be one of the next Carlsen, you know, a superstar. His performance in Biel and here was so amazing. And not only him, a lot of the youngsters from India B like Nihal, Praggnanandhaa, and Raunak are also playing really well.
We were also under a little bit of pressure because India B had great tiebreaks, they won a lot of matches 4-0. They were one of the toughest opponents for us. Also, Praggnanandhaa and Sindarov have played like a million times before, so it was like an El classico for them [smiles].
Pragg demonstrated his ability, and he played so well. All of the team's performance was really amazing. Because of the luck yesterday, I think today we are the Champions.
SS: In the last round, it was not luck! Jakhongir, you beat Warmerdam and scored the decisive victory for the team.
In this position, do you think that 14.Qa4 was a mistake by him, like he could comeback with Be2 in the opening?
JV: Yeah, after I played Na5, Qa4 just gives me the bishop pair advantage and my position is good. I can play for two results there. Before the match, we discussed about his playing style and most of our players had already played against him before. Thank you to my team mates for helping me with that!

I haven't checked with the engine yet, but in my opinion d5 was a mistake in the opening, from a human point of view.
I played in 2017 Aeroflot Open against GM Ilya Smirin, and I used the memory of that game from 5 years ago in this game.
SS: So guys, what does this Gold medal mean to you?
I remember when Abdusattorov won the World Rapid 2021, he was felicitated by the Uzbek President, and he got a flat. What do you think will happen after this?
JV: Today in the afternoon, our President called us online , and it was broadcasted on the TV. He congratulated us on our victory.
Also, we are very happy that the 2026 Olympiad is happening in our country. For our victory, another trophy is waiting in our country [smiles]. It was historical taking the Gold medal, because in 1992 we took the silver medal- after our first year of Independence. My father was a coach at the time, and all of his friends, just like us, played so well and took the Silver medal in Manilla, Philippines. After 30 years, we took the Gold medal here!
One of the reasons we became the Champions is help from the Government. They have really helped to popularize chess and make the professional chess players better and stronger.
SS: Fantastic! Are you guys studying right now, or how is it?
JS: I'm 16, and studying in school currently.
NY: I'm 20, and currently studying in University.
NA: I'm 17, I just graduated school.
SV: I'm 20 and studying in University right now.
SS: So, all of you want to do something in chess?
[everyone in unison] Of course.
JV: Because we have dedicated our life for chess from the beginning. This is the fruit of our work , maybe around 30,000 or more hours of work.
SS: Do you think just like in India, there is Vishy Anand and now the young talents are coming up, in the same way there is a huge chess boom in your country ?
JV: Yes. Actually, when in 2018 we took the Gold medal in World Youth, it had a huge impact.
It actually started back in 2004 when Rustam Kasimdzhanov won the FIDE World Championship.
In 2021, a lot of international tournaments started being organized in our country. A lot of strong players were coming and we were gaining experience by facing them. And last but not least, Abdusattorov became the World rapid champion , this was a big chess boom [smiles].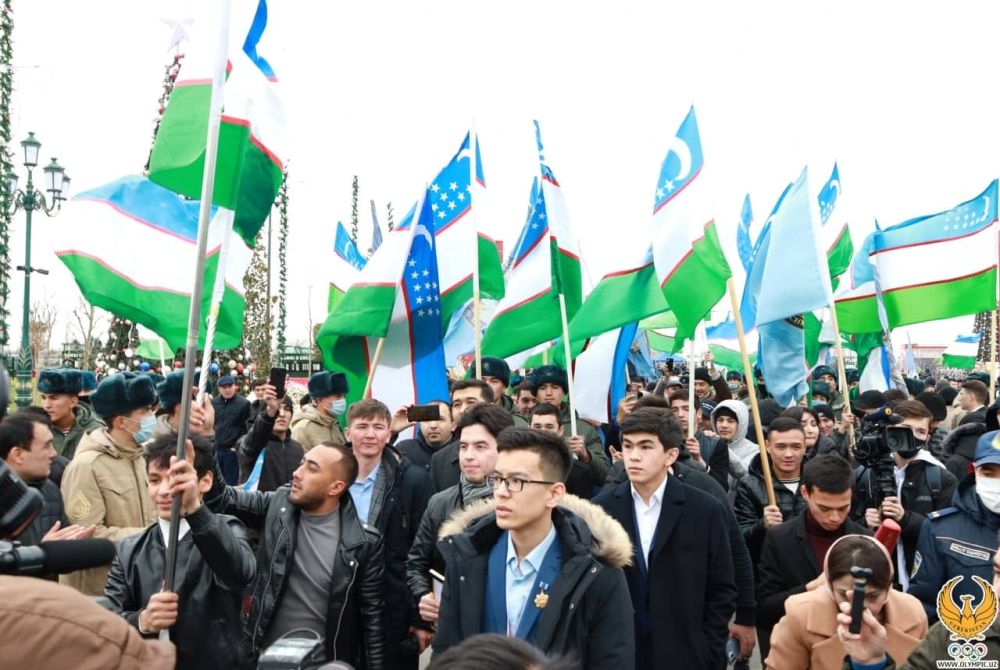 Now, we hope that this Olympiad Gold medal brings in a new generation of chess players and popularizes chess in our country.
SS: Do you guys all work together?
JV: As teammates. we are of course discussing and sharing. But we are also competitive because we are fighting for the top spot in our country. We are very close friends, and supportive to each other.
SS: What would you say about the role of Ivan Sokolov as the coach of the team?
JV: He has been really great not only with his chess skills, but also with his psychological support. He was very confident and as you know, he also coached Iran and they became the Asian champions. He has won games against Kasparov and Anand, he has chess experience from the last century and this century! We were very lucky to have him here as our captain.
SS: How did you guys enjoy India?
NA: The organizers gave us this amazing hotel, and we really enjoyed the hotel. All of us really enjoyed our stay!
JV: Another interesting fact is- Armenia also stayed in the same hotel, and they also performed so well! This is my second time in Chennai, the first time I visited was the Chennai Open 2012. In 10 years, the whole place has changed! What I like about India is the people are so nice, kind and friendly. When they're talking to me, they're like my brother [laughs]. The Asian Continentals will be held in Delhi in October, so we hope to be back in India.
SS: Did you enjoy the food?
JV: In the first 2 days, the organizers were helping us adapt. From day 3 and 4, we started to understand more about the Indian culture. The food is very spicy! Everyone has their own experience, but I liked it very much.
JS: I liked the special desserts, pineapple and mango [chuckles].
NY: I enjoyed the Dragon fruit very much!
NA: I liked the Chapati's very much.
JV: There was chicken and cheese curry which I liked very much. The hotel here is so amazing, there was the swimming pool, Football ground, Table tennis. The conditions were very good, and the tournament halls were perfect!
We are so happy that our sports became so popular- not only in our country, but also in the whole world, especially India. We are proud that we are chess players! Thank you very much to the Organizers, the All India chess Federation, also especially to you for spreading chess over the internet, this is so great! Thank you Mr. Sagar Shah.
SS: Thank you very much. You are like the big brother of the Team! [everyone laughs]. All of you guys are stars, and you have achieved something truly amazing. To win a tournament with such strong opponents like USA, Azerbaijan, Armenia, India is very special. Huge congratulations to all of you, the world will be following each and everyone of you.
Team Uzbekistan: Thank you so much!

---