Chess Olympiad- A volunteer's perspective
31 days have passed since the Olympiad ended and it has been exactly 1 month since we (volunteers) officially ended our duties. Having only played chess as a mere time-pass for my whole life and watched it from afar as a spectator, never in my wildest dreams did I imagine that I would get to see the masters of the game up close and be a part of the biggest event to be ever conducted in chess. How was it from a volunteer point of view? Let's find out in this article.
The Selection
On 7th May 2022, Chessbase India released a video saying that there is a volunteer position open for anyone who wants to participate in the chess Olympiad 2022.
Since I follow the game and all the news all around it, I was already over the moon when I heard that Olympiad is coming to India this time, and was searching for ways to witness the historical event, even if that meant I had to fly miles to see it. So, when an opportunity came, to be a part of this mega event, I wasted no time and applied for it. There was a google form which we filled out and answered a few questions, waited for a few days before I got a mail that I am selected for the second round; the interview round.
It was 11th May and the first interview of my life, of course, I was nervous, I had no clue what to expect, no idea of the questions I might have to answer. "What if they ask some really tough chess questions?" I am not an expert in the field, I am just a chess lover. Nervous, but excited, I dressed my best and gave my interview, it was short; I had no experience in this field, nor had I ever participated in any chess event, the only experience I had was I did something similar in my school and that was it. Not a professional player, not FIDE rated, never played any tournaments, and never even organized an event, I had all the reasons to not be selected. The only thing that kept me going was my love for chess and photography and maybe that's what worked because 20 days later, I got a confirmation mail that I have been selected as a volunteer. A few days later, I got my selection letter as well.
I wonder what Prateek Mohan sir saw in me, but I could not believe it. This was like a dream come true!
The Journey and the Training days
The journey from Lucknow to Bangalore and from there to Chennai was a long one, but it didn't feel like it. Still feeling like a dream, I couldn't believe it until we reached Chennai. Heard a lot about Chennai's hot and humid weather and it didn't disappoint.
We were told that we would be provided transportation from the airport and station to our respective hotels and that was impressive. All our expense, ranging from travel fees, hotel accommodation, food, and laundry was covered by AICF and above that, we were told that we would be given a stipend and a certificate after the tournament ends. What more can one ask for? Participate in the biggest chess event/event to ever happen in India, don't spend a single penny of yours, and even get paid. If this isn't a dream, I don't know what is.
As I reached Chennai station, transportation for Mahabalipuram was available from Jawaharlal Nehru stadium. A bunch of volunteers were present there as well, probably the ones who reached a little early than us, and they guided us to our buses; of course, I didn't know them at that point. A SPOC (special point of contact) was appointed for every hotel (from among the volunteers) and they helped us with our check-ins when we reached our respective hotels. It was impressive to me; we were treated as if we were celebrities. Our every need was being catered to and it was more than I expected.
All of our hotels were 2-3 stars and the food was super delicious at our hotel. The rooms were clean and the staff was extra friendly and caring. Even if we had any grievance, it was being catered to immediately. The next day, after we were all settled in our hotels, our training started. I stayed in Mammala Heritage which was the closest to the venue, so the volunteers from our hotel went to the venue for the training the next day. Buses were available to drop us back and forth from the hotel.
The training was nothing like I thought it would be. The first two days we were made to do ice-breaking exercises and fun activities which not only helped us all bond but also made us understand some really critical hospitality tricks.
We were separated into groups of four and made to compete against each other in some very interesting games. These activities taught us the importance of team building, trusting our leader and one another, active listening, and some other very important qualities. More than that, they helped us all bond, all the shyness and unfamiliarity that bred among us a moment ago was now gone. We all came from different parts of India, having different backgrounds, cultures, religions, languages, and beliefs, and we bonded with each other over our love for chess. All the other differences did not seem to matter. In the end, everyone had a single aim- to help India conduct this event in the best possible way.
Our trainers were just the best. Engaging a group of young people for approximately 4-5 hours is not an easy task, but they did it with ease. We all just met a few hours ago and already we had a feeling of companionship and bond amongst ourselves. Last night, everyone ate alone and it felt lonely but we all knew that that was going to change from now on and it did. From strangers, we became a family. A family that ate together, worked together, and stood by each other in all the ups and downs. Some of us made friends and bonds that are going to stay with us for a lifetime and it all started here.
After our first day of training ended, we went to explore the venue. The work was still in progress and it was unfinished but we were in awe of the progress that have been made and the efforts that were being put into it.
A few days from now, the world's greatest players would be present here to play their matches and history would be written. What a privilege it was to watch all of it unfold before our eyes, the halls were undone, plenty of work still left incomplete, and the boards were not set but it was as if it was all ready to welcome the world.
How did the volunteers unwind after a hectic day of training? CHESS! Well, that is what brought us together. It amazed me the kind of people who were here as volunteers; there were arbiters, players, international masters, ex-players and even trainers. All in all, a mixed bag of people who all loved chess. After a hectic day of work, a friendly game of chess at every nook and corner was a common sight at our hotel.
We had one more day of training and that day we were all in our official uniforms. After day 2 ended, we were given our training certificates and we all assembled in hall 2 where we were briefed by Bharat Singh Chauhan and Prateek Mohan. The next day we were assigned our respective teams and further on, we were trained for our specific tasks.
The opening ceremony and the accommodation team
I was in the accommodation team and two female volunteers along with one male volunteer were assigned to each hotel, where the countries were staying. Me and my partner, Khushi, were assigned Four Points Sheraton OMR, and the teams that were staying in our hotel were - Comoros islands, British Virgin Islands, Mauritania, Ireland, Scotland, Jersey, Cyprus, Algeria, and Palau. Our job entailed everything from checking in the guest in our official database to checking them out. Everything and anything that the guest need, it was our responsibility to take care of it. It was our job to make sure that they had a pleasant and comfortable stay in the hotels.

We went to the opening ceremony, and buses were available from every hotel for every player, along with a few transport volunteers whose job was to make sure that the players reach their destination and then back to their hotels safely, without any problems.
The opening ceremony was beautiful and unlike any other I'd ever seen. There were various dance performances and a march for every country followed by speeches by the Chief Minister, Prime Minister, and others.
The Venue
After a few hectic days were over, we went to the venue on alternate days and watched the magic unfold. I mean, this is what all of us came for, to watch the best in the field doing what they do best. To witness these top players so closely was like a dream come true. There were volunteers assigned to every nook and corner and there were people in the cloakroom, who took care of players' belongings. There were volunteers in food and beverage, there were volunteers in fair play, and there were venue volunteers who made sure everything went smoothly in the playing hall. Top players and teams like India were even provided with their special spoc volunteers who escorted them personally and took care of them all the while.
There were different areas like activity areas, recreational areas, and food courts where players, spectators, and everyone else could unwind and relax. There were beautiful setups on the ground where people could take pictures and just have a good time.
What was more spectacular was the number of people who would turn up every day to watch the matches. There were volunteers who were in charge of spectator tickets and every day a large number of people showed up to witness the magic unfold in the city of Chennai. I interacted with a few families that stayed in our hotel and everyone was aware of this chess olympiad, this shows how well the government promoted this event. We could see hoardings and murals all over the city. There was a huge food court where everyone could sit, relax and eat, and it was just beautifully made. Players would sometime just come after their matches and relax.
How would players and volunteers unwind after a long day? They play some chess! Well, that's the beauty of it all, all of us were bound by this common thread - our love for chess. So when a volunteer requested a game of chess with the players of Ireland after their match, they did not refuse and it was a good match indeed.
Naveen (volunteer) was a piece up against Alice of Ireland, and it was all going well until he blundered an entire rook and lost. Ahh, what a loss! For the second and third match Naveen paired with the top two boards or Ireland's women's team and lost both, but not without a fight. It was all fun and after this, we played multi-player chess with me, Naveen, and Lara in one team with the white pieces and AK, Trisha, and Alice with the black pieces. In a complicated rook endgame which was totally winning for us, we won with a little help from the men's team of Ireland.
There was an EXPO area in the venue where the Queen's pavilion, souvenir shop, ChessBase India, Chessable, chesskid, and many other shops were set up where thousands of people would come daily to buy stuff, interact with one another and play chess!
The people we met and the bonds we made
Staying in the same place for two weeks, we never imagined we would create such a bond with some of the players and the team. They all might seem so unapproachable from a distant view, but all of them are just humans at the end of the day and it was evident by the time the tournament ended.
The first few days of the tournament were very hectic for all volunteers, most of us were sleeping for like 3-4 hours every day. But all of it didn't seem to matter when we saw how well the tournament was going. We all had one goal in mind, to make this olympiad the best one ever. We all wanted to help India conduct this mega event in the best way possible and for that, everyone gave their 120 percent.
The players embraced the Indian culture with open arms; they explored the city, experimented, and were eager to know everything about our traditions and cultures.
The hotel staff, police personnel, and everyone were so helpful and cooperative. They all did their part best with a smile on their faces. They even celebrated the birthdays of the players and left no stone unturned to make sure they had the best time staying here. Each and every day a variety of different delicious dishes and desserts were presented before us to enjoy.
On the last day after the closing ceremony, we played games with the team of Ireland and stayed up all night to see them off. Such were the bonds we created. The players of each team were extremely kind and friendly. They didn't have to do it but they went beyond measures to express their gratitude to us, some even gave us parting gifts. We made bonds and memories which we will cherish for a lifetime. Never in my wildest dreams did I imagine we would see Conor E' Murphy, the find of the olympiad who showed unbelievable performance; play dumb charades with us. Not only did we receive them warmly, we even bid them farewell, teary-eyed, with the hope of seeing them again in the distant future.
We started our journey, as strangers, as mere volunteers, whose work was to assist and guide the players whenever they needed it. Some days during the check-ins, we stayed up the whole night, some days we were available at 12 am. When the Serbian team suddenly decided that they want to change their hotel, we arranged transportation for them and stayed there till 3 in the morning till all of them went away safely. We did it all with a smile on our faces because that's what we came here for, but what we didn't expect was the warmth that we received by the end of it all. We received love and respect that we didn't expect. What matters is the bond we made and the respect we gave and received.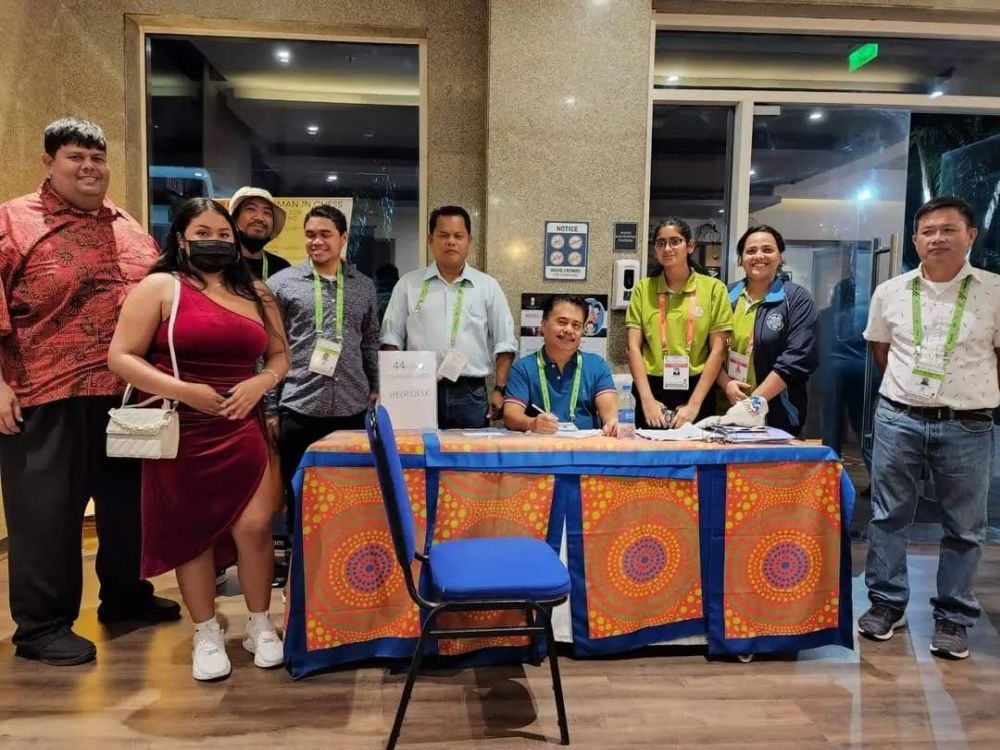 The people of Comoros Islands didn't even understand English, and we communicated with them through google Translate but they were some of the nicest people I met. They were so accepting of our culture and one of them even told us that she watched many Bollywood movies and we watched her grooving to SRK's songs. That's the beauty of it all, I don't think I could have witnessed this anywhere else - to see the players drop down their guards, step down from their pedestal of being "players" and make us realize that they are just other human beings who love chess, just like us.
The friends we made
I don't think any of us (volunteers) came here with the intention of making friends, but in the process we did; we made some pretty strong bonds. We ate together every day, worked together, and even after a hectic day found some time to unwind and chill together. When the accommodation volunteers from the hotel were about to leave to go to our respectively assigned hotels (after 4 days of staying together), our friends gave us farewell by cutting a cake and celebrating with us. We were so touched! We danced together to all sorts of songs and learned each other's dance steps.
The journey was not easy at all, an event for which countries get a buffer of four years to conduct, India pulled it off in just four months. So there are bound to be some glitches and problems here and there, but overall with an effective team and a very efficient leader, Prateek Mohan we pulled it off with ease. All our problems were listened to and taken care of. Prateek sir even visited our respective hotels one day, to make sure we were all doing well and if we had any problems. The problems were usually solved as soon as possible. All the money which the volunteers spent extra was also reimbursed. Not to mention the countless people who worked behind the scenes; hotel staff, police staff, medical team, yoga team, the people at the venue, and many more who we didn't even know, but without them, an event of such magnitude could not have been possible. I want to thank them. I went to this olympiad with nothing; no experience and no expectations and came out with so much- such beautiful bonds and friendships, an unparalleled experience, and a lifetime of memories.
And at last how not to mention the beauty Chennai city holds. The sunsets were so pretty, the beaches so magnanimous yet beautiful and the people so kind and accepting. Their faces beamed with pride whenever we told them that we were participating in the olympiad. It didn't matter if they understood the game or not, they were just happy and proud that their city was hosting such a big event.
It feels surreal when you think about it, it is often said that we meet people in our lives for a specific reason at a specific time. A few years ago, I wasn't even aware of who Magnus Carlsen was. Now here I was, participating in an event that will not happen in India for the next 10-20 years already, watching the best in the field, right before my eyes doing what they do best. For someone who was going through a very tough phase in life, this event gave me hope. It showed me that the best can happen to you, if only you hold on and keep striving for it. All your dreams can come true.
To think that people from different parts of the world, who have different lives and different stories, all assembled together in one place for this one thing that binds us all. We feel like we all are so different and yet, moments like these remind us that we are all the same, just different versions. I even met people who I had been talking to for a long time, but never had the privilege to meet. One of them was Ashwin Subramanian. I had been talking to him for over a year, because of our love for chess and photography and even though I couldn't interact with him much or take a photo, he later told me that he was happy to see me as a volunteer there. I met so many players; Amruta, Soumya, Vidit, David Anton, Fionna, Raunak, Surya sir, Ramesh sir, Nihal Sarin and so many more. Where else could I have such an experience? Definitely a dream..!
Some memories from the Olympiad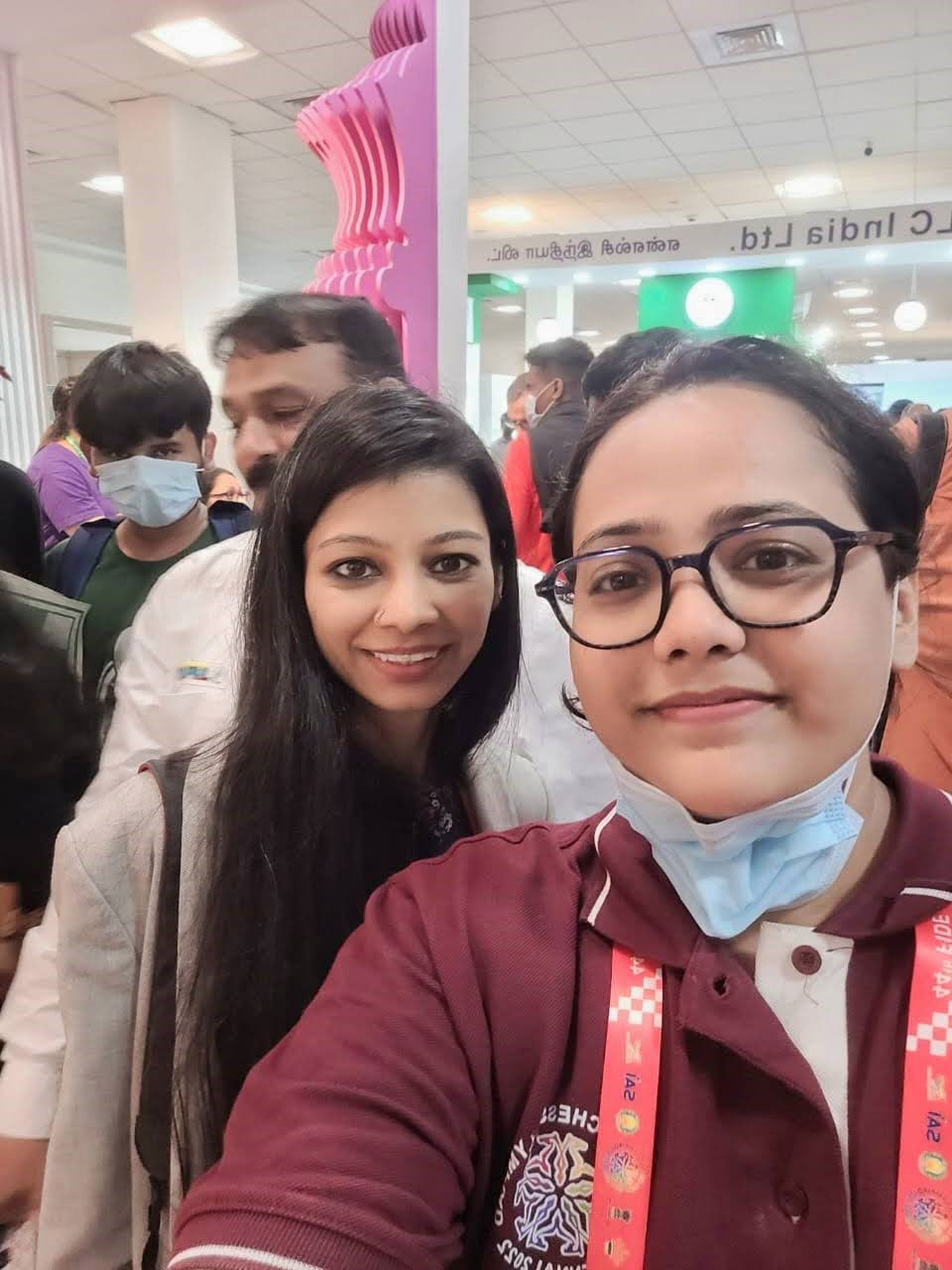 About the Author
Sneha Tiwari
From the city of nawabs and a graduate in mechanical engineering, I think "jack of all trades" is what would describe me the best. Interested in a lot of fields such as photography, chess, writing, reading, philosophy, psychology, gardening, and many others, I am someone who believes that constant learning is the way to grow. Having loved chess all my life, I have recently started studying it and want to play at least one professional tournament in my life. Chess and photography are my two loves and I would like to combine them and convert them into a profession someday.
---