44th Chess Olympiad: A recap through the lens of an Indian Chess fan - An experience beyond surreal
A lot has been talked about the first Chess Olympiad to take place in India which concluded just over two months ago, with praise from all quarters of the global chess fraternity. Abundant content on the games, drama, playing hall and so on has been brought to you by various chess reporters, media and streamers. However, how would it have felt to experience the moments in person, at least for the final few days of the mega event and see the Indian teams enter the podium, on top of all the drama and nail-biting finishes? Yours truly makes an attempt to share some of the key highlights from the experience being at ground zero for the last four rounds and the closing ceremony of the Chennai Olympiad. All photos in this article are by Nitin M Pai
The build-up – making it to Mahabalipuram at any cost
When the news of the Olympiad bid going to India first came up in my social media, I knew it was a big moment for Indian chess and a big opportunity for the federation to showcase its vast experience of hosting mega events and to show the world our deep love for the game.
However, I had little idea that from the perspective of an amateur chess player and ardent chess fan, the experience of viewing the games this time would be tremendously different from the previous editions - yes there were soon speculations of spectators being allowed for the first time in the Chess Olympiad.
It was in the month of April that I woke up one day to all my chess whatsapp groups and social media buzzing with the news of the AICF recruiting a massive number of volunteers for the olympiad, through a formal selection process. I opened the link for the same with lots of excitement, alas I was disappointed with the strict requirement that the volunteers had to spend a total of 20 days at the venue, well before and after the actual dates of the event. While I knew I would easily clear the selection process and possibly also be a team leader of a certain sub-team given my experience of playing multiple roles in chess for over a decade and also my degree in management from India's premium business school, taking leave from my consulting job for 20 days was a no-go - I could have done at most a week and clubbed some public holidays with that to volunteer for ten days at most.
Nevertheless I applied hoping I would be given some flexibility and mentioned my schedule and availability in my application. However, the following month when I started hearing about other applicants receiving calls while I had not, I pressed the panic button and leveraged every senior contact I had from Indian chess to get myself an interview. One such senior member did get the head of the volunteer program to give me a call, however he explained to me that no concession could be given to any volunteer on the 20 days of duty and I could get back to him if I managed to get the leaves for the requisite period. Looking back I appreciate their stance, given the criticality and the scale of the event, even I would prefer to have a steady team of volunteers if I were to head such a large program.
Sourabh also gave a detailed interview about his experience with ChessBase India, and was also very helpful to me in getting around the venue initially. The volunteers played a very critical role in the success of the olympiad and were praised by several renowned players on their social media.
Closer to the Olympiad I started looking at alternative ways of being present at the event, I even thought of simply working from Mahabalipuram thanks to the reasonable work from home flexibility provided by my previous organization. However, I turned unlucky yet again as I needed to be in Delhi for an urgent requirement by a client and therefore could only fly to Mahabalipuram for the final four rounds of the event.

While options of buying a spectator pass and watching the event was always there, I reached out to few more people, not giving up hope of getting a super close view of a once in a lifetime opportunity, While my new chess friend, Naveen Kartikeyan who is also the India partner of Square Off, arranged a partner pass for me for my four days at the venue, Shahid and Sagar agreed to have me onboard as a volunteer for the ChessBase India team, given my association with them in the past. As I grabbed my partner pass and hurried to the venue, one hour before round eight, I bumped into Sagar backstage and he waved his magic wand and poof, my partner pass was now an all access media pass!
Naveen helped me with an initial partner pass for venue access. Naveen also runs his own business of premium chess sets and you can reach out to him for beautiful wooden chess sets as the one below:
Initial moments stepping into the venue – when legends come to life
As I was waiting backstage for the ChessBase India team to assign me some responsibilities for the day, the unthinkable happened, Judit Polgar in all her glory was walking up the stage into the commentary room. While I still had my phone camera with me at that point (without a SIM of course), and could have easily asked her for a selfie, my heart and brain both froze and all I could do was watch her pass by, in utter admiration. Later, a couple of my friends, Niraj Saripalli and Shubham Kumthekar too shared the same experience upon seeing Judit for the first time.
Besides Judit, several other veterans such as Eugene Torre, Alexei Shirov, Ivan Sokolov, Peter Heine Nielsen, Irina Krush, Pia Cramling, Krishnan Sasikiran, Koneru Humpy were like legends whose names I had been familiarized through the abundant chess literature and ChessBase articles consumed during my early days in Chess, while the current generation of players right from Carlsen, Caruana, Wesley So, Aronian, Anna and Mariya Muzychuk, Harikrishna, Vidit, Anish, etc. were like superheroes in a Marvel movie to me. And seeing them all unfold before me in person was just unimaginable - an experience beyond surreal!
Later while I was greeting senior officials such as Anantharam sir and they asked me how I was feeling - I could only control all of my emotions and say - completely overwhelmed...
Seeing Magnus real was a dream come true and the press and spectators had their eyes locked onto him and his every small action…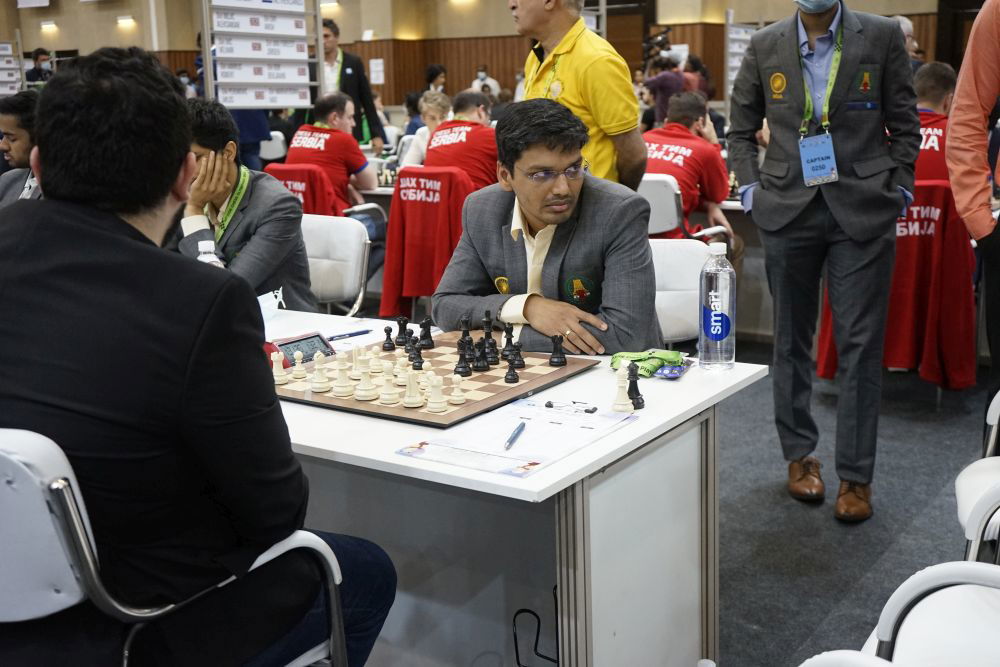 A stroll through the venue and the expo: a celebration of chess and when the principle of one global family becomes reality
While the first hall itself provided a lot of entertainment and moments to capture as the players arrived to take their seats and made their initial moves swiftly on the board in the first 30-60 mins, I preferred to watch the next two hours of the game outside the venue where a giant screen was set up, zooming into the players' boards and faces with official commentary and also sometimes by myself at the ChessBase india stall in the expo area on my phone, occasionally with engine analysis to help me identify who among the Indian players had a chance of winning in that round.
The crowd here increased as the round progressed, particularly as the games on the Indian board went on for a nail-biting finish.
It was nice to help out with the store operations for a couple of days.
The atmosphere at both these place, the open field outside the venue and the expo was simply electrifying - chess fans from all over the world - trying to get pictures with players who finished early and also on the edge of their seats during crucial positions on their favorite players' boards, people from in and around Chennai coming to the venue just to have a picnic with their families, and several VIPs and Government officials strolling around and taking photos with the mascot, Thambi, all to be a part of this chess extravaganza. The expo had an even more intimate chess crowd, people from different nationalities, some even players from participating teams playing blitz chess in turns, various stalls such as those by FIDE dedicated to its Women Champions and one on its CSR initiatives, those by popular chess platforms such as chess24, chess.com and our very own ChessBase India, and also other stores selling various Chess merchandise such as Square Off.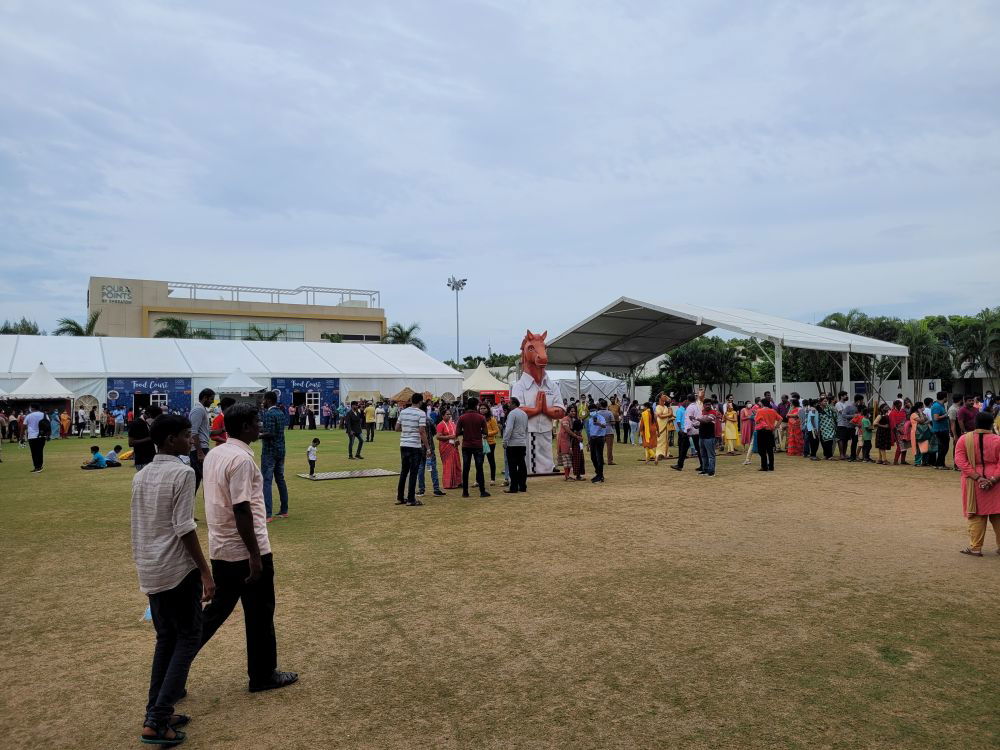 While one could not easily count the different number of nationalities of people present at the expo and the languages they spoke, they were all able to seamlessly communicate with each other, through the language of chess - like one family! (A very similar experience was shared by several Indian coaches who were working with various new chess playing nations, who had players relatively uncomfortable with English and yet the trainers were able to communicate well through the language of Chess)
I have several of my acquaintances going to Qatar for the upcoming football World Cup and while I do not follow football, I don't imagine their experience being drastically different from what I experienced at the Chess Olympiad.
Rooting for team India – Gukesh and the other young guns, role models not only in chess but also for essential life skills of discipline and humility
As I landed in Chennai before round 8, a big mouth-watering clash had been lined up before me, India 2 taking on the mighty USA, and to be honest I wasn't placing my bets on the former making an upset but was confident of a draw and was still largely rooting for the big boys of India 1 to clinch a medal.
However, as the Indian teenagers took their seats and reflected confidence in their body language, with absolutely no fear or special regards for the world's elite, I knew I was about to witness something special. Gukesh upset the mighty Caruana and Raunak turned out to be a big match player, scalping the first 2700+ opponent of his chess career!
From that moment, I switched my bets from India 1 on to India 2, and knew that it was this team that had what it takes to go all the way for gold, which would indeed have been the case if not for the unfortunate incident that occurred against Uzbekistan a couple of rounds later.
Pragg had converted a very difficult endgame while Nihal and Adhiban had drawn their games. Gukesh had had a very comfortable position in the middle game against Nodirbek Abdusattorov and was the favorite to win, however a sequence of moves under time pressure and suddenly his advantage was dwindling. Pragg's opponent, Sindarov, just walked out of the playing hall to the big screen where a lot of spectators including myself were watching the game between Gukesh and Nodirbek. I wanted to make a conversation with Sindarov, probably tell him it happens sometime in sport (while thinking that Gukesh was in full control of his game and would not lose), however decided against making any conversation with him, reminding myself that these were 16 year olds, carrying their nation's hopes on their shoulders. Few moments later, the most unthinkable happened, Gukesh hung a piece and Abdusattarov saved the match for his team! Reaffirming my belief that chess matches could end with the same level of excitement with nail biting finishes like recent India-Pakistan T20 cricket matches.
Could these two face off against each other in a world championship match within five years?
The boys from India played very well in the following game to beat Germany - great opening prep by Raunak, precise play by Nihal, to ensure the India 2 team went on to win the bronze medal. The Indian women 1 team were the favorite to win gold, however had an extremely bad day and were upset by the US women. Nevertheless, it was a historic bronze medal for the Indian Women as well.
I had the privilege of congratulating all the medal winners backstage right after, including my friends/acquaintances Adhiban and R B Ramesh sir who now held the distinction of winning the olympiad team medal for India twice.
For the limited time watching the young Indian players - Arjun, Gukesh, Nihal, Pragg and Raunak, I was extremely in awe of the discipline and focus these guys had while playing the rounds - some of them didn't even get up from their boards during the games for washroom breaks!
I was also moved by the simplicity and humility of these boys, who are expected to rule the chess world for the decades to come. They were quite approachable to talk to after their games, entertained photographs with fans wherever feasible, discussed their games to the extent possible and so on. It is definitely a lesson for some of us to learn from these young champions.
The photo was clicked one day prior to his achieving the 2700 rating for the first time.
His highness of Armenia, can be seen in the background, waiting for an opportunity to congratulate the young champion.
The closing ceremony – a picture perfect finish
While I had missed the grand opening ceremony graced by the prime minister himself on the same day as the opening ceremony of the Commonwealth games, with some comparison between the grandeur of both these functions, I had no idea that the closing ceremony too would be extravagant with so many beautiful performances. I wanted to be there just to see the Indian boys and women receiving their bronze medals, and made my way into the venue along with the ChessBase India team members, with my conversation in close to fluent tamil to the security guards helping my case in getting an entry.
Once the fabulous cultural performances were completed, the dignitaries on the dais shared their well deserved praise for the organizing committee led by Mr. Bharat Singh Chauhan and the TN government led by Chief Minister Stalin. I felt deep respect and gratitude towards both these gentlemen, as someone who was a fan of the game and on occasions had gone out of the way to ensure that chess got its due recognition at relevant forums.
It was also very nice to see Vishy Anand playing a very central role in the ceremony, after taking up his new role of deputy vice president, FIDE
The individual medals were soon awarded followed by the team medals. It was truly emotional to see the Indian players receive their medals, particularly the younger folks whose journeys I had followed very closely, having played against Narayanan, Nihal and Gukesh in tournament games. I was fighting back tears seeing these young lads and ladies carry India flags on their backs, and iconic moments such as Pragg and Vaishali sharing the dais for the bronze medal on their respective boards.
It was indeed a picture perfect finish, even as the Uzbek boys and ladies from Ukraine went up to collect their medals, they had stolen the gold and also our hearts! In the end, Chess was the winner…
What's next? Riding the chess wave and making chess a mass spectator sport with corporate sponsorship
The Tamil Nadu government did a huge service to the chess world, particularly the Indian Chess fraternity by funding the entire 2022 Chess Olympiad. While the first Indian chess olympiad was largely government funded, we hope the next olympiad in India will be largely funded through large corporations, with various channels bidding for the telecast rights.
With India expected to rule the chess world for the decades to come and with Vishy taking a larger administrative role with FIDE (he also played a central role during the closing ceremony in Chennai), this truly seems possible, and we can expect more top level events happening in India, but as chess fans and patrons of the game, we all have our small roles to play!
About the Author
Nitin M Pai is an IIM Ahmedabad and IIT Madras graduate and currently works at a leading Global Management Consulting firm in their Mumbai office, He is a passionate FIDE rated chess player and tries to participate in tournaments during weekends and vacations. He has also written articles for ChessBase India in the past and strives to work towards the popularization of Chess and helping Chess players getting the true recognition they deserve.
---