44th Chess Olympiad 2022 R9: Praggnanandhaa saves the day for India 2
India 2 drew with Azerbaijan in Round 9 of 44th Chess Olympiad. The score was 1-2 in the Azerbaijan's favor when Praggnanandhaa found himself in a must-win situation against Vasif Durarbayli. He managed to beat the Azeri on-demand. Thus, making sure India continues to fight for the gold. India 1 dominated Brazil 3-1, thanks to Arjun Erigaisi and K Sasikiran's wins. In the Women's section, India 1 suffered their first loss of the event against Poland by 2.5-1.5. The unstoppable WIM Oliwia Kiolbasa scored her ninth consecutive win. Uzbekistan is the sole leader 16/18, followed by India 2 and Armenia at 15/18 each in the Open section. The penultimate Round 10 starts today at 3 p.m. IST. Photo: Aditya Sur Roy
Poland gets the better of Indian Women
World no.10 Shakhriyar Mamedyarov halted D Gukesh's dream run. India 1 Women suffered their first loss against Poland 2.5-1.5. Thus, there are four teams Poland, India 1, Kazakhstan and Georgia are in a four-way lead at 15/18 each. They all have lost one match each. Five teams are chasing them at 14/18 each.
Open: India 2 - Azerbaijan: 2-2
D Gukesh's magnificent winning streak was halted by World no.10, Shakhriyar Mamedyarov. Nihal Sarin drew with Rauf Mamedov. Raunak Sadhwani lost to Nijat Abasov after a blunder in the endgame. Thus, Praggnanandhaa found himself in a must-win situation against Vasif Durarbayli.
Praggnanandhaa - Vasif
White was forced to play the unpleasant 48.Qh1 as that was one of the safe squares left for the queen. In time trouble, it went back and forth. Eventually, Vasif made the final mistake and Praggnanandhaa came out on top.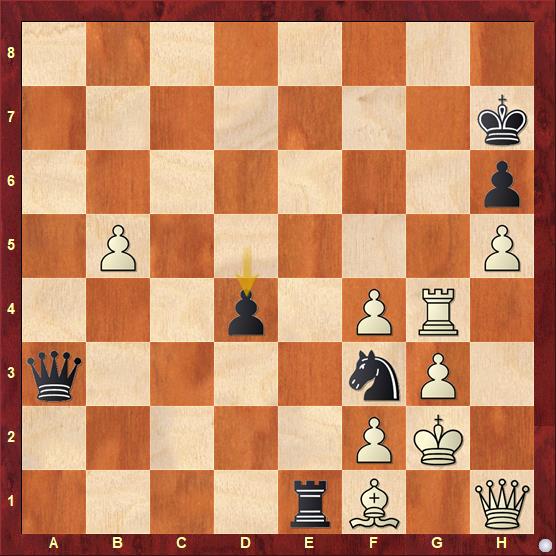 59...d4 created the opportunity White was looking for. 60.Rg6 Qe7 61.Bd3 Qa3 62.Re6+ and it was all over. The resultant Queen ending is completely winning for White.

India 1 - Brazil: 3-1
Arjun Erigaisi and K Sasikiran scored the key victories for the team to ensure India 1 stay in the medal hunt. Harikrishna and Vidit drew their respective games.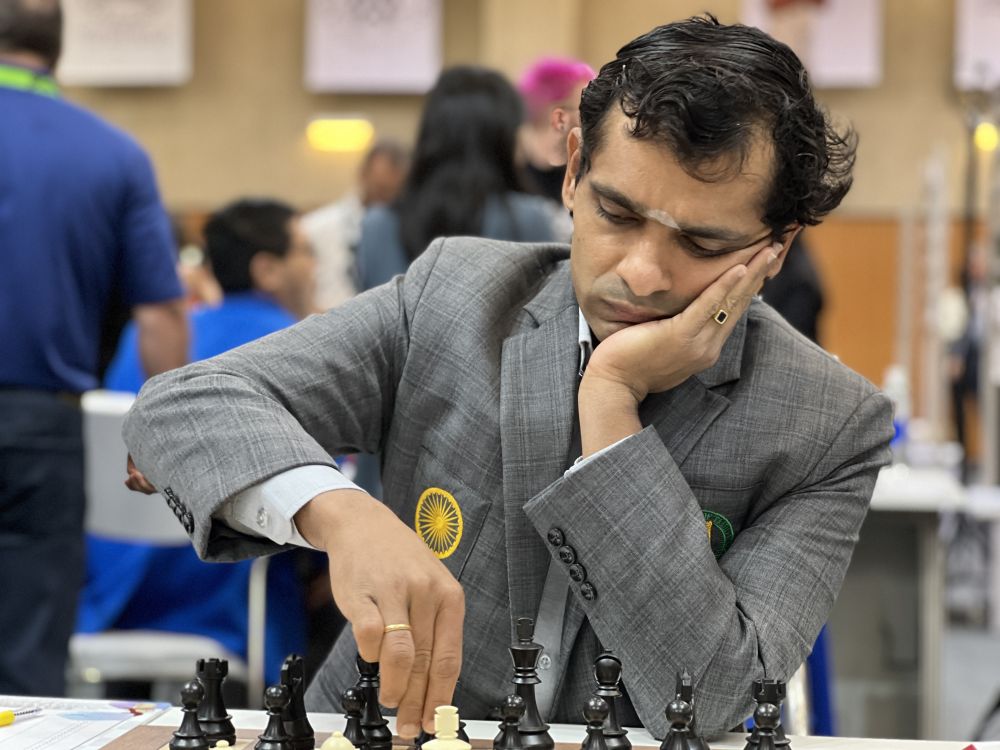 Paraguay - India 3: 1-3
Surya Sekhar Ganguly's tough form continues. He suffered second consecutive and the sole loss of the round against GM Axel Bachmann. Sethuraman S P, Karthikeyan Murali and Abhimanyu Puranik scored a victory each.
Women: Poland - India 1: 2.5-1.5
GM Harika Dronavalli (2517) had a completely winning position against GM Monika Socko (2416).
Harika - Monika
A few moves earlier 21.f5 would have been a good idea for White. However, now 25.g4 is what White needed to play to clear the path for the queen - Qh3, Rxh7 would have been devastating for Black. Now 21.f5 is met with Nxd4. 22.Bxd4 is forced as Black is threatening Nxf5. 22...Qxd4 23.Ng4 Qd2+ 24.Qf2 Qxf2+ 25.Kxf2 gxf5 26.Nf6+ and White's attack fizzles out. Gaining the exchange does not help much as Black has a couple of pawns as a compensation.
Oliwia - Vaishali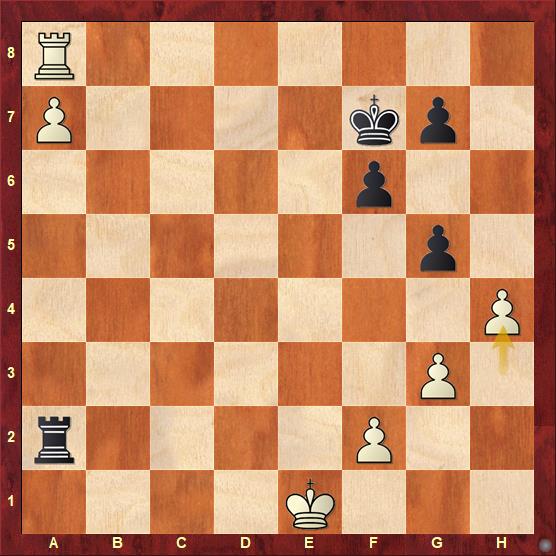 Rook and pawn endings are always critical in a practical game. No matter how much one knows the theory, in time trouble and pressure cooker situation, things become less than obvious. Before playing 57...Kg6, Black needed to trade the pawns 57...gxh4 58.gxh4 to make sure she stays in the game. Unfortunately for Black, 57...Kg6 allowed White to push for a win 58.h5+ Kf7 59.f4 gxf4 60.gxf4 f5 now the king comes to action 61. Kd1 and it plays the crucial role in White earning the full point.

India 2 - Switzerland: 4-0
India 2 scored their second whitewash of the event, against Switzerland. WGM Vantika Agrawal, IM Padmini Rout, WGM Mary Ann Gomes and WGM Divya Deshmukh scored comfortable wins.
Estonia - India 3: 1-3
WGM Nandhidhaa P V and WIM Sahithi Varshini scored the wins. IM Eesha Karavade and WIM Vishwa Vasnawala drew their respective games.
Replay the live stream
Video Gallery
Schedule
Everyday round starts at 3 p.m. IST from 29th July to 8th August 2022. The final round on 9th August starts 10 a.m. IST. Rest day is on 4th August 2022.
Replay Round 9 Open games
Replay Round 9 Women games
Round 9 Open results
No.
SNo
Team
Team
Pts.
MP
Res.
:
Res.
MP
Pts.
Team
Team
SNo
1
11
IND2
India 2 *)
25½
14
2
:
2
13
22
Azerbaijan
AZE
6
2
14
UZB
Uzbekistan
25½
14
3
:
1
15
22
Armenia
ARM
12
3
7
NED
Netherlands
23½
13
2
:
2
13
22
Iran
IRI
13
4
25
GRE
Greece
22
12
1½
:
2½
12
19
United States of America
USA
1
5
2
IND
India
21½
12
3
:
1
12
21
Brazil
BRA
28
6
35
LTU
Lithuania
20
12
2
:
2
12
20½
Germany
GER
9
7
21
TUR
Turkey
23
12
2½
:
1½
12
19
Peru
PER
37
8
40
KAZ
Kazakhstan
21½
12
1
:
3
12
20
Serbia
SRB
23
9
27
DEN
Denmark
22½
11
1
:
3
11
21½
Spain
ESP
4
10
29
AUS
Australia
20½
11
1½
:
2½
11
21½
Ukraine
UKR
8
11
30
ARG
Argentina
23
11
1
:
3
11
20½
England
ENG
10
12
15
FRA
France
21½
11
2½
:
1½
11
20
Cuba
CUB
32
13
18
CZE
Czech Republic
22½
11
3½
:
½
11
20½
Chile
CHI
42
14
19
HUN
Hungary
21
11
3
:
1
11
20½
Slovenia
SLO
41
15
20
ROU
Romania
21
11
1
:
3
11
20½
Moldova
MDA
48
16
22
ISR
Israel
21
11
3½
:
½
11
19½
Andorra
AND
58
17
26
ITA
Italy
21½
11
2½
:
1½
11
22
Ireland
IRL
59
18
46
INA
Indonesia
21½
10
1
:
3
10
20
Norway
NOR
3
19
5
POL
Poland
19
10
3
:
1
10
21
Mongolia
MGL
45
20
47
PAR
Paraguay
21½
10
1
:
3
10
19
India 3
IND
16
Round 10 Open pairings
No.
SNo
Team
Team
Pts.
MP
Res.
:
Res.
MP
Pts.
Team
Team
SNo
1
11
IND2
India 2 *)
27½
15
:
16
28½
Uzbekistan
UZB
14
2
6
AZE
Azerbaijan
24
14
:
15
23
Armenia
ARM
12
3
1
USA
United States of America
21½
14
:
14
25½
Turkey
TUR
21
4
13
IRI
Iran
24
14
:
14
24½
India
IND
2
5
23
SRB
Serbia
23
14
:
14
25½
Netherlands
NED
7
6
4
ESP
Spain
24½
13
:
13
26
Czech Republic
CZE
18
7
19
HUN
Hungary
24
13
:
13
24
Ukraine
UKR
8
8
9
GER
Germany
22½
13
:
13
24½
Israel
ISR
22
9
10
ENG
England
23½
13
:
13
24
Italy
ITA
26
10
15
FRA
France
24
13
:
13
22
Lithuania
LTU
35
11
3
NOR
Norway
23
12
:
13
23½
Moldova
MDA
48
12
5
POL
Poland
22
12
:
12
20½
Sweden
SWE
31
13
16
IND3
India 3
22
12
:
12
21
Slovakia
SVK
34
14
17
CRO
Croatia
23
12
:
12
22½
Kazakhstan
KAZ
40
15
37
PER
Peru
20½
12
:
12
25½
Georgia
GEO
24
16
43
ISL
Iceland
21
12
:
12
23½
Greece
GRE
25
17
28
BRA
Brazil
22
12
:
12
22½
Canada
CAN
44
18
50
BEL
Belgium
19½
11
:
11
22
Romania
ROU
20
19
51
COL
Colombia
25½
11
:
11
23½
Denmark
DEN
27
20
54
ALB
Albania
21
11
:
11
22
Australia
AUS
29
Round 9 Women results
No.
SNo
Team
Team
Pts.
MP
Res.
:
Res.
MP
Pts.
Team
Team
SNo
1
11
IND2
India 2 *)
25½
14
2
:
2
13
22
Azerbaijan
AZE
6
2
14
UZB
Uzbekistan
25½
14
3
:
1
15
22
Armenia
ARM
12
3
7
NED
Netherlands
23½
13
2
:
2
13
22
Iran
IRI
13
4
25
GRE
Greece
22
12
1½
:
2½
12
19
United States of America
USA
1
5
2
IND
India
21½
12
3
:
1
12
21
Brazil
BRA
28
6
35
LTU
Lithuania
20
12
2
:
2
12
20½
Germany
GER
9
7
21
TUR
Turkey
23
12
2½
:
1½
12
19
Peru
PER
37
8
40
KAZ
Kazakhstan
21½
12
1
:
3
12
20
Serbia
SRB
23
9
27
DEN
Denmark
22½
11
1
:
3
11
21½
Spain
ESP
4
10
29
AUS
Australia
20½
11
1½
:
2½
11
21½
Ukraine
UKR
8
11
30
ARG
Argentina
23
11
1
:
3
11
20½
England
ENG
10
12
15
FRA
France
21½
11
2½
:
1½
11
20
Cuba
CUB
32
13
18
CZE
Czech Republic
22½
11
3½
:
½
11
20½
Chile
CHI
42
14
19
HUN
Hungary
21
11
3
:
1
11
20½
Slovenia
SLO
41
15
20
ROU
Romania
21
11
1
:
3
11
20½
Moldova
MDA
48
16
22
ISR
Israel
21
11
3½
:
½
11
19½
Andorra
AND
58
17
26
ITA
Italy
21½
11
2½
:
1½
11
22
Ireland
IRL
59
18
46
INA
Indonesia
21½
10
1
:
3
10
20
Norway
NOR
3
19
5
POL
Poland
19
10
3
:
1
10
21
Mongolia
MGL
45
20
47
PAR
Paraguay
21½
10
1
:
3
10
19
India 3
IND
16
Round 10 Women pairings
No.
SNo
Team
Team
Pts.
MP
Res.
:
Res.
MP
Pts.
Team
Team
SNo
1
11
IND2
India 2 *)
27½
15
:
16
28½
Uzbekistan
UZB
14
2
6
AZE
Azerbaijan
24
14
:
15
23
Armenia
ARM
12
3
1
USA
United States of America
21½
14
:
14
25½
Turkey
TUR
21
4
13
IRI
Iran
24
14
:
14
24½
India
IND
2
5
23
SRB
Serbia
23
14
:
14
25½
Netherlands
NED
7
6
4
ESP
Spain
24½
13
:
13
26
Czech Republic
CZE
18
7
19
HUN
Hungary
24
13
:
13
24
Ukraine
UKR
8
8
9
GER
Germany
22½
13
:
13
24½
Israel
ISR
22
9
10
ENG
England
23½
13
:
13
24
Italy
ITA
26
10
15
FRA
France
24
13
:
13
22
Lithuania
LTU
35
11
3
NOR
Norway
23
12
:
13
23½
Moldova
MDA
48
12
5
POL
Poland
22
12
:
12
20½
Sweden
SWE
31
13
16
IND3
India 3
22
12
:
12
21
Slovakia
SVK
34
14
17
CRO
Croatia
23
12
:
12
22½
Kazakhstan
KAZ
40
15
37
PER
Peru
20½
12
:
12
25½
Georgia
GEO
24
16
43
ISL
Iceland
21
12
:
12
23½
Greece
GRE
25
17
28
BRA
Brazil
22
12
:
12
22½
Canada
CAN
44
18
50
BEL
Belgium
19½
11
:
11
22
Romania
ROU
20
19
51
COL
Colombia
25½
11
:
11
23½
Denmark
DEN
27
20
54
ALB
Albania
21
11
:
11
22
Australia
AUS
29
Links
---