Unbeatable Ukraine wins Gold at 44th Chess Olympiad 2022 Women
The Ukraine women's team featured three world champions in their team since 2014. The team comprised of 14th Women's World champion GM Anna Ushenina, 15th Mariya Muzychuk, one-time World Rapid and two-time World Blitz champion, GM Anna Muzychuk. Ushenina is the only player who was also part of 37th Turin Olympiad, Gold medal winning team Ukraine. She is also the only one of the team, who remained unbeaten in the entire event. Ever since Anna Muzychuk's return to the Ukraine team in 2014, they won have a medal in each Olympiad. Since the Russia invaded Ukraine in February this year, all of them have persevered through difficult and uncertain times. Yet, they managed to remain unbeaten and clinch an important Gold in these trying times. Photo: FIDE/Lennart Ootes
The Poetic Finish
The better part of the world was fully behind team Ukraine in this event. The reasons were obvious, none of them had to endure such unfortunate events for over five months. All of them lost more than one can fathom. However, the will to fight for the right reasons, lives on. It is certainly difficult for them to focus on chess when they know their families are still stuck in their homeland. Yet they managed to do the tough task, win Gold. Just like their never-give-up spirit, individually they might have lost a few games but collectively they remained strong and indomitable. This triumph is certainly going to bring joy to every Ukrainian, be them a chess player or not.
Gold medalist in Women: Ukraine 18/22
There was no doubt that Ukraine was one of the favorites to win the Gold along with India 1 and Georgia. The most important part was whether they will be able to perform their best considering the unwarranted tough times they had to go through. After starting with four wins, they drew the next two rounds. They won the seventh round, drew eighth and ninth round. The win against Germany in the penultimate round, followed by Poland in the last, combining with USA beating India 1, worked things out in their favor. Georgia's victory over Azerbaijan in the final round did not make a difference, as Ukraine had better tie-breaks.
Mariya - Alina
The only safe square for the black king was g7. Both Ke8 and Kg8 loses for Black. The game continued 27...Kg8 28.Qe7 Qf2 29.Ka1 Qg2 30.e6 and White won the game in another five moves. Mariya picked up the first win for the team.
Ushenina - Oliwia
The above rook ending is a draw. However, the then undefeated WIM Oliwia Kiolbasa (POL, 2376) suffered her sole loss of the event after she played 56...g4. It obviously did not reduce her chances of winning the individual Gold, it just allowed her opponent GM Anna Ushenina to push for an important win which earned her an individual Silver and a Gold for the team. Although she needed only a half point to win the match, a win to end the event is certainly sweeter.
Board prize winners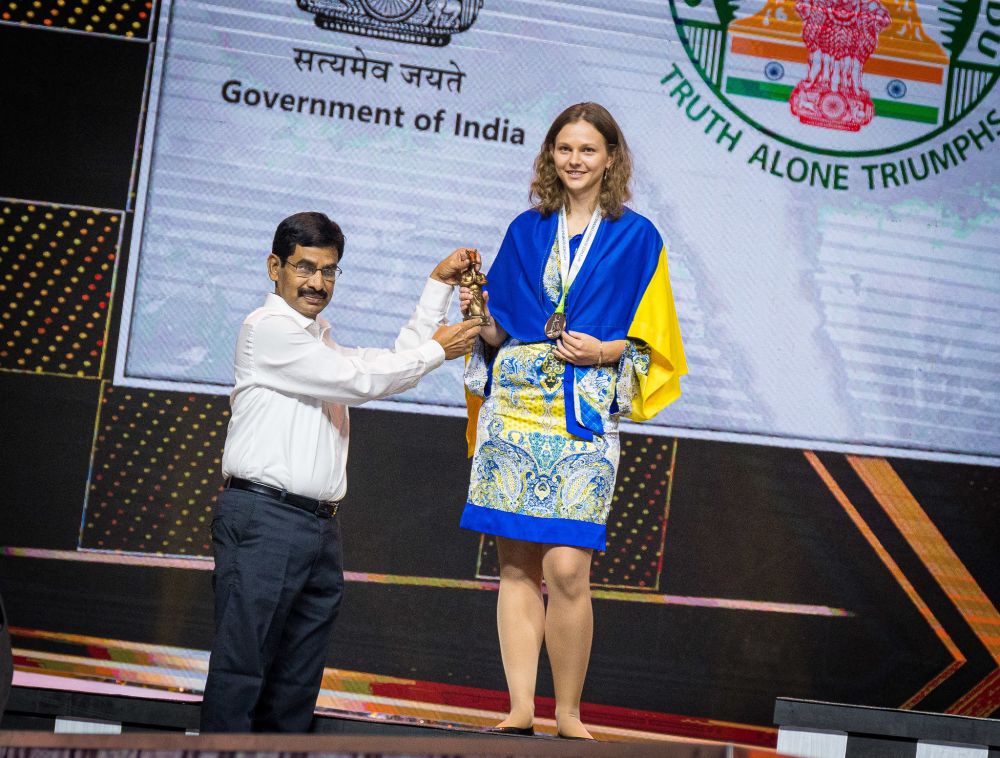 Only Women section winners are mentioned here. Open section report can be found here.
Highlights
▪ 10th seeded Kazakhstan finished fifth scoring 17/22. Reigning World Blitz Women champion, IM Bibisara Assaubayeva remained undefeated 8/11.
▪ 11th seeded India 2 secured eighth place. The top scorer of the team, WGM Vantika Agrawal scored her second IM-norm. WGM Mary Ann Gomes remained unbeaten 6.5/9
▪ 15th seeded Bulgaria claimed ninth position.Top scorer of the team, FM Gabriela Antova remained undefeated 8.5/10.
▪ 5th seeded France scored 14/22 to finish 22nd.
▪ 42nd seeded Lithuania was impressive in the Women's section too. They finished at 18th place scoring 15/22.
▪ Pia Cramling won her third individual Gold, 38 years after winning the last one in 1988. She won her first individual Gold medal in 1984. This is also her ninth individual medal at the Chess Olympiads.
Links
---