44th Chess Olympiad 2022 R8: India vanquishes USA, Gukesh now India #2 and World #20
India 2 defeating USA does not come as a surprise. Sure it is a major upset, however one should certainly expect D Gukesh and Raunak Sadhwani beating Fabiano Caruana and Leinier Dominguez-Perez respectively on the biggest stage. The teenagers are on the rise, they are fearless, always ready to take risks and seize their chances. Computer might say Gukesh had a difficult position at one point, but the boy hasn't used computer until a couple of years ago. Nihal Sarin and Praggnanandhaa also drew with the World-Class Levon Aronian and Wesley So. Gabriel Sargissian grinded a drawn endgame to win against Harikrishna. India 1 Women drew with Ukraine to maintain their sole lead 15/16. Round 9 starts today at 3 p.m. IST. Photo: FIDE/Stev Bonhage
Indian Women maintain their sole lead
India 1 Women is a full point ahead of Georgia. They will face Poland in Round 9. Germany lost to Uzbekistan 1.5-2.5. The Uzbeks have a similar line-up as India 2 with only one player over 25-years-old and rest are all born on or after 2002. Lithuania beat Croatia 2.5-1.5. Norway was held to a 2-2 draw by Slovakia. Both India 3 Open and Women lost their respective matches to Peru and Poland.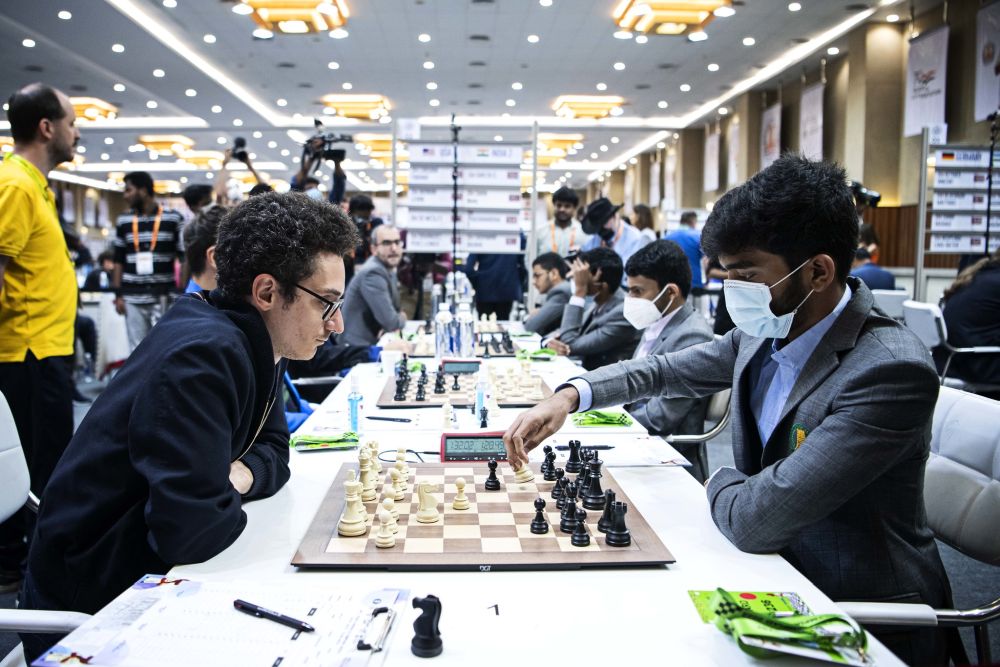 Open: USA - India 2: 1-3
GM D Gukesh (2684) and GM Raunak Sadhwani (2611) scored perhaps their biggest victories of their career so far against former world championship challenger GM Fabiano Caruana (2783) and GM Leinier Dominguez Perez (2754) respectively. GM Nihal Sarin (2651) and GM Praggnanandhaa R (2648) also showed their class as they drew with world no.6 GM Levon Aronian (2775) and world no.7 GM Wesley So (2773).
Caruana - Gukesh
31.Nc5 was a positional mistake which allowed Gukesh to seize his advantage 31...Qd5. 32.Qe2 Rxa3 33.Rd1 Rfa7 34.g4 worsened things further for White hxg4 35.hxg4 Nh6. Although 35...Bxc5 would have been a relatively quicker finish for Black.
Raunak - Leinier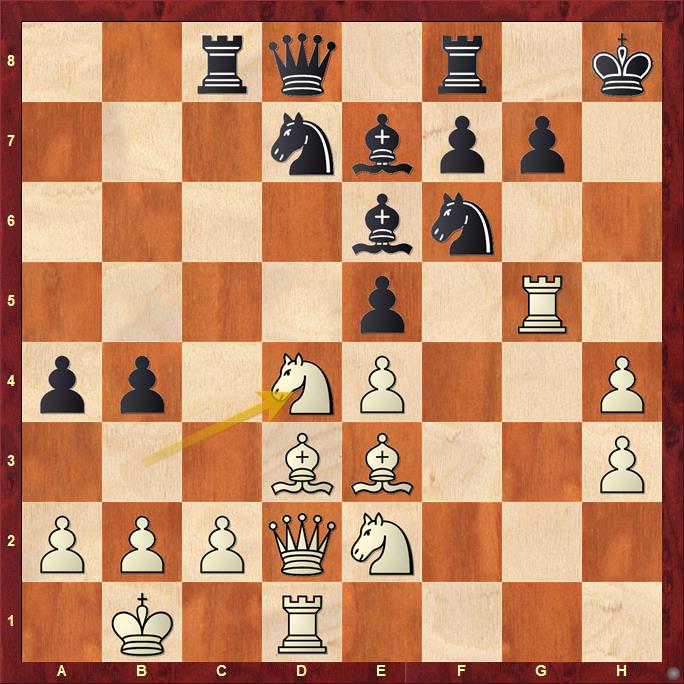 Raunak Sadhwani made a fantastic positional sacrifice 21.Nbd4. The game proceeded 21...exd4 22.Bxd4 Rg8 23.Rdg1 Nf8 24.Bxf6 Bxf6 25.Rh5+ Nh7 26.e5 g6 27.Qh6
Black's kingside is completely crippled. 27...Rg7 28.exf6 Qxf6 29.Rb5 and White went on to win the game after a great sequence of moves.
Armenia - India 1: 1.5-2.5
GM Gabriel Sargissian (2698) grinded a relatively equal endgame against GM Pentala Harikrishna (2720) until the latter made a mistake which cost him the game.
Gabriel - Harikrishna
Sometimes inaction is the best thing to do. If Black doesn't play 44...e5, there is no good way for White to make a progress. Even after 44...e5, it was possible to defend the game. However, it became excruciatingly difficult with the time getting lower by the second.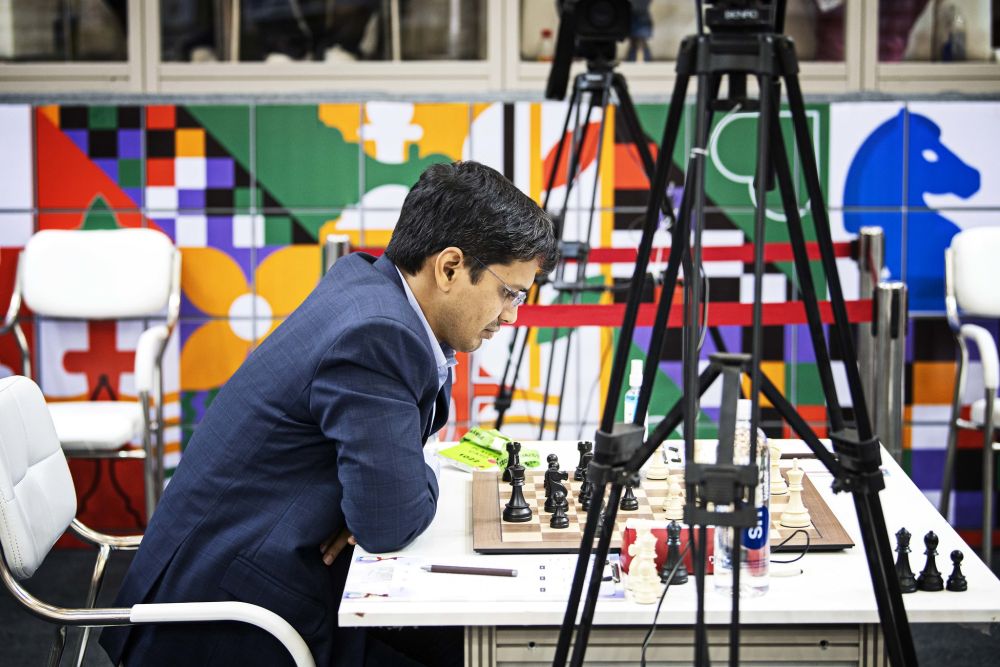 Women: India 1 - Ukraine: 2-2
All four games between India 1 and Ukraine ended in draws.

Croatia - India 2: 0.5-3.5
WGM Vantika Agrawal (2371), IM Padmini Rout (2374) and WGM Divya Deshmukh (2319) scored victories against their lower rated opponents. Only WGM Mary Ann Gomes (2324) was held to a draw by WFM Tihana Ivekovic (2082).
Replay the live stream
Video Gallery
Schedule
Everyday round starts at 3 p.m. IST from 29th July to 8th August 2022. The final round on 9th August starts 10 a.m. IST. Rest day is on 4th August 2022.
Replay Round 8 Open games
Replay Round 8 Women games
Round 8 Open results
No.
SNo
Team
Team
Pts.
MP
Res.
:
Res.
MP
Pts.
Team
Team
SNo
1
12
ARM
Armenia
19½
13
2½
:
1½
12
20
India *)
IND
2
2
1
USA
United States of America
18
12
1
:
3
12
22½
India 2
IND
11
3
9
GER
Germany
19
12
1½
:
2½
12
23
Uzbekistan
UZB
14
4
40
KAZ
Kazakhstan
20
12
1½
:
2½
11
19½
Azerbaijan
AZE
6
5
7
NED
Netherlands
20½
11
3
:
1
11
20
Hungary
HUN
19
6
13
IRI
Iran
19½
11
2½
:
1½
11
20
France
FRA
15
7
8
UKR
Ukraine
19½
10
2
:
2
11
19
Brazil
BRA
28
8
16
IND3
India 3
18
10
1
:
3
10
16
Peru
PER
37
9
35
LTU
Lithuania
17½
10
2½
:
1½
10
19
Croatia
CRO
17
10
41
SLO
Slovenia
18½
10
2
:
2
10
20½
Czech Republic
CZE
18
11
42
CHI
Chile
18½
10
2
:
2
10
19
Romania
ROU
20
12
44
CAN
Canada
17½
10
1
:
3
10
20
Turkey
TUR
21
13
23
SRB
Serbia
17
10
3
:
1
10
17½
Iceland
ISL
43
14
52
PHI
Philippines
18
10
1½
:
2½
10
19½
Greece
GRE
25
15
48
MDA
Moldova
18½
10
2
:
2
10
19½
Italy
ITA
26
16
58
AND
Andorra
17½
10
2
:
2
10
18
Cuba
CUB
32
17
3
NOR
Norway
18
9
2
:
2
9
15½
Slovakia
SVK
34
18
4
ESP
Spain
18
9
3½
:
½
9
18
Egypt
EGY
38
19
39
MNE
Montenegro
19½
9
2
:
2
9
17
Poland
POL
5
20
10
ENG
England
18
9
2½
:
1½
9
15
Belgium
BEL
50
Round 9 Open pairings
No.
SNo
Team
Team
Pts.
MP
Res.
:
Res.
MP
Pts.
Team
Team
SNo
1
11
IND2
India 2 *)
25½
14
:
13
22
Azerbaijan
AZE
6
2
14
UZB
Uzbekistan
25½
14
:
15
22
Armenia
ARM
12
3
7
NED
Netherlands
23½
13
:
13
22
Iran
IRI
13
4
25
GRE
Greece
22
12
:
12
19
United States of America
USA
1
5
2
IND
India
21½
12
:
12
21
Brazil
BRA
28
6
35
LTU
Lithuania
20
12
:
12
20½
Germany
GER
9
7
21
TUR
Turkey
23
12
:
12
19
Peru
PER
37
8
40
KAZ
Kazakhstan
21½
12
:
12
20
Serbia
SRB
23
9
27
DEN
Denmark
22½
11
:
11
21½
Spain
ESP
4
10
29
AUS
Australia
20½
11
:
11
21½
Ukraine
UKR
8
11
30
ARG
Argentina
23
11
:
11
20½
England
ENG
10
12
15
FRA
France
21½
11
:
11
20
Cuba
CUB
32
13
18
CZE
Czech Republic
22½
11
:
11
20½
Chile
CHI
42
14
19
HUN
Hungary
21
11
:
11
20½
Slovenia
SLO
41
15
20
ROU
Romania
21
11
:
11
20½
Moldova
MDA
48
16
22
ISR
Israel
21
11
:
11
19½
Andorra
AND
58
17
26
ITA
Italy
21½
11
:
11
22
Ireland
IRL
59
18
46
INA
Indonesia
21½
10
:
10
20
Norway
NOR
3
19
5
POL
Poland
19
10
:
10
21
Mongolia
MGL
45
20
47
PAR
Paraguay
21½
10
:
10
19
India 3
IND
16
Round 8 Women results
No.
SNo
Team
Team
Pts.
MP
Res.
:
Res.
MP
Pts.
Team
Team
SNo
1
1
IND
India *)
21
14
2
:
2
12
21
Ukraine
UKR
2
2
3
GEO
Georgia
18½
12
3½
:
½
12
22½
Armenia
ARM
9
3
16
IND3
India 3
18½
11
1
:
3
11
21½
Poland
POL
4
4
20
ROU
Romania
18
11
2
:
2
11
20
Azerbaijan
AZE
6
5
10
KAZ
Kazakhstan
18½
11
3½
:
½
11
17
Slovakia
SVK
22
6
15
BUL
Bulgaria
20½
11
3
:
1
11
20½
Greece
GRE
27
7
28
MGL
Mongolia
20
11
2½
:
1½
10
18½
Hungary
HUN
12
8
7
USA
United States of America
20
10
2
:
2
10
17½
Czech Republic
CZE
23
9
24
VIE
Vietnam
17½
10
1½
:
2½
10
19
Germany
GER
8
10
13
ESP
Spain
21
10
2½
:
1½
10
18½
Italy
ITA
25
11
17
NED
Netherlands
17
10
2½
:
1½
10
19½
Peru
PER
31
12
18
SRB
Serbia
17
10
1½
:
2½
10
21
Indonesia
INA
32
13
34
SWE
Sweden
19½
10
2½
:
1½
10
18½
Israel
ISR
19
14
38
IRI
Iran
19
10
1½
:
2½
10
17½
England
ENG
21
15
43
CRO
Croatia
16½
10
½
:
3½
9
17½
India 2
IND2
11
16
36
BRA
Brazil
17½
9
1½
:
2½
9
18
France
FRA
5
17
14
CUB
Cuba
16
9
3½
:
½
9
17½
Austria
AUT
37
18
26
SLO
Slovenia
20
9
1½
:
2½
9
18½
Philippines
PHI
39
19
29
SUI
Switzerland
17
9
3
:
1
9
18½
Norway
NOR
48
20
30
EST
Estonia
17½
9
2½
:
1½
9
14½
Latvia
LAT
50
Round 9 Women pairings
No.
SNo
Team
Team
Pts.
MP
Res.
:
Res.
MP
Pts.
Team
Team
SNo
1
4
POL
Poland
24½
13
:
15
23
India *)
IND
1
2
2
UKR
Ukraine
23
13
:
14
22
Georgia
GEO
3
3
15
BUL
Bulgaria
23½
13
:
13
22
Kazakhstan
KAZ
10
4
6
AZE
Azerbaijan
22
12
:
13
22½
Mongolia
MGL
28
5
8
GER
Germany
21½
12
:
12
20
England
ENG
21
6
9
ARM
Armenia
23
12
:
12
20
Romania
ROU
20
7
32
INA
Indonesia
23½
12
:
12
23½
Spain
ESP
13
8
34
SWE
Sweden
22
12
:
12
19½
Netherlands
NED
17
9
22
SVK
Slovakia
17½
11
:
11
20½
France
FRA
5
10
27
GRE
Greece
21½
11
:
11
22
United States of America
USA
7
11
11
IND2
India 2
21
11
:
11
20
Switzerland
SUI
29
12
23
CZE
Czech Republic
19½
11
:
11
19½
Cuba
CUB
14
13
30
EST
Estonia
20
11
:
11
19½
India 3
IND3
16
14
12
HUN
Hungary
20
10
:
11
21
Philippines
PHI
39
15
45
FIN
Finland
18
10
:
10
18½
Serbia
SRB
18
16
19
ISR
Israel
20
10
:
10
20½
Uzbekistan
UZB
46
17
49
BEL
Belgium
20
10
:
10
19
Vietnam
VIE
24
18
25
ITA
Italy
20
10
:
10
18
Malaysia
MAS
52
19
31
PER
Peru
21
10
:
10
17
Mexico
MEX
54
20
58
VEN
Venezuela
20
10
:
10
20½
Iran
IRI
38
Links
---