How did India get the Chess Olympiad 2022 + player reactions on this news
After Russia invaded Ukraine in February it became clear that Moscow would not be able to host the Chess Olympiad 2022. FIDE was in a difficult situation to find a new host. The AICF sprung into action and put together a powerful bid within 10 days with the support of the Tamil Nadu Government. On 15th of March, FIDE awarded the Chess Olympiad 2022 to India. The mega event that will bring together 2000+ players from over 170 countries will be held on the East Coast Road near Chennai. We bring you the entire story of how the Chess Olympiad was awarded to India, who are the people who made it possible and how do the top players of the country view this development.
Chennai to host FIDE Olympiad 2022
The Chess Olympiad 2022 was slated to be held in Moscow from the 26th of July to the 8th of August 2022. However, when Russia invaded Ukraine things began to change. Moscow could no longer hold the Olympiad and FIDE was left with an important question to solve. Where should the biggest chess event, that happens once every two years, be held. At the last over-the-board Olympiad in 2018 (2020 and 2021 saw online olympiads due to the pandemic) we had 181 countries taking part in Batumi in the Open section and close to 150 in the women's section. There were over 2000 people who had come to Georgia to play. To stage an event like this requires quite a bit of planning and time. Olympiads are allotted to countries often four years in advance. How could a country make all the necessary arrangements in 5 months? But where there is a will there is a way! Seeing an opportunity to bring this massive event to India, AICF expressed their interest to FIDE. An exchange of messages between AICF secretary Bharat Singh Chauhan and FIDE President Arkadij Dvorkovich made it clear that this was not just a far flung thought. Getting the Chess Olympiad to India could become a reality. But Bharat Singh and his team at AICF needed to act swiftly. They needed to show the guarantees to FIDE that India had the money and infrastructure to hold such an event while making the bid.
Bharat Singh scouted around for possibilities. There were three places whose Governments showed interest - Delhi, Gujarat and Tamil Nadu. Delhi is well-known for hosting the biggest open tournament of the country - the Delhi Open. Gujarat government has shown over the years their affiliation for chess, by making strong policy decisions in favour of the sport. However, it was the Tamil Nadu Government that edged out the others in terms of speed and efficiency in getting things done. Bharat Singh contacted GM Srinath Narayanan and Srinath contacted IAS officer Dr. Darez Ahamed. Darez Ahamed currently works as the Mission Director of National Health Mission in Tamil Nadu. A chess lover that he is, Dr. Darez has helped Indian chess players in many ways in the past. He immediately setup a meeting with first the chief secretary of Tamil Nadu Irai Anbu and then the chief minister M.K. Stalin.
What was amazing to see next was the speed with which the Tamil Nadu Government and the state bureaucracy sprung into action. A few minutes into the meeting, Chief Minister M.K Stalin agreed to hosting the event in Tamil Nadu and sponsoring the costs associated with it. The total costs would come to around Rs.75 crores (10 million USD). But this is what strong leaders are able to do. They make big decisions quickly and trust their intuition and understanding. M.K. Stalin has shown in the recent past that he is committed to supporting the sport of chess. Close to Rs.2 crore were given as awards to the Indian Olympiad team for their performances at the Online Olympiad in 2020 and 2021. GMs from the state are offered Rs.5 lakh while IMs are given 3 lakh for their achievements. The awards are quickly cleared and this acts as a great motivation for the players.
Nearly 1200 rooms were blocked near the East Coast Road to show that accommodation would not be an issue. With everything in place, India made its bid to FIDE. For the next 10 days FIDE waited for bids from other countries. However, it was clear that the bid made by India was the most powerful. In this bid you could see the hunger of the National Chess Federation, backed by the purposeful support of the government. Besides, Chennai has been home to the World Championship Match between Carlsen and Anand in 2013 and is considered as the chess capital of India. The state has close 25 grandmasters coming out from it from the total tally of 73 GMs in the country. The entire nation waited with bated breathe as to what FIDE's verdict was going to be and on 15th of March 2022 night the news was revealed. India would be the host to the 44th Chess Olympiad 2022.
Bharath Singh Chauhan, the secretary of AICF was elated as he tweeted:
It goes without saying that this Olympiad will provide a major impetus to the already growing sport in the country. Not only will great players come to India to play which will inspire the youngsters, hosting the Olympiad also means that you get an additional team in both the open and women's section. Not only do the top 5 Indian players get a chance to represent the country, the number would in fact be 10. Also, after fielding two teams, if the number of participating teams is odd, then India could get a third team as well.
The tournament is going to be hosted at the Four Points Hotel in Sheraton on the East Coast Road. East Coast Road (ECR), combination of SH-49, NH-332A, NH-32 is a two-lane highway (now being partially upgraded to four-lane way from Chennai to Mamallapuram) in Tamil Nadu, India, built along the coast of the Bay of Bengal connecting Tamil Nadu's state capital city Chennai with Kanyakumari via Puducherry, Cuddalore, Chidambaram, Sirkali, Thirukkadaiyur, Tharangambadi, Karaikal, Nagore, Nagapattinam, Thiruthuraipoondi, Muthupet, Adirampattinam, Manora, Manamelkudi, Mimisal, Ramanathapuram, Thoothukudi, Tiruchendur, Uvari, Kudankulam. The total length of the road is about 777 km between Chennai and Kanyakumari. (Wikipidea)
The Shore Temple (c. 725 AD) is a complex of temples and shrines that overlooks the shore of the Bay of Bengal. It is located in Mahabalipuram, about 60 kilometres (37 mi) south of Chennai in Tamil Nadu, India. It is a structural temple, built with blocks of granite, dating from the 8th century AD. At the time of its creation, the site was a busy port during the reign of Narasimhavarman II of the Pallava dynasty. As one of the Group of Monuments at Mahabalipuram, it has been classified as a UNESCO World Heritage Site since 1984.It is one of the oldest structural (versus rock-cut) stone temples of South India.
The AICF, the state Government and all the people involved are excited about this event coming to India. The country is taking the organization of the event very seriously and it is very much possible that this would be one of the best organized Olympiads ever. We, at ChessBase India, the entire team, will do everything possible to support this event and make it a grand success.
Press conference on 16th of March 2022
AICF organized a press conference in Chennai on the 16th of March 2022 and it was broadcast LIVE on Twitter:
What did the top Indian players have to say about the Olympiad coming to India?
The top players of India are naturally elated with this development. Here is what they had to say:
Vishy Anand
Vidit Gujrathi
P. Harikrishna
"I am super excited that India will host chess Olympiad. Chess Olympiad is an important event for chess players across the globe. It is commendable to see AICF to make a bid at such short notice."
Koneru Humpy
"Hosting Olympiad in Chennai will give lots of boost up to younger generation and its going to attract wider range of spectators. This will also help the game to rise in commercial aspect as well."
D. Harika
"Firstly every Indian chess player will be extremely happy and excited that we are going to host the Olympiad. I played 8 Olympiads so far, it is one of the biggest and highest chess tournament with 2000+ people at-least. It is very big that we are going to organize such big event in our country. Definitely this will inspire more kids to take up chess and upcoming chess players to get inspired by watching all the top players in the world closely. Also we will get to field second team as hosts which will give more players and specially the young generation to participate in Olympiad and play with top players. I really appreciate Bharat uncle and team AICF for their vision and now I am very sure that many top tournaments will be held in India from now on :) Special thanks to Tamil Nadu chief minister for sponsoring chess Olympiad and for the vision and respect given to chess/sport."
Arjun Erigaisi
"Earlier I was really excited to be debuting in the Chess Olympiad 2022 and representing the country. Now with this amazing news my excitement has reached peak levels. I can't wait to represent India in my own country!"
Narayanan S.L
"I am so happy and excited to hear this news. It would be a huge boost for chess in India and many Indians would be inspired to play chess. Also kudos to the commendable efforts of AICF and Govt of Tamil Nadu especially Hon.CM MK Stalin to decide to host this prestigious event at the very last moment after a change of hosting country. It could really change the landscape of Indian chess and motivate the future generation."
Nihal Sarin
"Very happy! Moreover, it happening in Chennai is a very proud moment. This will benefit all chess players in India. Huge thanks to the AICF and TN Government."
K. Sasikiran
"This is wonderful news indeed! First of all, I would like to thank our honorable Tamil Nadu chief minister, Thiru M K Stalin, for bringing the Chess Olympiad to India. Tamil Nadu is the trend setter, to encourage sports in a big way, and has a long tradition of bringing mega events to India especially in chess. The World Chess Championship was first held at Chennai, Tamil Nadu in 2013. That was the most important individual event in the history of Chess. Now the most important team chess event (the 44th Chess Olympiad) is going to be held in India. And again, it will be held in Tamil Nadu . I believe this shall be the grandest chess event of 2022 in India and it will definitely help accelerate the chess boom in India. It will allow many youngsters to watch the top players live in action here and inspire many parents to put their children to chess. I congratulate the AICF team on taking the preliminary steps and getting the opportunity to host the chess Olympiad 2022. As host country, India shall be able to play with two or more teams and it will definitely provide an opportunity for the young talents to test their mettle against the best of the world."
B. Adhiban
"I think it's a great thing to happen in Chennai! Chennai became famous after the successful organization of the World Chess Championship in 2013. I wish that the Olympiad offers an even better experience since so many countries will be visiting my hometown. Chennai has a very rich culture when it comes to having such events! I spent most of my childhood playing in some corner of the city thanks to the abundance of tournaments organized in regular intervals. I am really looking forward to this event and hope to bring India the medal!"
Praggnanandhaa and Vaishali
"It's a great feeling that India is hosting the Olympiad and that too in our hometown! It is a proud moment!"
Surya Ganguly
"It is a massive step for Indian chess, and this will surely bring more popularity and help produce amazing players from India. In recent years Indian chess has gone to a different level, and this will be an excellent addition to it. A huge congratulations to the AICF team and every person who made this possible. I am eagerly looking forward to it."
Padmini Rout
" A great news! It's one of the biggest sporting events in the world and I believe it will give a big boost for new chess interest in India! Watching top chess players of the world in action will inspire many to take up chess."
S.P. Sethuraman
" Firstly a big thanks to AICF and Tamil Nadu's CM without whom this would have been never possible. It's like a dream to have it in India and being a Chennaite, am double happy that it will be held in my city. I am pretty sure from now on, chess will be viewed from a different angle in terms of popularity. Excited to see these developments."
Aravindh Chithambaram
"It feels unreal and I am really excited that it is happening! Definitely it would have a huge impact for the development of chess in India and I believe many people would take chess professionally after this event. Looking forward to it!"
Deep Sengupta
"It was quite a surprise to me. Actually, I think most of us knew India was bidding for the Olympiad but I guess no one could think it would be a reality and that too so soon. I sincerely thank Thiru M.K.Stalin, the honorable CM of Tamil Nadu for his support to Chess and the entire team of AICF for working proactively and getting this prestigious event to India. I am sure the chess boom in India will now grow exponentially after this event. Really looking forward to it."
P. Iniyan
"This is great news for Indian chess. It's highly commendable that we have managed to arrange for this Olympiad on such short notice on a grand scale. I am excited and I know that everyone else is as well that India is hosting the Olympiad. This will give a huge boost to Indian chess in terms of popularity and also give opportunities to many players."
Tania Sachdev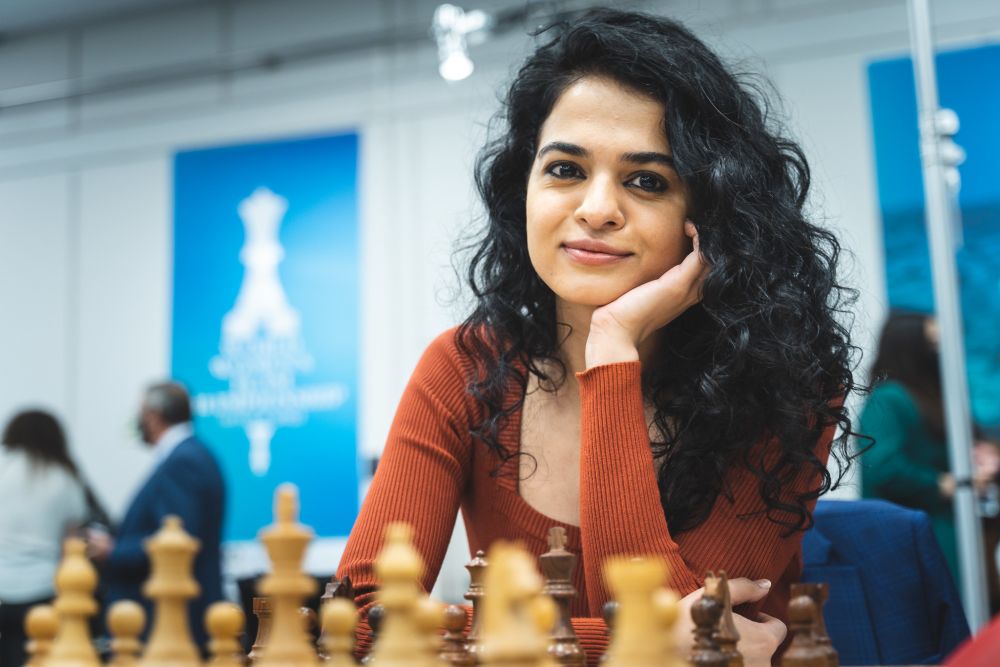 What is your feeling about the Chess Olympiad taking place in India? Do let us know in the comments section below!
Niklesh Jain interviews Bharat Singh Chauhan on Hindi ChessBase India and asks him if Vishy Anand would play the Olympiad on home turf. Bharat Singh replied, "It's Anand's personal decision, but we as AICF will try our best that Anand represents the country." He ended the interview with the words "Tiger Abhi Zinda Hai" which translates to "The tiger is still alive!"
Important links:
FIDE news on India hosting the Chess Olympiad 2022
Hindi ChessBase India on the Chess Olympiad 2022
ChessBase India's YouTube playlist of the 43rd Chess Olympiad 2018
---