13th Chennai GM Open R7-8: Nitin stays a full point ahead
IM Nitin S continues his amazing run. He registered his seventh consecutive victory by halting Vignesh B's unbeaten streak. Nitin drew the following game against GM Boris Savchenko, although he had a good opportunity in the endgame. Nitin is currently a full point ahead of the field 7.5/8 at 13th Chennai GM Open. Nine players are at 6.5/8 each. Prasannaa S is the sole untitled player among them. He will face the top seed in the penultimate round. IM P Konguvel scored a nice win against GM Tran Tuan Minh in Round 8. 12-year-old CM Daakshin Arun is the youngest player among the pursuers at 6.5 points. Round 9 starts today at 10 a.m. IST. Photo: Aditya Sur Roy
Daakshin Arun dominates titled players
12-year-old CM Daakshin Arun is no stranger to winning against strong GMs. He defeated IM Srijit Paul convincingly and then seized his opportunity when GM Karthikeyan P erred in the eighth round. WIM Priyanka K is currently the highest scorer among female players at 6/8.
Round 7: Nitin - Vignesh: 1-0
IM Nitin S (2404) continued his fantastic form as he managed to outplay his opponent Vignesh B (2072) who was having a great tournament.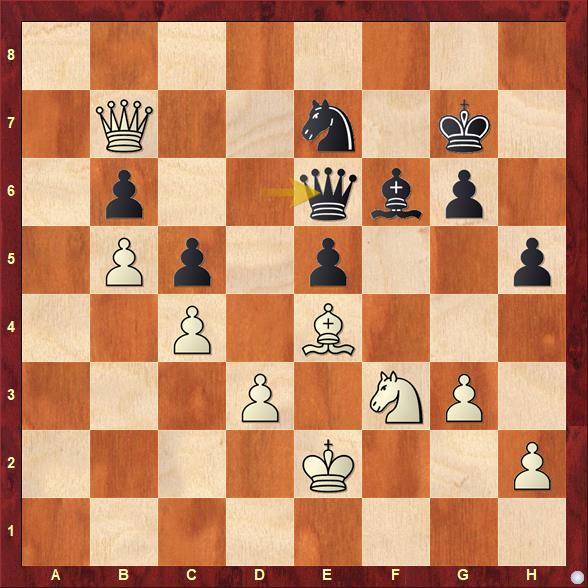 Positionally Black is completely lost. Both minor pieces lack enough space to move around freely compared to White's minor pieces. White has a better pawn structure and the queen is dominating too. However, converting such an advantage is not that easy. It takes a lot of time. Nitin kept grinding until his opponent was forced to exchange queens which cost him a valuable pawn. He went on to win the game after 102 moves.
Srijit - Daakshin: 0-1
12-year-old CM Daakshin Arun (1927) is a very strong player. One cannot afford to make a tiny bit of error against him. IM Srijit Paul (2399) erred early in the middlegame.
Something has gone wrong for White quite early. Although the development of his pieces are complete. Yet they are not in a harmony. White cannot castle on either side. White went 14.Bxh5 gxh5 15.Na4 Qc6. 14...Qxb2 was a slightly better continuation for Black but nevertheless gxh5 is good enough. White should have Na4 without taking on h5. 16.Bc3 Qxa4 17.Bxg7 Rg8 now White has too many pieces under attack and the onslaught is inevitable. Black won the game in another seven moves.
Round 8: Boris - Nitin: 0.5-0.5
IM Nitin S (2404) had a very good opportunity in the endgame against GM Boris Savchenko (2524).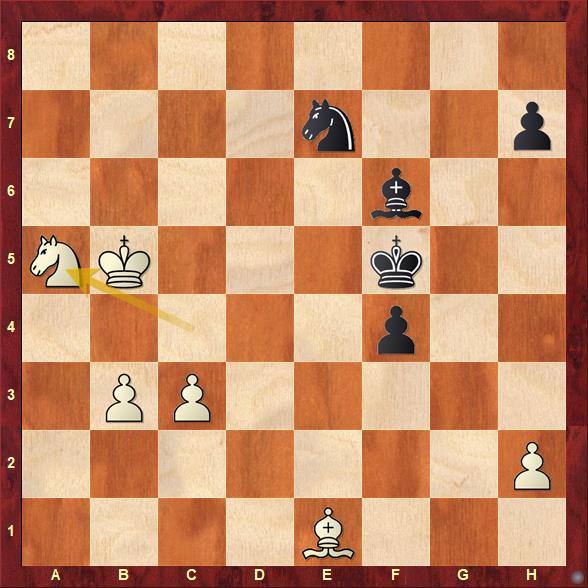 The sole clear chance Black had in the endgame was after 55.Nxa5. The game continued 55...f3 56.Kc5 Ke4 57.Nc4 Kd3 58.Nd2 f2 59.Bxf2 Kxd2 and the game meandered into a draw. Pushing the f-pawn before the king allowed White to give up his bishop for the important the f-pawn. Instead 55...Ke4 first would have allowed Black to advance his king, capture c3-pawn and prevent the capture of his own valuable f-pawn.
Srihari - Aronyak: 0-1
IM Srihari L R (2404) and IM Aronyak Ghosh (2494) both are talented teenagers. There is no doubt that they are future GMs. Their game reached to an equal queen and opposite color bishop endgame.
The game seems to be heading towards a draw after 33...Qc4 34.Be1 Qxd5. However, White has some practical problems on the kingside. Black first gained a pawn on the kingside and then forced the king to venture out in the open. He eventually went on to win the game.
A total of 275 players including 11 GMs, 14 IMs and 4 WIMs are taking part from 11 countries across the world including India. The tournament is organized by Tamil Nadu State Chess Association from 19th to 26th June 2022 at Hotel Ambassador Pallava, Chennai, Tamil Nadu. The ten-round Swiss league tournament has a time control of 90 minutes + 30 seconds increment from move no.1.
Replay Round 7-8 games
Round 8 results
Round 9 pairings
---