Boris Savchenko wins 13th Chennai GM Open 2022, Nitin second
IM Nitin Senthilvel drew his final round game against GM Alexei Fedorov. It should have been enough for Nitin to become champion, if IM Aronyak Ghosh drew with GM Boris Savchenko. No one could have predicted that Boris will win such a difficult endgame against Aronyak. Alexei and IM Srihari L R scored 8/10 each. They were placed third and fourth respectively. IM Siddharth Ravichandran, IM Aronyak, GM Deepan Chakkravarthy and IM Himal Gusain are the remaining Indians to finish in top 10. Deepan survived a big scare against Kunal M in the penultimate round. Boris won his second consecutive event after winning GITAM University 3rd Vizag GM Open over a week ago. Photo: Aditya Sur Roy
Heartbreak for Nitin, Srihari L R impresses
IM Nitin S is having a fantastic year. He finished third at 1st Guwahati GM Open 2022 in March. Then he won an All India Blitz Rating Open in April. Next he won 1st BUDCA Blitz Open in May. After a perfect 7/7 start and having a full point lead till the penultimate round, Nitin was poised to win the tournament. However, tie-breaks played a key role in him not winning this event. IM Srihari L R took his usual no-draw approach and scored 8/10 to finish an impressive fourth. Samriddhaa Ghosh was the highest finisher among female participants, 6.5/10. She finished ahead of the first-ever GM she beat in her career and all four WIMs who were taking part in this event. The total prize fund of the tournament was ₹1500000. Top three prizes were ₹300000, ₹200000 and ₹125000 each respectively.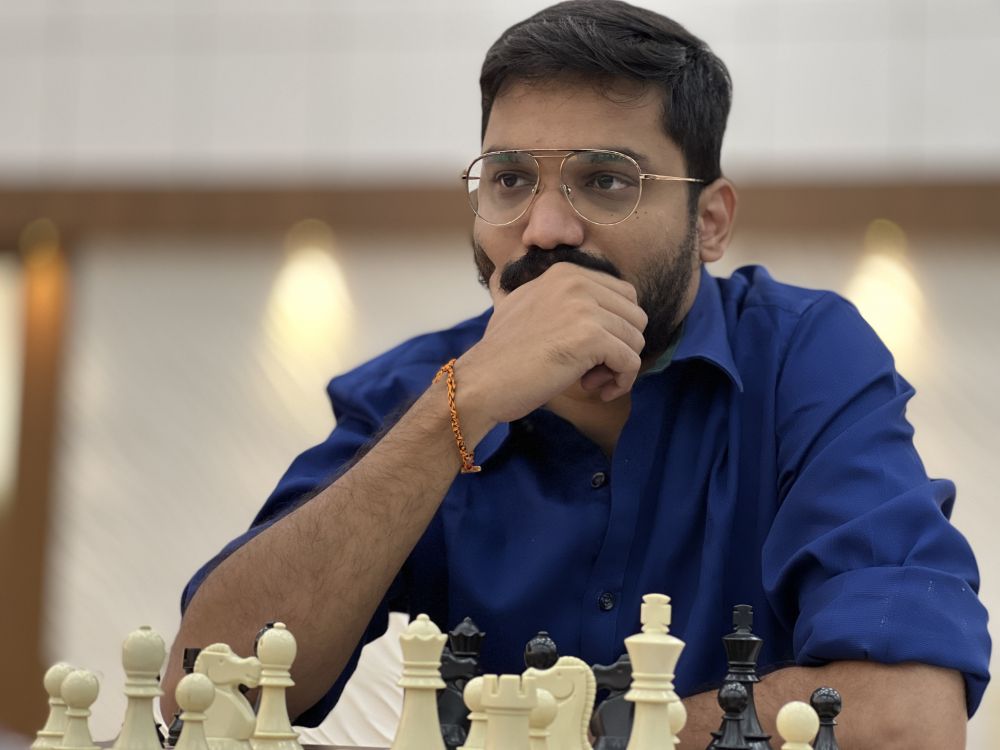 Round 9: Kunal - Deepan: 0.5-0.5
Kunal M (2277) found himself in a completely winning position against GM Deepan Chakkravarthy (2478).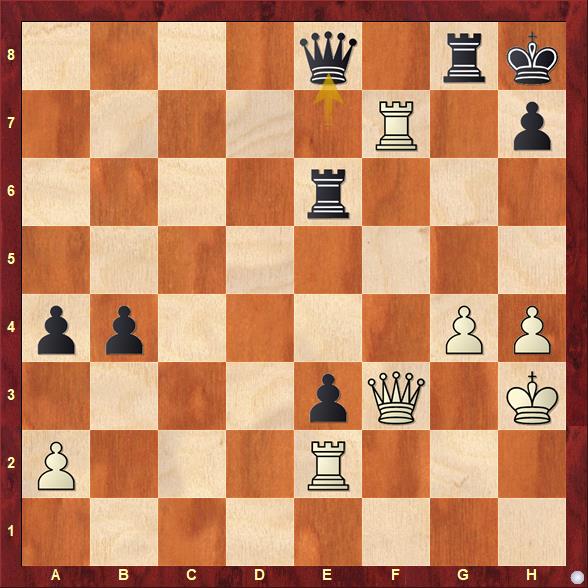 Black wanted to keep the e3-pawn alive, hence 62...Qe8. However, it is a big mistake 63.Qf5 Reg6 and now White missed his opportunity 64.h5. Find out the winning continuation which White did not play in the game.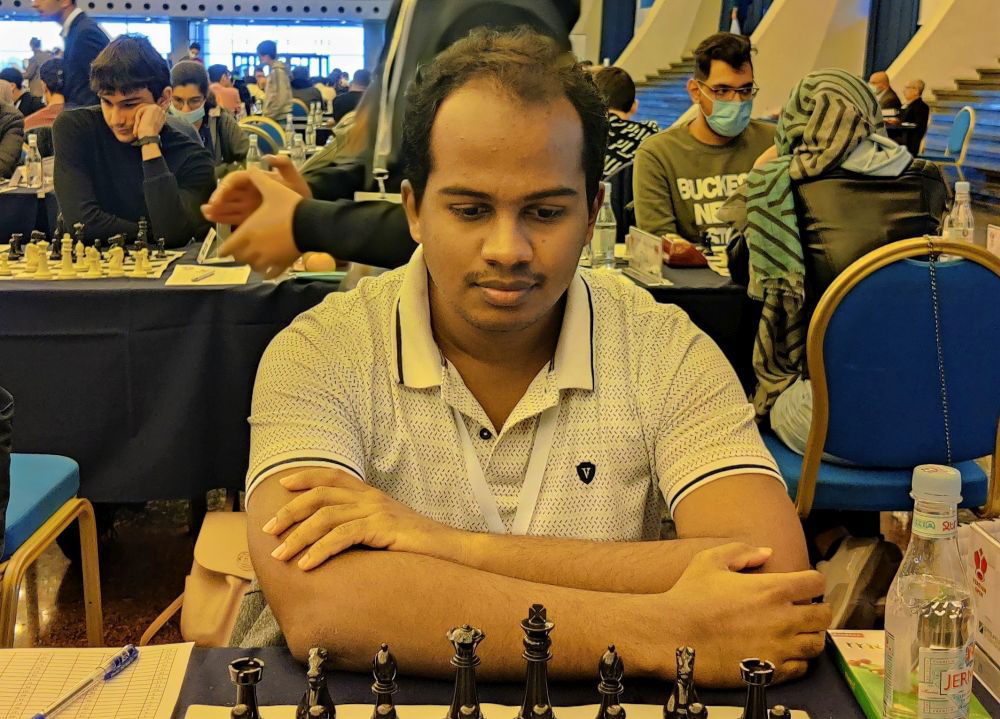 Round 10: Boris - Aronyak: 1-0
GM Boris Savchenko (2524) had an interesting endgame against IM Aronyak Ghosh (2494).
The above position seems to be a draw. Giving up the bishop and keeping the rook on the fifth rank seems to be a relatively easier draw as there is a fortress. The alternative was to play 43...Bd1 44.Qxf6 Bxg4 45. Qxh6 should also be a draw. However, this requires more precision. The game continued 43...Kg7 44.Qxf3 Rd8 45.Qe4 Rd5 46.Kf2 f5 47.Qg2 fxg4 48.Qxg4 Rg5 and it seems Black has achieved a fortress. World Champion, Magnus Carlsen does not believe in fortresses. Aronyak's opponent did not either.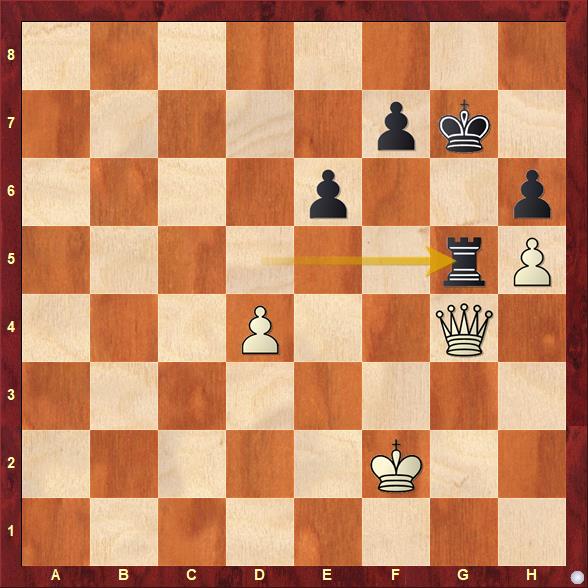 Find out a way to breach Black's fortress. Of course, White can only make a breakthrough if Black makes a mistake. Otherwise, the fortress can hold.
A total of 275 players including 11 GMs, 14 IMs and 4 WIMs took part from 11 countries across the world including India. The tournament was organized by Tamil Nadu State Chess Association from 19th to 26th June 2022 at Hotel Ambassador Pallava, Chennai, Tamil Nadu. The ten-round Swiss league tournament had a time control of 90 minutes + 30 seconds increment from move no.1.
Replay Round 9-10 games
Round 10 results
Final standings
| | | | | | | | | | | | | | |
| --- | --- | --- | --- | --- | --- | --- | --- | --- | --- | --- | --- | --- | --- |
| Rk. | SNo | | | Name | sex | RtgI | Club/City | Pts. | TB1 | TB2 | TB3 | TB4 | TB5 |
| 1 | 1 | | GM | Savchenko Boris | | 2524 | Russia | 8,5 | 63,5 | 67,0 | 54,75 | 0,0 | 7 |
| 2 | 8 | | IM | Nitin S. | | 2404 | RSPB - India | 8,5 | 62,0 | 66,5 | 54,50 | 0,0 | 7 |
| 3 | 2 | | GM | Fedorov Alexei | | 2523 | Belarus | 8,0 | 63,5 | 68,5 | 52,75 | 0,0 | 6 |
| 4 | 9 | | IM | Srihari L R | | 2404 | Tamil Nadu - India | 8,0 | 58,5 | 62,5 | 48,50 | 0,0 | 8 |
| 5 | 6 | | GM | Stupak Kirill | | 2453 | Belarus | 7,5 | 61,0 | 65,5 | 46,75 | 0,0 | 6 |
| 6 | 19 | | IM | Ravichandran Siddharth | | 2352 | Tamil Nadu - India | 7,5 | 61,0 | 65,0 | 44,50 | 0,0 | 6 |
| 7 | 4 | | IM | Aronyak Ghosh | | 2494 | West Bengal - India | 7,5 | 60,0 | 64,5 | 46,00 | 0,0 | 7 |
| 8 | 5 | | GM | Deepan Chakkravarthy J. | | 2478 | ICF - India | 7,5 | 58,5 | 63,5 | 47,25 | 0,0 | 5 |
| 9 | 12 | | GM | Nguyen Duc Hoa | | 2398 | Vietnam | 7,5 | 57,5 | 63,5 | 47,50 | 0,0 | 7 |
| 10 | 16 | | IM | Gusain Himal | | 2371 | Chandigarh -India | 7,5 | 57,5 | 63,0 | 46,50 | 0,0 | 6 |
| 11 | 14 | | GM | Nguyen Van Huy | | 2383 | Vietnam | 7,5 | 55,5 | 60,5 | 45,50 | 0,0 | 6 |
| 12 | 15 | | | Hari Madhavan N B | | 2374 | Tamil Nadu - India | 7,5 | 55,5 | 60,0 | 41,00 | 0,0 | 7 |
| 13 | 20 | | GM | Karthikeyan P. | | 2346 | Tamil Nadu - India | 7,5 | 55,0 | 59,5 | 43,25 | 0,0 | 6 |
| 14 | 10 | | GM | Laxman R.R. | | 2403 | RSPB - India | 7,5 | 53,0 | 56,0 | 40,75 | 0,0 | 6 |
| 15 | 21 | | IM | Abdyjapar Asyl | | 2325 | Kyrgyzstan | 7,0 | 61,5 | 65,0 | 39,50 | 0,0 | 5 |
| 16 | 27 | | FM | Jubin Jimmy | | 2259 | Kerala - India | 7,0 | 60,0 | 65,0 | 40,75 | 0,0 | 6 |
| 17 | 22 | | IM | Konguvel Ponnuswamy | | 2299 | PSPB - India | 7,0 | 59,5 | 64,5 | 43,50 | 0,0 | 5 |
| 18 | 52 | | AFM | Pawar Harshit | | 1873 | Delhi - India | 7,0 | 59,5 | 64,0 | 42,25 | 0,0 | 5 |
| 19 | 7 | | IM | Ajay Karthikeyan | | 2436 | Tamil Nadu - India | 7,0 | 59,0 | 63,5 | 43,50 | 0,0 | 4 |
| 20 | 49 | | CM | Daakshin Arun | | 1927 | Tamil Nadu - India | 7,0 | 59,0 | 63,5 | 40,25 | 0,0 | 6 |
| 21 | 3 | | GM | Tran Tuan Minh | | 2513 | Vietnam | 7,0 | 59,0 | 63,0 | 42,25 | 0,0 | 5 |
| 22 | 11 | | IM | Srijit Paul | | 2399 | West Bengal - India | 7,0 | 58,5 | 63,0 | 42,75 | 0,0 | 6 |
| 23 | 30 | | IM | Murali Krishnan B T | | 2208 | Tamil Nadu - India | 7,0 | 58,0 | 62,5 | 41,25 | 0,0 | 5 |
| 24 | 37 | | | Manigandan S S | | 2127 | Tamil Nadu - India | 7,0 | 58,0 | 62,5 | 39,00 | 0,0 | 7 |
| 25 | 18 | | IM | Rajesh V A V | | 2358 | Tamil Nadu - India | 7,0 | 57,5 | 62,0 | 41,25 | 0,0 | 5 |
| 26 | 76 | | | Mithun Anand V | | 1697 | Tamil Nadu - India | 7,0 | 55,0 | 59,5 | 40,00 | 0,0 | 7 |
| 27 | 23 | | FM | Aaryan Varshney | | 2295 | Delhi - India | 7,0 | 55,0 | 59,5 | 38,00 | 0,0 | 5 |
| 28 | 262 | | | Lukesh A | | 0 | Tamil Nadu - India | 7,0 | 55,0 | 59,0 | 37,50 | 0,0 | 6 |
| 29 | 98 | | | Pranav K P | | 1564 | Tamil Nadu - India | 7,0 | 55,0 | 58,0 | 37,00 | 0,0 | 7 |
| 30 | 62 | | | Patil Priyanshu | | 1796 | Maharashtra - India | 7,0 | 54,5 | 58,5 | 37,25 | 0,0 | 6 |
---