Pavel Ponkratov wins 1st Guwahati GM Open, Nitin S third
Top seed of the tournament GM Pavel Ponkratov won the 1st Guwahati International GM Open 2022. Both Ponkratov and GM Fawzy Adham (EGY) scored 8.5/10, however the former edged passed the latter on tie-breaks. IM Nitin S is the best Indian performer of the event. He scored 8.0/10 and secured third place on tie-breaks. FM Aradhya Garg delivered a phenomenal performance to score 8.0/10, earn his final IM-norm and secure fourth place. A last round loss gave IM C R G Krishna a sixth place finish. IM P Shyam Nikhil, GM Visakh N R and GM Iniyan P secured eighth, ninth and tenth place finish scoring 7.5/10 each. Photo: Aditya Sur Roy
Aradhya Garg scores his final IM-norm
FM Aradhya Garg scored 8.0/10, performed at 2465 and gained 62.2 Elo rating points to earn his final IM-norm. The former National Junior champion took a no-draw approach, his two hat-tricks include wins over GM Karthik Venkataraman, GM Masoud Mosadeghpour, IM Himal Gusain and IM Sayantan Das.
The total prize fund of the tournament was ₹15,00,000. Top three prizes were ₹251000, ₹201000 and ₹150000 each respectively. Bimal Bora, Minister of Sports & Youth Welfare, Cultural Affairs, Tourism and Power of Assam, Bharat Singh Chauhan, AICF Hony. Secretary were present at the closing ceremony among other guests.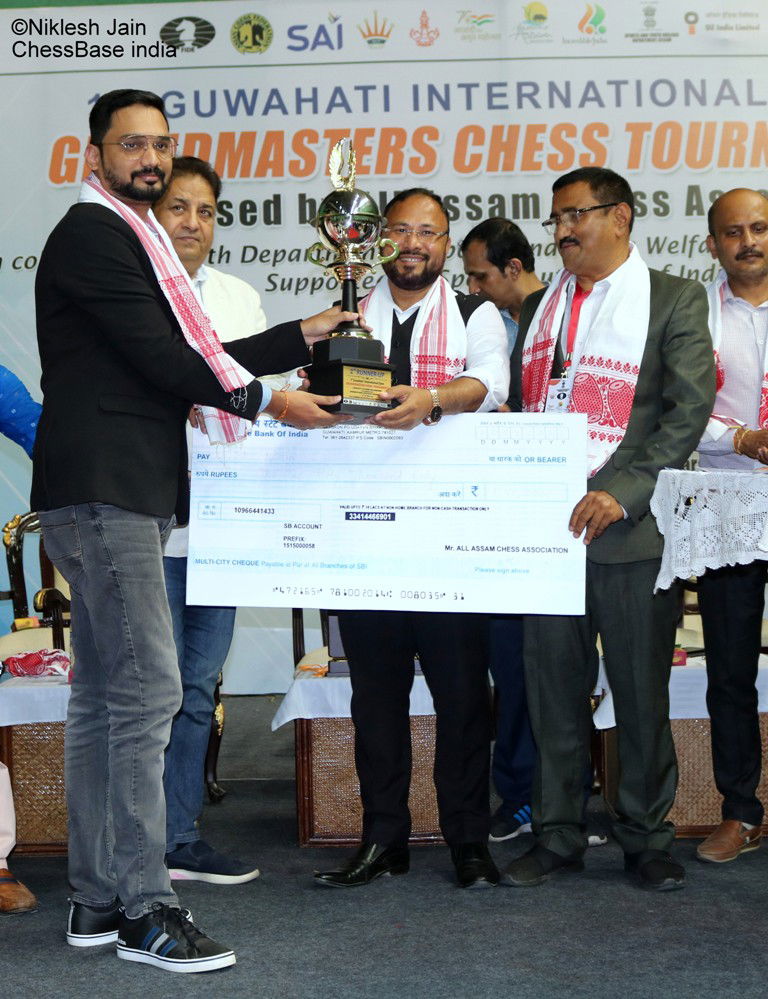 Neuris - Pavel: 0-1
Paraguay no.1 GM Neuris Delgado Ramirez (2622) went wrong at the very end of the rook endgame. GM Pavel Ponkratov (2641) seized his opportunity.
32.Kf2 allowed Black to maneuver his rook 32...Rh3 33.Kg2 Rh5 and now the g5-pawn drops. There is no way to defend it. Thus, 34.Rxd4 Rxg5+ was played and rest was just a matter of technique for Black to convert it into a win. 32.Kg2 d3 34.Rd4 should have led to a draw as Black does not gain the g5-pawn easily. White should be more than happy to exchange his a2-pawn for the d3-pawn because 2 vs 3 pawns on the kingside is an easy theoretical draw.
Fawzy - Krishna: 1-0
IM C R G Krishna (2466) was unable to get out of the gate against GM Adham Fawzy (EGY, 2490). The former went wrong early in the opening and could not get back for the rest of the game.
Nitin - Ratnakaran: 1-0
IM Ratnakaran K (2316) went for a break in an interesting position against IM Nitin S (2427).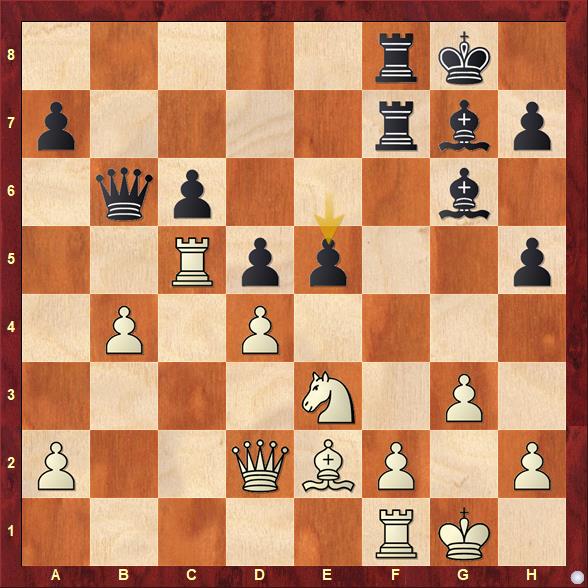 20...e5 is not a good idea as 21.dxe5 Bxe5 22.Nc4 Qb8 23.Na5 and Black cannot save the c6-pawn. The d5-pawn also fell in the next few moves and Black lost an exchange. Nitin cleverly returned the exchange, to neutralize the deadly bishop at b6. Rest was just a matter of time before Black resigned.
Aradhya - Sayantan: 1-0
IM Sayantan Das (2459) had a tough finish. He lost his second game in-a-row. FM Aradhya Garg (2236) scored an important win in the last round to finish fourth and secure his final IM-norm.
It is a critical moment for Black. 42...c4 would have kept things in balance. 42...Rb4 completely changed the outcome 43.f4 and now c4 does not have the same effect. 44.bxc4 gxf4+ 45.Rxf4 Rxa4 46.c5 White is completely winning.
Highlights
A few interesting finishes from Round 10
For more Round 10 and Prize distribution ceremony photos, please click at the respective links.
A total of 254 players including 13 GMs, 16 IMs, 2 WGMs and 3 WIMs took part from 11 federations across the world including India. The tournament was organized by All Assam Chess Association from 14th to 20th March 2022 at Guwahati, Assam. The ten-round Swiss league tournament had a time control of 90 minutes + 30 seconds increment from move no.1
Replay Round 10 games
Round 10 results
Final standings
| | | | | | | | | | | | | | | | |
| --- | --- | --- | --- | --- | --- | --- | --- | --- | --- | --- | --- | --- | --- | --- | --- |
| Rk. | SNo | | | Name | Typ | sex | Gr | FED | RtgI | Pts. | TB1 | TB2 | TB3 | TB4 | TB5 |
| 1 | 1 | | GM | Ponkratov Pavel | | | | CFR | 2641 | 8,5 | 64,5 | 69,5 | 57,75 | 0,0 | 7 |
| 2 | 8 | | GM | Fawzy Adham | | | | EGY | 2490 | 8,5 | 62,0 | 66,5 | 55,25 | 0,0 | 8 |
| 3 | 19 | | IM | Nitin S. | | | | IND | 2427 | 8,0 | 59,0 | 64,5 | 50,50 | 0,0 | 7 |
| 4 | 34 | | FM | Aradhya Garg | | | | IND | 2236 | 8,0 | 59,0 | 63,0 | 47,00 | 0,0 | 8 |
| 5 | 2 | | GM | Delgado Ramirez Neuris | | | | PAR | 2622 | 7,5 | 65,5 | 71,0 | 51,75 | 0,0 | 6 |
| 6 | 13 | | IM | Krishna C R G | | | | IND | 2466 | 7,5 | 62,0 | 67,0 | 48,00 | 0,0 | 6 |
| 7 | 11 | | GM | Mirzoev Azer | | | | AZE | 2476 | 7,5 | 61,5 | 65,5 | 46,25 | 0,0 | 7 |
| 8 | 17 | | IM | Shyaamnikhil P | | | | IND | 2442 | 7,5 | 61,0 | 66,0 | 47,75 | 0,0 | 5 |
| 9 | 3 | | GM | Visakh N R | | | | IND | 2522 | 7,5 | 61,0 | 65,5 | 48,25 | 0,0 | 6 |
| 10 | 6 | | GM | Iniyan P | | | | IND | 2516 | 7,5 | 59,5 | 65,0 | 46,75 | 0,0 | 6 |
| 11 | 25 | | IM | Sidhant Mohapatra | | | | IND | 2359 | 7,5 | 59,5 | 63,5 | 46,00 | 0,0 | 6 |
| 12 | 5 | | GM | Stany G.A. | | | | IND | 2517 | 7,5 | 58,5 | 63,0 | 46,25 | 0,0 | 6 |
| 13 | 9 | | GM | Karthik Venkataraman | | | | IND | 2485 | 7,5 | 58,0 | 63,0 | 45,50 | 0,0 | 7 |
| 14 | 16 | | IM | Nigmatov Ortik | | | | UZB | 2445 | 7,5 | 55,5 | 59,5 | 45,00 | 0,0 | 7 |
| 15 | 10 | | IM | Raahul V S | | | | IND | 2478 | 7,5 | 53,0 | 57,5 | 42,25 | 0,0 | 7 |
| 16 | 26 | | IM | Ratnakaran K. | | | | IND | 2316 | 7,0 | 64,5 | 69,0 | 46,25 | 0,0 | 6 |
| 17 | 14 | | IM | Das Sayantan | | | | IND | 2459 | 7,0 | 63,0 | 67,0 | 43,75 | 0,0 | 6 |
| 18 | 15 | | GM | Rios Cristhian Camilo | | | | COL | 2449 | 7,0 | 61,0 | 65,5 | 44,50 | 0,0 | 5 |
| 19 | 4 | | GM | Deepan Chakkravarthy J. | | | | IND | 2520 | 7,0 | 57,0 | 62,0 | 41,75 | 0,0 | 5 |
| 20 | 32 | | FM | Aaryan Varshney | | | | IND | 2277 | 7,0 | 57,0 | 61,5 | 39,75 | 0,0 | 5 |
| 21 | 12 | | IM | Tahbaz Arash | | | | IRI | 2469 | 7,0 | 56,5 | 61,0 | 40,25 | 0,0 | 6 |
| 22 | 20 | | | Gholami Orimi Mahdi | | | | IRI | 2420 | 7,0 | 56,0 | 60,5 | 39,25 | 0,0 | 6 |
| 23 | 22 | | GM | Saptarshi Roy | | | | IND | 2402 | 7,0 | 54,5 | 58,5 | 39,25 | 0,0 | 5 |
| 24 | 51 | | FM | Gaikwad Siddhant | | | | IND | 2016 | 7,0 | 53,0 | 57,0 | 36,50 | 0,0 | 7 |
| 25 | 53 | | | Singh Soram Rahul | | | NE-A | IND | 2006 | 7,0 | 52,5 | 56,5 | 36,00 | 0,0 | 7 |
| 26 | 45 | | | Mahindrakar Indrajeet | | | | IND | 2059 | 7,0 | 51,0 | 55,0 | 37,00 | 0,0 | 7 |
| 27 | 31 | | | Kaustuv Kundu | | | | IND | 2281 | 6,5 | 63,5 | 69,0 | 43,00 | 0,0 | 4 |
| 28 | 18 | | IM | Abdisalimov Abdimalik | | | | UZB | 2435 | 6,5 | 60,5 | 65,0 | 39,00 | 0,0 | 5 |
| 29 | 21 | | IM | Gusain Himal | | | | IND | 2408 | 6,5 | 60,5 | 64,0 | 37,50 | 0,0 | 5 |
| 30 | 7 | | GM | Mosadeghpour Masoud | | | | IRI | 2511 | 6,5 | 59,0 | 64,5 | 40,25 | 0,0 | 4 |
| 31 | 27 | | IM | Sai Agni Jeevitesh J | | | | IND | 2316 | 6,5 | 59,0 | 63,5 | 39,25 | 0,0 | 6 |
| 32 | 23 | | IM | Shahil Dey | U15 | | NE | IND | 2400 | 6,5 | 59,0 | 63,5 | 38,25 | 0,0 | 6 |
| 33 | 28 | | | Dhananjay S | | | | IND | 2310 | 6,5 | 58,5 | 63,5 | 40,00 | 0,0 | 5 |
| 34 | 35 | | FM | Poormosavi Seyed Kian | | | | IRI | 2229 | 6,5 | 58,5 | 63,5 | 38,25 | 0,0 | 6 |
| 35 | 24 | | GM | Karthikeyan P. | | | | IND | 2397 | 6,5 | 58,0 | 62,5 | 37,00 | 0,0 | 5 |
---