Superheroes of Chess | EP 1 | Ramprasad and Gautam Chakravarty | A ChessBase India Original Series
Born in the year 1964, Ramprasad and his brother Gautam started playing at a very early age. Gautam has been helping Ramprasad to pursue his passion for chess. He wanted to become a professional player but could not pursue the dream. Even at this age, he participates in any tournament he gets a chance. Win or loss doesn't matter for him and his brother Gautam as the happiness of playing the game in a tournament hall is priceless. Read more about this fascinating story. Picture by Aditya Sur Roy
Superheroes of Chess Episode 1
Superheroes of chess is a ChessBase India Original Series that brings stories of players who have defied all odds for their love for chess. Players and stories you have never heard of. We are really happy to meet players to whom chess is beyond what we understand.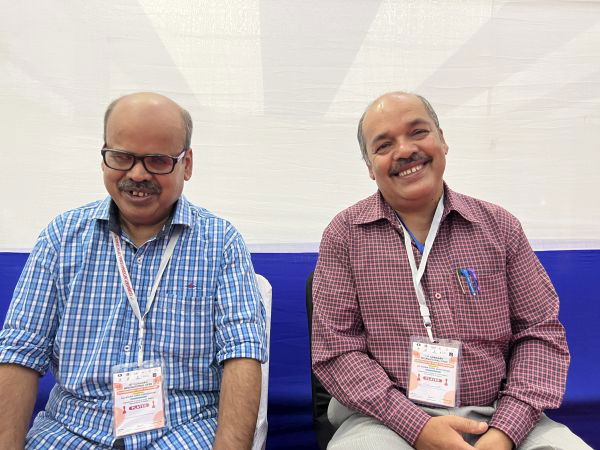 The game of chess. It is considered one of the most widely played games in the world. Different personalities and different characters face each other over a board of sixty-four squares. A game where without speaking a word you can make your opponent feel miserable and helpless. A game, so intense that sometimes even a pin drop in the hall can cause immense chaos. But the game is much more than just winning or losing. It is a way of life. The learning is endless and the love for the game is eternal.
At the 1st Guwahati International Open Grandmasters Chess Tournament 2022, we met a man whose love for chess is an inspiration- Ramprasad Chakravarty. Born in the year 1964, Ramprasad and his brother Gautam started playing at a very early age. Gautam has been helping Ramprasad to pursue his passion for chess. He wanted to become a professional player but could not pursue the dream. Even at this age, he participates in any tournament he gets a chance. Win or loss doesn't matter for him and his brother Gautam as the happiness of playing the game in a tournament hall is priceless.
In the first round, he faced six-time All Assam Chess Champion Santanu Borpatra Gohain. He mentioned that even though a loss was guaranteed, it was a matter of great pride to be able to play a game with him. Such is the passion and love for the game.
There are many such superheroes in the world of chess and this series is about bringing their story to you. We are going to end with a conversation about their chess journey.
A short interview with Gautam Chakravarty
Aditya Sur Roy (ASR): Can you tell me your chess story? When did you start playing and how?
Gautam Chakravarty (GC): It was the year 1979 when we started learning chess. We used to live in Shillong at that time. We played at our home and had no idea that there was something like a chess tournament. In those days, playing chess was considered a crime. It was told that you should not play chess. There was a saying that Chess is not a good game. We used to hide from our father and secretly play Chess.
There is a famous saying in Bengali- " Tash, Daba, Pasha- Teen Kormonasha". This means cards, chess, and pasha are three games that destroy time and work. But one day in the Shillong military cantonment, a senior officer who was also a chess player, organized a tournament and when we got the news, we participated in the event.
ASR: What was your age then?
GC: We used to study in college at that time. I got the eleventh position in the tournament where almost ninety players participated. After seeing this, my father finally came to know that even chess has tournaments and since then he used to support us in our tournaments. Thus, we started playing state championships and even tournaments outside our state.
ASR: And since then you started playing tournaments so the taboo of chess was removed?
GC: Yes. After that, it all changed.
The story of the two Chakravarty brothers is really inspiring and we salute their passion and love for the game of Chess.
Important Links:
Final Standings of Guwahati GM 2022
---