Pavel Ponkratov wins 12th Chennai GM Open 2020
Top seed of the tournament Pavel Ponkratov scored an unbeaten 8.0/10 to clinch the championship. He won the Dr. N Mahalingam Trophy and ₹300000 cash prize for his efforts. Seven other players also finished at the same score. They were placed according to their tie-break score. Jose Eduardo Martinez and Sergei Yudin secured the first and second runner-up positions respectively. Among the Vishnu Prasanna was the only player to finish shared first, eighth according to tie-breaks. Total 284 players participated from 21 countries including 29 GMs, 23 IMs and 3 WGMs. The tournament was organized by Tamil Nadu Chess Association at Novotel and IBIS Omar at Chennai from 18th to 25th January 2020. Photo: IA R Anantharam
Eight players finish at 8.0/10, Vishnu finishes shared first
Eight players finished with a score of 8.0/10. Top seed of the tournament GM Pavel Ponkratov, second seed GM Jose Eduardo Martinez, GM Sergei Yudin, GM Aleksej Aleksandrov, GM Ivan Rozum, GM Stanislav Bogdanovich, GM Stupak Kirill and GM Vishnu Prasanna, all of them finished with the same score. They were placed first to eighth according to their tie-break score.
Final three rounds
In the eighth round, Ponkratov made a short theoretical draw in Giuco Piano just 14 moves against the eventual second runner-up, compatriot Sergei Yudin (RUS, 2508). In the ninth round, he faced the then sole leader of the tournament GM Stanislav Bogdanovich (UKR, 2562).
Ponkratov got a pleasant position out of the opening against Bogdanovich.
Ponkartov - Bogdanovich, Round 9
White is completely dominating the position. Find out the best continuation after 25...Qd6
In the final round, Ponkratov made a comfortable draw with compatriot GM Ivan Rozum (RUS, 2573) in 42 moves as he just needed a draw in the final round to win the tournament.
After making two consecutive draws in just 32 moves in both round 8 and 9, Martinez defeated GM Venkatesh M R (2501) in the final round to secure the runner-up position and win ₹200000 cash prize.
It was evident that despite having the black pieces, Venkatesh kept pushing for an advantage out of the Bishop's opening. Eventually in the endgame, he managed to get advantage too.
Martinez - Venkatesh, Round 10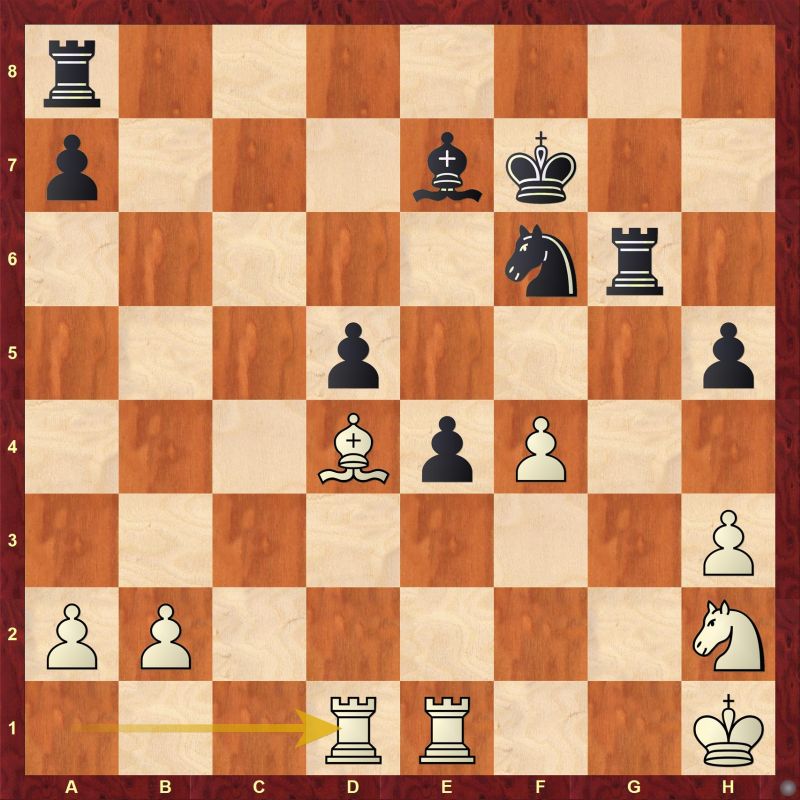 Venkatesh continued with 33...Rc8. However there was a better continuation. Try to find it. Black lost the game in another 15 moves.
GM Sergei Yudin (RUS, 2508) scored a crucial victory in the final round against IM Al Muthaiah (2367) to secure the third position and receive ₹125000 cash prize.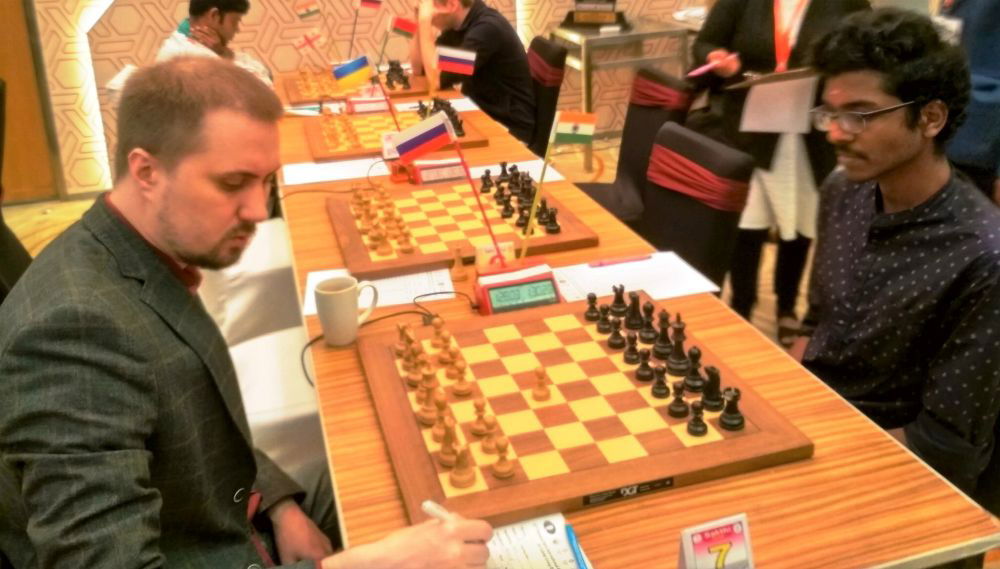 Fourth seeded GM Aleksej Aleksandrov (BLR, 2592) defeated GM Vishnu Prasanna in round 8 and IM Muhammad Khusenkhojaev (TJK, 2420) in the final round to finish fourth and bag home ₹100000 cash prize.
The highest finisher among Indians is GM Vishnu Prasanna (2474). He scored 8.0/10, finished shared first, eighth according to his tie-break score. He received ₹40000 cash prize. He is followed by four Indians who finished at 7.5/10 from 9th to 12th and they are GM Visakh N R (2518), FM Jubin Jimmy (2193), FM Rohith Krishna S (2289) and IM Mitrabha Guha (2448).
Vishnu - Goganov, Round 10
Vishnu enjoyed a decent advantage out of the Semi-Slav opening. However only in the endgame white got an opportunity to make a substantial advantage and White did that. What was the continuation here?
Photo Gallery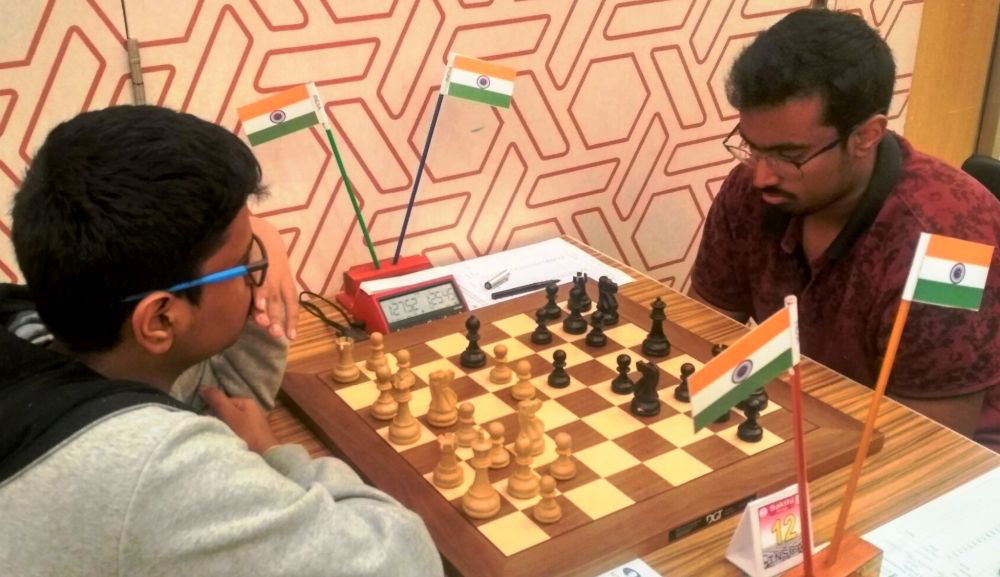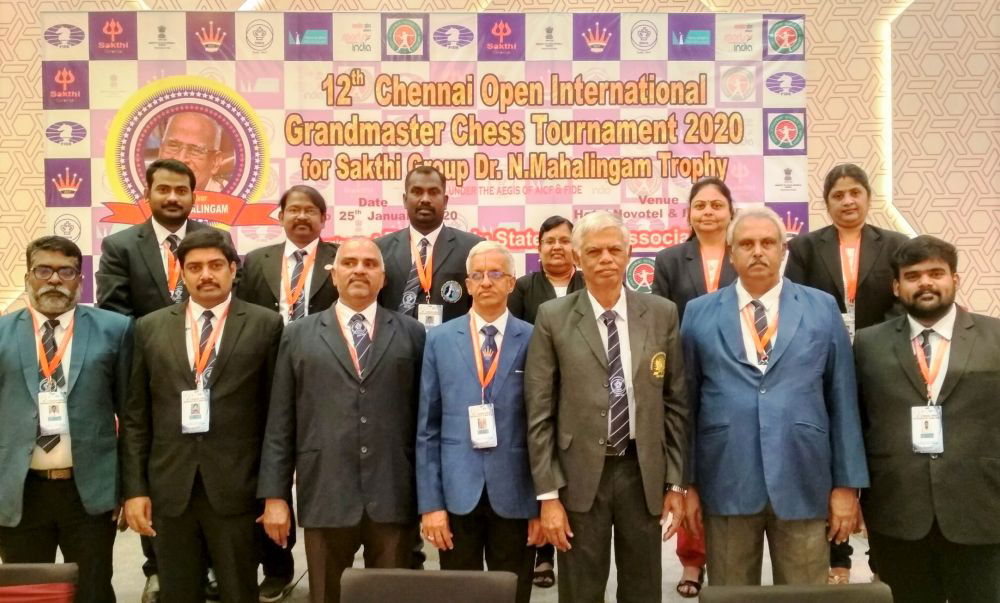 The 12th edition of Chennai Open 2020 took place from 18th to 25th January comprising of 10-rounds on Swiss League basis. The tournament witnessed a total participation of 284 players from 21 countries including 29 GMs, 23 IMs, 3 WGMs and 7 FMs, organized by Tamil Nadu Chess Association at Novotel & Ibis OMR, Chennai, Tamil Nadu. Total prize fund ₹1500000 was distributed among the prize winners.
Replay all games
Round 10 results
Final standings
| | | | | | | | | | | | |
| --- | --- | --- | --- | --- | --- | --- | --- | --- | --- | --- | --- |
| Rk. | SNo | | Name | FED | Rtg | Bdld | Pts. | TB1 | TB2 | TB3 | TB4 |
| 1 | 1 | GM | Ponkratov Pavel | RUS | 2622 | | 8,0 | 0,0 | 65,0 | 70,5 | 54,75 |
| 2 | 2 | GM | Martinez Alcantara Jose Eduardo | PER | 2606 | | 8,0 | 0,0 | 62,0 | 67,5 | 52,75 |
| 3 | 12 | GM | Yudin Sergei | RUS | 2508 | | 8,0 | 0,0 | 62,0 | 67,0 | 52,25 |
| 4 | 4 | GM | Aleksandrov Aleksej | BLR | 2592 | | 8,0 | 0,0 | 60,5 | 66,0 | 51,50 |
| 5 | 7 | GM | Rozum Ivan | RUS | 2573 | | 8,0 | 0,0 | 60,0 | 65,0 | 50,75 |
| 6 | 8 | GM | Bogdanovich Stanislav | UKR | 2562 | | 8,0 | 0,0 | 59,5 | 63,5 | 49,00 |
| 7 | 13 | GM | Stupak Kirill | BLR | 2506 | | 8,0 | 0,0 | 58,5 | 63,5 | 48,75 |
| 8 | 18 | GM | Vishnu Prasanna. V | IND | 2474 | | 8,0 | 0,0 | 57,0 | 61,5 | 44,75 |
| 9 | 11 | GM | Visakh N R | IND | 2518 | | 7,5 | 0,0 | 63,5 | 68,5 | 48,75 |
| 10 | 60 | FM | Jubin Jimmy | IND | 2193 | | 7,5 | 0,0 | 62,0 | 66,0 | 48,25 |
| 11 | 52 | FM | Rohith Krishna S | IND | 2289 | | 7,5 | 0,0 | 59,5 | 63,0 | 45,50 |
| 12 | 24 | IM | Mitrabha Guha | IND | 2448 | | 7,5 | 0,0 | 58,0 | 62,5 | 45,50 |
| 13 | 10 | GM | Fedorov Alexei | BLR | 2562 | | 7,5 | 0,0 | 57,0 | 62,0 | 45,75 |
| 14 | 21 | GM | Neverov Valeriy | UKR | 2460 | | 7,5 | 0,0 | 57,0 | 62,0 | 45,25 |
| 15 | 32 | GM | Karthikeyan P. | IND | 2416 | | 7,5 | 0,0 | 56,0 | 60,5 | 43,50 |
| 16 | 5 | GM | Goganov Aleksey | RUS | 2583 | | 7,0 | 0,0 | 62,5 | 67,5 | 44,50 |
| 17 | 38 | IM | Muthaiah Al | IND | 2367 | | 7,0 | 0,0 | 59,5 | 64,5 | 42,50 |
| 18 | 6 | GM | Mchedlishvili Mikheil | GEO | 2578 | | 7,0 | 0,0 | 59,0 | 64,0 | 42,25 |
| 19 | 30 | IM | Khusenkhojaev Muhammad | TJK | 2420 | | 7,0 | 0,0 | 58,5 | 63,0 | 41,50 |
| 20 | 20 | IM | Taher Yoseph Theolifus | INA | 2462 | | 7,0 | 0,0 | 58,0 | 63,0 | 42,50 |
| 21 | 23 | GM | Lugovskoy Maxim | RUS | 2453 | | 7,0 | 0,0 | 56,5 | 61,0 | 39,00 |
| 22 | 33 | GM | Sundararajan Kidambi | IND | 2414 | | 7,0 | 0,0 | 56,0 | 60,5 | 40,50 |
| 23 | 42 | IM | Sidhant Mohapatra | IND | 2346 | | 7,0 | 0,0 | 56,0 | 60,5 | 39,25 |
| 24 | 14 | GM | Venkatesh M.R. | IND | 2501 | | 7,0 | 0,0 | 55,5 | 59,0 | 39,50 |
| 25 | 16 | GM | Vasquez Schroeder Rodrigo | CHI | 2487 | | 7,0 | 0,0 | 54,5 | 59,5 | 40,00 |
| 26 | 28 | GM | Hesham Abdelrahman | EGY | 2429 | | 7,0 | 0,0 | 54,0 | 58,5 | 39,00 |
| 27 | 56 | GM | Ziatdinov Raset | USA | 2203 | | 7,0 | 0,0 | 53,5 | 58,0 | 39,00 |
| 28 | 19 | IM | Vignesh N R | IND | 2472 | | 7,0 | 0,0 | 53,0 | 57,5 | 38,00 |
| 29 | 15 | GM | Rios Cristhian Camilo | COL | 2498 | | 7,0 | 0,0 | 53,0 | 57,5 | 38,00 |
| 30 | 73 | FM | Ramakrishna J. | IND | 2068 | | 7,0 | 0,0 | 51,0 | 55,0 | 34,50 |
---