Batumi Chess Olympiad Round 7: Indian men beat Egypt, Indian women draw against Georgia 1
It was an easy round for the Indians against the Egyptians, but it turned out to be extremely dangerous. Vishy Anand was held to a quick draw by Bassem Amin and Vidit Gujrathi who was pressing throughout the game suddenly landed in a bad position. The onus was now on Harikrishna and Sasikiran to deliver. And they did! India managed to win with the narrowest of margins, but as coach R.B. Ramesh said after the match, "A win is a win!" In the women's section Georgia 1 is one of the strongest teams in women's chess out there. The Indian girls fought bravely and managed to hold their own against the Georgian women players. Full report with analysis by GM Surya Sekhar Ganguly and videos of coaches of Indian teams.
Let's begin with the overview in the open section by coach GM R.B. Ramesh:
On board two Harikrishna's opponent tried to deviate from the well known lines a bit too soon and was punished.
Analysis by GM Surya Sekhar Ganguly:
Vidit over-pushed a bit. He was clearly better but instead of finding a winning continuation, he got confused, consumed a lot of time and lost the game. Such things can happen under the pressure of playing at the Olympiad.
Rank after Round 7 - Open
| | | | | | | | | | | | | |
| --- | --- | --- | --- | --- | --- | --- | --- | --- | --- | --- | --- | --- |
| Rk. | SNo | | Team | Team | Games | + | = | - | TB1 | TB2 | TB3 | TB4 |
| 1 | 4 | | Azerbaijan | AZE | 7 | 6 | 1 | 0 | 13 | 189,0 | 21,0 | 66 |
| 2 | 11 | | Poland | POL | 7 | 6 | 1 | 0 | 13 | 175,5 | 20,5 | 61 |
| 3 | 1 | | United States of America | USA | 7 | 6 | 1 | 0 | 13 | 160,5 | 20,5 | 59 |
| 4 | 8 | | Armenia | ARM | 7 | 6 | 0 | 1 | 12 | 157,5 | 19,5 | 61 |
| 5 | 5 | | India | IND | 7 | 5 | 1 | 1 | 11 | 155,5 | 20,0 | 59 |
| 6 | 24 | | Spain | ESP | 7 | 5 | 1 | 1 | 11 | 153,5 | 20,5 | 57 |
| 7 | 10 | | Israel | ISR | 7 | 4 | 3 | 0 | 11 | 152,5 | 20,0 | 60 |
| 8 | 7 | | France | FRA | 7 | 5 | 1 | 1 | 11 | 150,5 | 20,0 | 60 |
| 9 | 3 | | China | CHN | 7 | 5 | 1 | 1 | 11 | 149,0 | 18,5 | 59 |
| 10 | 6 | | Ukraine | UKR | 7 | 5 | 1 | 1 | 11 | 142,0 | 17,0 | 61 |
| 11 | 16 | | Germany | GER | 7 | 4 | 3 | 0 | 11 | 139,5 | 18,5 | 58 |
| 12 | 15 | | Czech Republic | CZE | 7 | 5 | 1 | 1 | 11 | 137,0 | 18,0 | 59 |
| 13 | 13 | | Netherlands | NED | 7 | 5 | 1 | 1 | 11 | 135,0 | 21,0 | 53 |
| 14 | 9 | | England | ENG | 7 | 5 | 1 | 1 | 11 | 131,0 | 17,0 | 58 |
| 15 | 23 | | Iran | IRI | 7 | 5 | 0 | 2 | 10 | 143,0 | 20,0 | 56 |
| 16 | 2 | | Russia | RUS | 7 | 4 | 2 | 1 | 10 | 140,5 | 18,0 | 59 |
| 17 | 32 | | Sweden | SWE | 7 | 5 | 0 | 2 | 10 | 139,0 | 19,0 | 55 |
| 18 | 38 | | Norway | NOR | 7 | 4 | 2 | 1 | 10 | 138,0 | 20,5 | 52 |
| 19 | 27 | | Vietnam | VIE | 7 | 4 | 2 | 1 | 10 | 132,0 | 19,5 | 52 |
| 20 | 22 | | Turkey | TUR | 7 | 5 | 0 | 2 | 10 | 127,5 | 19,5 | 53 |
Women's section: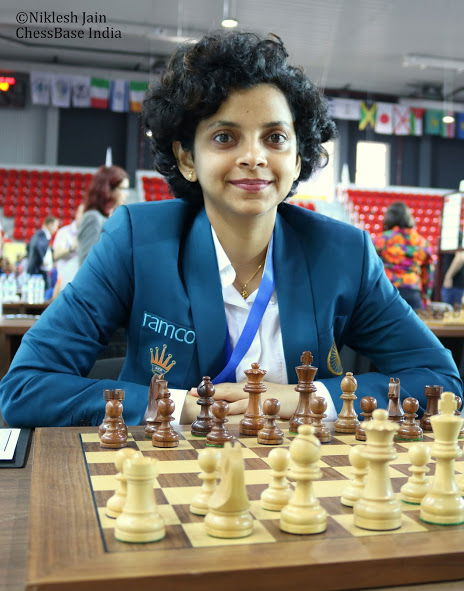 Rank after Round 7 - Women
| | | | | | | | | | | | | |
| --- | --- | --- | --- | --- | --- | --- | --- | --- | --- | --- | --- | --- |
| Rk. | SNo | | Team | Team | Games | + | = | - | TB1 | TB2 | TB3 | TB4 |
| 1 | 12 | | Armenia | ARM | 7 | 6 | 1 | 0 | 13 | 158,0 | 20,0 | 59 |
| 2 | 3 | | China | CHN | 7 | 5 | 2 | 0 | 12 | 176,5 | 20,0 | 64 |
| 3 | 2 | | Ukraine | UKR | 7 | 5 | 2 | 0 | 12 | 165,0 | 20,0 | 63 |
| 4 | 4 | | Georgia 1 | GEO1 | 7 | 5 | 2 | 0 | 12 | 153,0 | 19,0 | 62 |
| 5 | 20 | | Romania | ROU | 7 | 6 | 0 | 1 | 12 | 130,0 | 19,5 | 52 |
| 6 | 10 | | United States of America | USA | 7 | 5 | 1 | 1 | 11 | 158,5 | 19,0 | 62 |
| 7 | 5 | | India | IND | 7 | 4 | 3 | 0 | 11 | 157,5 | 20,5 | 59 |
| 8 | 11 | | Azerbaijan | AZE | 7 | 5 | 1 | 1 | 11 | 149,0 | 20,0 | 55 |
| 9 | 18 | | Italy | ITA | 7 | 5 | 1 | 1 | 11 | 149,0 | 19,0 | 60 |
| 10 | 13 | | Hungary | HUN | 7 | 5 | 1 | 1 | 11 | 148,0 | 19,5 | 54 |
| 11 | 14 | | Georgia 2 | GEO2 | 7 | 5 | 1 | 1 | 11 | 146,5 | 20,0 | 57 |
| 12 | 8 | | Kazakhstan | KAZ | 7 | 4 | 3 | 0 | 11 | 141,5 | 20,0 | 54 |
| 13 | 1 | | Russia | RUS | 7 | 5 | 0 | 2 | 10 | 143,0 | 19,5 | 56 |
| 14 | 28 | | Iran | IRI | 7 | 5 | 0 | 2 | 10 | 137,5 | 18,5 | 58 |
| 15 | 7 | | Poland | POL | 7 | 4 | 2 | 1 | 10 | 136,5 | 19,5 | 51 |
| 16 | 17 | | Mongolia | MGL | 7 | 5 | 0 | 2 | 10 | 134,5 | 18,5 | 56 |
| 17 | 19 | | Vietnam | VIE | 7 | 5 | 0 | 2 | 10 | 134,0 | 21,0 | 52 |
| 18 | 31 | | Uzbekistan | UZB | 7 | 5 | 0 | 2 | 10 | 133,0 | 18,0 | 60 |
| 19 | 26 | | Czech Republic | CZE | 7 | 5 | 0 | 2 | 10 | 128,0 | 19,5 | 52 |
| 20 | 34 | | Lithuania | LTU | 7 | 4 | 2 | 1 | 10 | 124,5 | 18,0 | 53 |
---