Coach Priyadharshan Kannappan speaks about India's campaign at the World Youth Under-16 Olympiad
Team India started off as the nineteenth seed at the World Youth under-16 Chess Olympiad but made a commendable seventh-place finish winning against Turkey-White and Serbia in the last two rounds of the event. From starting with emphatic victories in the initial rounds to suffering a heartbreaking 4-0 loss against Belarus, the Indian team went through a lot of ups and downs throughout the tournament. Grandmaster Priyadharshan Kannappan, who was the accompanying coach cum captain, speaks at length about it all. He shares his overall experience of the event, his impression of the players, his thoughts about the team selection this year, and much more. Read this detailed article and get to know what it feels like to compete in one of world's most prestigious team championships.
The World Youth under-16 Chess Olympiad took place from the 29th of October to the 11th of November in Corum, Turkey. With a modest rating average of 2235, the Indian team this year in the event was relatively weak and started off as the nineteenth seed but the five players showed some excellent spirit and fought on till the end to finish with a creditable seventh place. We covered India's performance from rounds one to four in an earlier article on our website. In this write-up we first give you an overview of what happened in the last five rounds and bring you an exclusive interview with Grandmaster Priyadharshan Kannappan, who accompanied the players as their coach and captain, and helped them through thick and thin.
Rounds 5-6: Bouncing back after setbacks
After shaky performances in the previous rounds against Kazakhstan and Uzbekistan, the Indian team made a strong comeback against Malaysia-B in the fifth round. This was a much weaker team in terms of rating and the result clearly reflected that as India pulled off a thumping 3.5-0.5 victory. The only half point that was lost was on board 2 where Srihari L got into a worse position owing to a miscalculated sacrifice and had to settle for a draw.
Ajay Karthikeyan's game against Jiu Weir Brien Foo from round five is worth quoting as here the 15-year-old Indian played some solid bit of chess to create a crushing kingside attack and finished off his much lower-rated opponent in just 33 moves.
Ajay Karthikeyan - Jiu Weir Brien Foo, Round 5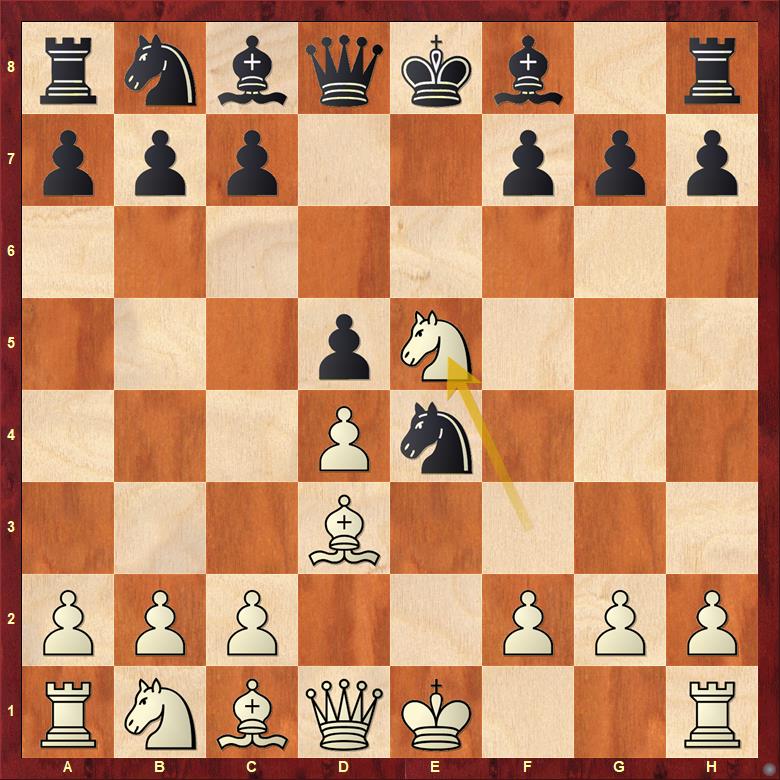 The sixth round happened after the rest day and Czech Republic came really well-prepared against India. They surprised by fielding Kristyna Laurincova on the fourth board who was just exceptionally strong against Utsab Chatterjee's Najdorf and outplayed him right out of the opening. Aronyak Ghosh and Srihari L won their encounters quite smoothly, while Ajay failed to convert an advantageous position and conceded a draw.
Round 7: A painful loss
The seventh round proved to be a disaster for team India as they were quite simply whitewashed by Belarus. Coach Priyadharshan K. summarised the happenings of that round as follows: "Round 7 against Belarus was the evening round of a double round days. It was a complete shocker for me to be losing 4-0 against Belarus. On board 1, Aronyak was just positionally outplayed straight from the opening, and it was a perfect game by Lazavik Denis who scored the 1st point of the match. On board 2, Srihari had the equality for the significant part of the game, but near the end, he refused a draw offer due to the team situation constraints and then blundered immediately to lose his game. On board 4 Lakshmi's far higher-rated opponent just outclassed her, as Lakshmi had too many positional weaknesses on her board, and had no chance in the game. The closest we came to scoring a point was on board 3 where Ajay was handling his position very well till the end, but in mutual time trouble and with the team already being blanked 3-0 made some critical errors and lost his game".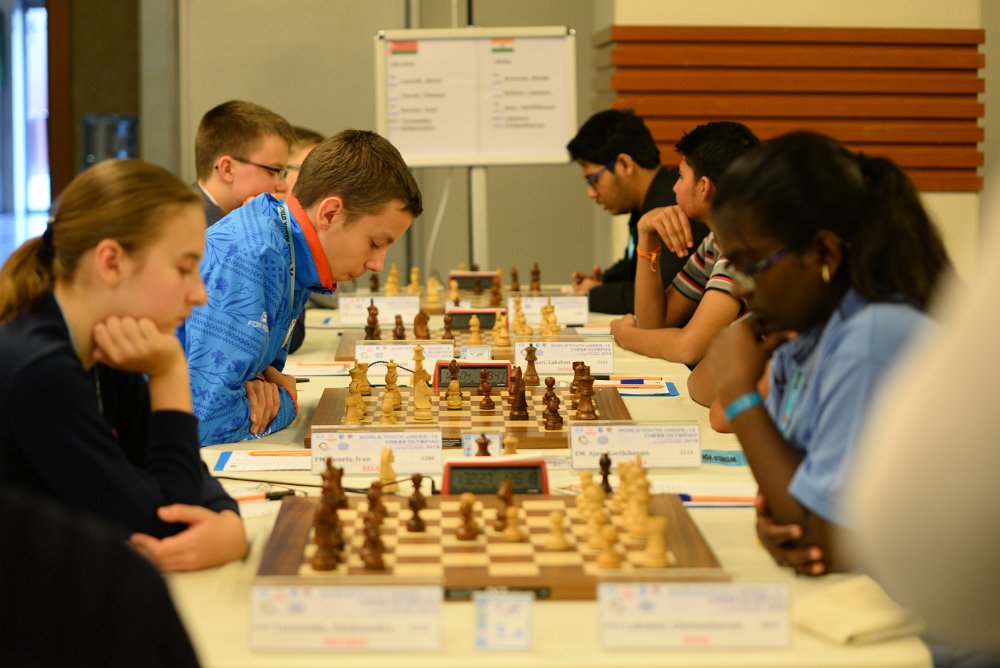 Ajay Karthikeyan played a nice game with the black pieces against Ivan Runets and also had the edge at one point of the encounter but the team's unfortunate situation must have come as a psychological shock as he blundered in a completely equal position on move 49 to suffer his first and only loss in the event.
Ivan Runets - Ajay Karthikeyan, Round 7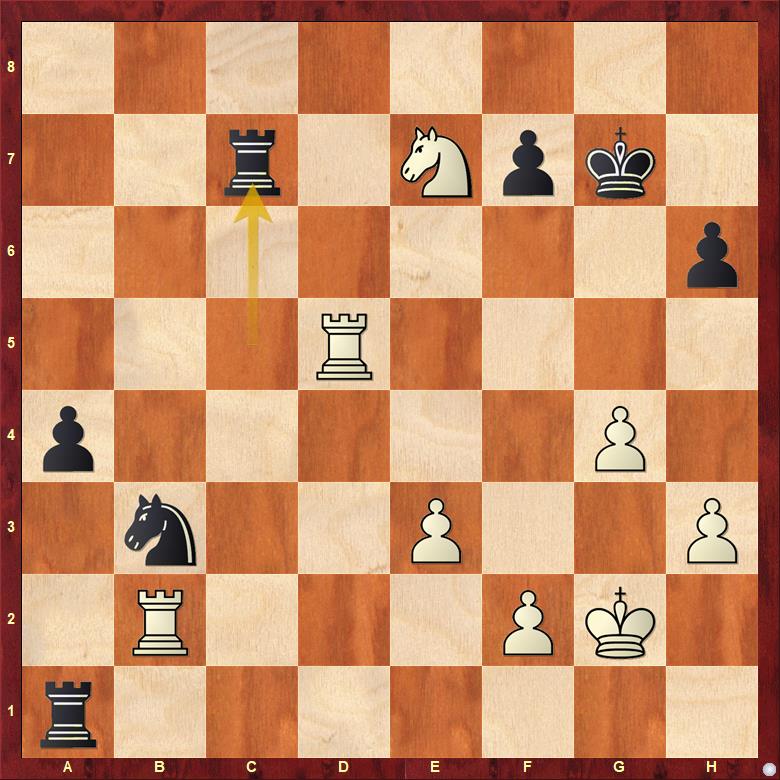 Rounds 8-9: Boosting morales
It is always difficult to continue playing, or at least playing at one's best, after a devastating loss that has completely ruined your hopes to make a strong finish in the tournament. Team India was in similar kind of situation going into the final two rounds of the event. They had been subjected to an excruciating 4-0 loss by Belarus and they knew that they had no chances to win a medal anymore. But to detach oneself from the result and play for just the sake of playing is what distinguishes a true sportsman from the rest. The Indian team picked up the pieces and gave their best in the remaining two rounds of the tournament fetching convincing victories against Turkey-White and Serbia.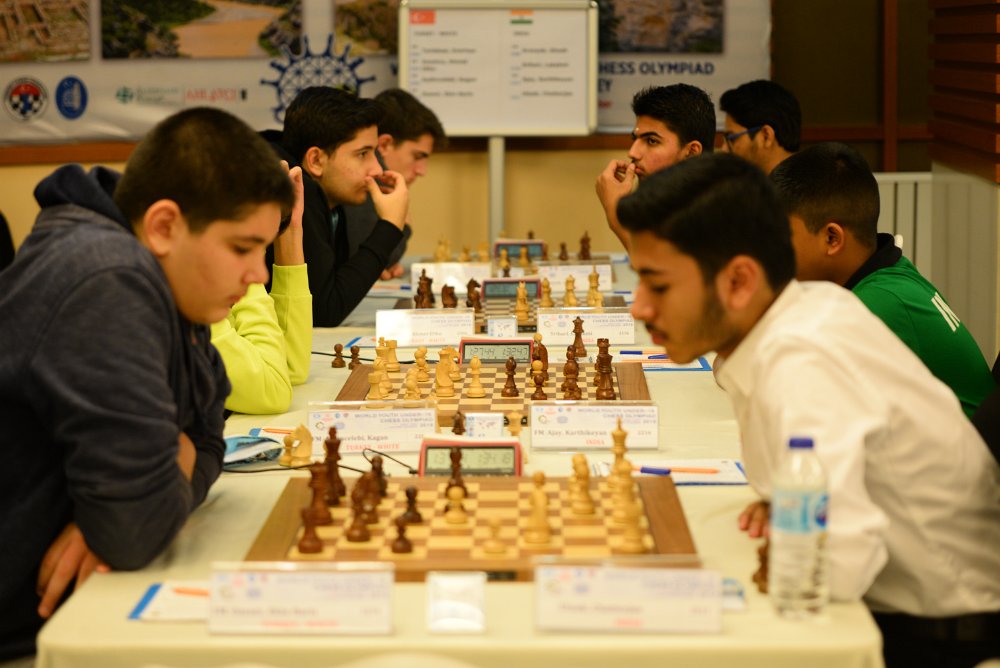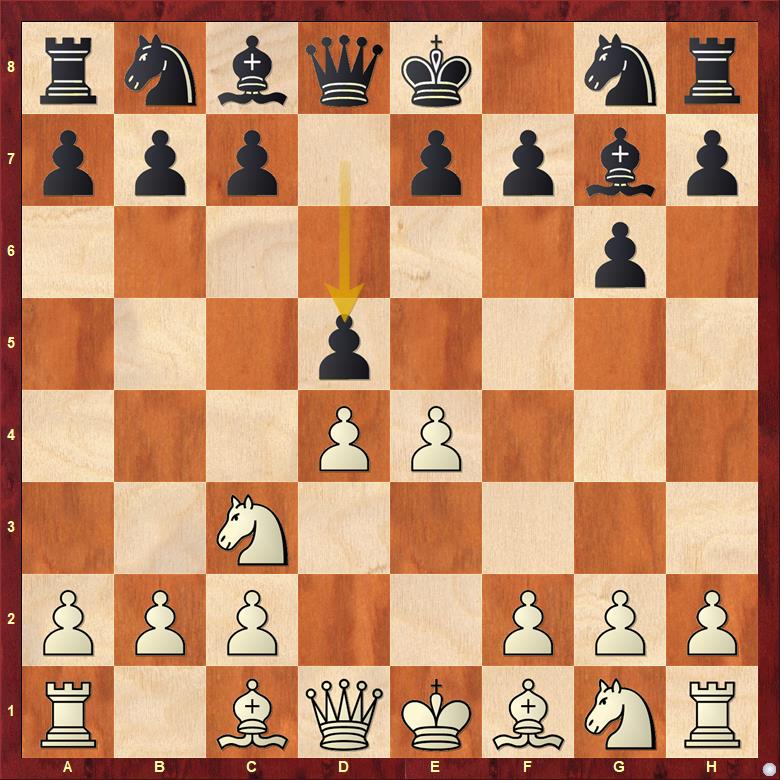 Interview with coach and captain GM K. Priyadharshan:
ChessBase India (CBI): When did you get to know that you would be the coach of the Indian team? Did you get time to prepare with the players beforehand?
Priyadharshan Kannappan (PD): I got a call from Bharat Singh sir in mid-August, and that's when I got to know about this opportunity. I didn't get time to prepare with the players beforehand as Aronyak and Lakshmi were playing World Youth and World Junior, and Ajay, Utsab participated in World Youth; so only Srihari, who wasn't participating in either of the events, was the one with whom I had few phone calls, and that was the preparation.
CBI: What exactly were your responsibilities with the players as both coach and captain? Did you involve yourself actively in their preparations before the rounds?
PD: As the captain, the most significant responsibility was ensuring that the players reached Turkey safely, as the parents were worried about the recent travel advisory issued by the Government of India on travelling to Turkey. As a coach, my role was primarily tactical, like setting the initial board order and asking the players to offer or reject draw offers based on the team situations. On our way to Turkey, I had discussions with the players about the board order, and prior hand itself I decided that I had to do some out of the box thinking with the board order, otherwise we didn't really stand much of a chance to finish in the top, as we were starting as the 19th seed. With regards to initial board order, I got a clear picture of the players playing styles, strengths and weaknesses on our way to Turkey, and I decided that the best would be to push Srihari up the board order and put him on board 2, the primary reason being he came to the tournament fresh, and had lesser number of games in the database, which would make him a tough opponent to prepare against, whereas as his opponents on board 2 would be around 2300 average, we would have a good number of games to prepare against. From the start, I involved myself actively in helping prepare the players, and I had an open-door policy, so if they asked for help, I helped them with preparation; Srihari and Ajay used my help every round, and Utsab consulted with me in the last few rounds. For example, in Round 5 Ajay initially was planning to play the 3.Ne5 line in Petroff, but when we looked at his opponent's game, I realized that his opponent was very weak against 3.d4, so I helped him prepare that variation. In the final round, Srihari wasn't sure what to play against 1.e4 as he had very less time to prepare against an opponent who had a vast opening repertoire, and that's when I suggested him that we surprise the opponent first by playing 1.e4 g6 2.d4 Bg7 3.Nc3 d5!? And in both these instances, we got a pretty solid win.
CBI: How was the organization of the event overall?
PD: The organization was fantastic, the organizers were always there for us to help in case of emergency, and there wasn't any dispute during the event. In the team, Srihari was a vegetarian, so I was a bit concerned if there would be vegetarian choices in the buffet, and I must say they had a good spread of vegetarian dishes every meal, which ensured that the players were well-fed every meal. The only issue was unavailability or slow internet in the initial days, which was fixed by day 3, so overall, I carried home a lot of good memories of Corum and the tournament.
CBI: Team India started off really well with clean 4-0 sweeps in the first two rounds but slowed down after that. The 4-0 loss against Belarus must have come as a shock. What went wrong, and how did you and the team manage through this tough phase?
PD: The game against Belarus was on one of the days when it was a double round day, and this was the second game of the day. I had a big decision to make before the round as to whether field Utsab or Lakshmi, as Utsab had lost his 3rd game in a row, and I was confident that Belarus was going to field their reserve player Tarasenka Aliaksandra. Utsab wanted to play that round but at the same time I felt fielding Lakshmi would be a wise tactical decision, as that would complete her quota of minimum 3 games, and she was well-rested and would have a better idea of her female opponent. My strategy before the round was that Ajay would strike on board 3 and if we hold the balance on remaining boards, we will get opportunities to win the match, so I had told Srihari to play solidly without any risk. Things went haywire right from the start as Aronyak and Lakshmi got into worse positions out of the openings, and they had no chance to get back into the game. Srihari had an equal position, and his opponent offered a draw but considering the team situation I asked Srihari to keep playing, and that was a wrong decision, as Srihari blundered in few moves from then and ended up losing his game. In Ajay's game, he certainly had a lot of chances to get an advantage, but in the end, in mutual time trouble, he blundered and also the fact that we were down 0-3 by then also played a psychological role in his head. After the loss, when the team met for dinner I had an honest conversation with them, where I mentioned to them about how we don't have a chance to win a medal now, but that doesn't mean we should stop fighting now, as we still have 2 more rounds to go, and finishing as high as possible should be our goal, and I think that did make an impact as Aronyak who initially wanted to rest after that loss decided to play his next round game against the Turkey-White team.
CBI: The Indian team this year was not the strongest for this event. GM RB Ramesh wrote: "India seeded 19th and placed 19th at end of 7th round in the World Youth Olympiad at Turkey! Need in-depth analysis of what could be done in future to do better. Update: India won last two rounds and finished a creditable 7th position. Congratulations!". What is your take on the team selection?
PD: The initially qualified players for this event had Sankalp Gupta and Divya Deshmukh in the team, but both of them decided to skip this event, and as a replacement for them came in Srihari and Lakshmi which from a rating perspective was a big blow, as the initially qualified team would have had an average of 2300+ whereas the team we had was only 2235 in average. I met coaches of many teams over there, and all of them asked me the same question, "Why aren't your strongest players playing in this event? If you field your best team, there would be literally no fight as you would just sweep the gold" and that's true to some extent, as if you see the history of this tournament since 2007 India had always been within the top 5 starting ranks and have always finished in top 5, so Indian team had created an image of an exceptionally performing team in this event. Whenever I went to submit board order every round, the arbiters would search for India team in the top 5 ranked teams and would be surprised every time I tell them we started as 19th rank, so we have created a very high benchmark of India as a chess-playing nation, and this benchmark was not met this year. I did see the post by Ramesh sir, and he gave a valuable suggestion in the comments; "that the three highest-rated players and the winner of the open and the girl's category should qualify for this event." which I think will help us field a strong team in the future. When we have set a benchmark over the years, as a top-performing team in this event, I think it's important we keep bettering our benchmark every year by fielding the best possible team, as this is not just any championship but a World Team event. Every win in the global stage will enhance our position as one of the strongest chess playing nations, which will give more opportunities/sponsors for the next set of players, so I think it is essential we field the strongest possible team in the future.
CBI: What do you think about the winners Azerbaijan? Were you impressed with their play?
PD: Azerbaijan was the top seed of the event, and they lived up to that billing, and I could see the pride in the fact that they were representing their country, as they attended the opening and closing ceremonies in their traditional Azerbaijani dresses, and they fought as a team, whenever someone was faltering, rest of the team rose up to the occasion and ensured they won the match. They truly deserved the championship, as to win team championships it is imperative to stay solid, and they played very solidly as individuals and also as a team.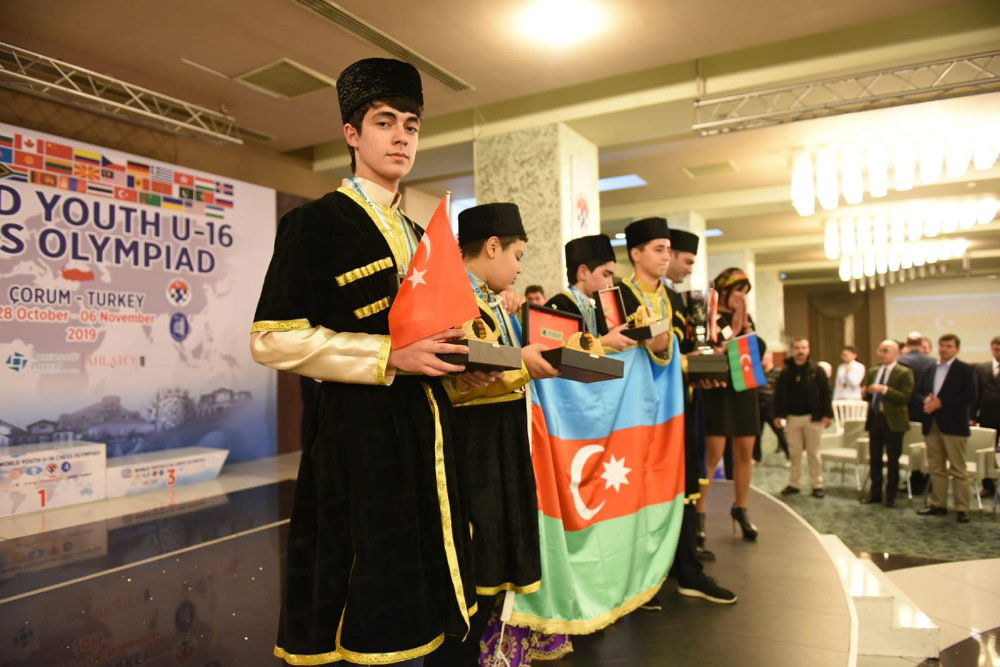 CBI: Ajay Karthikeyan was the best performing Indian in the event. Apart from one loss against Ivan Runets of Belarus he seemed to be very steady. What is your impression of this youngster?
PD: Ajay was the most energetic guy in the team, always motivating the rest of the team, and cracking some joke, and he kept the team atmosphere pretty lively, and he was truly a team player, as if you see his final round game he was clearly better and all of a sudden he offered a draw, and I asked him why did you do that, you could have tried for a win, and he said "We are leading 2-0, I just wanted to seal the match, so I decided to take a draw". He had a realistic chance to go 9/9 in this event, as he was better in all his games, but he lacked the technique to convert some advantageous positions, and that blunder against Ivan Runets, if not for that, this would have been a fairy tale event for Ajay.
CBI: Aronyak Ghosh became IM recently. What are your thoughts about his strengths and weaknesses?
PD: Aronyak's biggest strength and weakness both lie in openings, in my opinion. He has a slightly eccentric opening taste, which confuses his lower-rated opponents easily and they get into bad positions, but against stronger opposition, he runs into trouble due to this habit, and a good example of that is his games against Nogerbek, and Lazavik as he got worse position straight out of the opening. He also has a good feel for dynamic positions, which is his strength. Specific to this event, he came to event pretty tired playing the World Youth and World Junior back to back, which may have affected his performance negatively to some extent in this event.
CBI: Could you also share your insights about the three other players? They are all undoubtedly very talented, but as a Grandmaster and player yourself you must have seen something special in each of them.
PD: Regarding Srihari, my decision to push him to board 2 was a bit of a gamble, so I wanted to ensure he was well-prepared every round, so when we did room allotments, I ensured he was my roommate, so I can give some special attention to him, and I must say he handled the pressure pretty well, as he scored 4/7 against much stronger opposition and 1.5/2 against lower-rated opponents. The way he lost against Bibisara on round 3 was so bad that I wasn't sure if he would be mentally ready for his next round game against GM Sindarov, but Srihari responded very positively that I would play, and he did put up stiff resistance against Sindarov. Srihari has a lot of potential to become a strong player, and I hope he gets the right opportunities to compete against stronger opposition. Utsab had a very rough event, and I am not sure why he had such an event, as he had a pretty decent performance in his previous event the World Youth. No player would be ready to play after losing 4 games on a row, but when I asked him if he is interested in playing the final round, he said he would play, and that win against Ivanovic in the last round in my opinion compensated for all his losses. I also remember him mentioning to me that rating isn't a big deal, even when he was losing close to 80 points, so I think this attitude towards rating is a very positive aspect in his game. Finally, Lakshmi, even though she got only 3 games, she understood why I couldn't give her more games, and I think that maturity is remarkable. She was there every round wishing the players good luck and sharing feedback about the opponent team players, which helped the team to bond better. She is very punctual, as whenever we have a team meeting, she is the first to arrive. Her biggest chess strength lies in complex/attacking positions.
CBI: Finally, What about you? What are your plans? Would you be coaching in the future or looking to start playing again?
PD: I haven't played a classical event since August 2018, so you can consider me retired from active play. When I moved back to India in August 2018, I dabbled a bit in the corporate world, which means I had no time to prepare and play actively. I would also say that after August 2018, my career interests changed, as entrepreneurship excites me a lot, and I have an undergraduate degree in Marketing, and a Masters degree in Management and Leadership from US universities. I quit my corporate job in April 2019; then I decided that I will become a chess entrepreneur, and I have just now launched my chess academy Chess Gyaan (www.chessgyaan.com). I am working with some of the current national champions, and am also ideating some new projects. Outside of chess training, my first book "The Modernized Berlin" for Thinkers Publishing is about to release at the end of Nov-2019, and I have started work on my 2nd book for Thinkers Publishing. You may see me playing some event in the future, but I do not intend to be an active chess player in the near future. But I am currently more focused on coaching young talents, growing my academy, and working on turning my ideas into something tangible and meaningful.
---