The most valuable chess guestbook ever
Frederic Friedel founded ChessBase in 1985. For the last 38 years, he has been having chess guests at his house. Kasparov, Anand, Kramnik, Gelfand, Leko, Svidler, Polgar - absolutely every chess legend has been to his place. The house has been welcoming to just about every chess player, and even in the present generation, we have had Nihal Sarin, Gukesh, Savitha, and many other Indian talents who have been to the Friedel House in Hamburg. One thing has been constant - each and every guest has had to fill out the guest book, and this has led to a beautiful compilation of heartfelt messages from the greatest minds in the world of chess at different phases of their chess careers! IM Sagar Shah was at Frederic's place in Hamburg, and they had a nice trip down memory lane.
Frederic Friedel's treasure trove
It is said that an average person, over the course of his lifetime, meets 80,000 people. So many people, so many stories, and a lifetime of memories. But how can you capture those memories in words? How to make sure that a glimpse at the memory and all of the feelings come rushing down? One way is to of course have pictures. However, Frederic Friedel and his wife Ingrid have managed to do it in a different way. Frederic Friedel is the co-founder of ChessBase and lives in Hamburg. He co-founded the company 38 years ago, along with Matthias Wullenweber, and over the years, he has had many eminent chess personalities stay at his home. Frederic is a warm host and ensures that his guests have a wonderful time at his place. In return he asks all of them to do a small task when leaving - fill in the guest book with some words about their experience of stay. The first entry in the book dates back to 1981, and it continues to this day. The book has entries from many famous personalities and spans generations. The book is almost filled now.
The First Entries
When you first open the book, you will see that the very first entry was made by Ken Thompson in 1981. Ken, a name not infamous in the world of Computer science, was the inventor of UNIX and C. Ken, along with Joe Condon, invented Belle, which was a chess computer at Bell Labs. While Joe worked on the hardware parts, Ken was responsible for the software of the machine. With a USCF rating of 2250, it was the first machine to attain master-level play in 1983. It won the 1980 World Computer Chess Championship as well as the ACM North American Computer Chess Championship five times. It was the first chess-specific hardware-winning system.
The words that can be seen etched into the guestbook by Ken are, "Frederic and Ingrid, you must come to New Jersey and let Bonnie and I repay your hospitality." The words alone are enough to give an idea of how homely Frederic and his wife make people feel when they come to stay with them. The pages of the book are just as old as its history, but they hold memories from people who were significant in Frederic's life. From his professor to Garry Kasparov and Anand, the book holds the writings of many people.
Nigel Short, the famous English chess grandmaster who is now 58 years old, and famously challenged Kasparov for the World Championship match in 1983, first wrote in the guest at the mere age of 16.
On June 2, 1985, Garry Kasparov made his first entry in the book. Frederic recalls the incident as, "Garry had come with members of the most popular news outlet in all of Europe - Der Spiegel. While leaving, I asked Garry to fill out the guest book. While everyone at Spiegel urged Garry to leave as there was little time on hand, the former World Champion sat down and thought for 15 minutes about what to write and finally wrote his message in Russian!"
One can find all sorts of comments, including a funny one by Nigel's brother, Jonathan, "I think I am allergic to going home after such a nice time!", with a sad Snoopy drawn beneath it.
Richard Charlie Stanley, a British-born Finnish filmmaker, also stayed at Frederic's place when he came to make a film on Kasparov. Richard drew a picture of himself before and after shooting the project, and it shows how hectic the whole process was for him. Richard's entries stand out from the rest of them, as they are always very illustrative.
The next few entries are from ChessBase co-founder Matthias Wüllenweber, who came frequently to stay with Frederic, while they were working together on ChessBase. Very sooon, he moved to Hamburg, so he could be close to the team while working.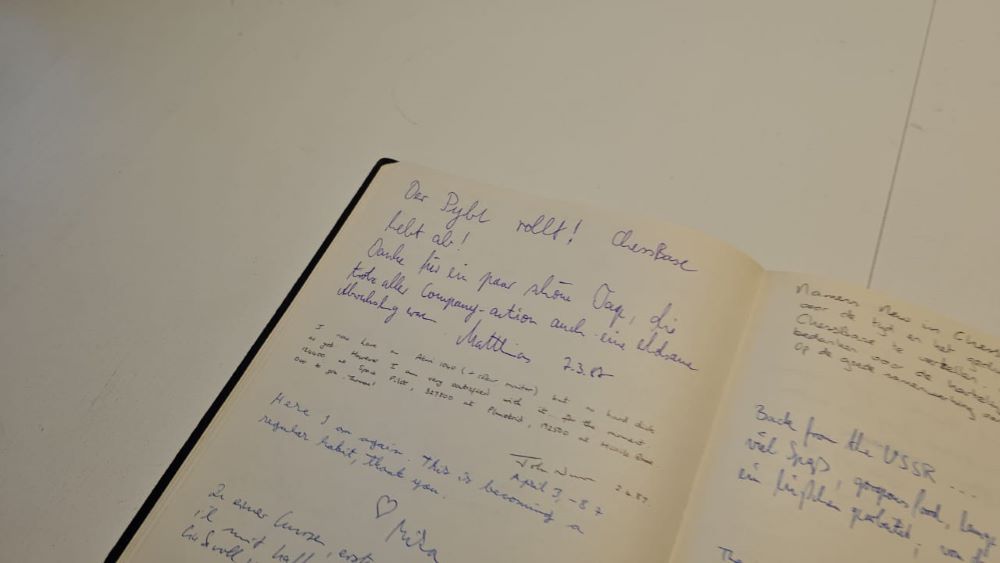 At the age of 19, in 1988, comes Anand, and his first entry reads, "Thank you very much, Ingrid and Fred, (Happy Fred?)...." Frederic remembers - Anand was too polite to call me by my name. So he would call me as Sir. But I forced him to call me by my name and hence the "Happy Fred!"
Although that was Anand's first entry in the book, it will not be his last. Frederic told us that he counted, and Anand made his entry into the book a total of 36 times! He was a part of the Friedel family.
It was not just Vishy who visited the Friedel home. When he got married, he also got his wife Aruna to meet Frederic, Ingrid and the kids. This is Aruna's first message in the book:
Vladimir Kramnik's entry from September 4th, 1996, is something that is interesting and funny at the same time. "I am having a very good time here; even the extremely poor play of Fritz 4 against me cannot spoil it. The place is great; if I would live in such a place, I would soon become a world champion."
The impact that this book has on people can be imagined when Frederic tells us that he recently sent Boris Gelfand a scan of his first entry, which he made in 1990. "I recently sent him a scan of this, and he was so moved. He said, OMG, these are memories!"
The book also has entries from the best female chess players of all time, Susan, Sofia, and Judit Polgar (along with their mother, Klara Polgar).
Valery Salov, a Russian Chess grandmaster who was ranked third in 1995, came to stay at Frederic's and wrote one of the most poetic lines possible. "I am really lost in the desert of despair, looking for words to express my feeling of gratitude. I am not eloquent enough." Later in 1991, when Valery Salov came back, he was well prepared with a poem. Well, what can one expect from a world-class grandmaster?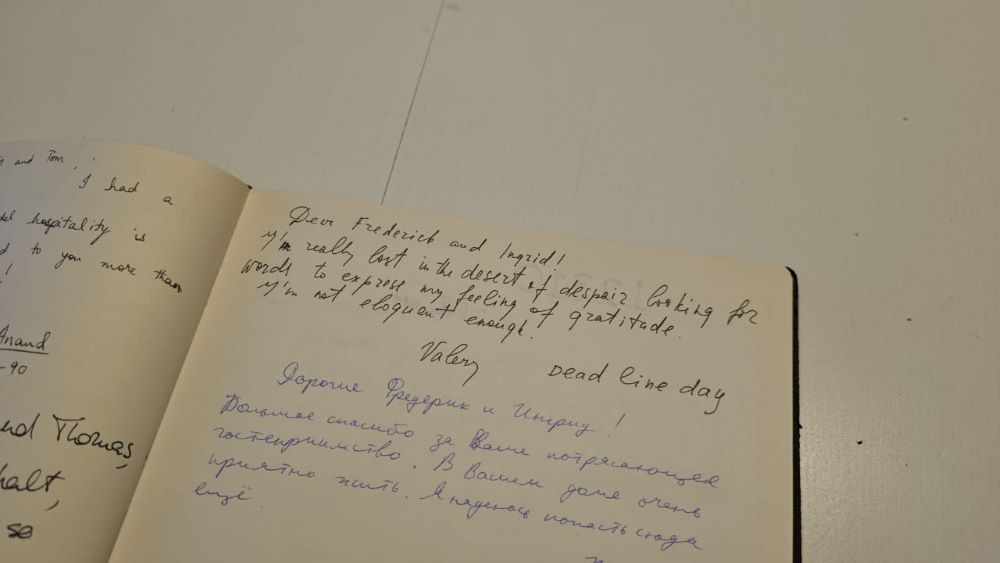 The last entry before Frederic moved house to Dohren was Anand, and their first guest in the new house was also Anand.
Peter Leko, the Hungarian chess player, former World Championship finalist and famous commentator, would most likely win the award for the most beautiful handwriting in the whole book. "Peter Leko, you can always find him through his meticulous, beautiful handwriting," says Frederic.
Frederic recalls, once I had such strong players in the house at the same time that I could easily organize a super tournament with Vishy, Kramnik, Leko, Svidler and co.
Almira Skripchenko was one of Frederic's favourite guests. "She was one of our favourite people because, you know, others would say, Can I have a coffee maybe? And Almira would come out with a pot and say, Frederic should I use this for coffee. She was a perfectly natural person in the house; she became part of the family immediately."
Harika Dronavalli was one more person who impressed Frederic the most. He picked her up from Wijk aan Zee and recalls having a delicious dinner cooked by her.
ChessBase India's Amruta and Sagar have come to Frederic's house about five times now, and they recall the first time they did it in 2014. "Frederic came to pick us up at the Hamburg railway station and when we sat in the car, he began to narrate a poem in Gujarati "Aa ek pool che (this is a bridge), Pool paase naanu gaam che, (Near the bridge is a small village). Sagar was so stunned hearing a German speaking flawless Gujarat that he nearly had tears in his eyes!
Vishy, Polgars, Leko, Kramnik, Gelfand have all grown up now, but the tradition of young talented chess players visiting the Friedel house still continues!
During Corona, the book entry came to an end, and after two-three years of having no guests, the first guest that made a visit to Frederic's house was Leon Mendonca and his father Lyndon. Leon visited again after a year, followed by Gukesh. The book is almost finished with a few pages and many more entries to go, and therefore Frederic is very particular that all the new guests must write small paragraphs!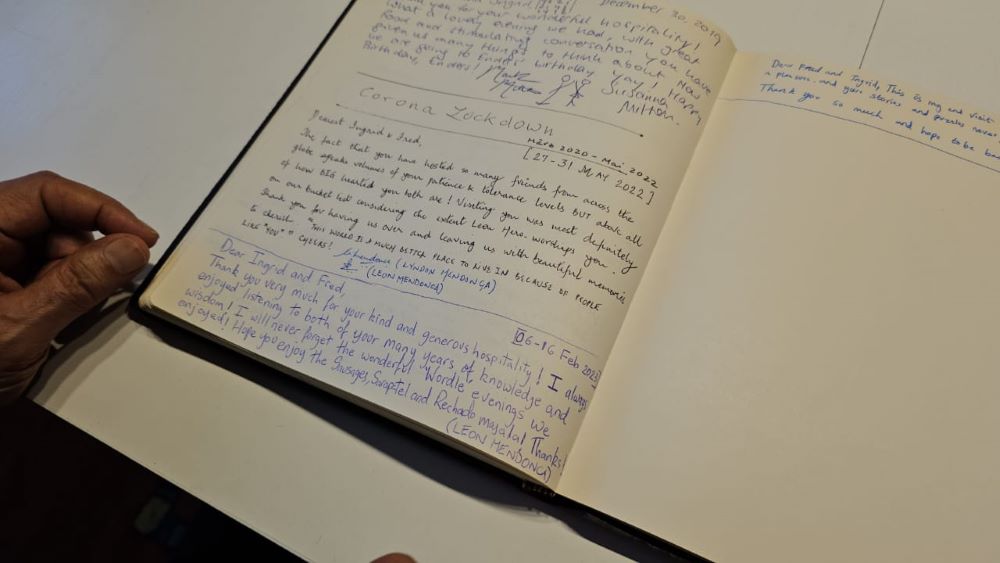 What has been the mindset of the Friedel family that they were able to have so many different guests from so many different countries and cultures? "Well, I have to be very thankful to Ingrid for putting up with this. It wasn't just chess; there were a lot of scientists and interesting personalities. We had a nice house, you know, and we spent quite some time and money building it. It was a rather large house, and we had enough space so people would just come and stay. We enjoyed it, and it enhanced our lives. I have met so many wonderful people outside and inside of chess, and that has been an unforgettable experience."
People came with many intentions to Frederic's home, but the talks hardly ever revolved around chess. It was always about building a personal bond, conversations and exchange of ideas! Frederic, Ingrid and the entire Friedel family would give their time and energy and this way of hosting the guests enhanced their own life in return!
A few more entries!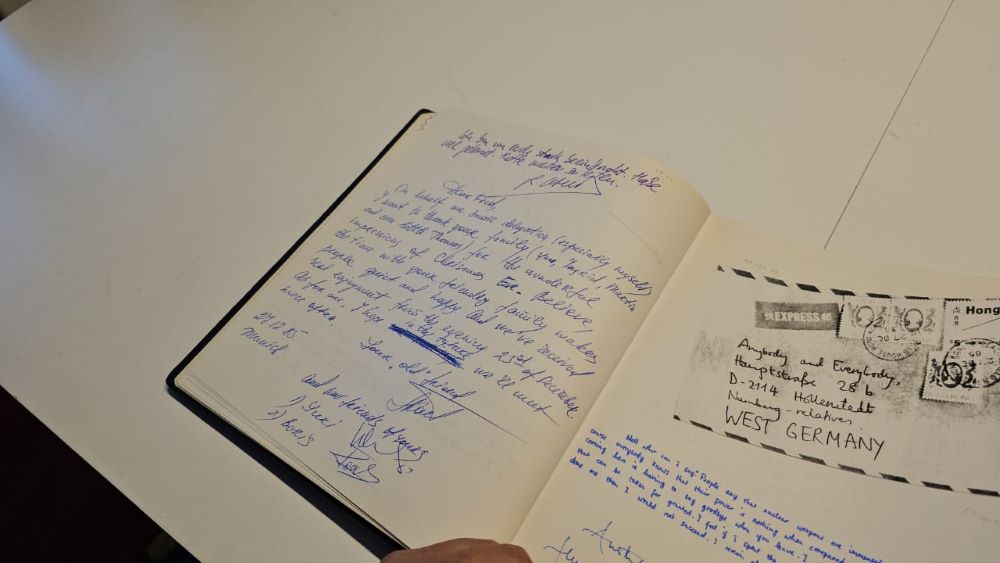 ---